Branded vs Unbranded Search: Is it Better to be Known or Found? The Global Brand Report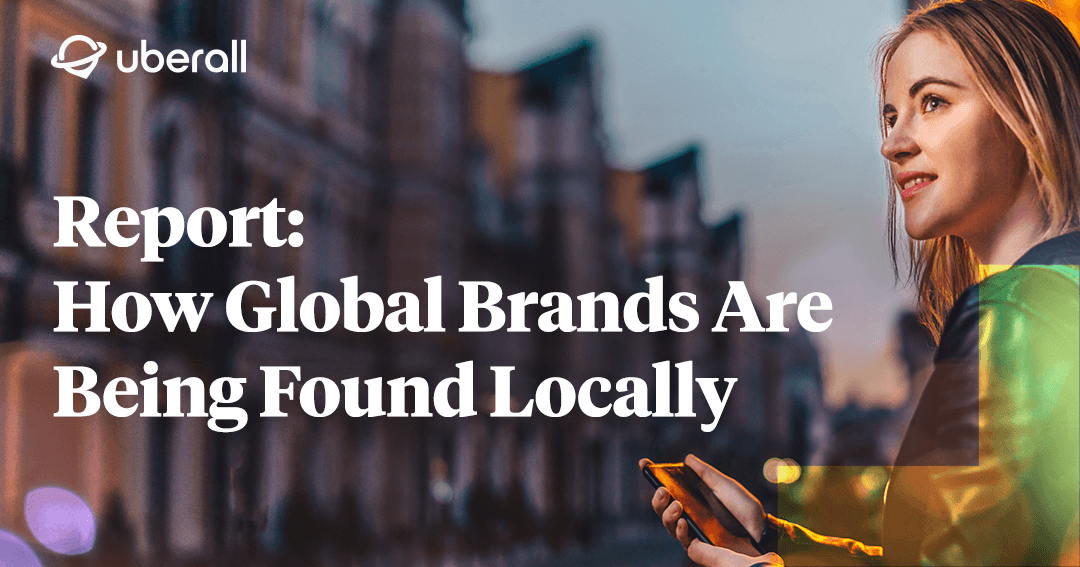 Is it better to be known, or found? The answer is of course, both. We analysed 48,000 locations from 22 of the world's biggest brands to understand how consumers search for and find the locations of large brands online and how you can increase visibility and growth globally by thinking locally.
An Introduction to the Report
Ever since the birth of the global brand, the world's largest businesses have focused on building their brand recognition at the global level. And it worked because consumers received their information from television, newspaper and radio advertising.
However, the way consumers find business information has changed. Consumers now search online using mobile phones to look for local businesses near them. Global brands have been slow to adapt to the digital information age and have often neglected their local strategy, which has proven costly.
What Is a Branded and What Is an Unbranded Search?
When we are talking about branded and unbranded search, we are looking at what that means in local search.
When a consumer searches for products, services or specific business names that brings up Google My Business Profiles on Google Search, this is defined as a 'local search'.
Unbranded Search:
A product or service search ("coffee near me", "clothes near me", "supermarket near me", "hair salon in my area" etc...these are unbranded searches)
When a consumer searches for a specific business location this is known as a 'direct search' and is also categorised in our study as unbranded.
Branded Search:
A search for a business name that brings up a list of results just for the locations of that brand (Starbucks, McDonald's, Adidas etc...)
A search for a business name that brings up a list of results that brings up those brand locations and other locations (including other large brand and small business locations)
Why Did We Focus on Global Brands?
Last year Uberall created the Reputation Management Revolution: Global Benchmark Report, which analysed the impact of reviews on small businesses, enterprise companies and global brands. In that study we found that global brands were the worst at engaging with their customers at the location level.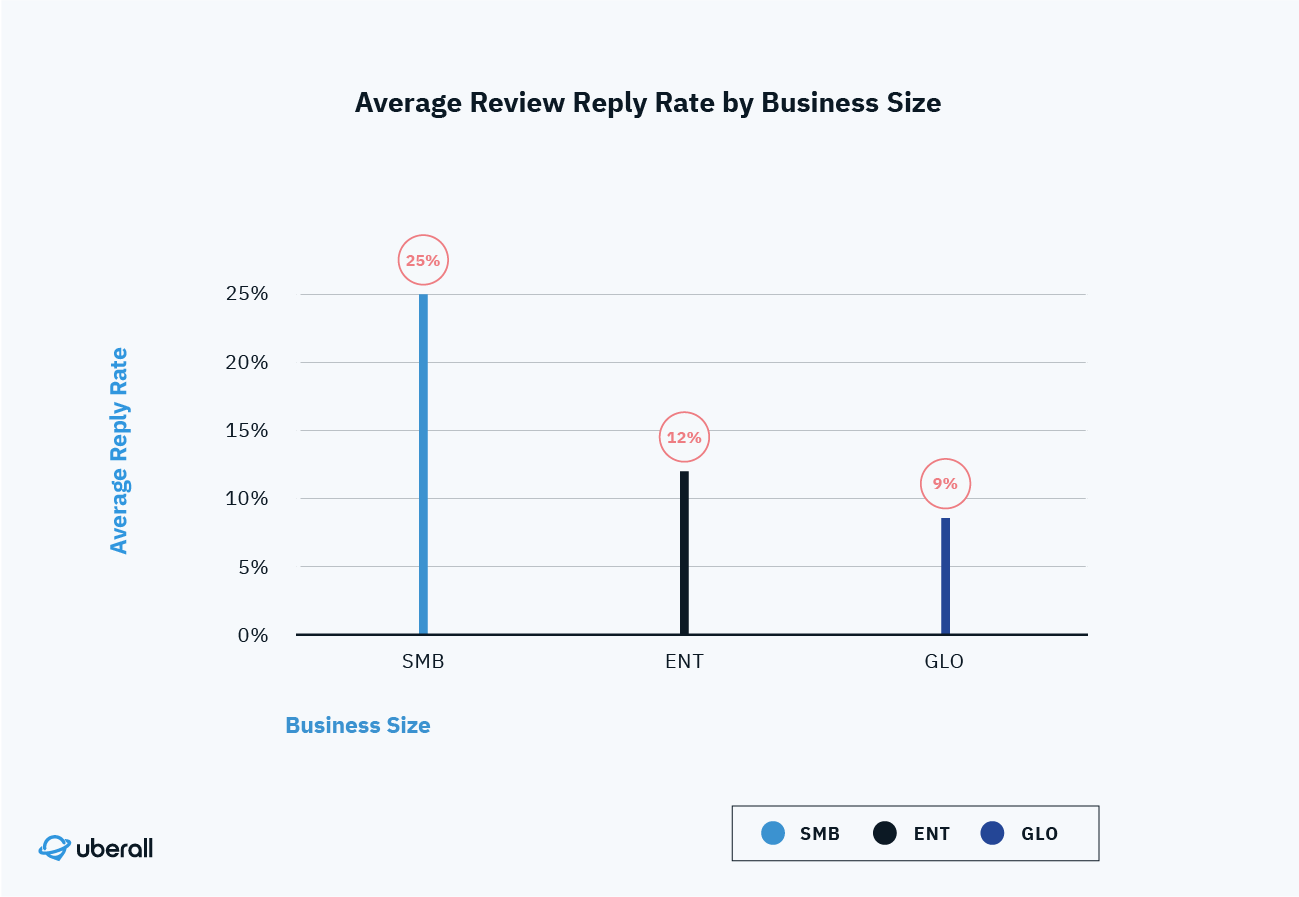 How often do businesses reply to reviews?
Global brands have been slow to react to the changes in consumer search and engagement, focusing on growing globally while being slow to react to the local gains that could be achieved if brands focused on optimising at the local level. Gains in visibility at every location across 10's of thousands of store locations would mean massive growth, not only in online visibility, but in online and offline engagement.
That made us think...we knew that global brands haven't traditionally been great at engaging with customers, but how were consumers finding and engaging with global brands at a local level?
And so...the Branded vs Unbranded Search Report was born.
The Findings in Brief
Total visibility in local search is growing
Across all locations analysed, global brand locations are more visible for unbranded search than branded
When we break our findings down by industry, we found that branded and unbranded search depends a lot on industry
Third parties really make a huge difference on the visibility of global brand locations
Download the full Branded vs Unbranded Search Report here
Both Branded and Unbranded Searches Are Growing
On average, global brand locations have twice the branded search that small business locations achieve.

Global brands receive more unbranded search than branded:
58% of search is unbranded
42% of search is branded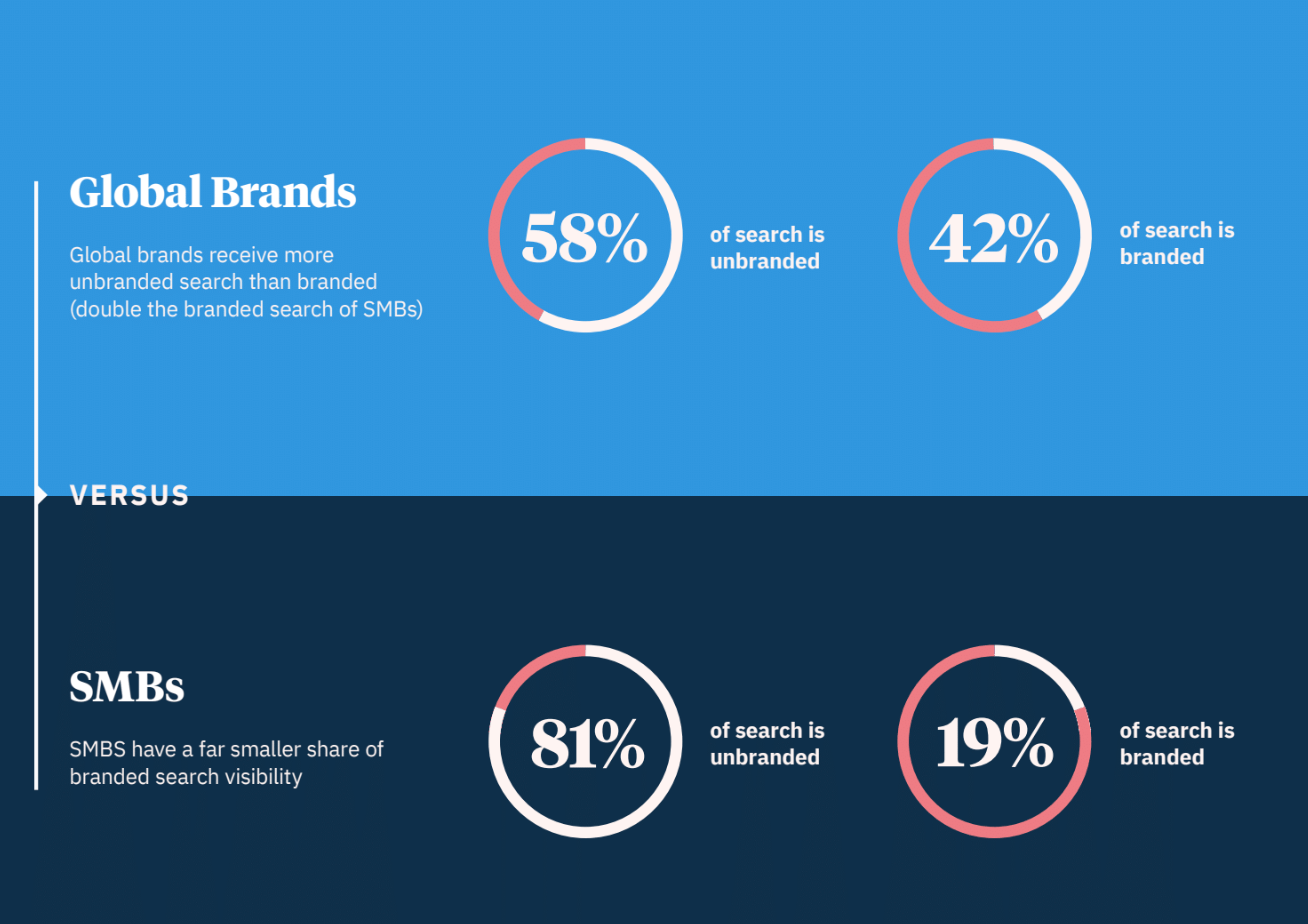 The percentage of local search that is branded and unbranded
It is somewhat surprising that some of the world's biggest brands with tens of thousands of locations worldwide, achieve a considerably larger share of unbranded search when even single location businesses (SMBs) are achieving approximately 20% branded search.
But this is only part of the story.
The way branded vs unbranded search is defined in local search, means that single location businesses aren't receiving branded searches from consumers searching directly for them, but rather these searches are more likely, visibility that small businesses are gaining from larger brands in local search (maybe they are a small retail store that sells Adidas so they become visible for local Adidas searches), or they are potentially affiliated with a large brand when it comes to their name or the services they provide (like an insurance broker that is affiliated with a larger brand)
Branded search is also very different when we break it down by industry...
Branded vs Unbranded Search Is Highly Industry Dependant
When we broke down branded vs unbranded search across industries we found that, for large global brands in different industries, online visibility looks very different.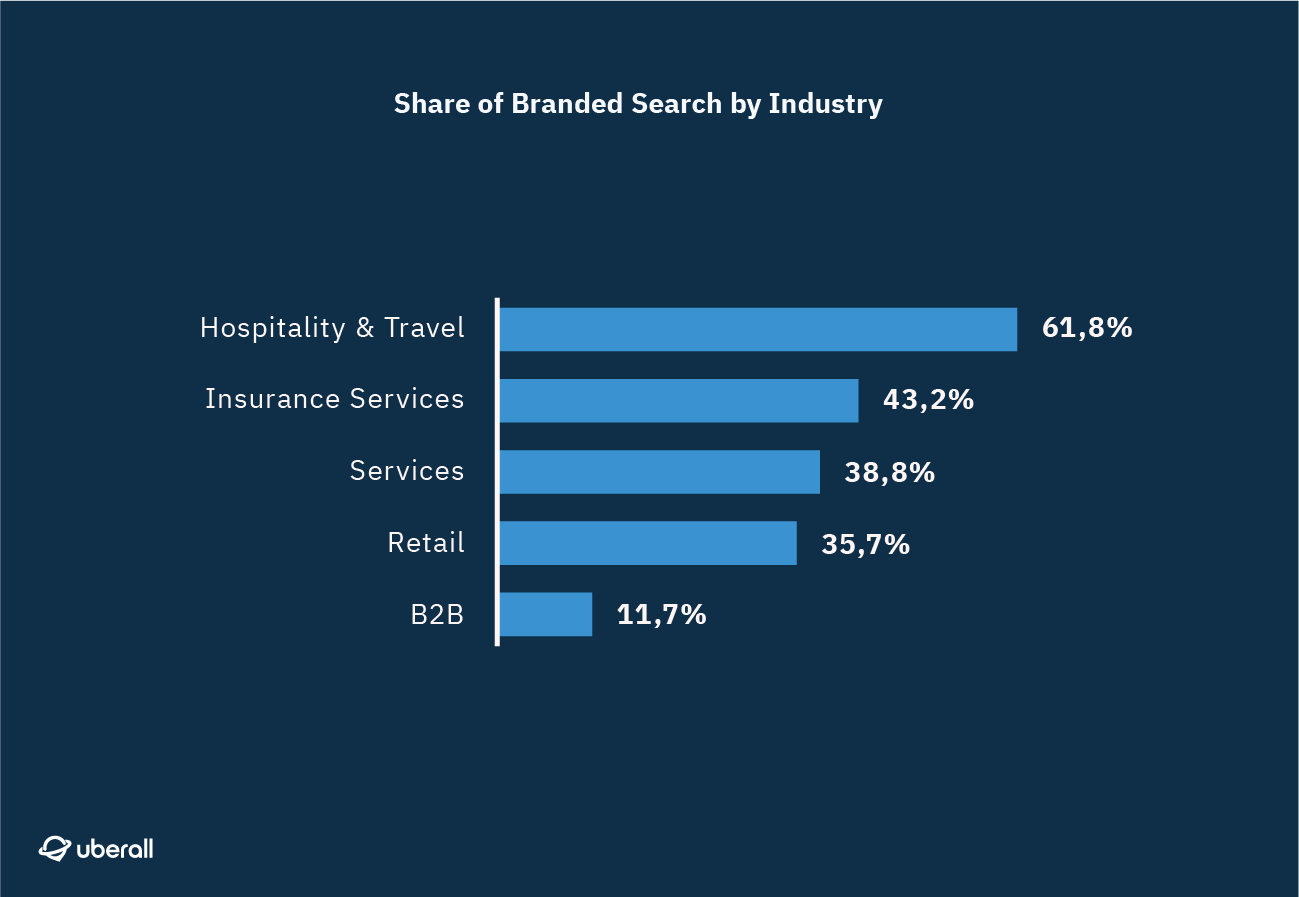 Which industries have the most branded search?
For instance:
B2B locations had almost all of their search (88%) coming from unbranded searches
Hospitality & Travel had more branded search (62%) than unbranded
B2B brand locations have hardly any branded search visibility, whereas Hospitality & Travel locations (including fast food and travel agents) had more branded than unbranded search.
This can be partially explained by a few factors:
Is your industry likely to have high brand awareness (are brands household names in that industry?)
Is your product or service different enough from your competitors that it would create enough demand for a branded search (consumers are more likely to care about where they get their cheeseburger from than where they get their petrol from).
B2B brands are less likely to achieve the type of brand recognition of a B2C brand
Visibility in Online Local Search Is Growing
We also analysed all 48,000 locations across a one year period and found that the average visibility for global brand locations was increasing:

Branded Searches Increased by: 136%
Unbranded Searches Increased by: 75%

And so were engagements (website clicks, phone calls, direction requests):

Global Brand engagements increased by: 60%

Why is this important?

For global brands with hundreds or thousands of locations, more visibility means more engagements and more engagements means more store visits and more sales. Add this improvement up across hundreds or thousands of locations and that means huge brand growth.
Not only is this a growth indicator for global brands with many locations, but it also gives us a peek into how Google is prioritising the growth of local search and local advertising. Although it is difficult to read too much into the fluctuating nature of local search visibility (based on Google algorithm changes), we can say that visibility is growing for global brand locations online.
Third Parties Increase Global Brand Visibility and Engagement Even More
The 48,000 global brand locations we analysed in this study were all customers of ours.
We measured their online visibility and engagements 6 months before they were a customer of Uberall and 6 months after and found...
100% increase in total visibility from the previous 6 month period
100% increase in total engagements from the previous 6 month period
140% increase in unbranded visibility across this period where previously, in the 6 months before using Uberall, our customers only improved their unbranded search by 25%....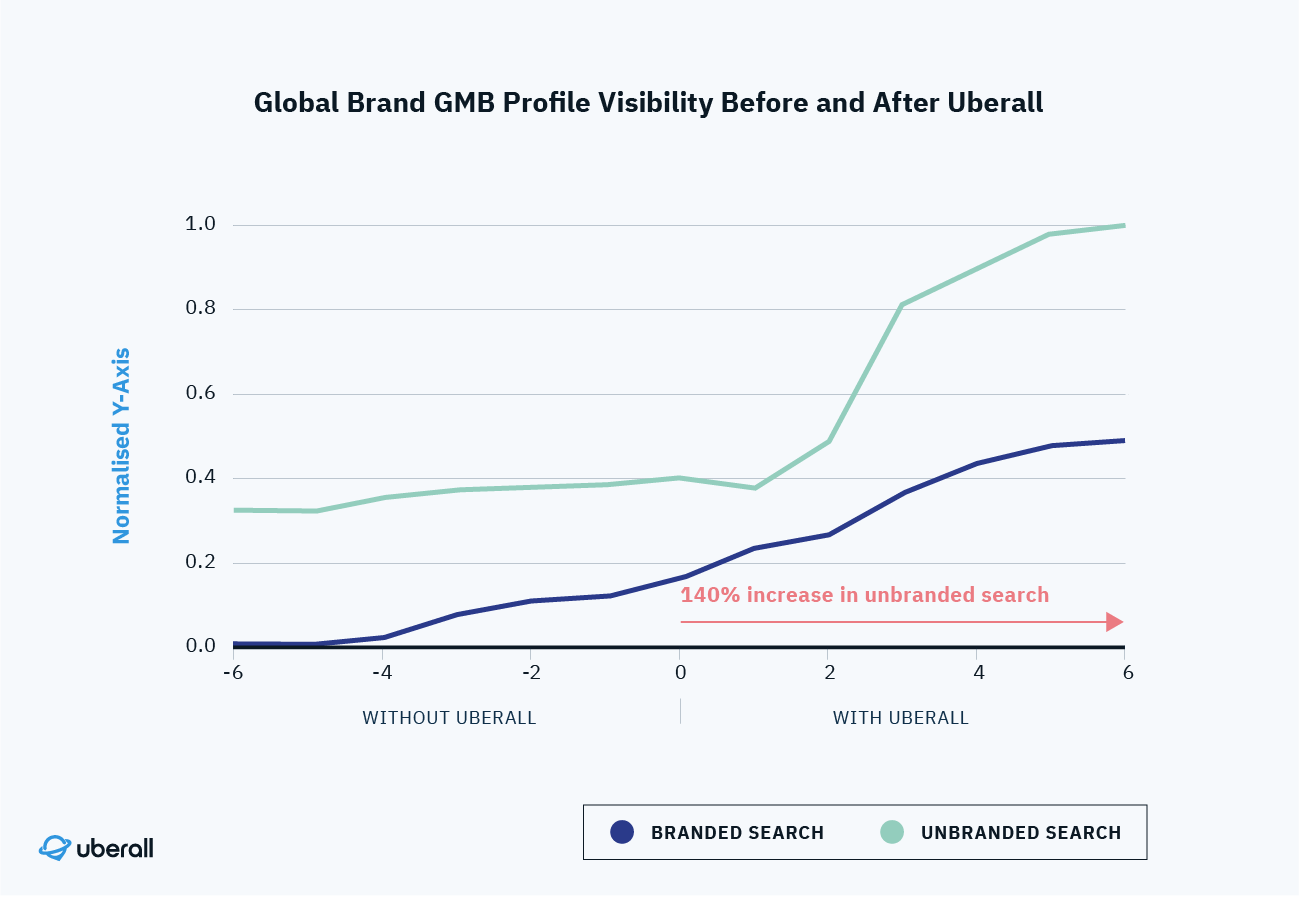 How a third party improves visibility in branded and unbranded search
Conclusion
When we wrap up our findings of this study, three things are apparent:
Visibility in local search is improving in both branded and unbranded search
A third party has a massive impact on the increase in visibility
Working with Uberall has, on average, doubled the number of consumer engagements with their Google My Business profiles
Global brands need to focus on their local strategy to ensure real growth for their business in the future. The gains are real and the potential is there as long as global brands prioritise optimisation in local search and use a third party to do so.
For a more detailed breakdown of our findings, download the Branded vs Unbranded Search Report...
I might also be helpful to sign-up for our free presence check tool, which analyses how well your business information is listed across the most important online directories.
Report note: The data in this report does not address the shifting nature of search caused by the Coronavirus. This is intentional due to the temporary impact of this global event on local search and the large amount of existing data we have relating to online - to - offline consumer search trends. We also want to give businesses an insight into data that will have a large impact on future planning initiatives post Covid-19