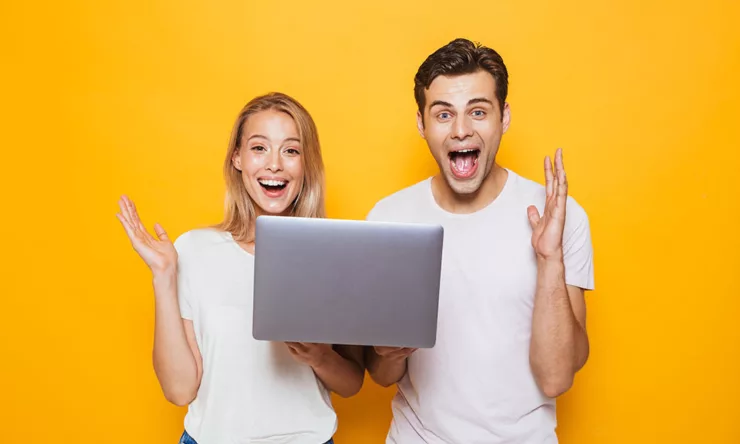 Blog
Organic SEO vs Local SEO: What's the Difference and Do You Need Both?
Organic SEO vs local SEO: Which is a better fit for your business? These days, organic search accounts for 53.3% of online traffic. But what exactly sets it apart from local search? And which one will get you the results you need? And how much of a difference does it really make? This blog post looks at the differences between organic and local SEO and helps you decide which SEO strategy is the right one for your business.

What's the Difference Between Organic SEO and Local SEO?
| | | |
| --- | --- | --- |
| | Organic SEO | Local SEO |
| | | |
| Customers | Customers from everywhere, online customers | Local customers |
| Devices | Desktop, Smartphone | Mainly Smartphone |
| Search terms | Keyword | Keyword + local component |
| Search intent | To find relevant information | To find relevant locations, products or services nearby |
| Search results | Websites in general featured snippets and grids | Locations and their products/services, local 3-pack with reviews, etc. |
| Urgency | Unknown | Customers looking for an immediate solution |
| Conversions | Website clicks, online purchases | Route planning, website clicks, phone calls and offline purchases |
| Conversion rate | Only high for the top search results | Very high as customers are ready to buy |
| Suitable for which business? | Businesses that generate sales through the website | Businesses based locally that generate sales on-site, and in some cases, online |


Know the common Local SEO mistakes that could impact your online visibility
What is Organic SEO?
Organic SEO is the process by which businesses aim to get to the top of Google search rankings so they can drive traffic to their website.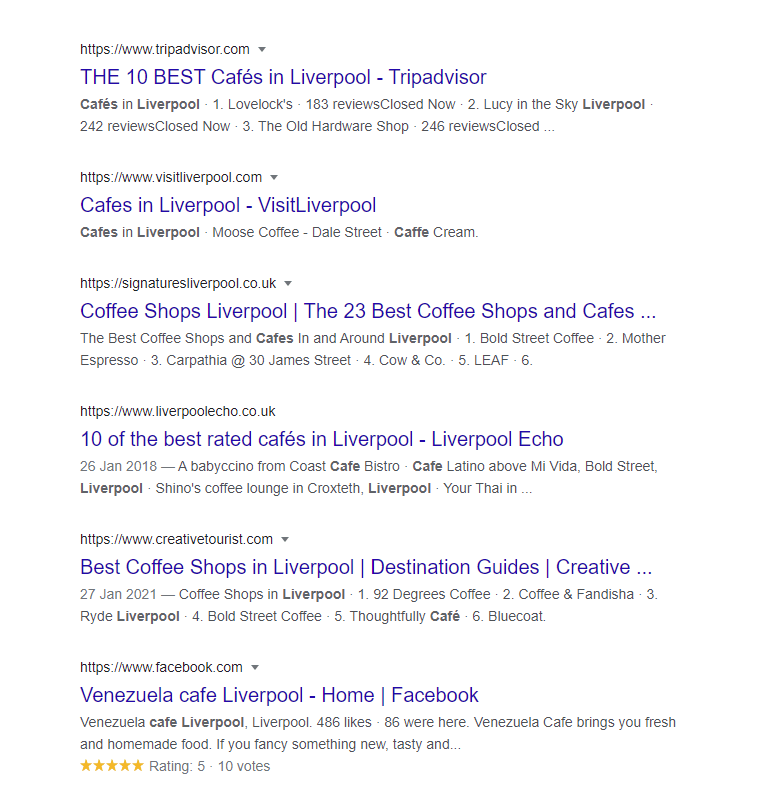 Local organic search results for 'café Liverpool'
Google uses an algorithm to evaluate all websites and creates a list of organic search results – also known as Search Engine Result Pages or SERPs. Those organic search results are extended with Google's suggestion to find results on specific directories, such as Tripadvisor or Facebook.

Further organic results for 'Café Liverpool'
In addition to organic search, there is paid search that places Google Ads and other paid adverts even more prominently than the organic search results.
While the content and technical page structure need to be optimized and up to date for organic searches, these factors take a back seat in the case of paid searches.
Benefits of Organic SEO
Generates more relevant traffic to your website
Expert status: better Google ratings for authenticity and authority
Cheaper and more effective than paid search (e.g. Google Ads)
Performance is easy to measure, which makes SEO activities scalable
Ranking Factors for Organic Searches
By optimizing website structure and creating content that matches user intent, businesses increase their chances of ranking among the top Google search results. Studies show that 99.1% of clicks on positions 1 to 10 stem from organic searches. So if your website ends up on the second page, you're virtually invisible.
Building internal links between the individual pages of a website makes it easier for Google to crawl web pages and their content. Software known as web crawlers or spiders automatically searches websites throughout the internet and creates an index. Search results are then listed based on this index.
The number and quality of external links (known as 'backlinks') that a business website receives from other websites give Google an indication of its authority and trustworthiness.
This means that trust and relevance are not only central to users' online experience but are also key ranking factors for organic search engine optimization. The better Google understands the content on your website, the more Expertise, Authority, and Trust the search engine attributes to your website, and the more likely you are to feature prominently in search results and, in turn, reach more consumers.
Organic SEO Fundamentals: How To Optimize Your Website for Organic Searches
There are many steps that businesses can take to improve their websites' search engine ranking.
Organic SEO Checklist
Identify your target group ("Who do I want to reach?").
Determine your target customers' needs and how you can meet them ("What are my target customers looking for?").
Match customer needs with common keyword searches ("What keywords do consumers use in their online searches?").
Create website content for these precise keywords – content that firmly positions you as an expert in this area.
Build internal and external links to indicate authority (see above).
Make full use of the 'metadata' (e.g. page title, page description, and image title) that influences how your website is displayed in search engines.
Structure your pages with clearly defined headings – H2, H3, H4, etc.
Update or add relevant content on a regular basis.
What is Local SEO?
Local SEO is the process by which businesses try to optimize the online visibility of each of their locations, specifically targeting users searching online for products or services near them.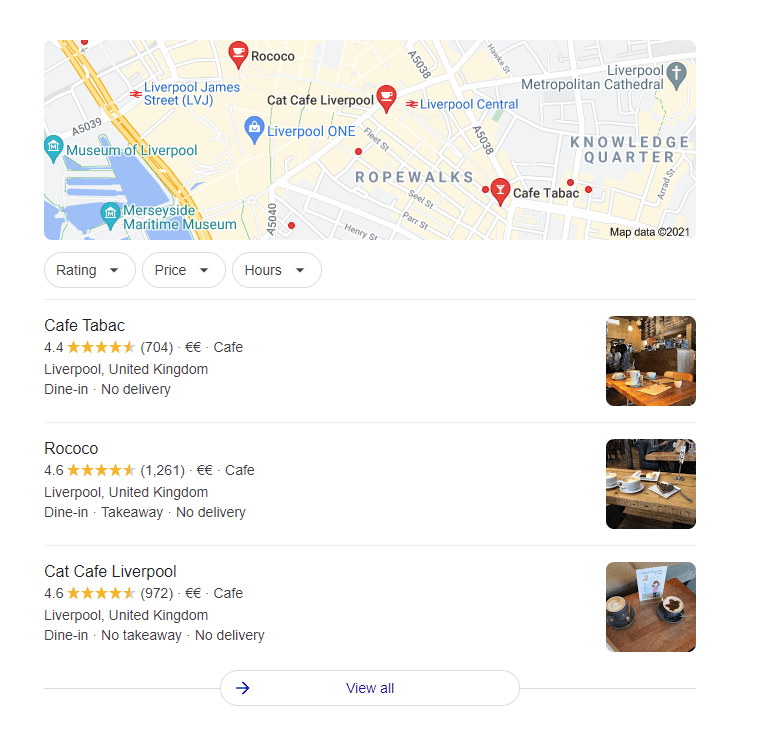 Local search results (local 3-pack) for 'café Liverpool'
Local search results suggest relevant locations that are near users. They are listed when search queries include local references such as 'supermarket open now', 'restaurants near me' or 'electronics store Liverpool center'. Even simple Google searches for 'cafés' or 'post offices' will immediately show three nearby locations –Google's local 3-pack. As with organic search results, the search engine prioritizes those locations with the most relevant business information matching the search query.
The fact is that local search queries ('near me' searches) are more relevant than ever – around 53% of all Google searches include a local reference. This offers enormous potential for businesses: 83% of U.S. shoppers who visited a store in the last week say they used online search before going into a store.
Benefits of Local SEO:
Boosts local online visibility
You reach customers who are actively looking to buy your products or services
Route planning literally sends customers to your door
Local search queries are more likely than organic search queries to end in a purchase
Establishes trust and credibility through ratings
Cheaper and more effective than paid search queries
Ranking Factors for Local Searches
To make the most out of local search engine optimization, you should pay close attention to various ranking factors:
Relevance: Based on the information that businesses provide about themselves, Google evaluates how well a profile fits with what the user is looking for
Distance: Google calculates how far each potential search result is from the user's current location
Prominence: This relates to the popularity of a profile, including positive review ratings, etc.
For instance, if a user searches 'best burgers near me', 'highest rated hotels in Prague' or 'top mechanic in my area', review ratings will be the key ranking factor for the location. Here, Google's search results are based directly on a location's average rating. Users can also filter the search results according to rating scores.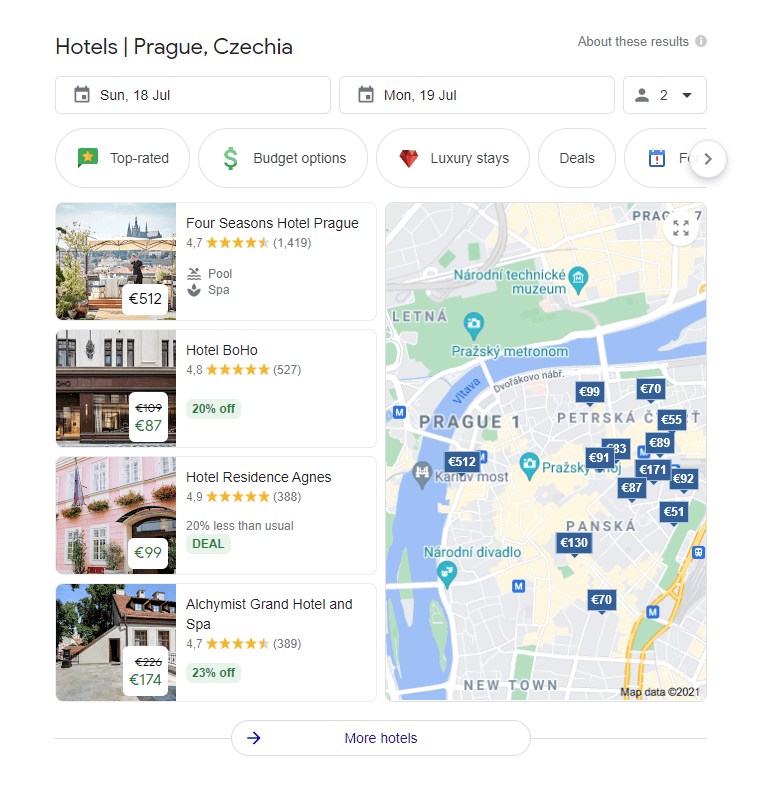 Local search results for 'highest-rated hotels in Prague'
Local SEO Fundamentals: How To Optimize Your Website for Local Searches
Optimization means more than just having your website pop up in search results. You need to make sure that consumers find you online and click on your website. The following steps show you how to optimize each of your business locations for local searches and claim your place in the local 3-pack.
Local SEO Checklist:
List your company profiles for each location on Google My Business (GMB), Apple Maps, and all relevant search and mapping platforms.
Make sure that all NAP (name, address, and phone) information is correct and consistent and that opening hours are up to date.
Make use of citations on all relevant platforms and in all directories (e.g. Yelp, Facebook, Instagram, yell.com).
Professionalize your reputation management activities.
Getting started: Our free 'Near Me' 360° tool will analyze the online presence of your locations and show you how well your customers can find them via a local search.

The Difference Between Organic SEO and Local SEO Is in the User Intent
With organic search results, search engines show the websites that offer the most relevant and appealing content for a search query. This is the usual process for search engines regardless of whether a query is local or not.
When Google and other search engines see a user's query as 'local', they supplement the organic search results with relevant locations near the user. As with organic search results, the search engine prioritizes those locations with the most relevant business information matching the search query.
For example, Google understands that users who type the word 'pizza' into the search bar are probably looking for a local pizzeria or want to order a pizza.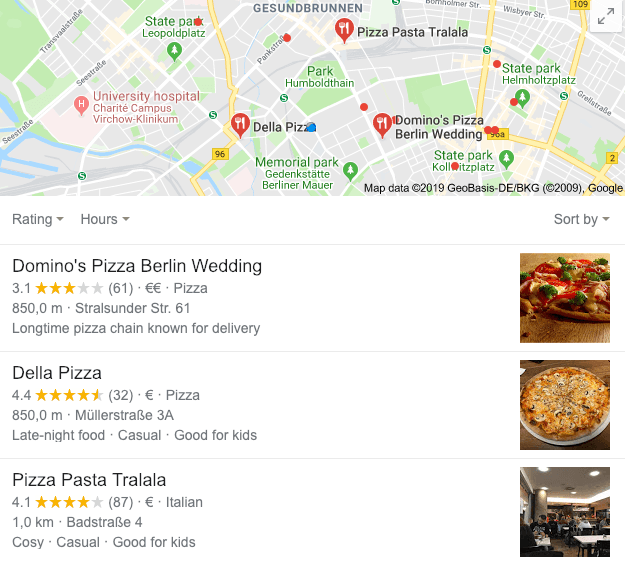 Local 3-pack in the local search results for 'pizza'
However, a search for 'pizza recipe' returns a completely different set of results.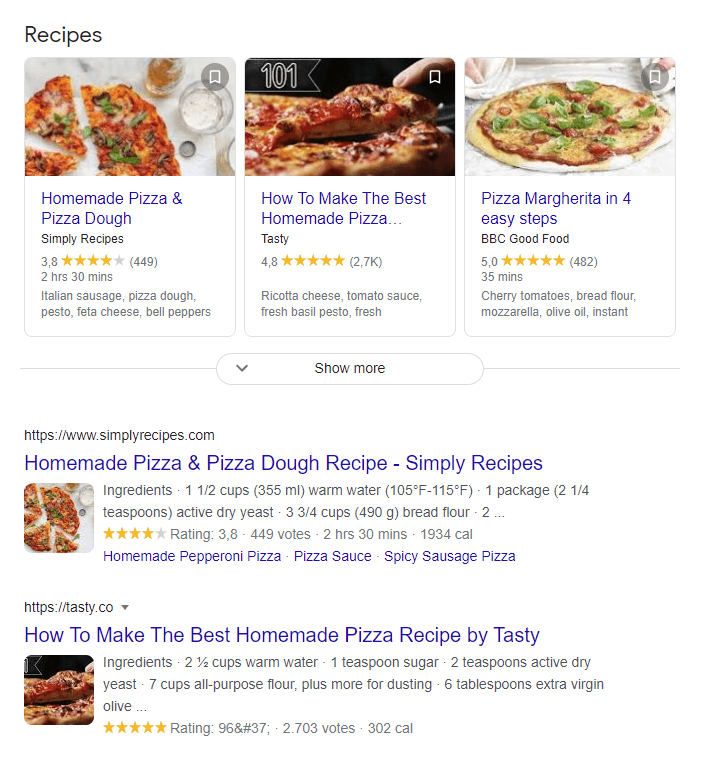 Organic search results for 'pizza recipe'
Organic or Local SEO: Which is More Important for Your Business?
If your business doesn't have any brick-and-mortar locations, then your focus should obviously be on organic searches. More specifically, it should be on optimizing your business website with a view to attracting more visitors – and, above all, the right kind of visitors. In this case, neither your website nor your visitor traffic will be predominantly 'local'.
If your business relies on physical locations and you want to reach more consumers across different devices and communication channels, you should integrate a local SEO strategy into your existing SEO strategy. An integrated optimization strategy for local and organic search is the best way to get your customers to make the step from online search to in-store visit.
Making Reputation Management a Part of Your Local SEO Strategy
Your local SEO strategy should go hand-in-hand with your strategy for managing customer reviews. 95% of consumers refer to online ratings before making their final purchase decision. This means that active reputation management has a greater influence on your sales than you might think.
Unlike organic search, where consumers tend to check out the top results, clicks on local pack listings are influenced directly by rating scores. A study by Moz has shown that when the third result in a local pack has an average rating of 4.5 stars and the first result has not yet had enough ratings to generate an average, consumers are more likely to click on the third result because it has an established trust factor: the rating score.
In short, an effective reputation management strategy will get more potential customers clicking on your business locations. If you want to find out how to develop an effective strategy for managing your customer ratings, take a look at our Practical Guide to Review Management.

Do you struggle to respond to negative reviews? Here are a few useful tips
Local and Organic: Covering All Your SEO Bases
Local and organic search engine optimization are two areas that have different objectives but can be combined for maximum effectiveness.
A ranking strategy for one SEO discipline will not necessarily affect the other one. However, depending on how the business is positioned, optimizing the right elements can yield clear benefits:
A far stronger overall online presence
Greater customer retention
A strategically sound approach to local customer communication
Ready to ace your Local SEO game? Speak to our experts