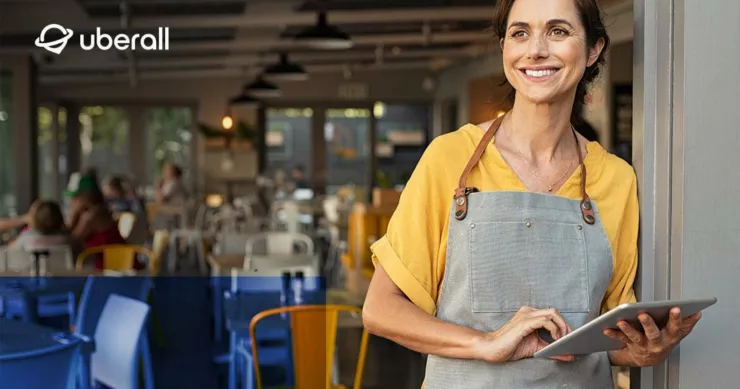 Blog
How to Leverage Google My Business' More Hours to Promote Your Services
Multi-location businesses now have another way to stand out in search by optimizing their Google Business Profiles with the More hours function.
Your Google Business Profiles are some of the first touchpoints people will have when discovering and connecting with your online and offline business locations.
So when it comes to core information, such as your business name, category, phone number, address, website, and hours, it's critical to keep this information up-to-date at all times.
For most businesses, this core information will not change unless you've made a significant brand change or move.
However, after more than a year of changing regulations brought on by the global pandemic, the one element that seems to always be in flux these days is your operating hours.
Even though you can update your Business Profile to include Special hours, such as expanded or reduced hours during holiday times, for many businesses this isn't enough to cover all of the hours they need to communicate to customers.
So after plenty of user feedback, in 2020, Google My Business added the 'More hours' feature so that businesses can expand their primary operating hours.

What Do Operating Hours Have to Do With Acquiring New Customers?
Google is getting better at understanding the nuances of businesses and how to represent these best to a local consumer.
Your Google Business Profile has the potential to capture new leads and convert them into lifetime customers.
In order to stand out from the competition, businesses need to show the most critical and helpful information as soon as a user lands on a Business Profile.
This not only helps to set expectations but also serves as an opportunity to highlight unique offerings which could vary by location.
Think of More hours as another touchpoint to add value to your customer touchpoints and help you stand out from the competition.


Google's new AI and machine learning updates may automatically change your Business Hours
How Are Primary Hours and Special Hours Different from More Hours?
Primary Hours
Businesses have been able to publish and manage their primary hours of operation on Google for years. These are your standard daily opening and closing hours, Sunday through Saturday.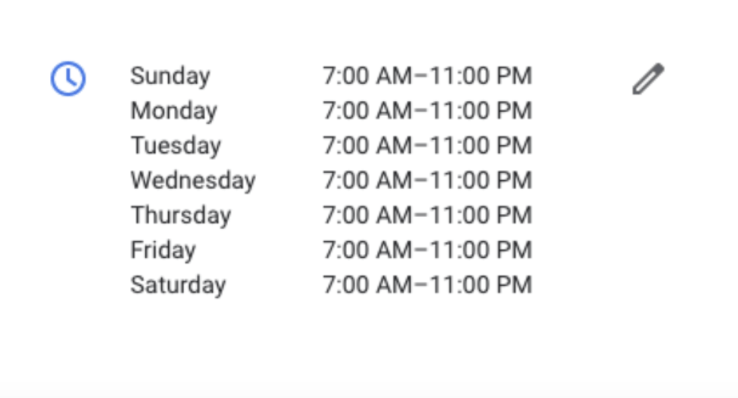 Special Hours
Special hours are temporary hours for a day or range of days, tied to a calendar day, as opposed to a day of the week.
Special hours will replace your Primary hours on your business listing displayed to customers for the day(s) that you defined.
For example, if your hours are changing because of a national or regional holiday, Google will also let your customers know these are the confirmed holiday operating hours. This helps reinforce to searchers that they can trust the information displayed on the business profile.
More Hours
More hours are additional sets of hours that are displayed on your Business Profile alongside your primary set of hours.

There is also a set of defined categories that will be displayed alongside the additional hours.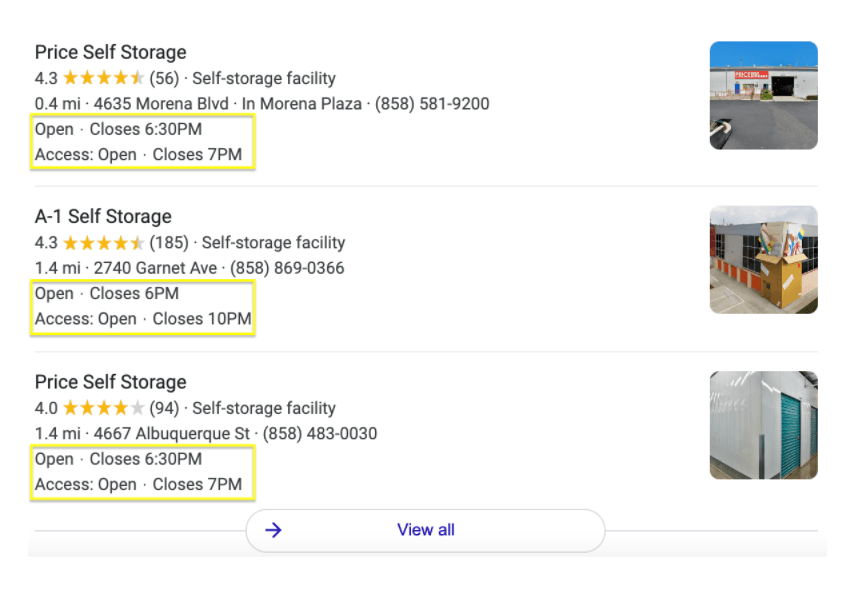 The 5 top takeaways from Google's More hours feature
More hours are a subset of your Primary hours.
Primary hours must be in place before publishing More hours.
Multiple types of More Hours can be used if they apply to your business. For example, if you're a restaurant and offer both brunch and happy hours you could add both categories.
The types and availability of hours types depend on your primary category and the country in which your business operates.
Special hours will not override More hours, only Primary hours. This means if you have your Special hours set to close on Saturday, December 25, but you have Saturday delivery hours published, these will still display while your Business Profile shows closed.
10 Different Types of Hours You Can Activate on Your Google Business Profile
Access: Access hours are meant to represent times when a customer or client can visit your business, accessing their product or service even if the primary office is not open. For example, storage units can be accessed when the front office is closed.
Brunch: The hours when a customer can order from the brunch menu at your restaurant.
Delivery: These represent the hours when you are offering delivery of your products.
Drive-through: These hours represent the time that your drive-through is open to customers.
Happy hours: These hours represent the time that happy hour menus are available at your restaurant.
Kitchen: For businesses that have a kitchen as well as other services such as a bar or event venue, these represent the hours that the kitchen accepts food orders.
Online service hours (or online operating hours): For service-based businesses that offer phone or chat support, these hours would represent times when employees are available to help virtually.
Pickup: Retail, food, and other local businesses that offer a pickup function for orders placed online or via phone would leverage these hours.
Senior hours (or hours for the elderly): These hours were launched specifically for businesses reserving days and times for seniors and immunocompromised shoppers.
Takeout (or takeaway): Food and beverage businesses that allow customers to come into the location to order and take meals home can leverage these hours.
How to Create More Hours for Multiple Locations
If you're not using the Uberall platform or a platform that can automatically update your additional hours across multiple locations, follow the instructions on this Google Help Page.
If you're an Uberall customer or partner, publishing different types of hours to Google is fast and easy.
These can be set on the individual location level directly in the platform, uploaded in bulk, and assigned to multiple locations at once. Plus, with our API integration with Google, all of your More hours will be updated in real-time.
Contact your account manager if you'd like a quick tutorial on how to get started now.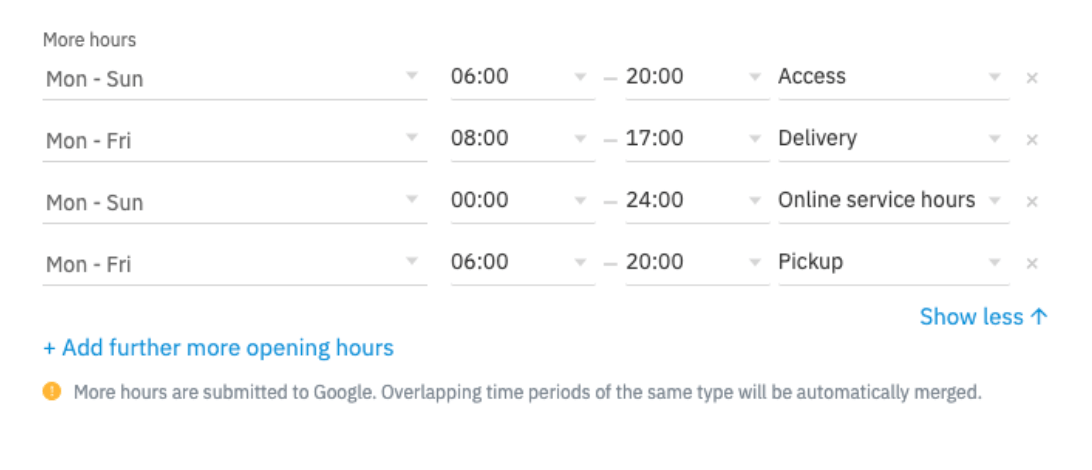 Want to keep your hours updated for all locations? See how Uberall CoreX can help