How to Build the Definitive Online to Offline Brand Experience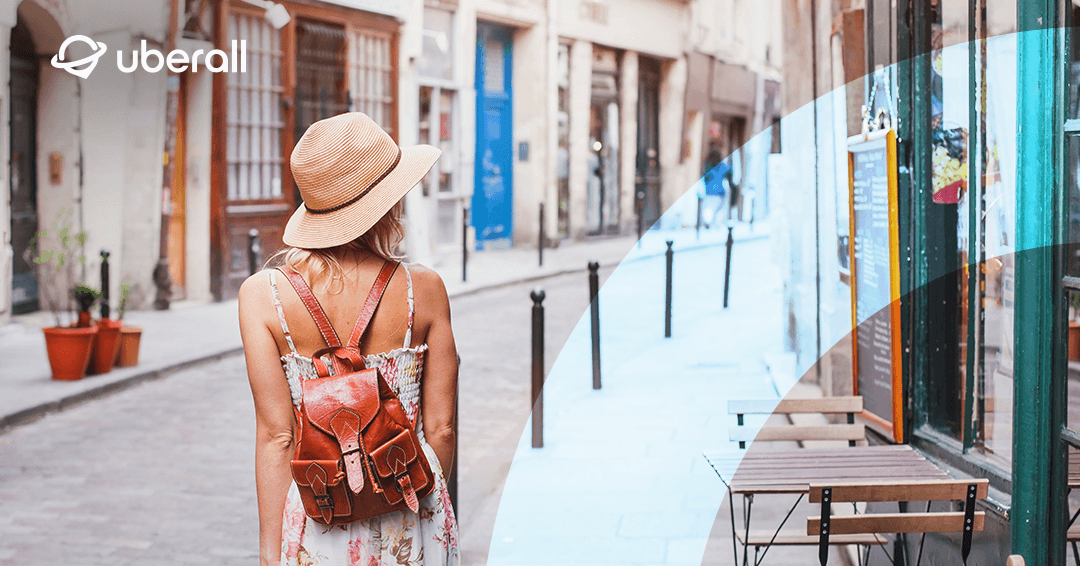 When consumers search online for products and services in their local area, a seamless and connected brand experience will determine whether they walk through the door. Current research shows consumers have high expectations at all online and offline touchpoints, so businesses who don't consider the complete local customer journey in their marketing strategy, can be sure to send traffic directly to the competition.
More than half of every Google search is an enquiry into products and services 'Near Me' (53%), for example, "shoe shop near me" or "garage near me". It's the fastest growing search category that has astonishingly overtaken generic Google search queries, and guess what? Most businesses haven't noticed the shift.
What's more, 'Near Me' consumers have an intent to buy, with 75 percent of searches leading to a store visit within 24 hours. This all presents a huge opportunity for brands to take the market by storm. And how? The 'Near Me' Brand Experience.
What is the 'Near Me' Brand Experience?
The 'Near Me' Brand Experience encapsulates every online and offline touchpoint a consumer has with a physical location, whether a global brand or small business. A positive 'Near Me' Brand Experience has a huge impact on customer loyalty and attraction.
>> White paper: Discover 3 advantages of the 'Near Me' Brand Experience
What does this mean for your marketing efforts?
Consumers are on the move, interacting with your brand both online and offline. The intention to buy is high and price sensitivity is low. By optimising your online visibility and guiding your local customers through a seamless and compelling online to offline journey, you can gain competitive advantage.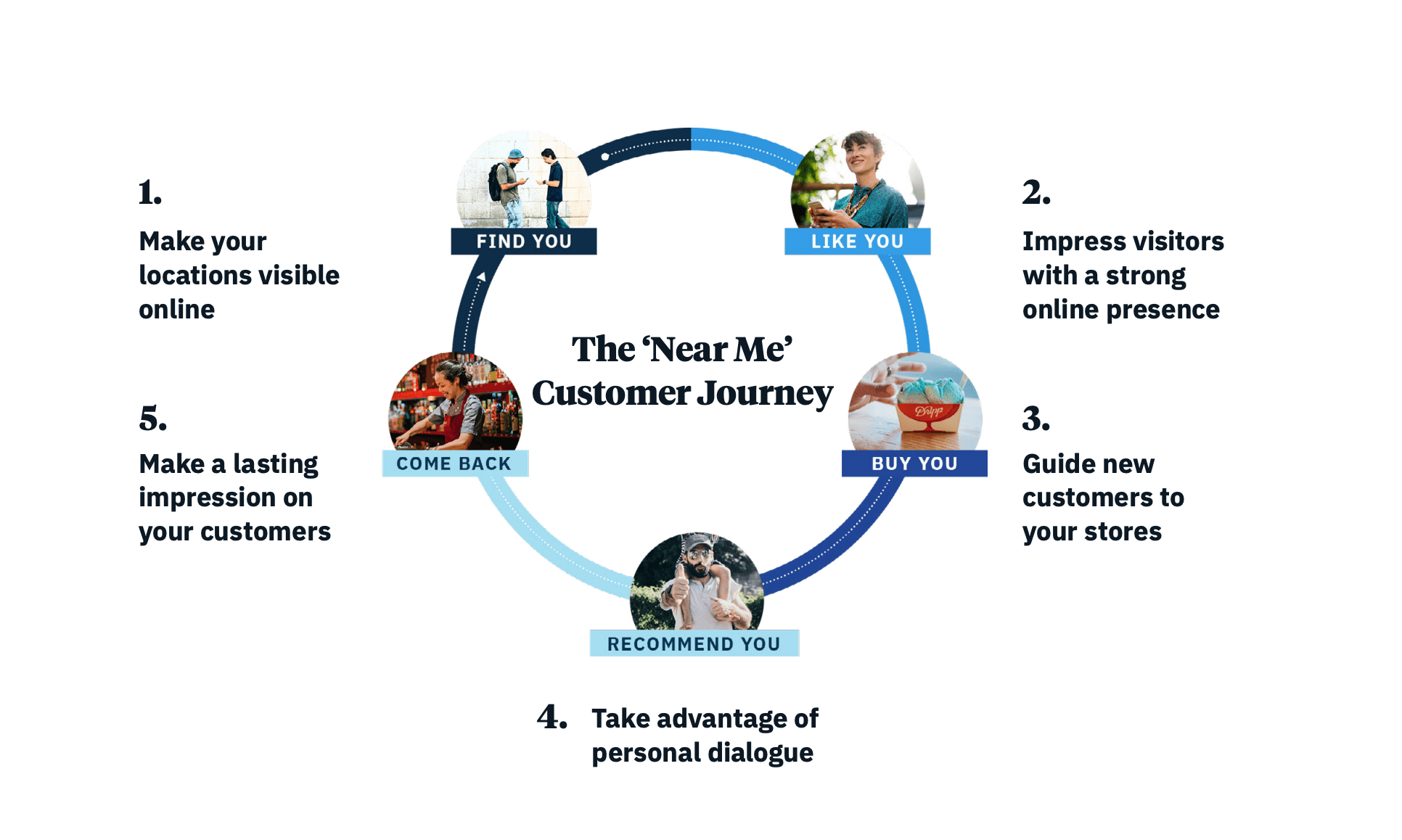 This can be no mean feat, especially for larger organisations with several branches or points of sale. Marketers will have to get the balance right of local engagement, streamlining processes and automating as much as possible. Enabling the right marketing technology (martech) will be essential to achieve the highest possible ROI against tight budgets and stretched resources.
Andy Duggan, Global Digital Marketing at BP, explains that implementing the right martech is the only way to manage so many brand touchpoints:
"For me, real success can be seen in the feeling a brand conveys to people. 20,000 locations (for BP and Wild Bean Cafe), managed via more than 40 platforms — that's 800,000 brand touchpoints. Only those who are genuinely interested in what happens at each touchpoint can build a strong brand. And if there are 800,000 touchpoints, there has to be a way to take care of everyone: You need the best technology on the market to manage so many locations in real time."
Andy Duggan, Global Digital Marketing | BP
The strategy in 5 steps: How to optimise the 'Near Me' Brand Experience
1. Determine the current status of your online presence
Online competition is fierce, and only getting more so. If you want to stand a chance of getting noticed by both search engines and consumers, you need to build a strong online presence. Before you start, you need to determine your current online performance.
Is your online information correct and up to date? Sounds simple, but now more than ever this is essential, as consumers look to brands for reliable and accurate information on opening hours, telephone number, address etc.
What is the average review rating of your locations? In addition to the key players, like Google and Facebook, don't forget to check out other platforms, such as Yelp and TrustPilot. Research reveals that just 0.1 more star rating leads to 25 percent more conversions, so it's a worthy investment.
Does your brand respond to your customer reviews? In our Reputation Management Revolution report we found that conversions almost double when response rates rise from 10 to 30 percent.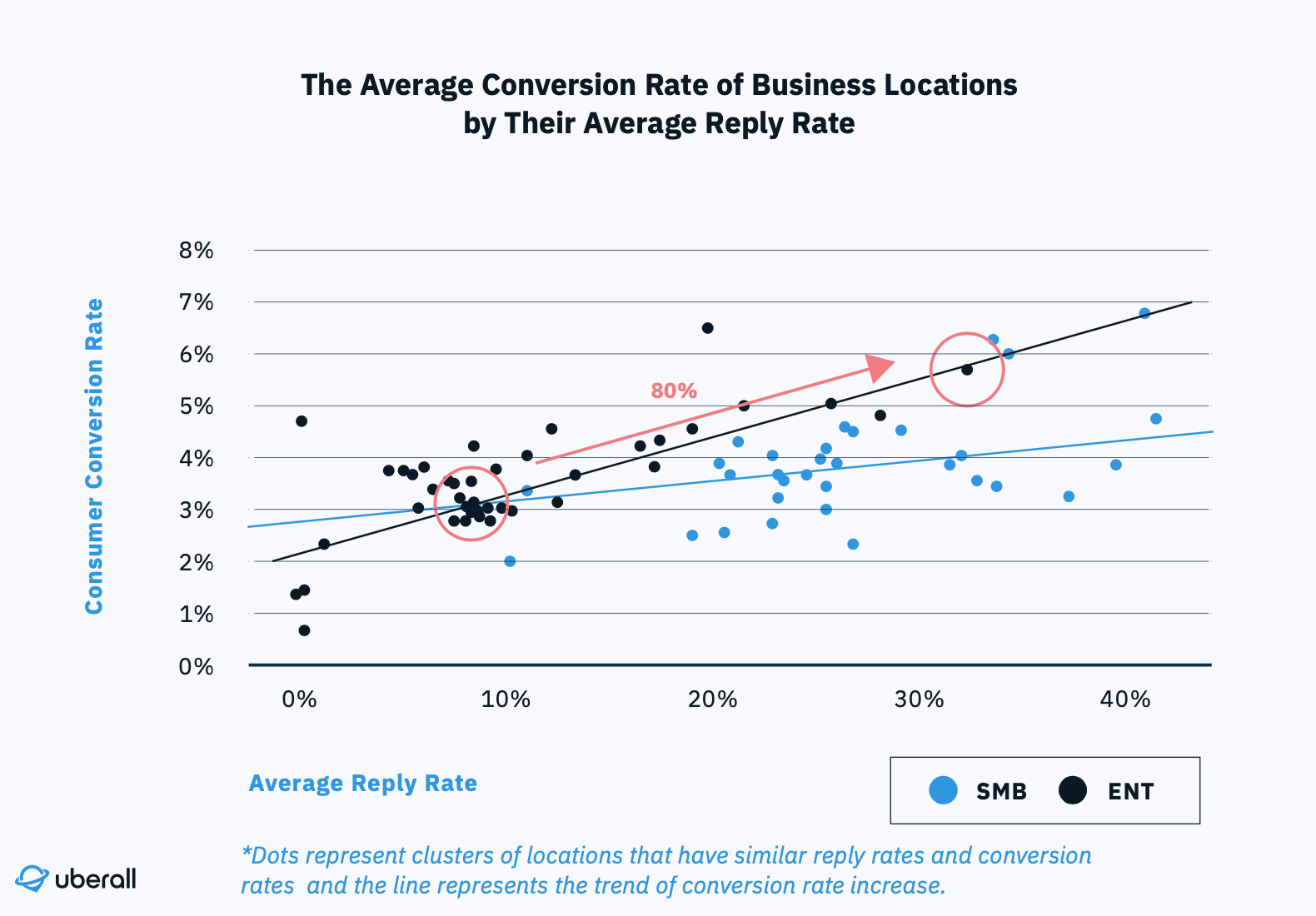 >> Don't know where to start? Check out our free 'Near Me' 360 benchmarking tool
2. Identify key stakeholders and make 'Near Me' a team success
What kind of business model do you have? Do you manage the marketing for a global brand with hundreds of locations worldwide, an SME or a franchise company?
Depending on how you operate, there are several ways to identify and manage stakeholders. Some companies take ownership centrally, managing all functions from head office, while others include stakeholders at a regional level or even appoint ambassadors locally. However you choose to do it, it's important to set clear goals that everyone can work towards, ensuring important information and engagement with consumers is done so in a timely manner and in keeping with brand guidelines.
"What we found is that the manager would not always be so engaged. So what we said was that the location manager should be informed, and they should appoint someone within their team to work on this. You can call them 'ambassadors'.
Say I'm the restaurant manager. I want to give one of my staff the opportunity to be involved in this workgroup and you make it interesting by creating the feeling of belonging. So you create a weekly or monthly call with updates. You can create a certification or a test that they have to take so that they feel like they are doing something important, that they also buy-in, get trained and in the end know what they are talking about."
Ben Van Nieuwstadt Former Director of E-commerce | Accor Hotels
>> Discover more tips from global marketing experts in our Global Local Brand Report
3. Promote current and relevant content
Consumers want accurate information, but also relevant and local information. It's the brands who deliver the right content in the right place who gain consumer trust. Always remember these five golden content rules when managing your locations:
Audit. List all online directories where you are present and highlight key platforms where you are missing. You need to be wherever your potential customers are searching.
Refresh. Identify and remove any duplicates as they can result in lost traffic, from platforms penalising your whole account for spam, confusion created amongst consumers or even dilution of your local SEO ranking.
Optimise. Utilise all the features on offer and include as much information as you can, for example, Google My Business has just launched Corona related Health & Safety attributes, such as 'mask required' and 'appointment required'. Don't forget to add images and video content.
Update. Create processes so that online content is regularly checked for accuracy and updated where required. Appoint ambassadors to get behind the mission.
Create. Use your local SEO knowhow to create and share keyword driven content within your listings, for example, include FAQs into Google Q&A.
The key to successful implementation and continued management of these is automation, especially if you have multiple locations to manage. Choosing the right martech solution will relieve pressure on your stretched team, bringing the 'Near Me' Brand Experience for all locations to life on one platform, and reducing replicated tasks.
"In terms of listings: When I need a manager of a BP location to update their opening hours, I ask the marketer in each country to own that. Sometimes I spot check data. And if I see a location with incomplete or inaccurate data in Spain, I'll approach the marketer in Spain responsible and I'll ask them to chase."
Andy Duggan Global Digital Marketing | BP
>> Read more insights from marketing experts in our Global Local Brand Report
4. Engage with your local consumers
An authentic brand experience is much more than just data. Yes, correct and current information is essential to success, but don't forget the personality of your brand. Give consumers an insight into what it's like to walk into one of your locations. You are delivering a personal service, executed digitally.
A great way to engage with consumers is through reviews. Online reviews are the top decision factor when consumers conduct an unbranded 'Near Me' search, so reviews on your location pages of directories, such as Google and Facebook, need to be managed quickly and efficiently. This will show those yet to make a decision that you're a brand who cares about them as a local consumer, and enable you to improve your star rating in the long term.
5. Measure your success
There are several KPIs that you can use to measure the performance of your 'Near Me' Brand Experience. Your online visibility can be determined through views and clicks, while star ratings, the number of new reviews and your response rate provide an effective tool to measure reputation management.
Analysis of branded and unbranded search results provide you with a solid indication of online visibility, "petrol station near me", and brand loyalty, "BP near me".
>> Watch on-demand: Branded vs. Unbranded Search webinar
In a study of branded and unbranded search, we found that organisations who had implemented the 'Near Me' Brand Experience as their marketing strategy improved their overall online visibility, seeing a 140 percent increase in unbranded search within just six months.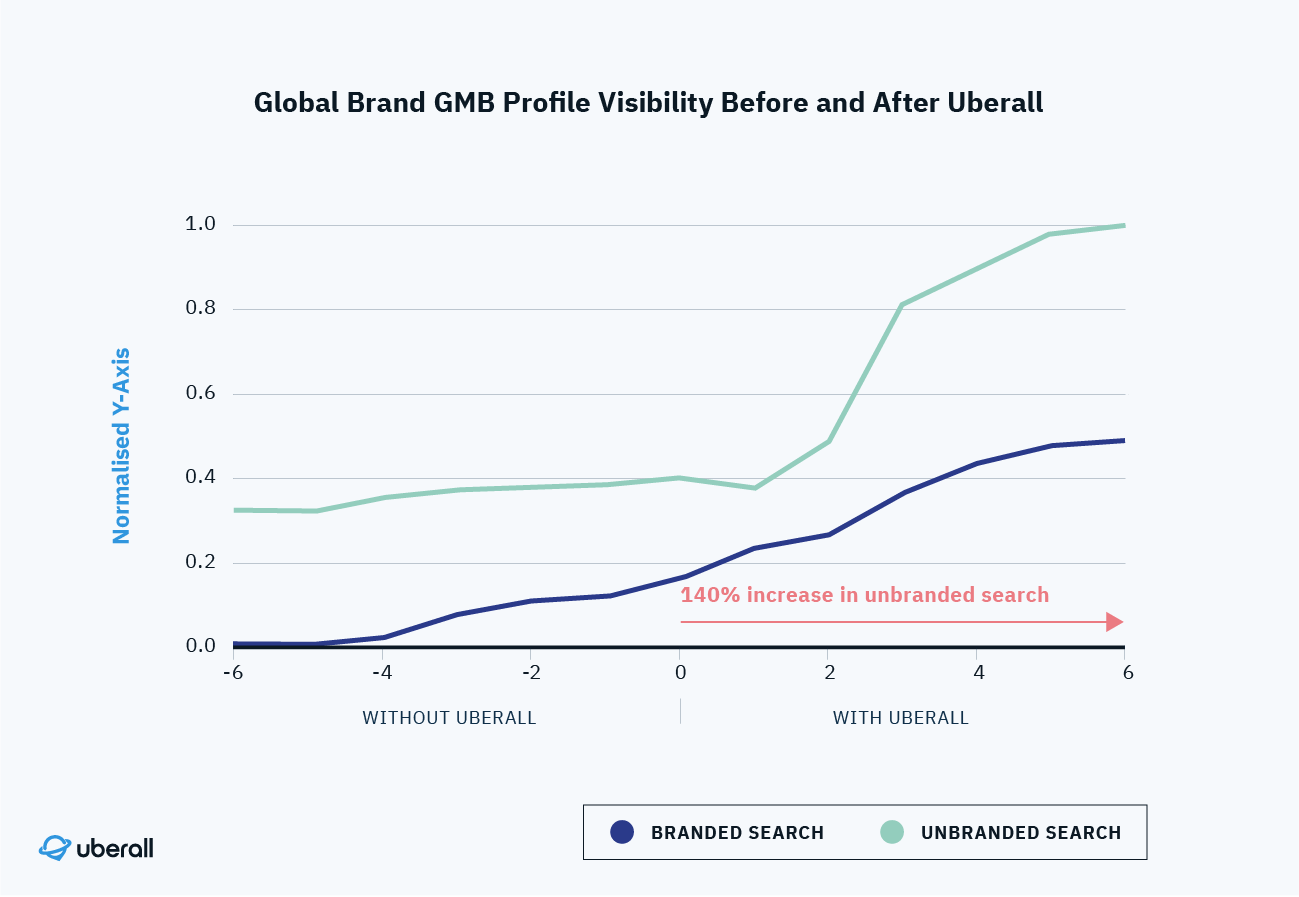 How to implement your own 'Near Me' Brand Experience
The 'Near Me' Brand Experience is about accompanying your customers along their journey and creating a positive brand experience, seamlessly at every touchpoint.
With the right automation tool for your online-to-offline marketing, you'll be well on your way. The first step, however, is to complete an audit of all your online locations, assess your data accuracy, reviews conversions and search visibility.
>> Download the newly released 'Near Me' 360 Report to get started!