Overview
The UK's leading travel brand, TUI has used the Uberall platform since 2018 to bring more than 6 million UK holidaymakers a memorable hybrid customer experience at more than 300 agencies across the nation.
As a long-term and trusted Uberall client, we chose TUI to be one of the first companies to test out Analytics, so the team could have a more detailed view of how each branch was performing at the local level. So rather than having to spend hours trying to build a report, they get a full overview of how each branch was performing. This meant it was easy to take a deep dive into the data.

The Challenge
The more locations a business has, the more difficult it is to have a clear overview of the online presence and performance of each standalone location in real-time.
Testing Analytics, we wanted to see how TUI could:
Measure how the customer experience improved or went down at a specific location or in a particular region
Have an overview of how each branch was performing at the local level
Identify regions or locations with the highest demand
With this in mind, a global pandemic, cancellations, postponed dates and ever-changing regulations were added to the mix — making it suffice to say that the travel sector has been one of the hardest hit sectors in 2020.

The Solution
As an Uberall customer since 2018, TUI was already using Listings and Engage as one source of truth to manage the online presence of 300+ locations. Analytics was added, seamlessly integrating thousands of data points and bringing together all relevant data tied to location-specific objectives. This offered TUI access metrics such as impressions, clicks, conversions — and review factors to track brand awareness, engagement and reputation.
In just a few clicks, the team could get an understanding of search behavior, the role of branded vs. unbranded and direct vs. indirect searches, as well as the number of impressions and queries in different regions and at different times.
The data was aggregated from platforms such as Google and Facebook, displayed with easy to understand and clear graphics and images — sans unnecessary data or complicated metrics.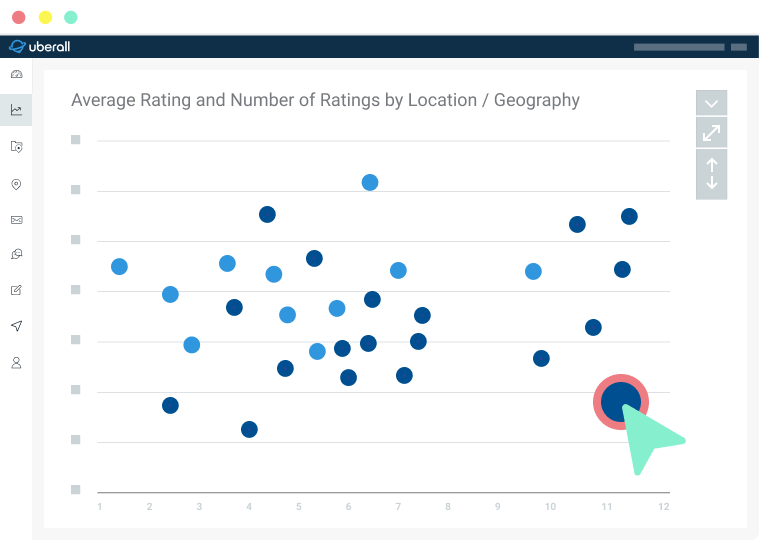 The Results
Analytics helped TUI to understand their customers and customers' local behaviour by offering a granular breakdown of data, such as direct and indirect queries and seeing how that's performing over time. The team was also set up to see the impact of their local online and offline campaigns because of the performance insights from multiple local campaigns.
This was key for marketing and the entire company to understand the relationship between the increases in search and interactions with the brand alongside a campaign or TV ad. This offered a snapshot of the impact a campaign is having on brand searches — not just at the national level, but locally. Or, if something like a new destination has gone on sale, is that increasing indirect (unbranded) searches.