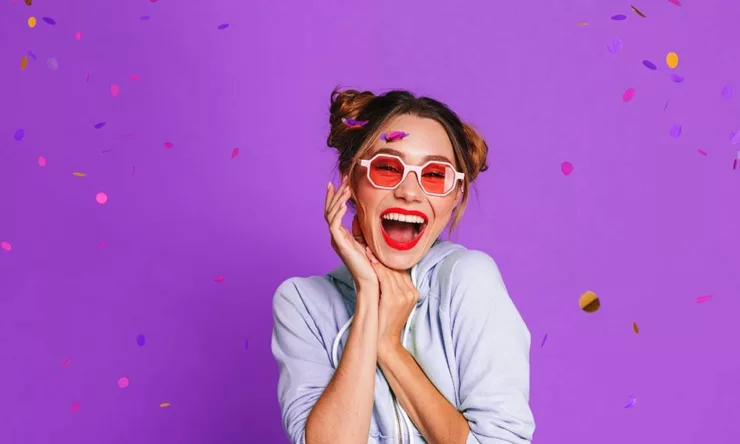 Blogs
The Most Important Local Search Ranking Factors You Need to Know Now
Most businesses know that they need to increase their search rankings to increase traffic for their brand but don't understand that the ranking factors to optimize for Google local search are different from what drives traffic to their websites.

This is especially true for multi-location businesses that want to bring more customers from online searches into their stores. Based on the results of the Local Search Ranking Factors Survey, we guide you through the most important ranking factors for Google local search.

What is the Local Search Ranking Factors Survey?
The Local Search Ranking Factors Survey was started by David Mihm in 2008 and in the past has been published on Moz. David joined forces with Darren Shaw who has taken over the survey and this year's results have been published by Whitespark.

It's an annual-ish survey, published every 1 to 2 years. It's a study by a few dozen search practitioners measuring the features that impact a business's position in the map pack and local organic search results. The survey respondents rate a number of different themes and strategies that digital marketers employ to help improve online rankings, visibility, and conversions.
The goal of the survey is to deliver a guideline to businesses, agencies, and brands about what is most impactful to their local search ranking. Keep in mind that the exact impact of these ranking factors will vary based on a number of different elements including business size, industry, geographical location, and more.


Measuring the Local Map Pack and Google Local Search Results
The survey reviews both a business' local map pack ranking and searches position. The map pack or standard 'local ranking' is a Google Business Profile and how it appears on searches and maps. Local organic ranking is where a local landing page (blue link) appears in search results for local intents and queries. While related, local map pack and local organic ranking should be measured and tracked separately as the elements and weights of these elements vary in how impactful they are to a business's visibility.
Local Map Pack Results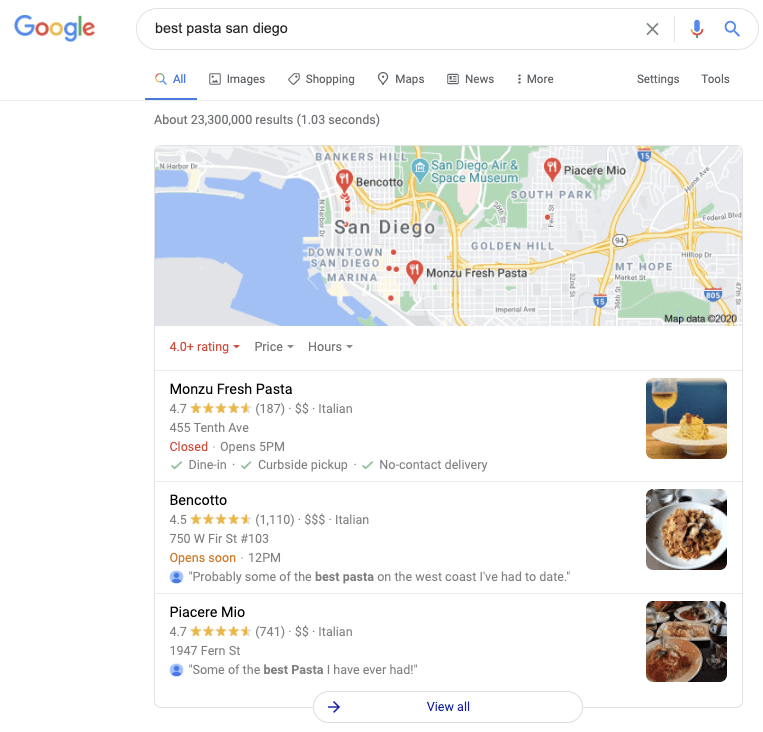 Local organic search results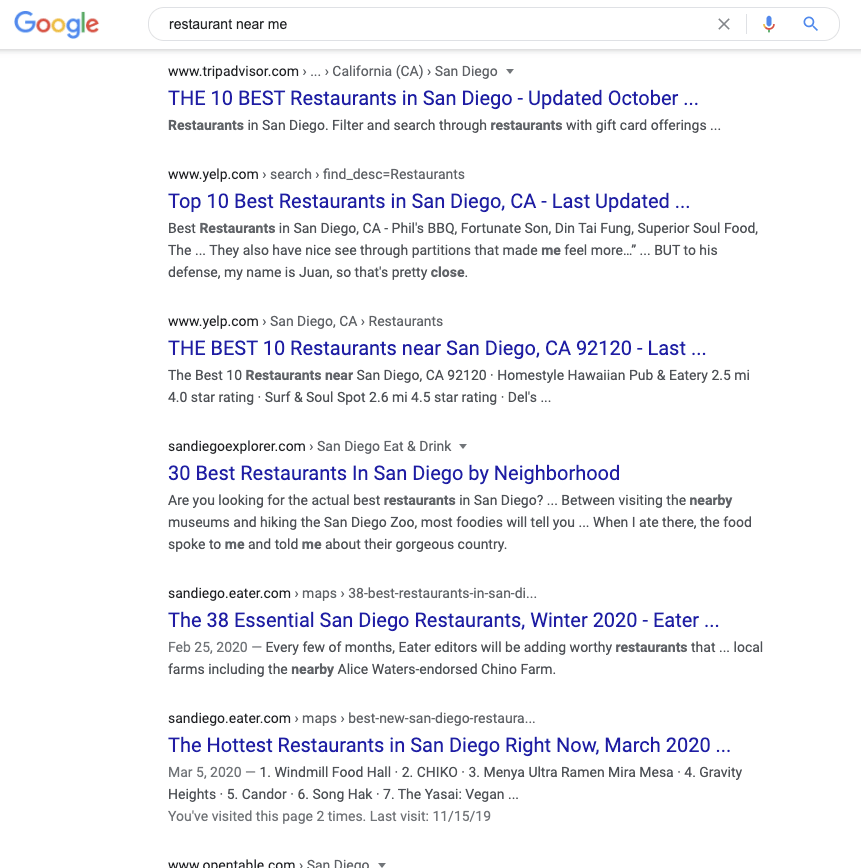 What Are Ranking Factors?
Ranking factors are the components used by search engines to measure and evaluate web pages to determine how they will order and display the results.
When Google determines the intent of a query is local, they will use these factors to rank results: relevance, distance, and prominence
Relevance: "Relevance refers to how well a local Business Profile matches what someone is searching for. Add complete and detailed business information to help Google better understand your business and match your profile to relevant searches."
Distance: "Distance considers how far each potential search result is from the location term used in a search. If a user doesn't specify a location in their search, Google calculates the distance based on what it does know about their location."
Prominence: "Prominence refers to how well known a business is. Some places are more prominent in the offline world, and search results try to reflect this in local ranking. For example, famous museums, landmark hotels, or well-known store brands are also likely to be prominent in local search results.
Prominence is also based on information that Google has about a business, from across the web, like links, articles, and directories. Google's review counts and review score factor into local search ranking. More reviews and positive ratings can improve your business' local ranking. Your position in web results is also a factor, so search engine optimization best practices apply."
Now that we understand the survey and the basis for measurement, let's review the elements of a holistic local SEO strategy. These include:
Google My Business - all of the features within your Google My Business profile such as name, category, reviews, and images
Reviews - first and third-party reviews for your business around the web
Links - inbound links and mentions of your business, typically for the local landing page that is linked to your GMB profile
On-Page - elements and content on your local landing page, typically the one linked to your GMB profile
Behavioral - actions happening on your listings and your pages such as clicks and calls
Citations - location data presence volume and consistency
Personalization - largely based on the language and location of the search

Whitespark 2021 Local Search Ranking Factors
What Are the Most Important Local Ranking Factors?
The most recent edition of the Local Search Ranking factors survey shows that focusing on optimizing your Google Business Profile and reviews now account for over half of your local map pack ranking. However, you have to do more than this in order to get the most impactful rankings signals and drive more conversions for your business. Let's start with Google Local Pack.
How to Rank Higher on Google in 2022
There are dozens of features and fields in Google Business Profile. In order to set your business up for local ranking success, you shouldn't skip anything. Businesses should complete every field accurately, including as much detail about the actual location as possible.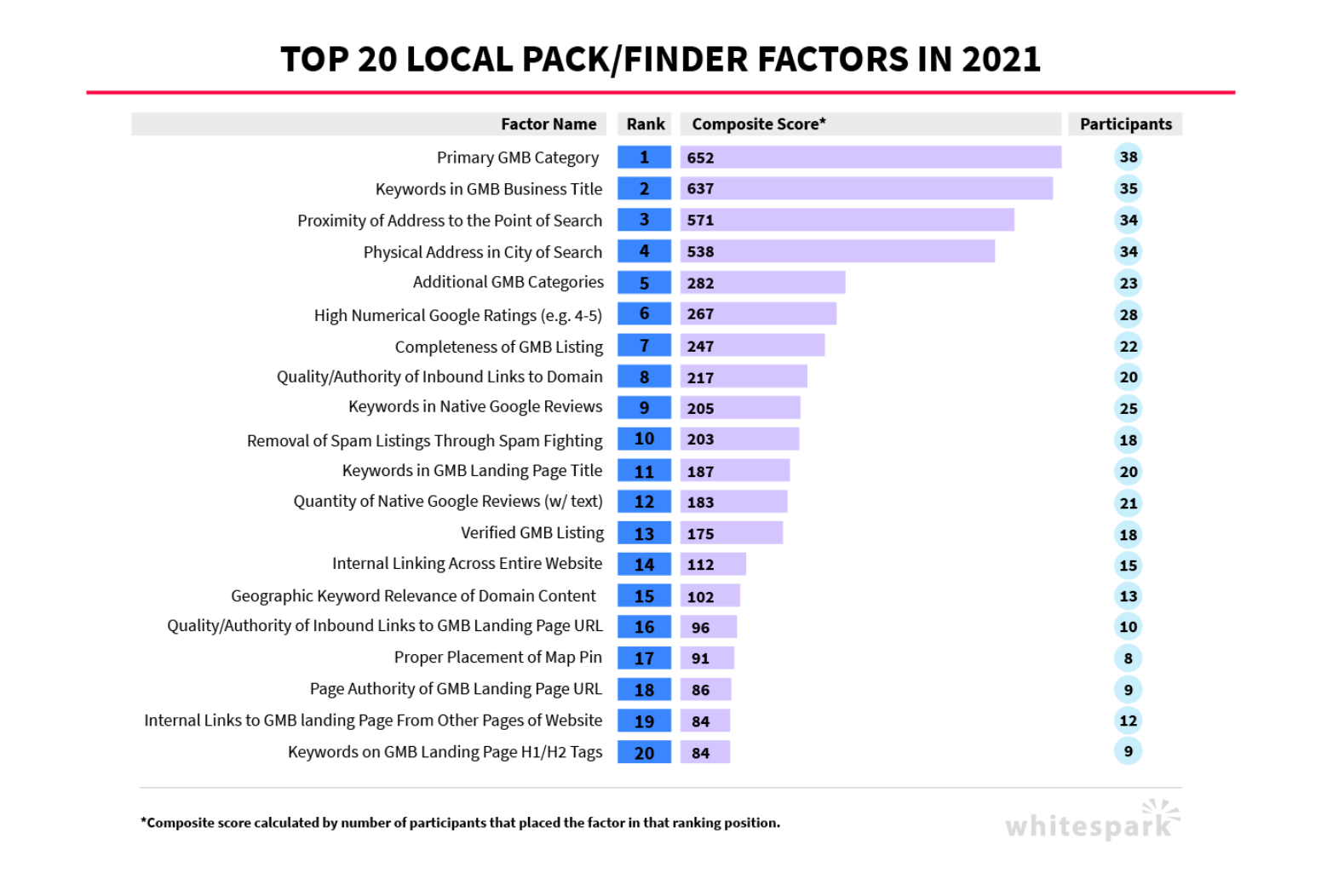 For the purpose of this article, we'll focus on the top 10 most impactful elements of your Google Business Profile.

1. Your Primary Category on Google My Business
Your primary category on Google should be the most specific categorization of your business or service. Google currently offers nearly 4,000 categories for businesses in the United States and this varies slightly for other countries.

How do you know which category is the best for your listing? While you can have up to ten total categories on your Google Business Profile (one primary and nine additional), the primary category is most impactful to your local ranking so you want to be the most thoughtful here.

You should also remember that a category should tell searchers what your business is, not what your business has. Supplemental business features should be reserved for attributes, descriptions, and other areas.
Ideally, you want to choose the most specific category. For example, an Italian Restaurant will be more relevant and specific than Restaurant. We'd also suggest researching some of your known and unknown local and global competitors. See what category they have selected to help determine where your business will compete. With the help of location marketing platforms, you can organize the categories for all your locations with only a few clicks. Find out more here.
2. Keywords in the Title of Your Google Business Profile
Should you add keywords to your location name to improve your ranking on Google? Only if these appear in your legal business name as it's against Google Business Profile guidelines to add modifiers to your listing name. If you don't have any relevant keywords in your legal business name, is there anything you can do about this ranking factor? Other than legally changing your name, adding any other keywords to your name on Google Business Profile could put you at risk for suspension.
If your business ever goes through a rebrand, consider how you can surface the importance of naming from a digital perspective to internal teams. You can help influence future conversations and decisions around naming by stressing the importance this has to online visibility.
3. Proximity to Searcher
The physical distance between your business and the location of the search is one of the most impactful ranking factors. Picking up and moving your business isn't an option for most businesses, no matter the size, so there really isn't anything tactical for this ranking factor. The most important element is to understand how much this impacts your business' visibility. When evaluating competitors and other businesses ranking for specific queries, always remember that their proximity to the searcher is going to have an incredible impact.
4. Physical Address in City of Search
It's important to understand ranking factors that impact your visibility, even if they're not easy to change or impact. When your business has a physical presence in the same city that a user's search is taking place, you are more likely to outrank businesses that are located outside or in an adjacent city. The opposite is also true if you are a business located outside of the city, you may have competitors inside the city of search with a competitive advantage. Typically this is one of the ranking factors that is important to be aware of when running competitive audits, but not as easy to impact.
5. Additional Google Categories
While the primary category on your Google Business Profile should have more focus, you shouldn't de-prioritize additional categories. Google is going to rely on your business categorization to understand which queries are most relevant to your business. Your primary category should be the most specific categorization of your business while your additional ones can be seen as supplemental. If there are keywords you would use to describe your business that are also categories on Google, these should be added as additional categories.
6. High Numerical Ratings
Most businesses and searchers know how important it is to have a positive rating but this is also one of the ways Google is going to consider you for ranking. Having a high numerical star rating, average of 4 or 5 stars, is shown to have a direct impact on your positioning in the map pack. Additionally, for queries that include the word 'best', Google is going to automatically filter out businesses with less than a 4 star average rating. Having a low average star rating can potentially limit your visibility in some queries altogether.
7. Completeness of Your Google Business Profile
Businesses and brands should think of their Google Business Profile as their digital storefront. When the majority of shopping was done in malls, you could capture eyes and potential buyers by having extravagant window displays and flashy 'sale' signs for shoppers wandering by.
Now as much of this search is done digitally, a similar approach should be taken for your digital window. Google is renting you real estate to display your business by way of the Google Business Profile.
By completing every field available to you, loading rich and relevant images, highlighting promotions, and providing an easy way for customers to connect with you, Google will have more context about your business and services. This will lead to more opportunities to rank in searches and the ability to capture more browsing traffic.
8.Quality/Authority of Inbound Links to Domain
While the majority of the top 10 ranking factors are related to elements within your Google Business Profile, there are plenty of other contributing factors. In addition to the information you are providing to Google directly in your Business Profile, they will look to other sources to validate, understand, and help rank your business. One of these is your domain website that is included on the website URL of your Google Profile. Google will evaluate your domain to determine the trust of your brand and this can be positively impacted by having high quality and authoritative inbound links. You can learn more about how to build a 'Google-friendly' site here.
9.Keywords in Native Google Reviews
There are multiple elements within Google reviews that have an impact on your ranking and visibility. Reviews with text are going to provide more context to Google about users' experience with your business or service. The content within the review will prove to be more valuable in influencing your rank. By encouraging users to leave detailed reviews about the product, service, and/or experience with your business, you are not only receiving valuable feedback but are also helping provide more information to Google.
10. Removal of Spam Listings Through Spam Fighting
With the rise of spam listings on Google Search and Maps, a common tactic of local businesses and SEOs has been to audit search results to understand if the invalid or ineligible businesses are outranking you or your client.
By understanding businesses and content that meets the eligibility criteria of a Google Business Profile, you will be able to analyze the search results in order to identify potential spam listings for removal. In addition to an entire business being ineligible, there are elements of a Google profile that can be spammed even if the business is legitimate.

Typically, these are fields like the name and category as changes here are seen to have a fairly quick and impactful effect on your ranking. While businesses can add keywords to their business name, these should only be keywords that exist within your legal business name.

The same would apply to your primary category. Businesses should not be using a category that does not accurately represent their business just to appear in more search results. Some of these violations are caught automatically by Google's spam algorithm but there are still plenty that does not get filtered out.
If you have identified a business that is violating guidelines, you should report the violations to Google. Typically businesses that have created spam or fake listings intentionally have done so in order to rank in the map pack, capturing more customers to call them or click their website. If these spam listings are outranking you and potentially taking away your business, a fruitful tactic could be to report them to Google for edits or removal. Ensuring all businesses are following guidelines and competing accurately helps to level the playing field.

A Winning Google Review Strategy - Keywords, High Ratings, and Reviews with Text

The most important approach to having a strong review profile is to provide an extraordinary product and/or service. This should not be overlooked or replaced by other short-term strategies.
You'll also want to let customers know throughout their purchasing journey that feedback is valued and used to make improvements to your processes and products. This helps make the feedback loop authentic. Having a strategy for reputation management is more critical today than ever.
Make it as simple as possible for users to leave reviews, ideally by linking them directly to the review section of your GMB profile.
When a user leaves a review, Google My Business will prompt the reviewer to provide feedback about one of the services listed if the business has added these. This will help specifically by prompting users to leave reviews with text, not just a rating, as well as push them more towards using particular keywords that are relevant to your business. All service-based businesses, and any business offering any supplemental services, should take advantage of the Service Editor in order to trigger these prompts. Include all relevant services you want users not only to know you have but provide feedback on so future customers see this when considering you.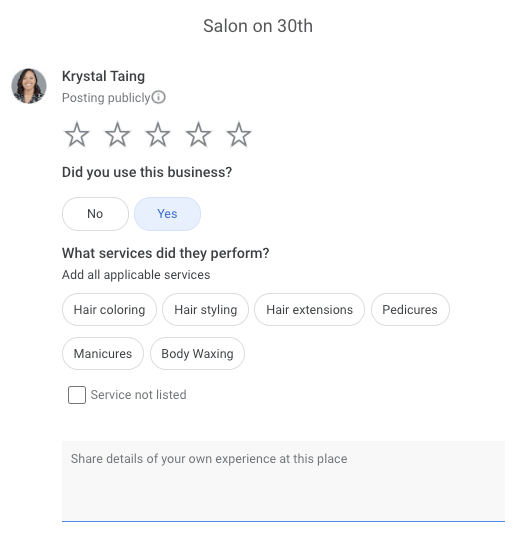 You should also be aware of the newer review attributes as Google asks reviewers to evaluate these topics when leaving feedback. These are set by Google and vary by industry but cannot be influenced or changed. This is another function to be aware of as it can influence how searchers and customers interact with your business on GMB.
How do I improve my local search ranking?
In summary, we've covered the core of your local search ranking. There are a number of other factors that Google evaluates when determining to rank your business. Google Business Profile optimization and Reviews are simply an entry point.
If you are asking yourself how to improve your local search ranking, you should begin with the following:
Review your primary category. If your business changes your core focus throughout the year, or seasonally, consider updating your primary category to reflect this. Always analyze competitors' categories on Google to understand where your business is positioned. Don't stop here though, add as many specific and relevant additional categories to further identify your business.
Consider your online visibility when naming your business, especially if this is decided by a team far removed from SEO. Keywords in the business title can impact how you appear in results, particularly in competitive markets. If you can influence your legal business name, this can help in moving the needle.
Encourage those in front of your customers to provide a great experience and reinforce how important feedback is to your organization. Understand how new workflows like the services and review attributes are embedded into the feedback process.
Be aware of how much your physical location is taken into consideration when ranking. If there are particular cities or metros that you want to be visible in, understand how near or far you are from the city center, as well as your competitors. This is not a factor that is easily influenced but can help in the prioritization of other ranking factors.
Ace your local SEO game with Uberall CoreX