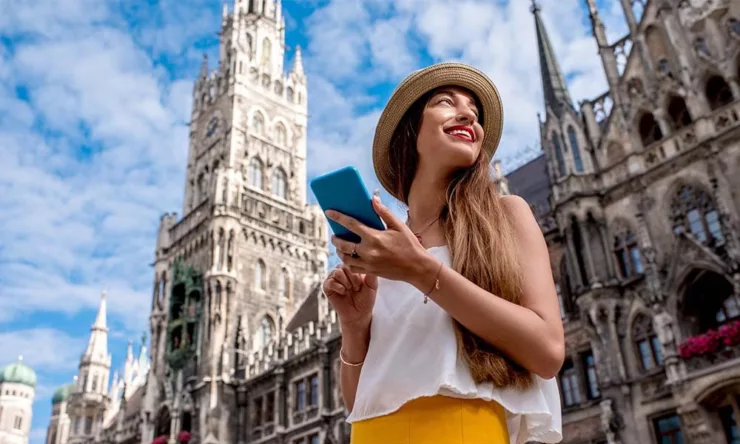 Blog
How to Complete Your Google Business Profile to Boost Local SEO Traffic
Both single- and multi location businesses can gain significant numbers of local customers from a Google Business Profile (GBP) because it puts local SEO and Google Maps to work for you. However, unless your local business listing is complete, Google will not display it at its full potential in many local searches.
Take a minute to consider these three eye-opening GBP statistics:
Local businesses receive 94% of their calls from a Google Business Profile on weekdays.

In local searches, people discover the average local business over 1000 times a month.

Google Business Profile is used by 64% of consumers to find contact details.
Completing your GBP listing is not difficult if you follow the easy steps in this short guide to improving your Google business listing.

The Benefits of Boosting Local SEO With a Google Business Profile
Your local business can get prime online search results space for free. Through Google Business Profiles, Google has made it easy to benefit from local SEO quickly and easily. Completing a GBP is especially beneficial for offline brick-and-mortar businesses because the map pack pushes organic search results down to display your GBP above them.
Once your GBP is complete and verified, your business may appear just below paid ads and above organic search results for users searching with local intent using "near me" and location-based keywords. You'll begin reaping significant benefits like:
Increased visibility: Appearing at the top of local search results gets a lot more eyes on your business.

More relevant traffic: Relevant traffic increases sales. People who find you through your GBP are looking for what you have to sell.

Higher numbers of reviews: Nearly everyone checks reviews before they buy. Your GBP makes it easy to collect positive reviews.
To reap these benefits and more, you'll need to ensure your GBP information is up to date and accurate so you don't start getting bad reviews that could tank your online reputation.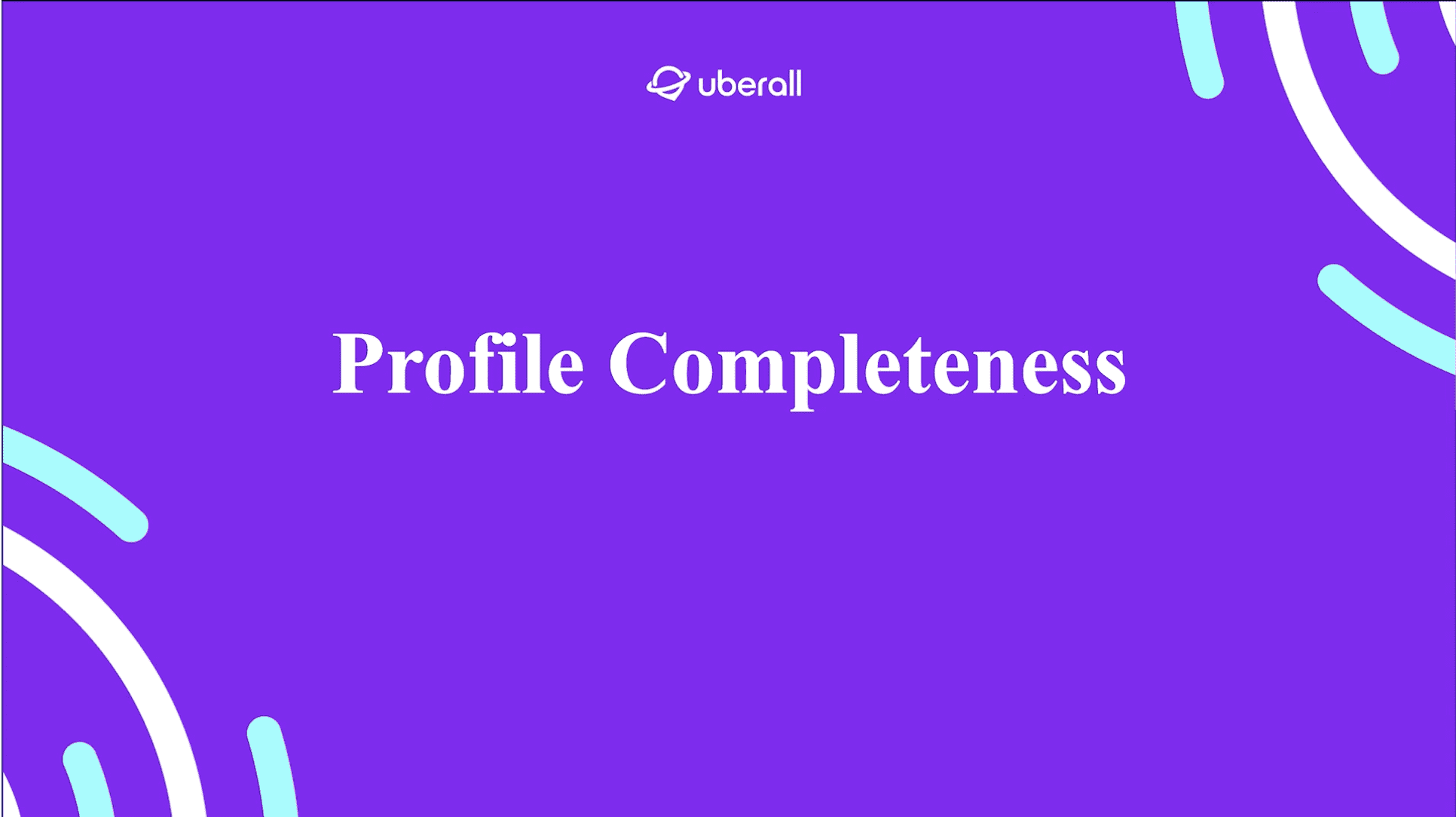 How Can I Complete and Optimize My Google Business Profile?
The first step is to find your GBP by typing your business name into Google Search. If the GBP doesn't appear at the top of the search page, you can try using the search box on Google's profile creation page. If you still can't find your GBP, you may need to create a new one following the prompts on the creation page.
Google has wisely given you three ways to complete your GBP so local SEO can start sending you customers:
You can click a link below the Profile Strength indicator in the upper right corner.

A slider below your listing contains a box for editing each listing area.

In the right column, there's a mobile example of your listing where you may see links to add or edit business information.
Let's go through how to optimize your GBP listing using each choice.
Using the Profile Strength Indicator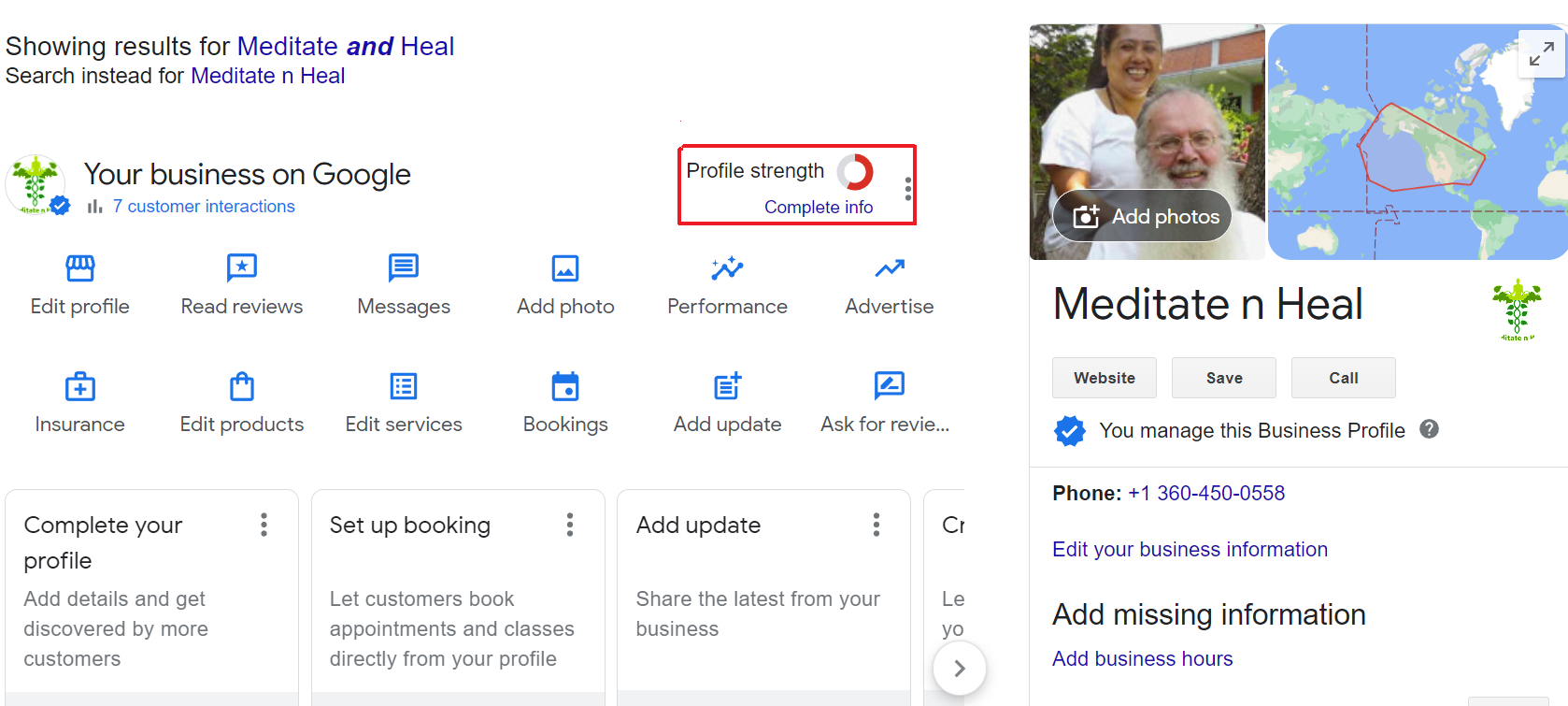 Your profile strength indicator is the circle in the upper right corner of the GBP. In the screenshot above, the circle is only half complete. It's also bright red, indicating that the owner needs to do much work to complete and optimize this GBP.
Clicking on the "Complete info" link below the half-finished red circle opens a handy wizard that walks you through each uncompleted portion of your GBP.

For this incomplete listing, the wizard takes the local business owner through:
Add your opening hours

Turn on messaging

Describe your business

Add your services

Add photos of your business
Using the Slider
Below Your Google Business listing, you'll see a slider containing a row of boxes. Choosing the first box takes you to the wizard.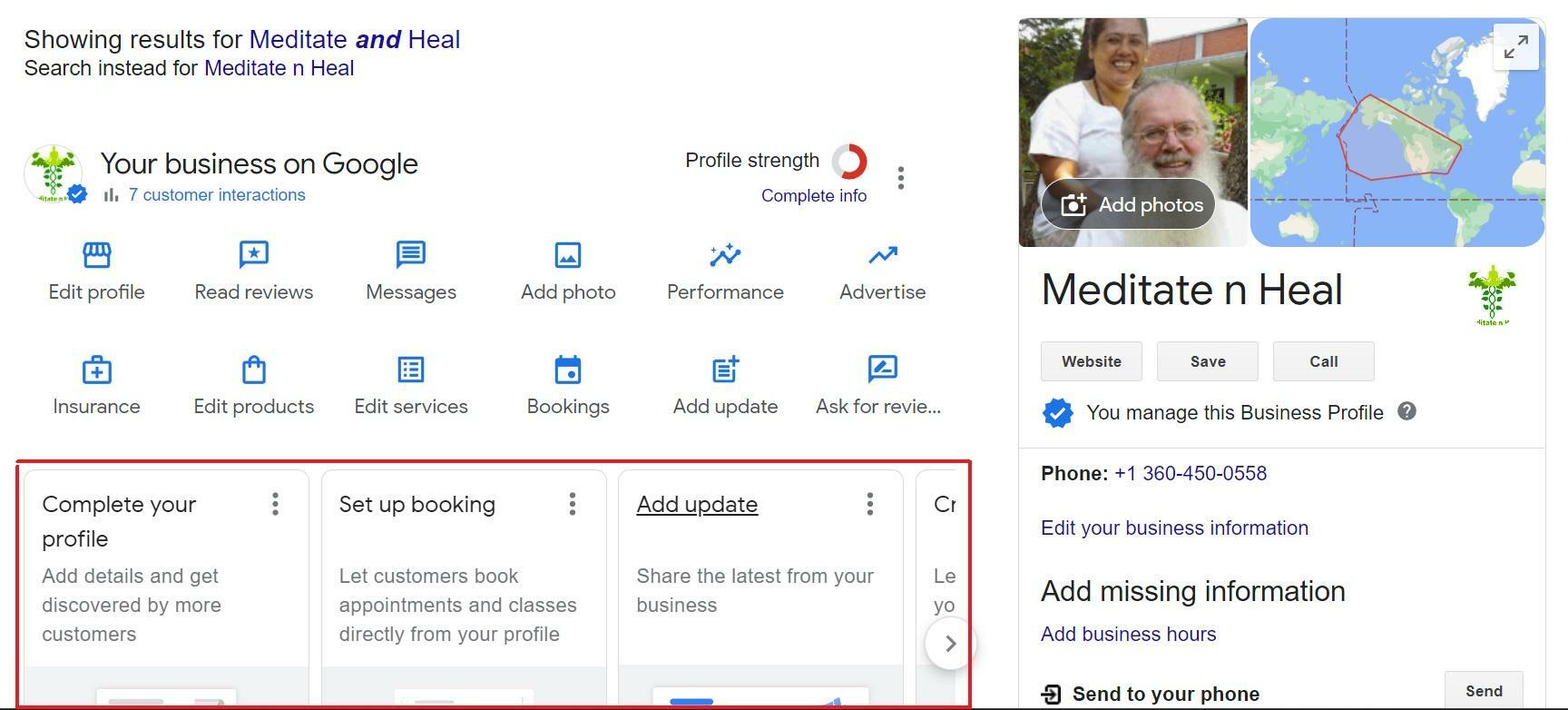 Clicking any other box takes you to the editor, where you can insert missing information for that area. The boxes are:
Add update

Set up booking

Create an offer

Get your first reviews

Monthly performance

Turn on chat

Add photos

Add your opening hours

Create ad
Let's go through each box so you'll understand how to get the most out of that area.
Add Update
You can write a post up to 1500 characters long and include images and a link. Posts can be:
Announcements or updates: Keep core services or products front and center and inform customers about changes.

Products: Can be new, seasonal, or popular items in stock. A link can send customers to your online store.

Events: Can contain the event title, description, start/end date or time, a photo, and a link. The best way to set up events is to have a page on your website describing the event and marking it up with an events schema so that Google doesn't get confused and pull the wrong event from the wrong website.

Feature employees: An excellent way to give your local business a personal face customers can feel connected to before they ever open your door.
The link in your update could go to your website's sales or order page. Multi-location businesses can post in bulk via API. Posts stay up for six months, but Google encourages businesses to post more often.
Set Up Booking
Most businesses can take bookings in their GBP without sending customers to their websites. You're eligible if you can see the "Set up booking" tab. You'll need to integrate with a third-party booking service provider, but there are many, and it's not difficult to do.
Create an Offer
Offers can be an evergreen offer available year-round, a special discount, or even a free giveaway like an e-book or white paper. Offers have start and end dates that can be valid for a year. Google displays offers prominently in your GBP, and they can contain a coupon code, a redeem URL, and terms and conditions.
Get Your First Reviews
Word of mouth remains the most effective form of advertising because people trust their friends more than they trust businesses. Reviews are the online equivalent of a friend's recommendation.
More positive reviews translate into more sales and higher search engine rankings. Google makes it easy to start collecting online reviews:
Click on the "Get your first reviews" tab.

Copy the link Google gives you.

Start sharing the link with your friends and best customers.
Remember to follow Google's rules when soliciting reviews, or your profile could be restricted:
You cannot offer any rewards in exchange for reviews.

Your GBP must be verified.

You need to be on Google Maps.
Monthly Performance
Google gives you four monthly metrics about your local search and GBP performance. It also tells you what keywords your GBP is being displayed for and the number of:
Calls

Messages

Bookings

Website clicks
Turn On Chat
A chat button will appear on your GBP after you turn on chat. Your customers will be able to chat live with you for free. Their messages will appear in your GBP, and you'll receive notifications for incoming messages. You can:
Customize the welcome button

Share photos in chat

Enable multiple owners or employees to chat with customers
Add Photos
Photos and videos bring your GBP to life. You get more clicks, establish trust, help customers find your business with exterior images, and show them what to expect when they arrive with a walk-through series or video. Photos of employees make new customers feel welcome. You can upload:
A logo that identifies your business

A cover photo that displays on your GBP

General images that tell your story
Take care to follow Google's image guidelines. Photo requirements are:
JPG or PNG format

10 KB to 5 MB size

Minimum resolution 720 × 720

No filters or alterations
Video requirements are:
Less than 30 seconds duration

Less than 100 MB file size

720 px minimum resolution
Add Your Opening Hours
Arriving at a business only to find it closed generates an incredibly frustrating customer experience you can avoid by posting your opening hours. Updating opening hours to reflect changes during the holiday season or other special times can gain you extra business.
Clicking the "Add your opening hours" tab takes you to the business information editor. Scroll down to the "Hours" section and select the first option, "Open with main hours." You'll be able to set hours for each day of the week and unique options like:
Hours for the elderly

Pickups

Deliveries

Breakfast

Dinner
Create Ad
Clicking on the "Create ads" tab takes you to a wizard that will walk you through creating a Google ad to drive more traffic to your website or GBP.

Using the Mobile Example in the Right Column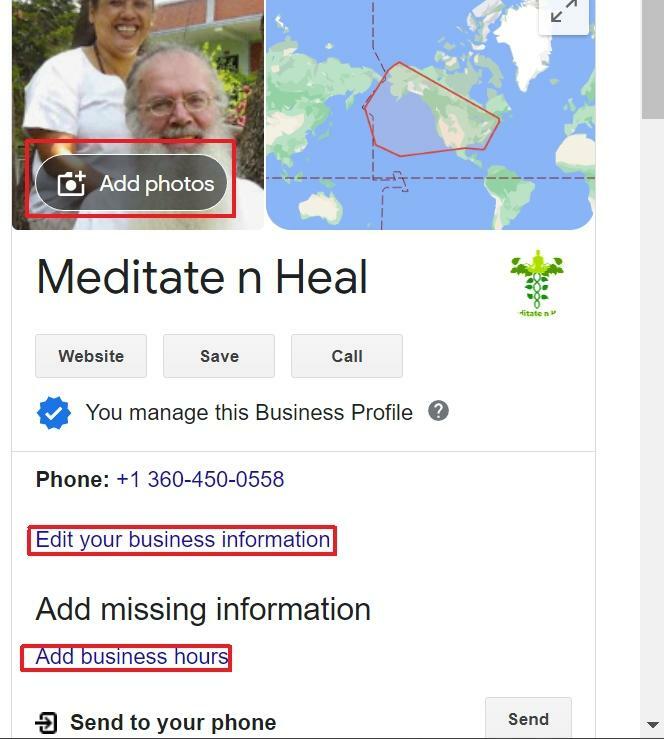 On a desktop computer, in the right column beside the desktop view of your GBP in the center, you'll see a preview of what the GBP looks like on mobile. You'll also see three different places where you can improve your Google business listing:
Add photos

Edit your business information

Ad missing information
Google Wants Your Local Search Effort to Succeed
Google goes out of its way to help you provide the best customer experience possible on your GMB listing because it wants to draw as much search traffic as possible to Google Maps and Google Search.
So, Google makes it easy to optimize your Google business listings by providing many ways to improve it. It only takes a few minutes, and the reward is a boost in customers actively searching for what you offer.
Make the most of the new tracking capabilities in GBP with Uberall. Speak to a consultant.