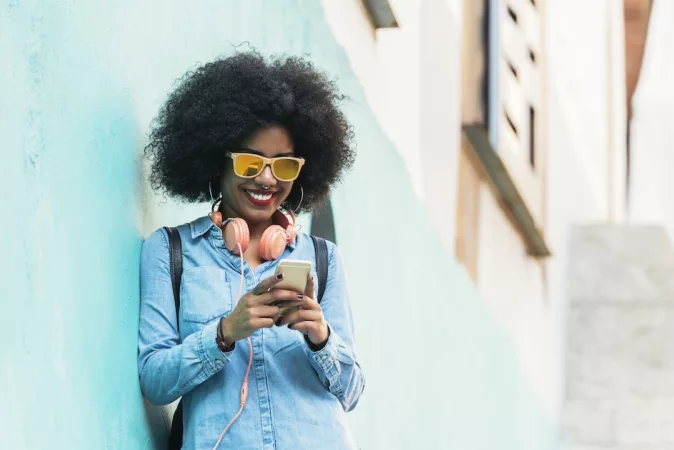 Blog
10 Tips to Optimize your Google Business Profile for Improved Visibility
So, you want more (local) consumers to find your stores and buy from you? Optimizing your Google Business Profile is where you should begin.
With online searches becoming your first touchpoint with your prospective customers, how you present information on your Google Business Profile matters today even more. If you are looking for tips on how to improve your online visibility with your Google Business Profile, you have landed on the right post.

What is Google Business Profile?
Google My Business (GMB) was rebranded to Google Business Profile in November 2021. This rebrand followed Google's attempt to move features out of the Google My Business app directly onto Google search and maps. You can find more information on the rebrand here. This rebrand has, however, given Google Business Profile users a lot more control and a lot of added features to optimize their locations online.
Krystal Taing, Google Business Profile Platinum Product Expert and Director Pre-Sales Solutions at Uberall, shares her tips to optimize your Google Business Profile for improving local marketing, local SEO, and online-offline customer experience.
Optimize Everything Around Google Business Profile to Grow Your Local Search Visibility
The reason for this focus is due to the dominance of the most popular engine: As we know from our recent research on the local customer journey, 77% of consumers use Google to find information about businesses nearby.
Make use of the following features that your Google Business Profile offers and optimize your business profile online:

Take charge of these 14 controllable factors and deliver an enviable hybrid customer experience
Tips To Optimize Google My Business Profile
Optimizing Google Business Profile Tip #1: Define Your Categories
Define the primary category for your business profile on Google as the most impactful and specific categorization of your business. Depending on your country, there are around 4,000 categories you can choose from.
The category tells searchers what your business is, e.g. a specific type of restaurant (Italian Restaurant) or store (organic supermarket). However, it would not explain what your business offers. This should be mentioned in the attributes, description as well as the product and services editor.

Attributes, in fact, allow you to inform your customers about features of your business and services offered, such as whether your business offers outdoor seating or Wi-Fi, or if it identifies as women-owner or LGBTQ-friendly. Attributes will show up in Google Search and help your location rank higher for specific targeted searches, like "cafe with Wi-Fi near me". On the customer side, adding attributes help your clients to understand what to expect from a business. So adding all attributes that apply to your business - and to each specific location - is essential to optimize your GBP and support your SEO strategy.
Optimizing Google Business Profile Tip #2: Provide Basic Data for Your Business Profile on Google
When consumers find your business on Google, provide them with the most relevant information they need:
Business name
Address
Phone number
Website URL
Opening hours
Business description
As these, especially opening hours, often are dynamic information, make sure that they're always up-to-date.
Moreover, when it comes to food and service businesses, adding structured menu data will ensure they rank higher in Google Searches.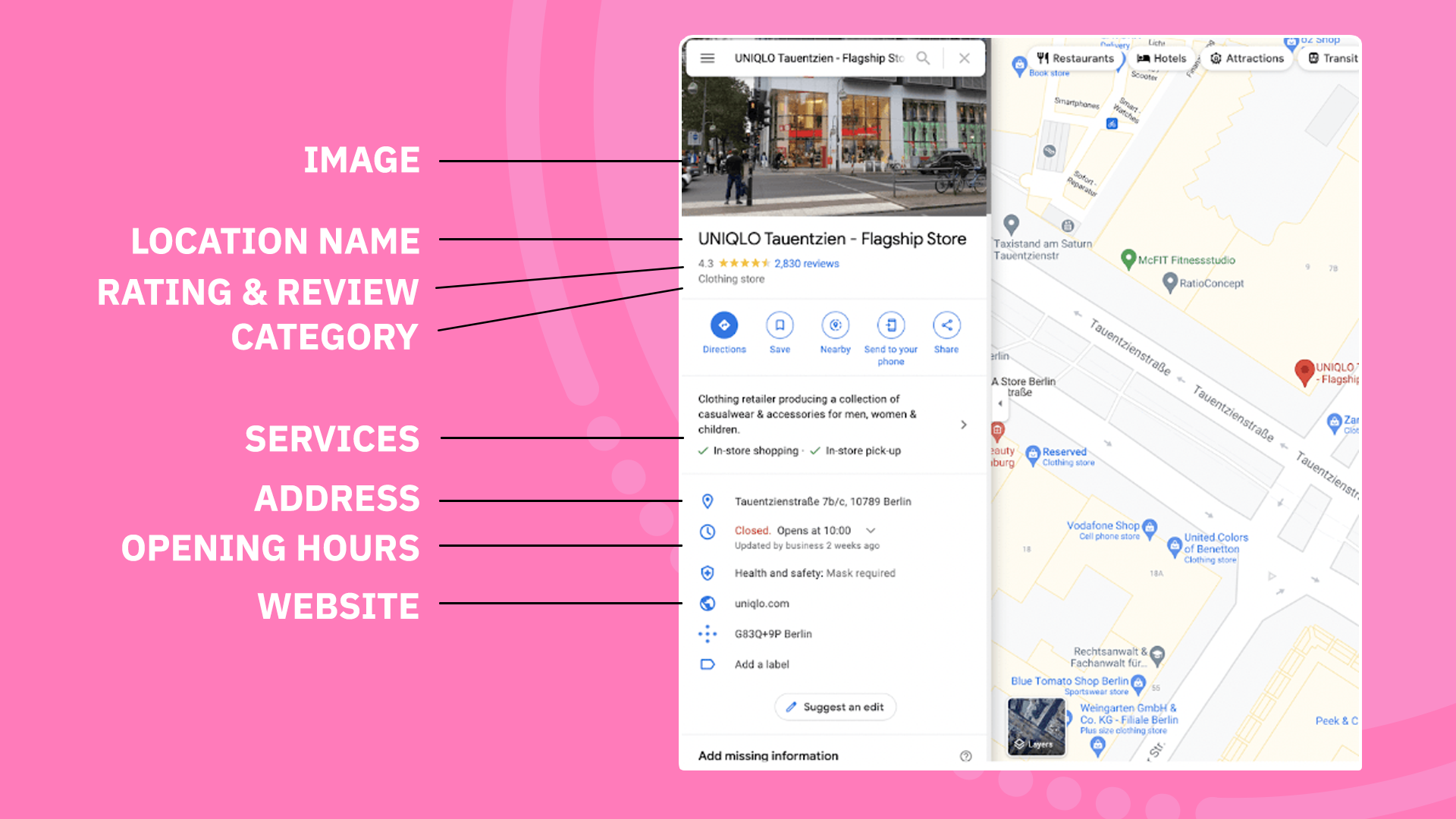 Optimizing Google Business Profile Tip #3: Use Content Management on Your Google Business Profile
Add descriptions to your Google profile to help consumers find out more about you and whether you're relevant to them. Be honest in what you're telling about yourself, and also keep in mind that this is your opportunity to show how unique you are.
Google suggests that you can use the description field to provide information on the services and products you offer or even the mission and history of your business.
Optimizing Google Business Profile Tip #4: Take Advantage of Your Reviews
Reviews and ratings show consumers how happy previous customers were with your business. Research shows that high ratings and response rates on your customer feedback increase conversions.
Also, reviews and ratings support your local visibility in two ways:
Google prefers to showcase businesses with better ratings on the results page
The keywords in the reviews (e.g. "Big selection of drinks, cups and bakery. Different Frappuccinos") allow you to rank for more specific searches (e.g. "coffee frappuccino near me").
With AI increasingly becoming a component of marketers' everyday life, think of leveraging AI-powered tools to create unique and fun review responses to strengthen the relationship with your customers. The same tool can be applied to descriptions and other parts of your GBP or website.
Best practice: Tackle your reputation and local visibility by encouraging your happy customers to leave a review for you on Google. Respond to as many of your customer reviews in a timely manner and, ideally, continuously improve your services by taking their feedback seriously.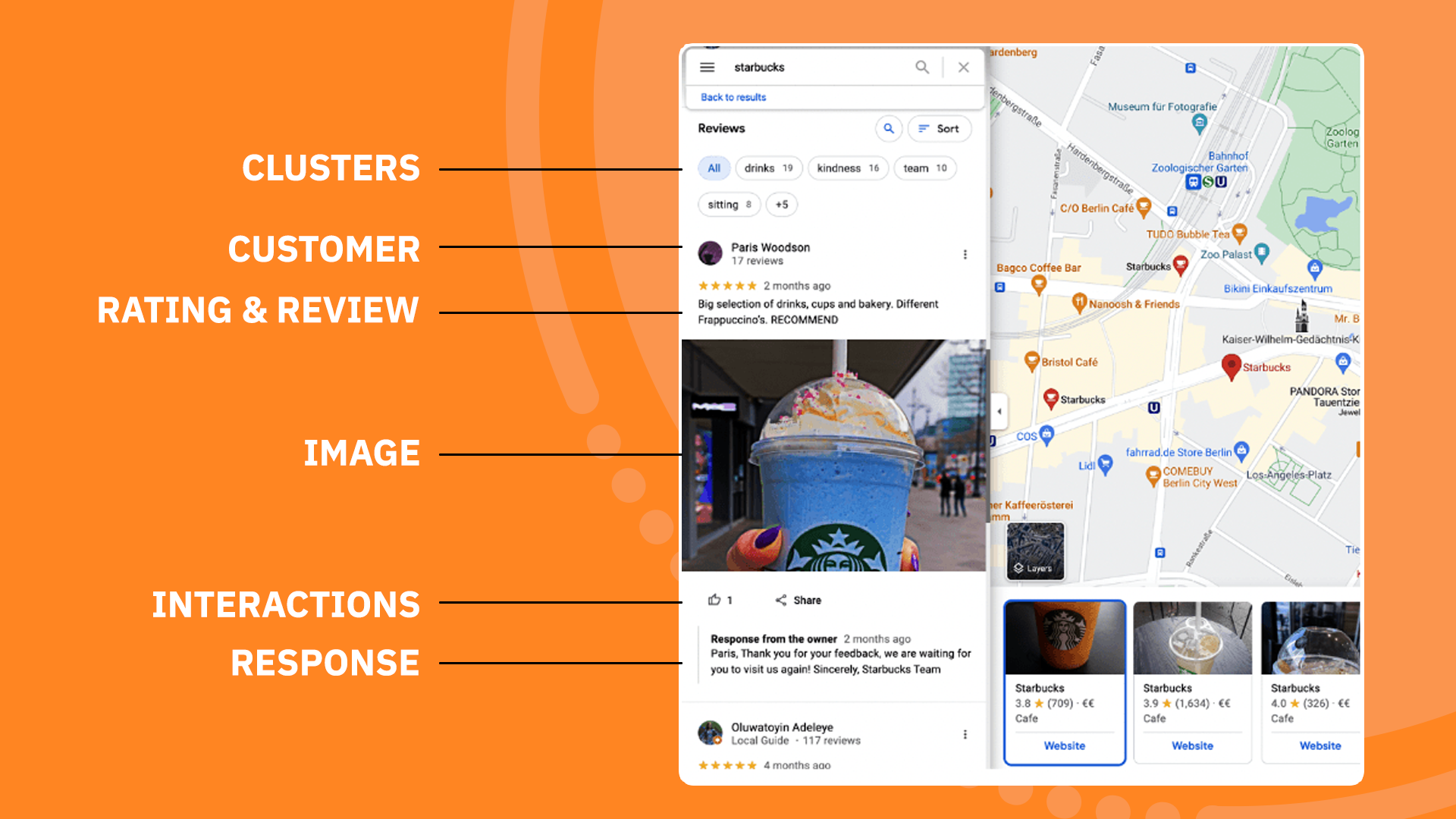 Optimizing Google Business Profile Tip #5: Present Your Business With Rich Media (Images and Videos)
You could try to put in words what your store's atmosphere or products are like. Or, simply share a concrete visual aid, such as images and videos, and establish trust.
Visuals instantly prove that your business is worth a visit! Research shows that businesses with at least one Google Business Profile photo receive 42% more requests for directions and 35% more clicks to websites than those without photos
Rich media helps you engage your audience by adding relevance and trustworthiness to your profile. And for that reason, it has the power to increase your visibility too.
Optimizing Google Business Profile Tip #6: Showcase Your Products
Google allows you to showcase the products you have in store and become visible for product-related local searches. These searches can be as generic as "iPhone charger" or as specific as "cheap black FFP2 masks online". Regardless, consumers searching for specific products are already further down the sales funnel and more likely to buy.
The product editor on Google's profile is available for almost all business categories. Keep in mind that, as a restaurant owner, you need to use the menu editor to present your popular dishes on your Google profile.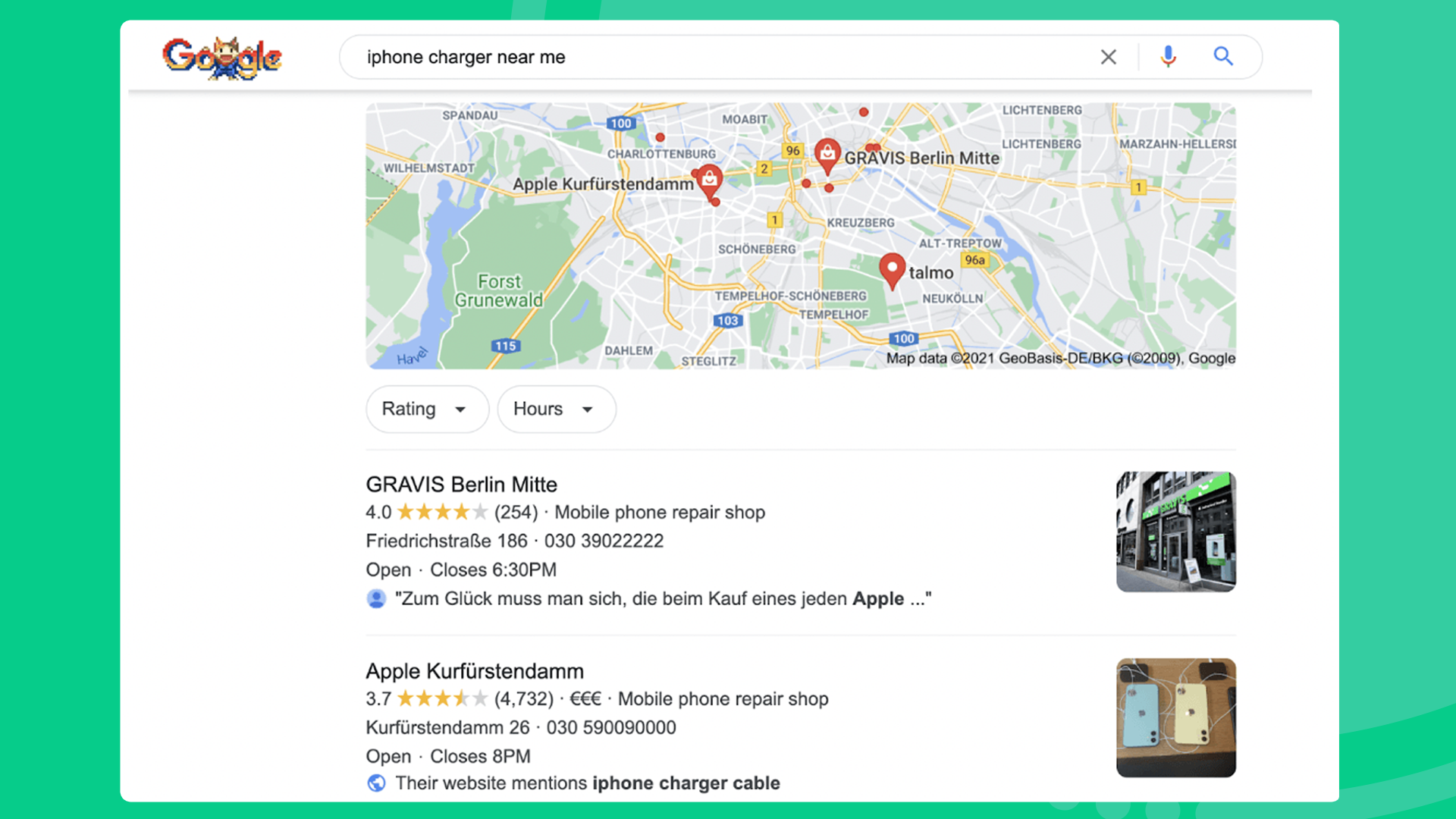 Optimizing Google Business Profile Tip #7: List Your Services on Your Business Profile

Your business profile allows you to list the specific services that your business offers. These services can be custom and/or based on the suggestions by Google based on your business category. You can even add pricing for your services to help your future customers to make a buying decision.
In terms of visibility, listing your services will help you be present when people search for them. If your business is specialized in repairing and customizing cars, you could list "varnishing" as a service and get found for those searches.
Optimizing Google Business Profile Tip #8: Share Posts On Google
Google is not a social network like Instagram or Facebook, however, it allows you to share news about your business as posts on your profile – and, by that, measurably engage your audience.
Improve your local search visibility with Google posts. They support your mission in two ways:
You show Google (and also consumers) that your business is alive (e.g. "… new fancy plain white sneakers from Adidas now available in our store – check them out here …")
Your Posts provide keywords that can be helpful to rank for specific search requests (e.g. "white sneakers near me")
Want to find out how to create eye-catching Google posts? We've got you covered with this list of 10 best practices.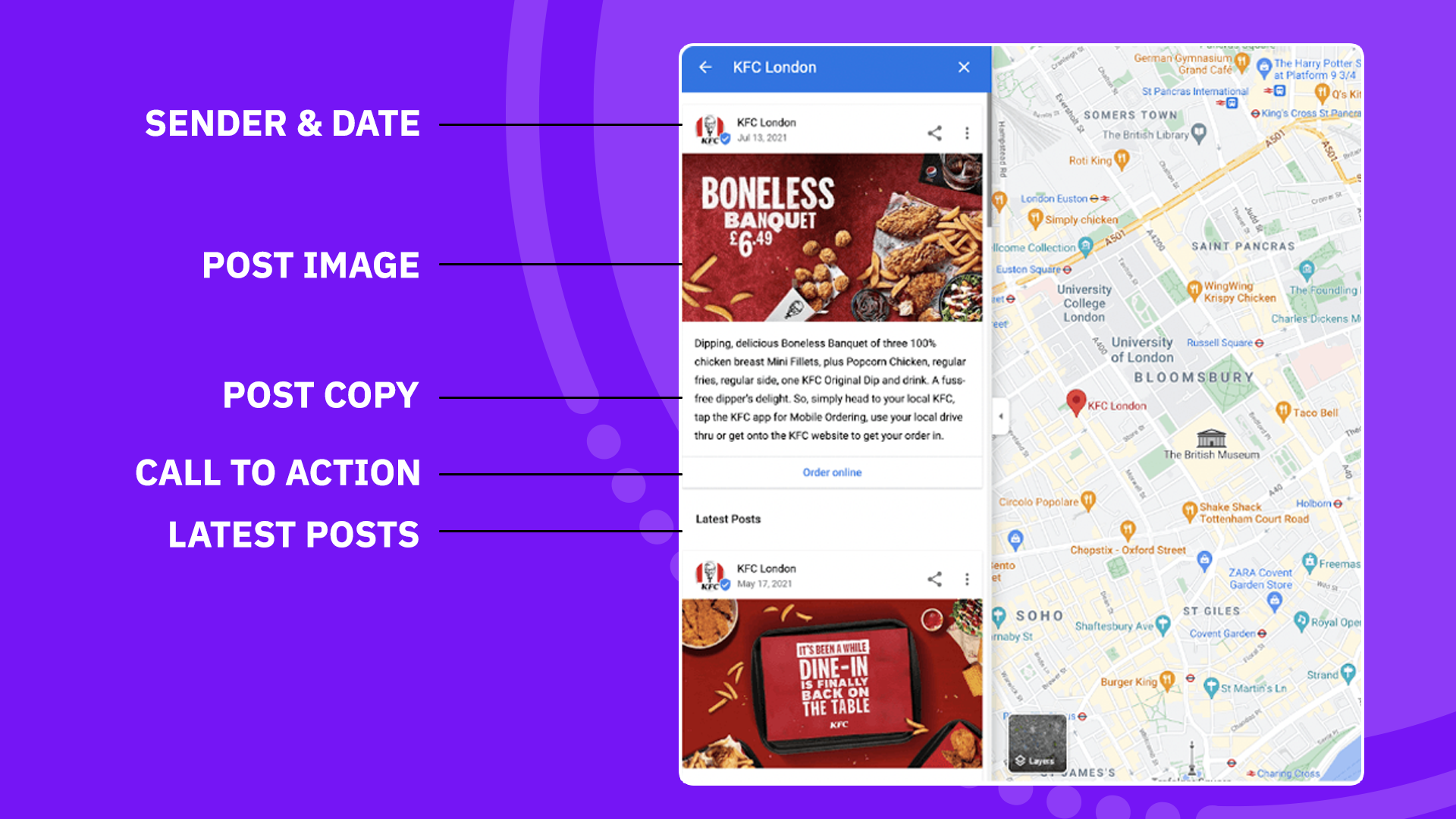 Optimizing Google Business Profile Tip #9: Focus on CTAs and links
Include Call to Actions and embedded links, such as the opportunity to book a room, reserve a table or order a delivered meal directly from your Google Business Profile. This can easily be done for each of your locations from your Business Profile Manager and by choosing the provider of choice.
By allowing customers to take action and conclude their journey with a purchase or reservation via Google Business Profile, you make it easy for them and thus increase your conversion rate.
Optimizing Google Business Profile Tip #10: Messages: Chat With Your Customers on Your Google Profile
If you haven't done so already, you should consider turning on the messaging feature on your Google Business Profile. This allows people to directly get in touch with you and ask questions.
While this might not necessarily increase your online visibility, it increases the chances that you can directly interact with consumers and drive conversions.

Google Business Profile Alone Is Not an Ideal Long-Term Strategy for Local Visibility
Your Google Business Profile is the foundation for local visibility, but there's more that you can do to build a strong and engaging online presence that differentiates you from your competitors.
To win more local customers in the longer run, you should consider the following best practices:
Local Visibility Bonus Tip #1: Be Present on Further Channels to Meet Your Customers
While 77% of consumers use Google to find local businesses, 23% don't use it at all. You would miss out on those people if you don't optimize your business for the relevant online channels they are on.
Make sure that your business is listed on those platforms with correct, consistent, and up-to-date information as well as customer reviews that testify you're worth a visit.
Local Visibility Bonus Tip #2: Include a Strategy for Citation Building
Citations have the ability to boost your local visibility. They are mentions of your business across the web, linking to your website, and, by that, adding authority to your business.
Recent research shows that complete listings in an extended network increase search views by 61%.
Local Visibility Bonus Tip #3: Provide Landing Pages for Your Stores
Especially as a multi-location business, you want to make sure that each store is represented well on your own website:
Landing pages support your local SEO strategy but also provide valuable information to consumers that want to know more about your brand. Find out more here.

Who's Got the Time to Do All of This?
… you may ask.
Certainly, you need to make smart choices when it comes to prioritizing your efforts. This is why we suggest starting with your Google Business Profile if you're at the very beginning and have no options to use a proper solution provider.
However, there are ways to automate most of the work listed above with the Uberall CoreX Platform to get everything done with very little effort. This is especially worth considering when you're a multi-location brand. Reach out using the link below and we're happy to assist you in designing and executing your strategy for more local visibility.
Take control of your online visibility with Uberall CoreX