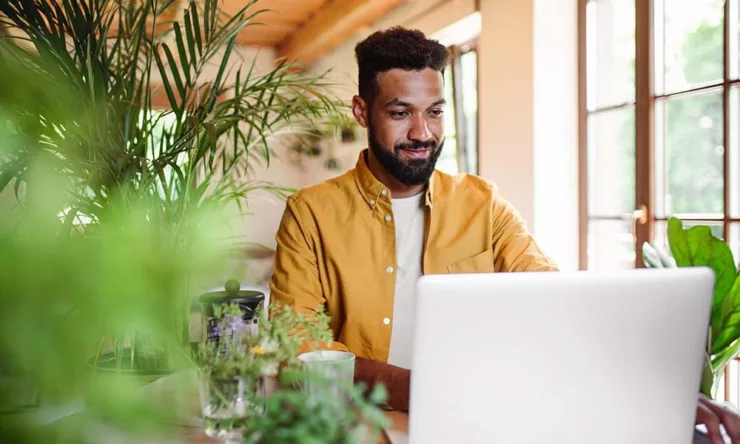 Blog
Local Listings Management: Does It Matter Anymore?
This is a question we've heard increasingly over the last couple of years, as many SEOs question the value of paying for listings management services.

The Top Local SEO Tactic
Not that long ago, Google used to rely heavily on third-party directories and citation or listings consistency as a critical ranking signal. So much so that it was widely considered the most important local SEO tactic. But perceptions have changed in the past few years as Google has increasingly emphasized Google My Business and reduced its reliance on third-party data.

So, while allowing that citations still have a role to play, some local SEOs now recommend against listings management as an unnecessary expense for most SMBs (though not enterprises). It's common now for local SEOs to advocate claiming local profiles on Google, Yelp, and Facebook and argue in favor of ignoring everything else.

Given this emerging conventional wisdom, we decided to take a closer look at the data and determine whether business listings syndication to an extended network of directories had any impact on local search visibility. This study really began as an internal investigation to determine "what was really going on" in the market. To do so, we identified a large "before and after" Uberall customer data set that included 115,000 customer locations across the US, UK, Germany, and France. Roughly 80,000 of those business listings were for European locations and 35,000 were in the US. We also broke down these data sets further into enterprise and small business segments.

Does listings management still matter? Read our full report and find out
Google My Business, Bing, Facebook, Apple Maps
At the highest level, the study examined and compared the performance of businesses listed on four key sites - Google My Business, Bing, Facebook, and Apple Maps - to those distributed on an extended directories network (as many as 40 sites). All the listings appeared on the four sites; the non-control group was pushed to the extended network, which included Yelp in the US.

There are lots of findings in this study and so we've released two reports: one focused on Europe and one looking more closely at US data.

Even though North America and Europe have slightly different numbers, they're directionally consistent. So what's the answer? Does listing management matter anymore? Is there a ranking impact from extended network distribution? The short answer is yes - there was. You might expect that from a company that offers listings management as one of its key products.
Impact of Extended Directory Distribution on Visibility and Engagement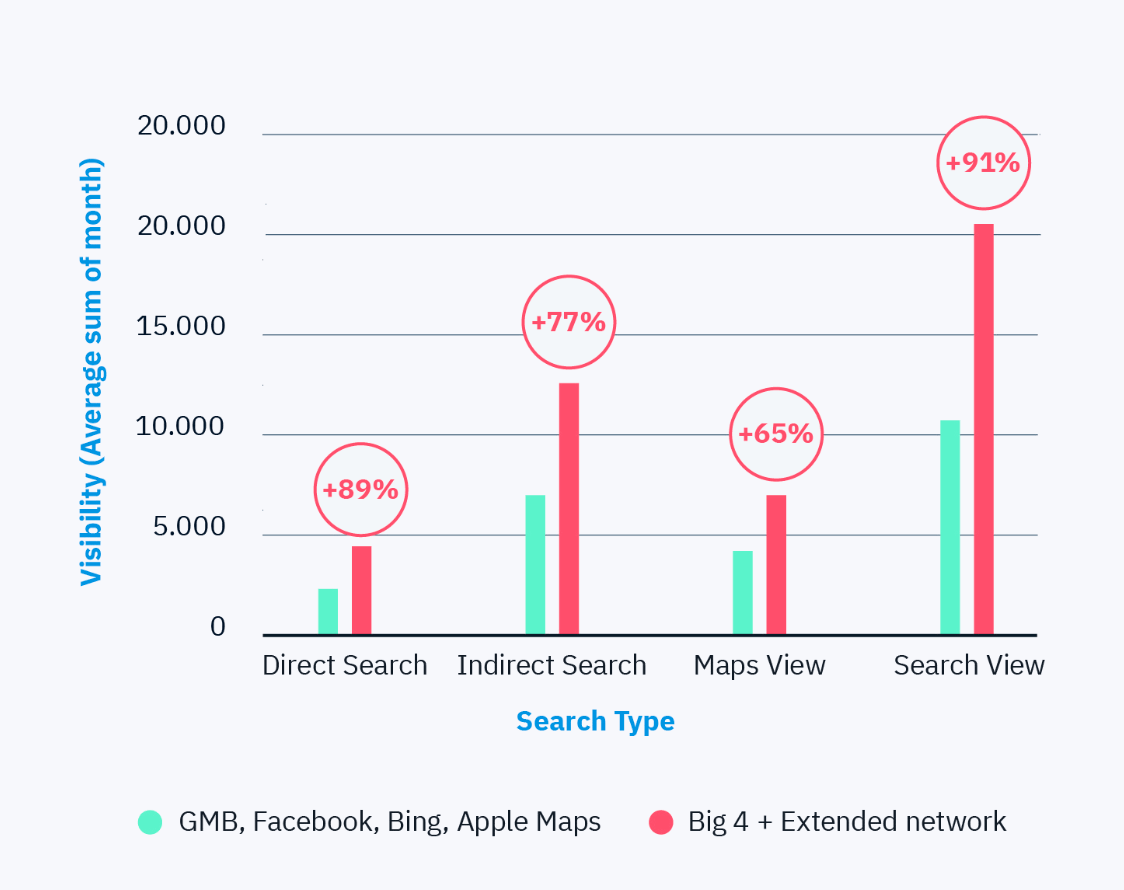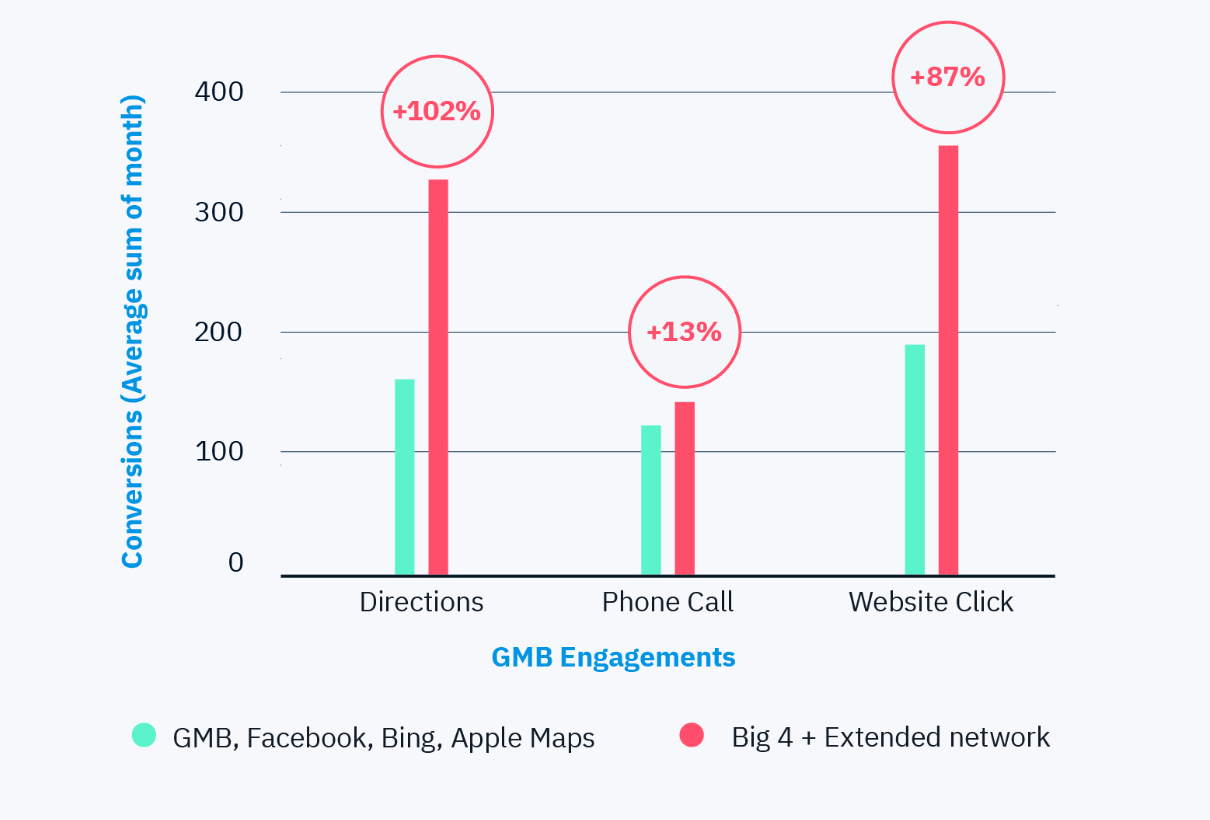 Source: Uberall customer data (2019-2020)

Network Outperformed
Recognizing that this study might be seen as self-serving, we had several discussions with and presented early findings to several key local SEOs for their questions, comments and critiques. We sought to be very transparent about the study and its limitations (eg, lack of visibility on other SEO activities of the business involved). What we found was that extended network distribution outperformed the four primary directories in terms of visibility on Google (Local Pack) and consumer engagement (directions, calls, website clicks). On average, we saw that:
Listings distributed on more than 10 sites saw 80% improved visibility on Google.
There was a 67% improvement in consumer actions for businesses listed on 10+ sites.
When distribution extended to 30+ directories, however, user actions increased 136%.
Local profile completeness also impacted visibility and resulted in a 69% increase in website clicks.
For single-location businesses with tight budgets, there is a valid discussion about whether a formal listings management solution is the right choice. But the data clearly shows that accurate and complete business profiles, distributed to a broad network, have higher visibility and drive more engagement in search results.

Better Customer Experience
As businesses reopen around the world, with differing rules in nearly every city, listing management is arguably more important than ever. It's critical to provide customers with timely and accurate information in search. Listings management solutions are a highly efficient way to do that and deliver a very strong ROI for both enterprises and many small businesses.

Ready to ace your listings management? Let us help you!