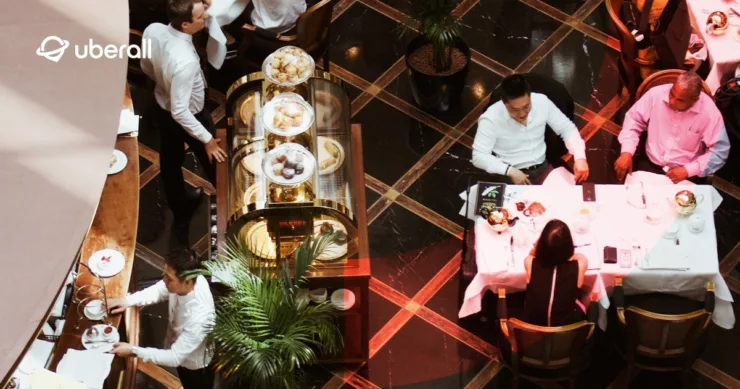 Blogs
The Most Important Restaurant Marketing Strategy Right Now
Many restaurant businesses, from large chains to small independents, lack the right restaurant marketing plan to take advantage of local patrons seeking local restaurants spontaneously.
Your restaurant marketing strategy should be about 'getting bums in seats' and the hospitality industry is uniquely placed in one important area to get more bums in more seats...if they play their dining cards right.
What we're talking about is creating a restaurant marketing plan that has your restaurant(s) ranking at the top of local search and getting found by local consumers at the moment they are hungry and looking for somewhere good near them. .
If you own, run or market a restaurant brand than you have to understand what a 'near me' search is and why your marketing strategy is make or break based on how you optimize for it.
But first...
What Is a 'Near Me' Search?
A 'near me search' is a specific query typed or spoken by a consumer into a search engine to find business locations near to their current location. These searches usually take place on a smartphone (since they are mostly conducted when the consumer is mobile) and the intent is usually associated with making a purchase at the time of the search.
Example: 'Restaurants near me'
'Restaurants near me' is the most popular 'near me' search query with 6.2 million organic searches per month...it's not even close. In fact, food-based searches make up 3 of the top 5 positions in all 'near me' search queries including 'food near me' (3.1 million) and 'pizza near me' (1.3 million).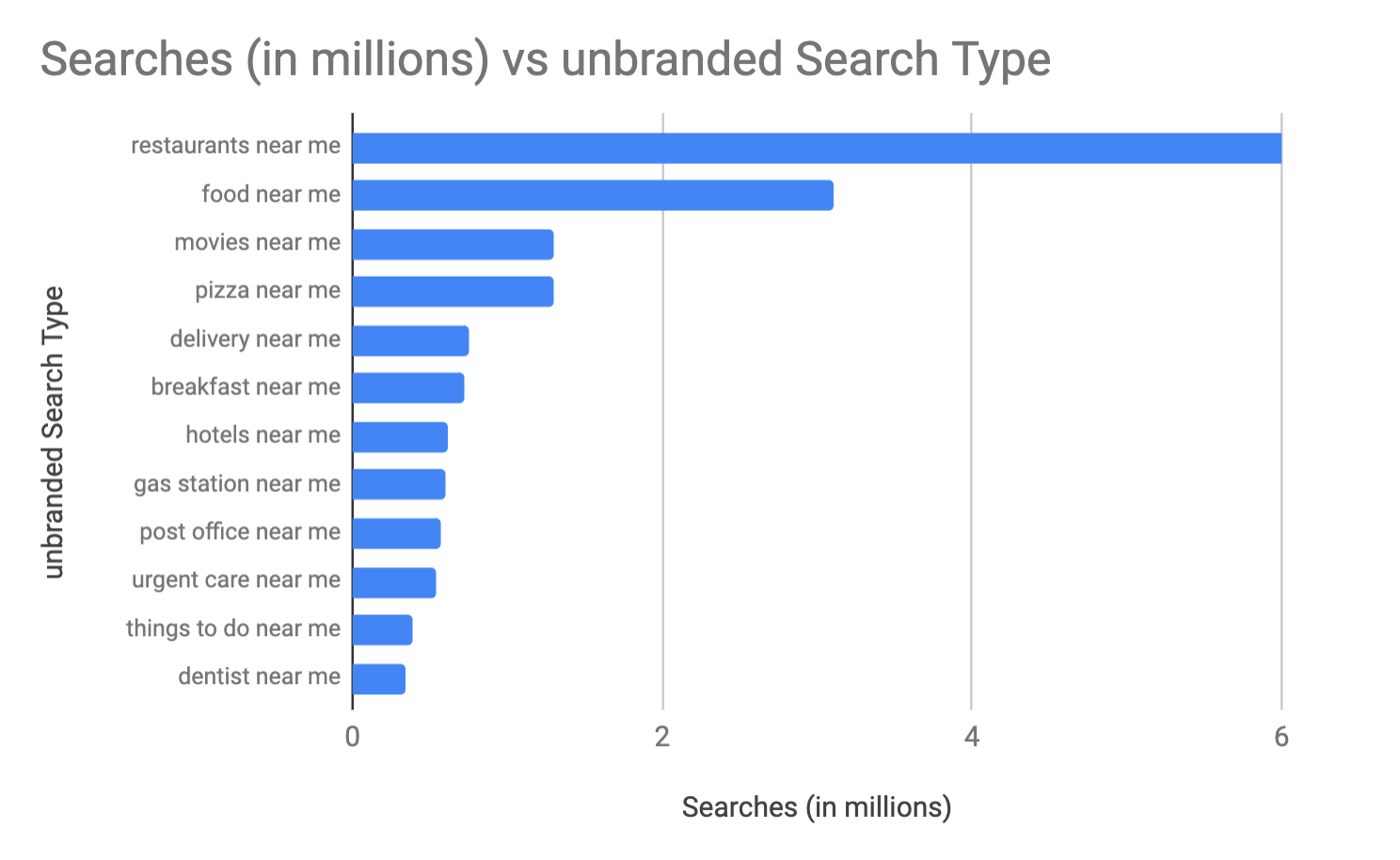 What's so special about unbranded search queries?
Consumers who are typing in 'near me' search queries usually want to make a purchase at the time of the search. They know what they are looking for (in this case food) and they know where they want it (near them), but they have not made a decision on the business yet.
If you're invested in making a restaurant brand successful than optimizing for 'Near me' search queries needs to be your number one priority.
More on online restaurant optimization later.
Why You Need to Factor 'Near Me' Searches into Your Restaurant Marketing Strategy
It all started with the smartphone. According to Statista, since 2013, the share of smartphone search queries have grown from 27% to dominate around 60% of the total search market.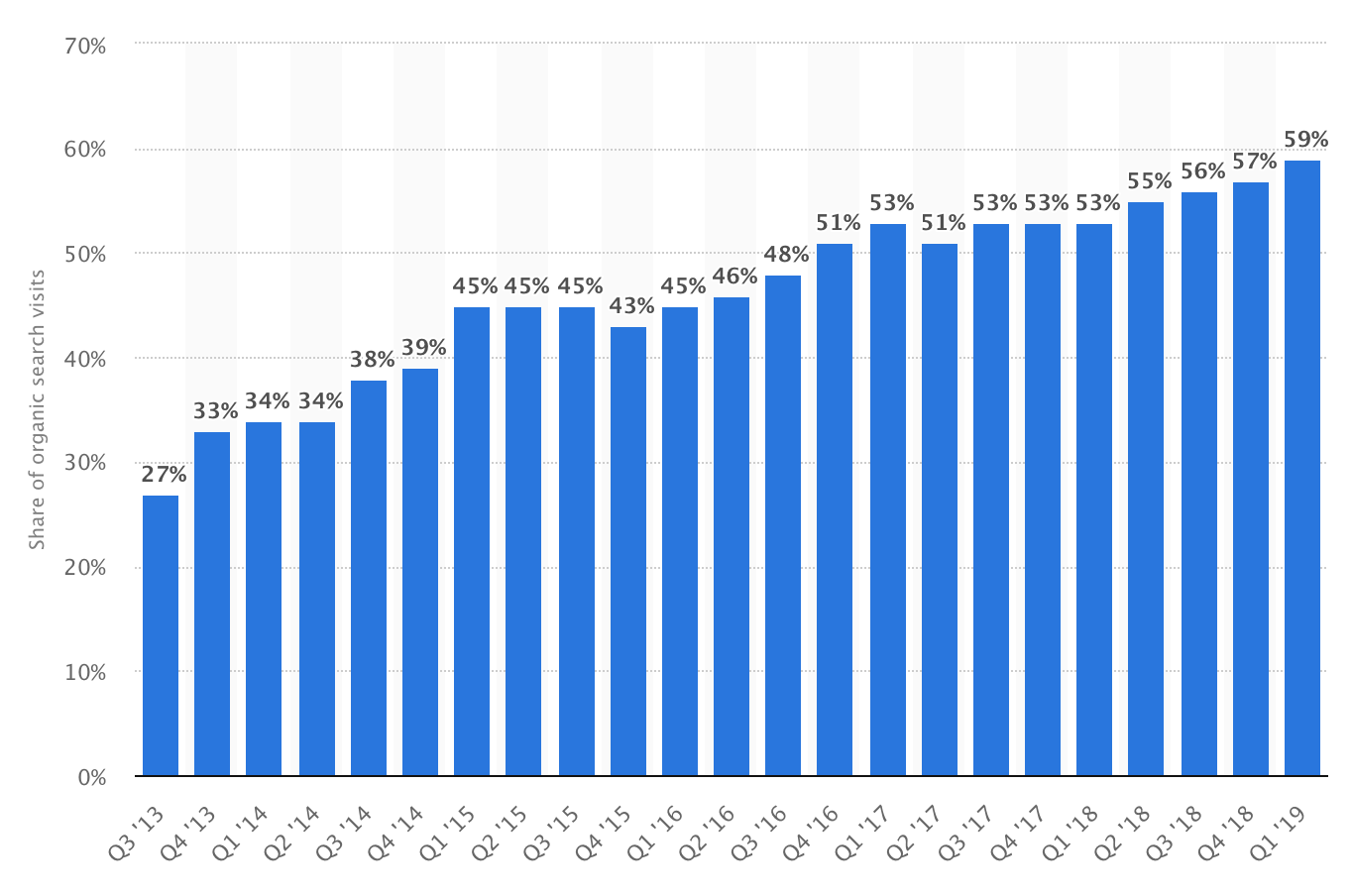 This ushered in one of the greatest changes in consumer search - the ability to stay online while traveling, using search engines and mapping apps to find local businesses when any need arose.
It is therefore fair to say that over the last five-seven years mobile search has completely changed the way consumers are searching.
The Restaurant sector has been the largest beneficiary of the change in consumer search behavior. As we can see from Google trends data, searches for the food and drink industry have continued at a high growth rate since July of 2014.

All data that we have for the hospitality and food and beverage industry suggests that restaurants need to focus their efforts on optimizing for 'near me' search terms.
What's Wrong With Your Current Restaurant Marketing Plan?
Although the hospitality industry has the most 'near me' searches every month and the biggest reason for optimization, they are among the least optimized for consumer 'near me' searches. After studying 73,000 locations across Google, Bing and Yelp - three of the most important business listing sites for 'restaurant near me' searches - we found that only 4% of locations within the hospitality industry were perfectly optimized.
'Near me' searches are serving up good fit consumers with an intent to spend on a silver platter. This is your chance to optimize and reach the hungry masses.
What Does Optimization Mean?
When we talk about optimization we are talking about ranking. When a user types in 'restaurants near me' into Google, they are presented with three results…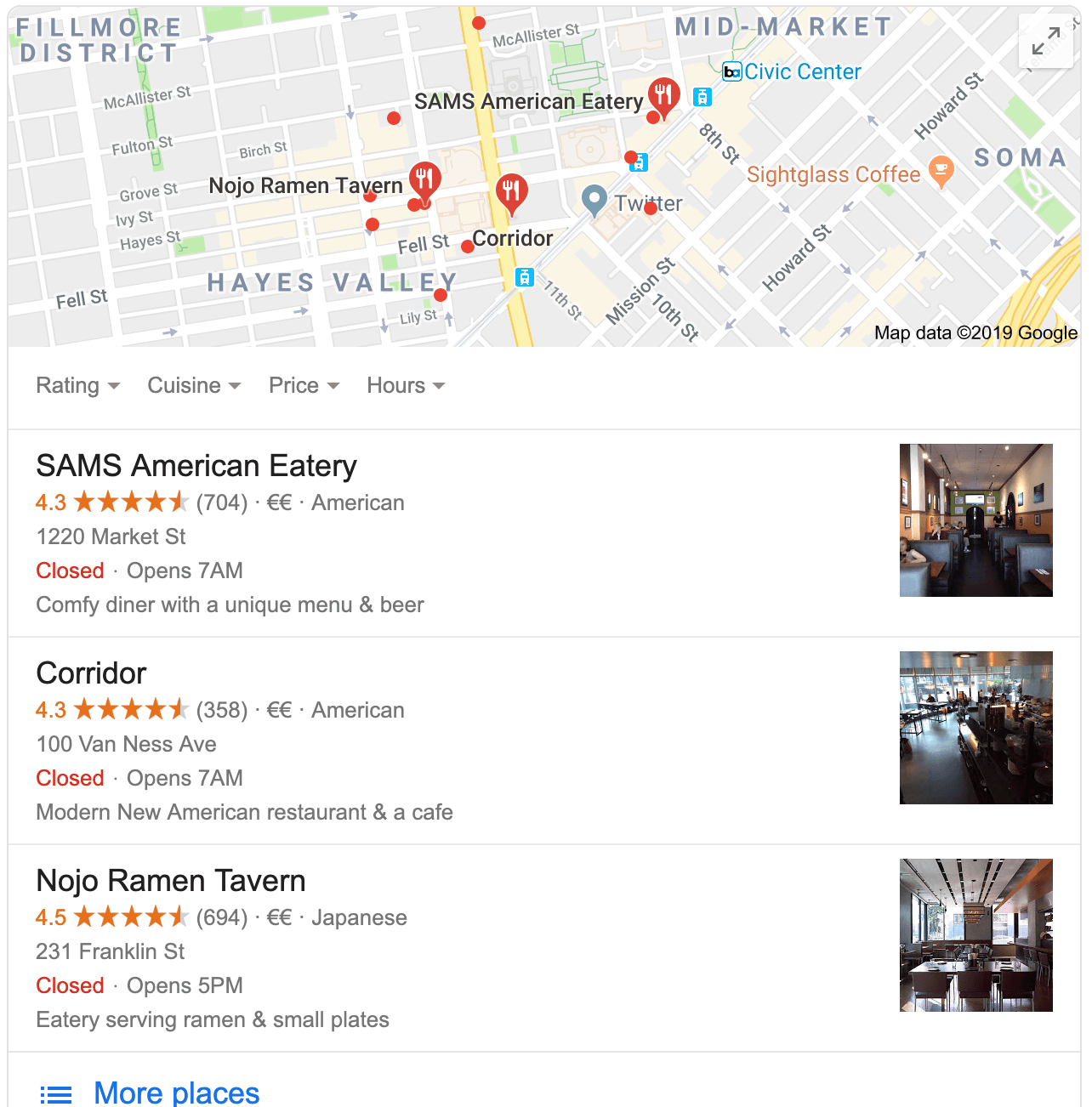 Research by Moz suggests that if you aren't ranking in the first three results, your chances of even being seen falls to under 8% which means that if you aren't showing up in the top three results, you'll have far less users finding their way to your door.
Optimizing for 'near me' searches has the potential to grow your business more than any other form of restaurant marketing out there.
So what do you need to do to successfully optimize for 'near me' search terms?
How to Attract Customers to Your Restaurant: Optimize for 'Near Me' Searches
You may already know that listing your restaurant location/locations on business directories, map services and review sites is the number one way to rank for local search.
Here's also a list of 7 business directories you should be listed on:
Google
Bing
Yelp
Apple Maps
Facebook
Foursquare
Trip Advisor
List all of your restaurant locations on each directory and your business will show up on the most important search engines, directories and review sites. Sounds simple right? Well, here's what most businesses don't understand about business listings...
Listings alone are not enough.
The key to ranking for near me queries is in the accuracy and consistency of your business information. Quality listings are more important than quantity.
So what do I mean by this?
I'll give you an example…
'What The Cluck' is the name of a Thai restaurant in San Francisco that I randomly selected. When I ran them through Uberall's online company presence check tool - which establishes the online presence, consistency and accuracy of a business location - we start to see how easy it is to have inaccurate location information online...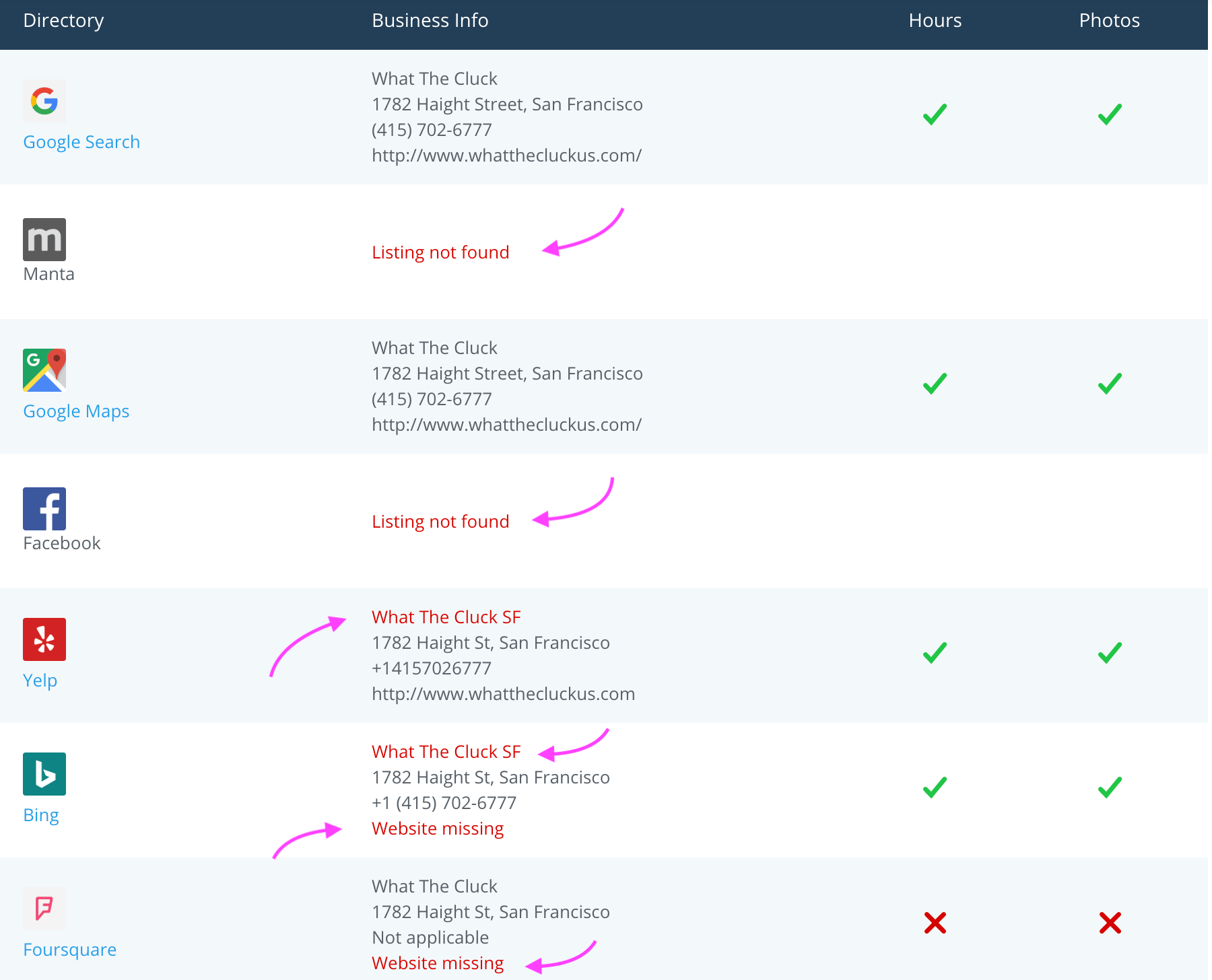 Find out the online health of your business here
What The Cluck isn't listed on Facebook

The name of the restaurant is different on Yelp and Bing

The website is missing on Bing and Foursquare

There are no photos or opening hours on Foursquare
The importance of choosing this restaurant location at random was not to call out an unsuspecting small business. In fact, the reason I found What The Cluck is because they have accurate Google My Business listings. However, it's accuracy and consistency across the most important directories that are the real problem for most restaurant brands - a recent study we conducted found that 96% of business locations had inconsistencies across Google, Bing and Yelp.
Inconsistencies may seem small, but they represent major trust factors to search engines looking to establish where to send hungry consumers looking for a meal in your area.
So what information do you need to get right?

Google uses the accuracy and consistency of your business address, opening hours, phone number, business name, website and zip code as trust factors to see whether they should send a user to your location. The more accurate your information is, the more likely Google will rank you in one of the top three spots.
A Restaurant Marketing Plan to Rank for Near Me Searches:
When optimizing for 'near me' searches, it's important to understand that business listings and review management go hand-in-hand.
While having accurate and consistent business listings is a trust factor for search engines, so is a local restaurants review score, review volume and the frequency with which a business location replies to its customers.
Basically, search engines want to know that customers are engaging with you and that you are engaging right back.
A restaurant location that follows the steps below will not only be optimized for the trust factors that Google feels are most important and gain visibility, but replying to reviews and engaging with your customers online will help to encourage brand loyalty and repeat visits from customers again and again.
Optimizing Your Local Business Listings:
First, enter your address, opening hours, phone number, business name, website and zipcode on the most important directories (Google, Bing, Yelp, Apple Maps, Facebook, Foursquare, Trip Advisor etc…)

Make sure that each location you list has the exact same information across the different directories, review sites and search engines listed above

Be as specific as possible about your business and what it does. Do you allow dogs? Offer vegan options? Have special offers?, the more information you provide, the more you will rank for specific search queries.

Add photos that show off the best parts of the restaurant location
Optimizing Your Reviews
Get your customer to leave you reviews online by encouraging them while they are in your restaurant

Encourage them to leave reviews on Facebook, TripAdvisor and Yelp - not just Google

Make sure you reply to your reviews - 33 percent of customers who receive a reply to a negative review change their review to be more positive

Get as many reviews as you can as often as you can. Review velocity is important for rankings

Reply to reviews fast - information from Google suggests that business locations that reply to reviews in under 5 minutes are more likely to rank higher in local search
Find Out if Your Restaurant Business is Ranking for 'Near Me' Search
Focusing on optimizing listings and reviews is the best way to ensure that you have a restaurant marketing plan that matches how consumers are currently searching and finding you - and your competitors - in your area.
But first, you need to understand how well your restaurant location/locations are optimized across the directories that matter most for ranking in local search.
To find out your current online optimization score, use our location presence check tool now.