Adapting to a Challenging New Era in the Food Industry
The 2020s have been hard on restaurants. The start of the decade was marked by store closures and sales declines due to the COVID-19 pandemic, only to be followed by dire worker shortages and rampant inflation which linger on to this day. Restaurants must find ways to adapt to these realities to survive in this challenging new era.
In the past, a desirable location with strong foot traffic was often enough to keep restaurants busy. But today, hungry consumers rely on their mobile phones as their guides. They make searches like "Vietnamese restaurant near me," and decide where to eat based on the top few results. There may be dozens of similar restaurants nearby, but those with the best visibility on Google and other top discovery platforms like Yelp and Tripadvisor have an undeniable advantage in being chosen. As a result, competition for search visibility among restaurants is fierce.
In our recent study, we surveyed more than 100 food and restaurant businesses, and we examined how each took advantage of local digital marketing best practices. We uncovered opportunities by finding out where businesses fell short along the customer journey—get found, be chosen, and drive loyalty—and in this report, we will reveal those opportunities through 8 key insights and takeaways that restaurant owners can use to drive more traffic through their doors.

Insight #1: Local Social Pages are Table Stakes for Restaurants
Our survey clearly showed that most restaurant owners or managers have an established social media strategy. In the United States, 89% of food and restaurant businesses use local social media pages to improve their online visibility, and of the European countries polled, 71% said they use local social media pages. Restaurants without a social media presence today are missing out on some of the lowest-hanging fruit available for growing their business.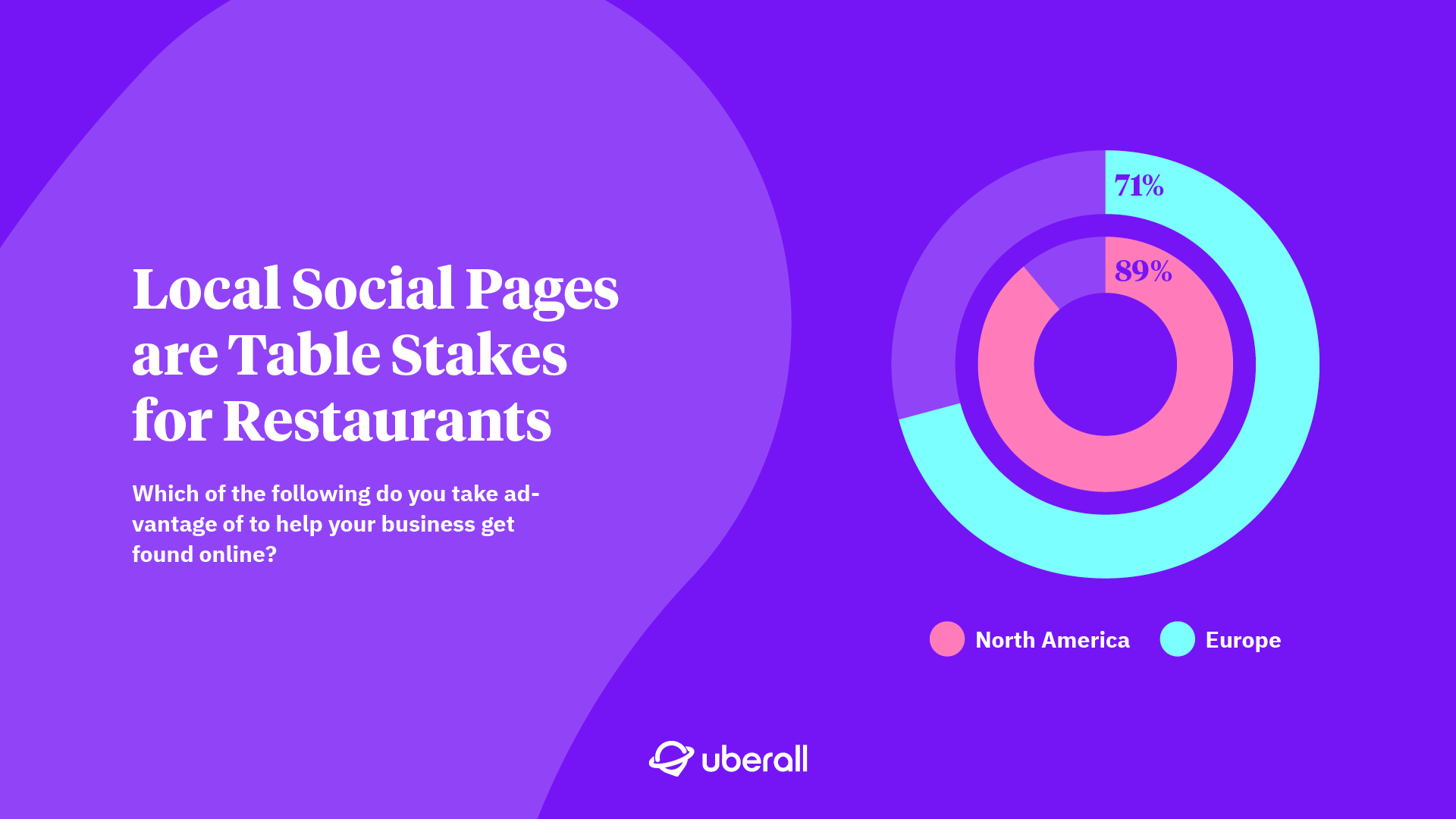 Key Takeaway: Set Up and Maintain Local Social Pages on Facebook and Instagram
Facebook is the most popular social network worldwide, and Instagram is not far behind. Get started with social media by creating pages on both platforms. You'll need to share your address, phone number, and hours of operation. This helps search engines identify you, and it facilitates more connections with people looking for you online. Post regularly to boost your engagement and consider using locally targeted paid ads to promote new store openings, seasonal menu items, offers and discounts, and local events to key demographics in your area.

Try to involve your customers in your social media strategy as well. Ask them to share pictures of your restaurant or their dishes while tagging your business in the photos. Make sure to interact with these posts and encourage customers to interact with yours – contests and social campaigns are a great way to do so.

Insight #2: Local Web Pages Are Underutilized
Despite the importance of SEO-optimized local web pages to increase organic search visibility, only 31% of food and restaurant brands are taking full advantage of this owned channel.
Your local business can be found on Google in three ways: the Google 3-Pack, driven by your Google Business Listings; organic search results, driven by your local pages; and local service ads or paid ads. The top three organic search results account for 29% of the clicks, meaning a top spot in both the Google 3-Pack and the organic search results give you more than a 50% chance of engagement from potential customers.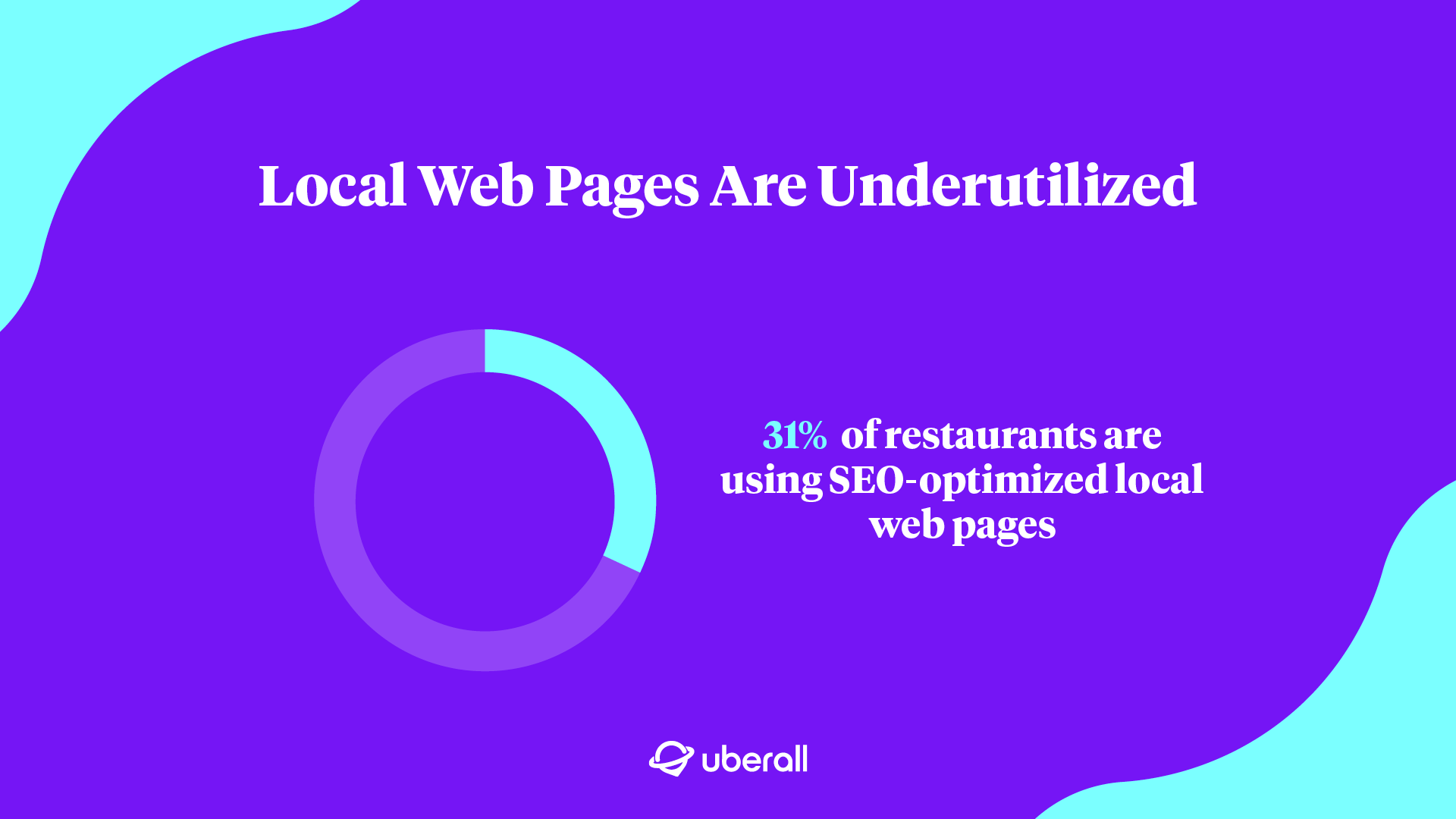 Key Takeaway: Create Local Pages to Give Customers a Taste of the Local Experience
Improve local SEO results for your multi-location business with customized local landing pages on your website. These local landing pages should take local keywords into consideration that are based on what your customers are looking for from you. This could include information about popular dishes, menu items, seasonal items, special offers, events, and employee spotlights. To drive conversion, be sure to add online reservation or booking links. On your corporate website make sure to include a store finder map to help users find your local page from the main site as well.
Insight #3: Not Enough Restaurants are Paying Attention to Reviews
Consumers have always valued social proof, and in today's digital world, electronic word of mouth (ewom) has become a powerful advertising tool as people increasingly seek out reviews online before deciding where to eat. Online reviews are thus one of the strongest indicators of social proof for restaurants today, helping to establish credibility and build trust in the minds of consumers. Maintaining a 4-star rating or above has additional benefits, including a higher likelihood of appearing in "best of" search results.
So how are restaurants encouraging customers to share their experience with others online? According to our survey 71% encourage customers to share experience on social media via contests and campaigns, 52% incentivize staff to ask customers for reviews or leverage review cards or QR codes to solicit reviews.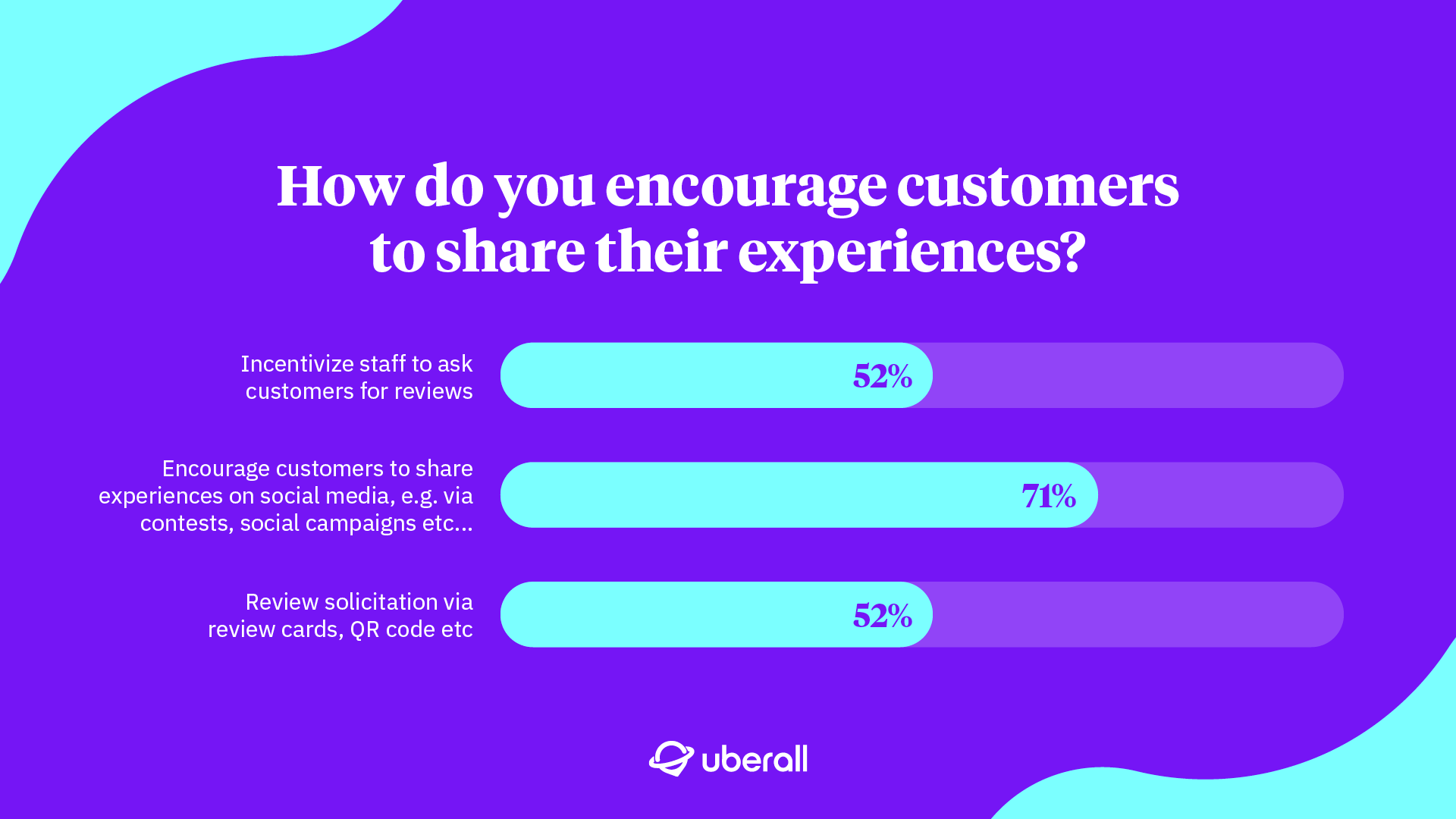 Key Takeaway: Solicit, Track and Respond to Reviews to Improve Your Brand Image (And Convert More Customers)
Happy customers can be your biggest allies online so be sure to ask for feedback. If you're unsure about the best way to ask, don't be afraid to experiment because Google has made it clear that your search visibility will suffer if you have very few or infrequent reviews.
At the same time, it's important to take control of your brand's image by developing a habit of responding to both positive and negative customer reviews online. The practice will help you resolve customer issues quickly and demonstrate how much you care about your customers' experiences. Be aware the 55% of Google reviews have no text, but you should still respond to them because Google keeps track of response rates. When authentically responding to 100% of your reviews gets overwhelming, there are tools available for automated responses to no-text reviews.

Insight #4: Restaurants Aren't Doing Enough to Manage Their Online Presence
With so much competition among restaurants, a strong presence online is often the difference maker as consumers weigh their various eating options. But according to our study, only 13% of restaurant managers and owners are tracking their online-to-offline conversions, indicating significant room for improvement in how restaurants manage their profiles online to encourage more customer visits.
Additionally, when asked whether they actively use Google Business Profile (GBP) chat, just 22% of restaurant owners and managers in the US and 13% in Germany, France, and the UK admitted to doing so. Thanks to advances in AI, responding to messages does not have to be a time-consuming task anymore as businesses can actually automate many of their responses with AI chatbots that are available to your customers 24/7. Chat is just one of many powerful GBP features that restaurants can use to influence customer conversion. And the best part about GBP is that it's completely free.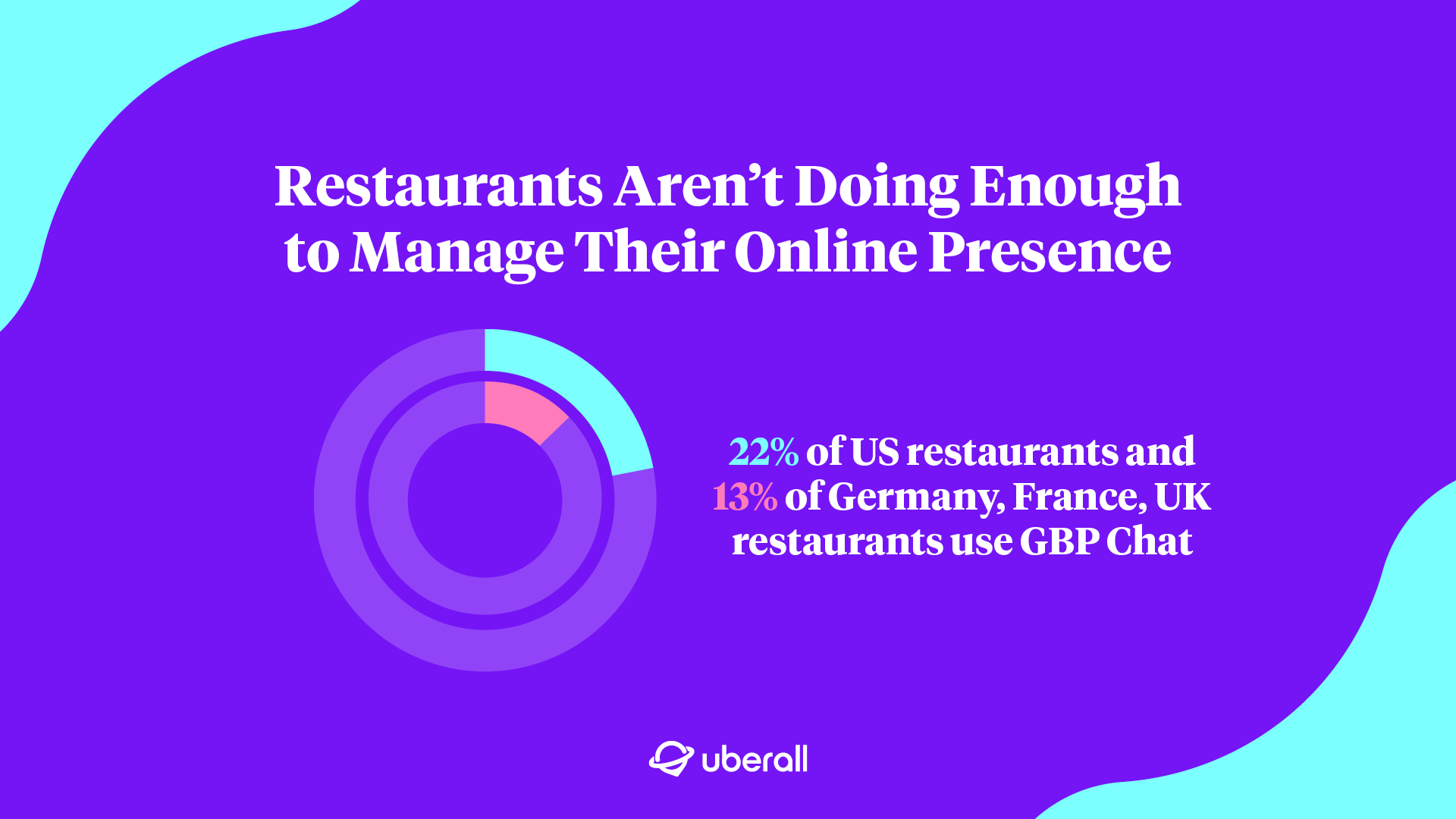 Key Takeaway: Complete and Optimize Your GBP
On top of its interactive features like chat and Q & A, your GBP provides many other ways to keep in touch with your customers and improve your rankings. GBP photos and posts are top among these features as they allow you to add content like photos of seasonal dishes, event announcements, and special offers.
Adding high-quality photos to your GBP is a worthwhile investment as businesses with GBP photos receive 42% more requests for directions, and 35% more clicks through to their websites than those without photos.
And while posts are known to be an important local search ranking factor, our study found that just over a third of restaurant owners and managers use this function, giving a distinct competitive advantage to those that update their profiles regularly.

Insight #5: Customers are Hanging Up Their Phones
The trends of food delivery services and online ordering don't seem to be going away based on how consumer behavior has evolved over the years. For instance, a whopping 75% of Millennials and Gen Zers report avoiding phone calls because they are too time-consuming. But despite such statistics, less than half (47%) of restaurant managers and owners offer the opportunity to place orders online. This may have been acceptable in years past, but there is clearly a growing number of people who will avoid choosing a restaurant that makes them pick up the phone to place orders or make reservations.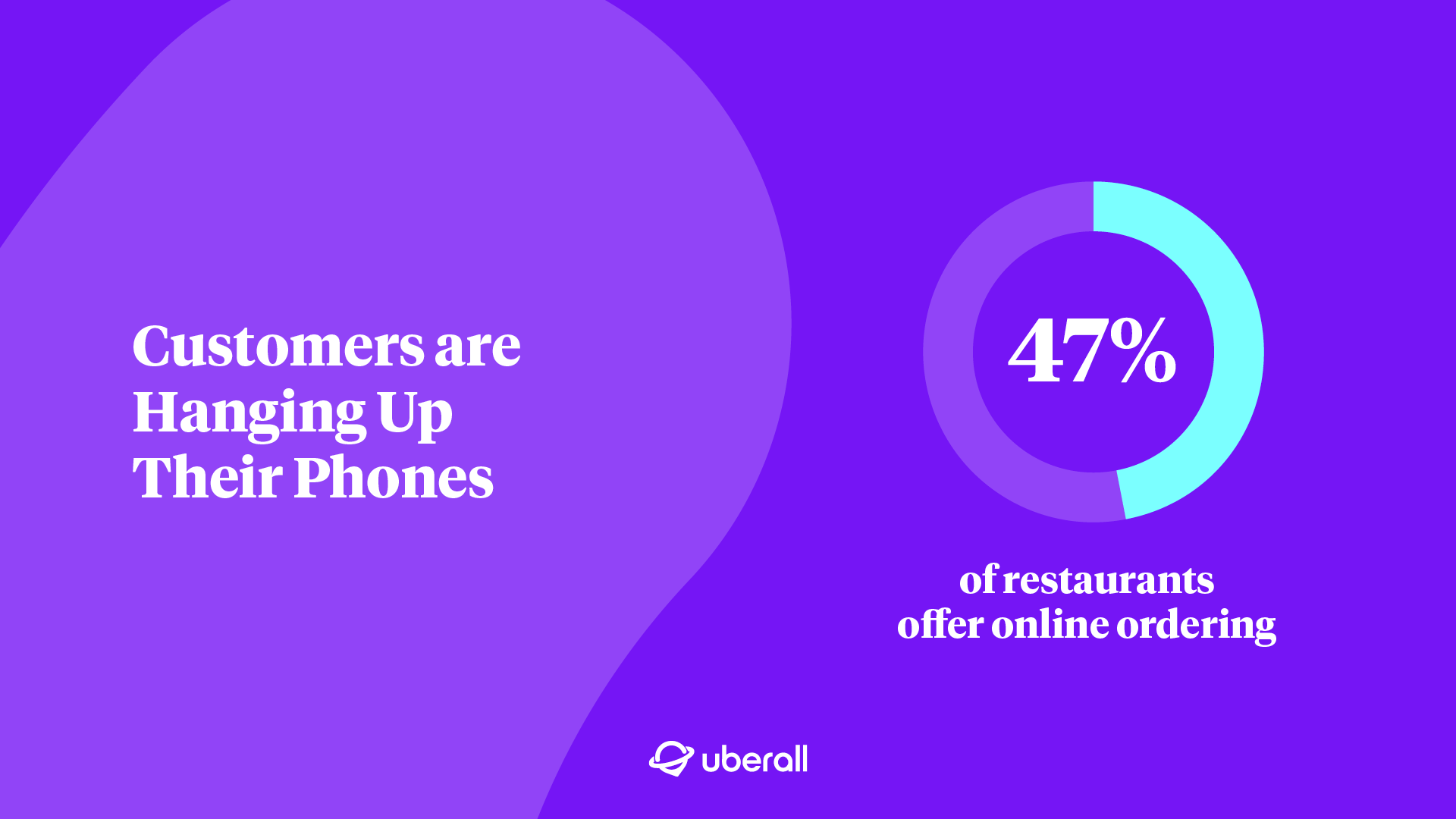 Key Takeaway: Establish an Online Booking & Ordering System
Your restaurant should make booking available online. Having this option available will allow you to convert more customers by giving them a convenient way to quickly reserve a table or place an order. It will also free up the time of your front-of-house staff who will no longer have to manually take as many orders over the phone.
Giving people the option to make reservations and order online can be done by adding calls to action on your website and in your local listings. You may even be able to connect your third-party scheduling appointment software with your Google Business Profile, letting potential customers make reservations straight from the profile in one click.

Insight #6: Leveraging Reputation Data Can Help Build Personalized Experiences
Offering personalized experiences to your customers is one of the best ways to drive loyalty. By monitoring your online reputation, you can learn about your customers' preferences and understand whether you're doing a good job offering them the experiences they're looking for. More specifically, you can measure how well you're building loyalty by tracking your net promoter score (NPS), which gauges the likelihood of your customers recommending your restaurant to a friend or colleague.
Only 20% of restaurant managers and owners report tracking their NPS by location, illustrating how a vast majority are missing out on important opportunities to boost loyalty among existing customers and gain new customers via recommendations from people they are most likely to trust.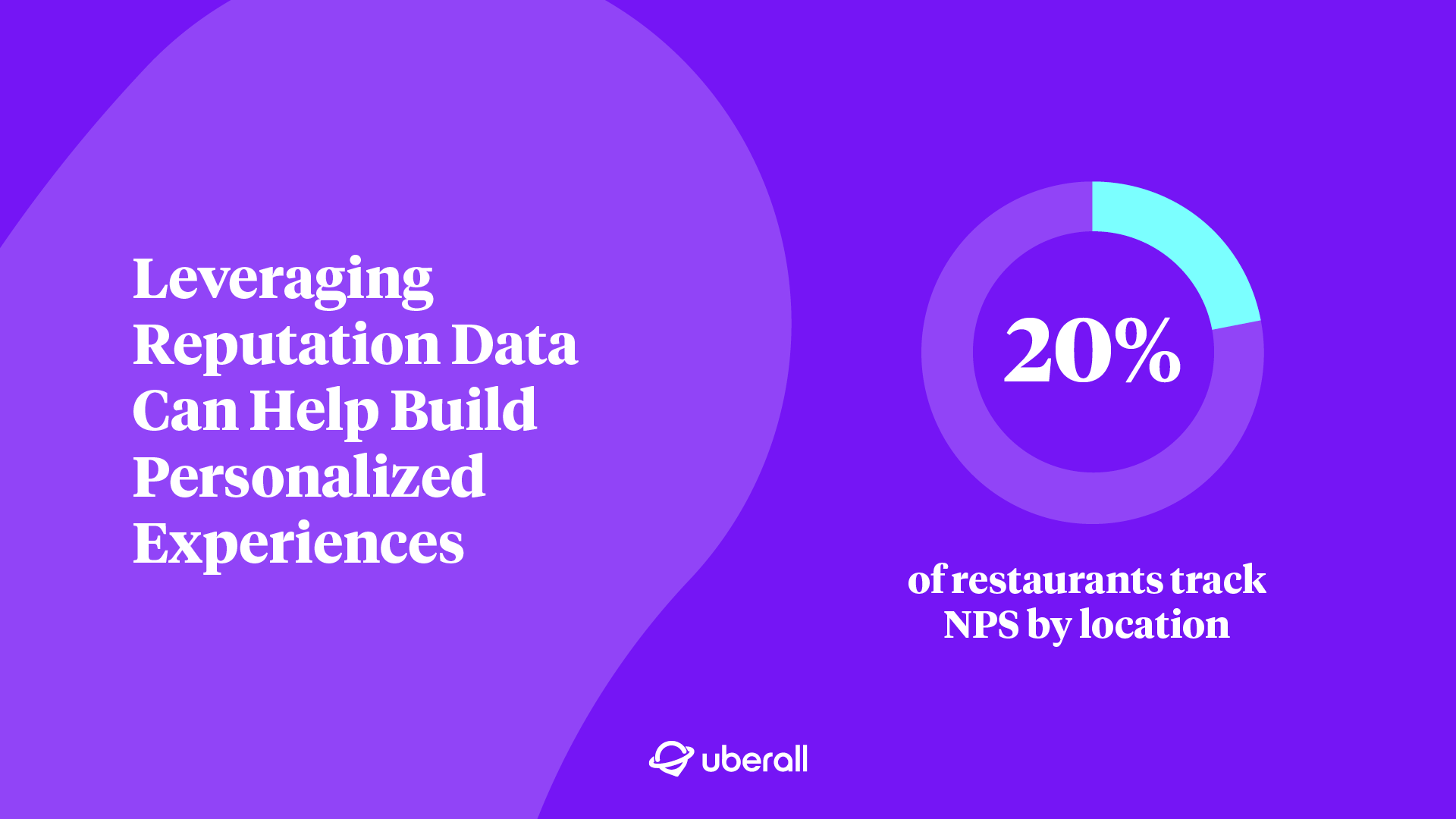 Key Takeaway: Measure Customer Loyalty with Net Promoter Score
By conducting a simple NPS survey, you can evaluate the quality of your customers' experiences across your locations. Here is the question to ask: "How likely are you to recommend [your business name] to a friend?" The NPS scale is typically numbered 0 through 10, with 0 being least likely to recommend and 10 being the highest. Calculate NPS manually using the following steps:

1. Segment your results into detractors (scores 0-6) and promoters (scores 9-10.
2. Subtract the percentage of detractors from the percentage of promoters.
Different organizations have different standards for what a "good" NPS is. What's most important is to simply know where you stand and continue to measure your score over time to ensure you are improving.

Staying attuned to your customers' feedback can also help you improve your overall customer experience, but only 32% of restaurant managers globally report using analytical tools like sentiment analysis to glean deeper insights from the feedback they receive. A mere 15% of restaurant owners and managers track sentiment by location – 20% in the U.S. and 11% in the United Kingdom, Germany, and France. This is another missed opportunity to understand how your restaurant is perceived and how it may vary by location.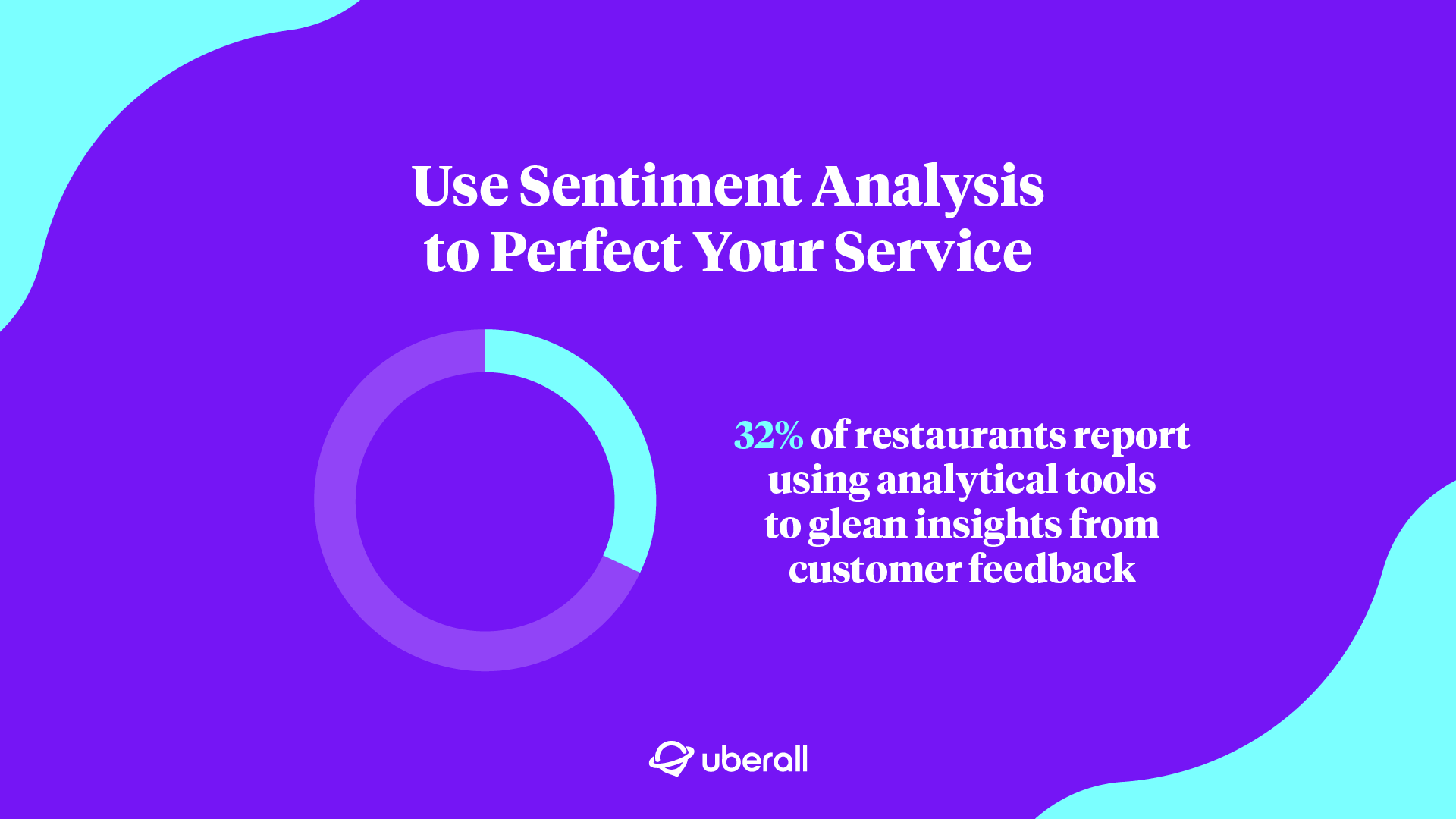 Key Takeaway: Uncover Trends and Adjust Strategies Based on Sentiment Analysis
With sentiment analysis tools, your restaurant teams can look at how their different locations may be trending positively or negatively and make adjustments based on the information. Once these changes are made at poorly performing locations, you can assess how those adjustments impacted customer satisfaction by looking at the same metrics over time.

Insight #8: Referral Programs Deserve More Attention
Asking satisfied customers to refer a friend your way is a great way to reach new customers A good referral program can also boost loyalty among existing customers by rewarding those who refer. Nevertheless, just 39% of restaurant managers in the US encourage customers to share feedback using a referral program, and the figure drops to 16% in the U.K., Germany, and France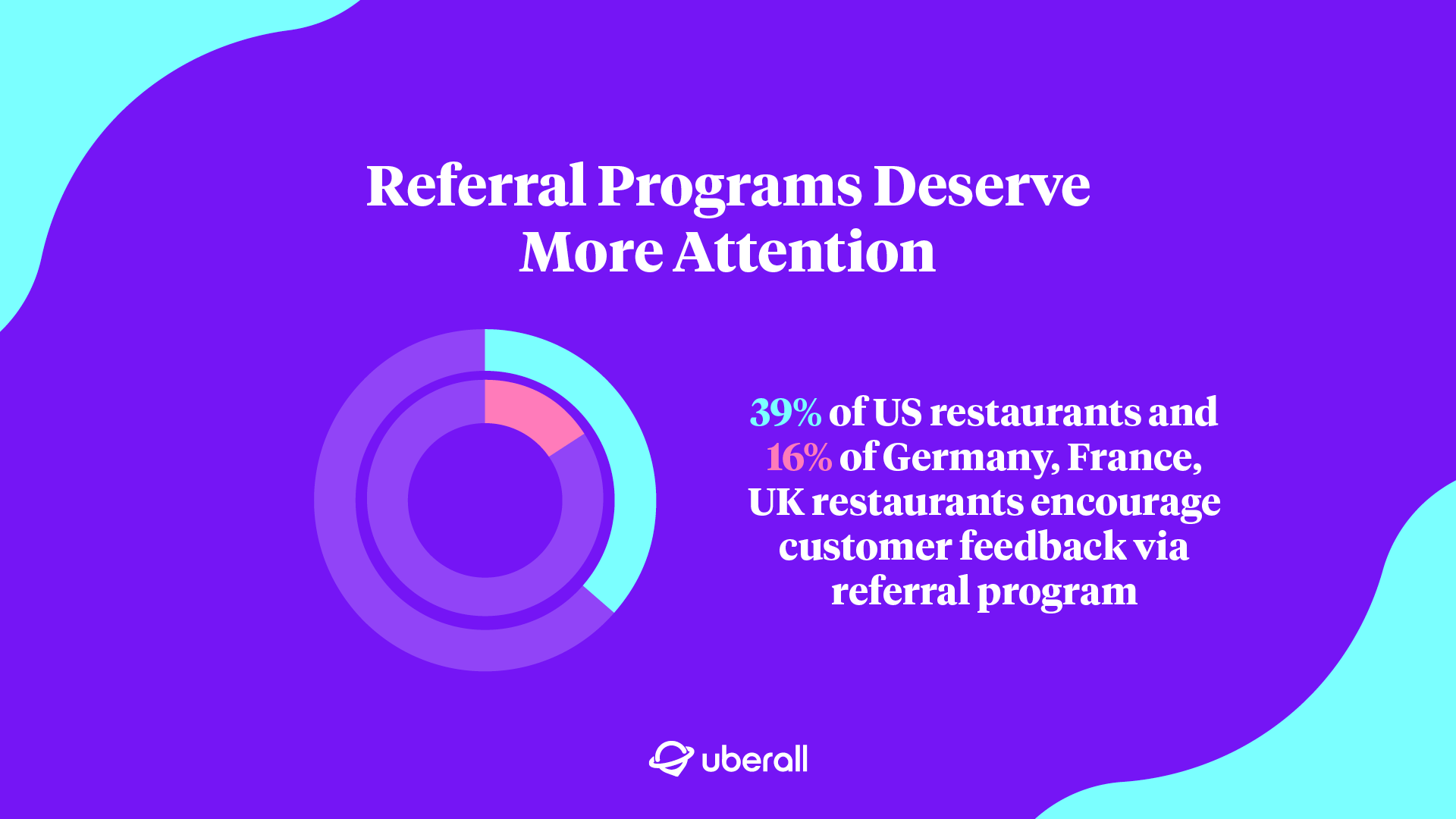 Key Takeaway: Build a Customer Referral Program and Offer Valuable Rewards
Offer a referral program for your customers. To encourage them to take action, provide them with a promo code or other reward as an incentive for sending new customers your way. By showing your customers how much you appreciate their loyalty in this way, you also improve the likelihood of them returning to your restaurant again and again.

Use Our Food Industry Insights to Grow Your Business
Managing a restaurant in today's competitive landscape is a difficult job. Our report highlighted what many restaurant managers are doing well to drive more foot traffic and grow their businesses, but also showed how much room there is for improvement across the industry. In such a crowded market, an enticing menu and memorable atmosphere are only part of the equation for success.
Digital marketing tools like Google Business Profile and others thankfully provide many ways to bridge the gaps where so many restaurants are falling short of delivering the kind of exceptional customer experience needed for long term success.

Use these insights to gain a competitive advantage in your area, increase your foot traffic, and build a strong community of returning customers.
Take your social media strategy to the next level and engage more hungry customers — learn more