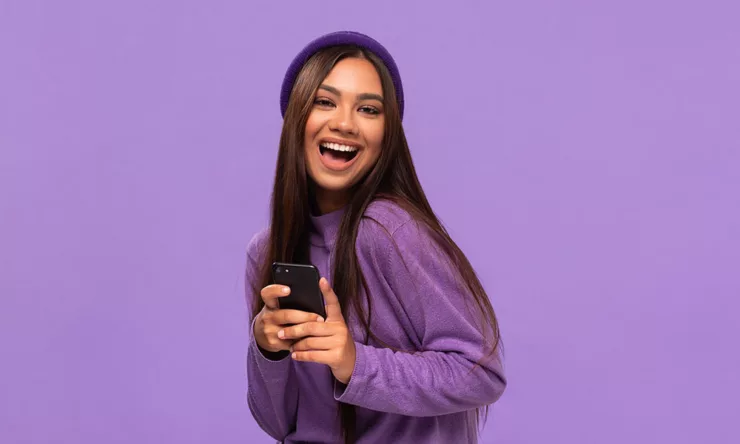 Blog
The Secret SEO Benefits of Location Landing Pages
How do your customers find places to eat, shop, and play? The answer is at your fingertips — or theirs to be more accurate.
A 2022 Brightlocal survey shows 98% of consumers look for local business listings online. In 2019, that number was just 90%.
98% of consumers look for local business information online
*Brightlocal 2022 consumer survey
These numbers spotlight the importance of local SEO — ensuring each of your locations ranks highly on Google for relevant searches. To reach that crucial goal, you need to help those locations appear when nearby customers search.
Location Landing Pages help you get there, especially when combined with a store finder and other local SEO techniques.

Location Landing Pages 101: How Do They Work?
Location Landing Pages are a unique destination on your website — one page represents one real-world location. These pages help consumers find their nearest location when they're visiting your website, and they inform search engines about the unique characteristics of that location.
A well-designed Location Landing Page engages potential customers no matter how they find you, whether directly through your store finder or via a Google search. Informative and engaging pages also help to make your website more visible in organic results as well as the Google 3-Pack.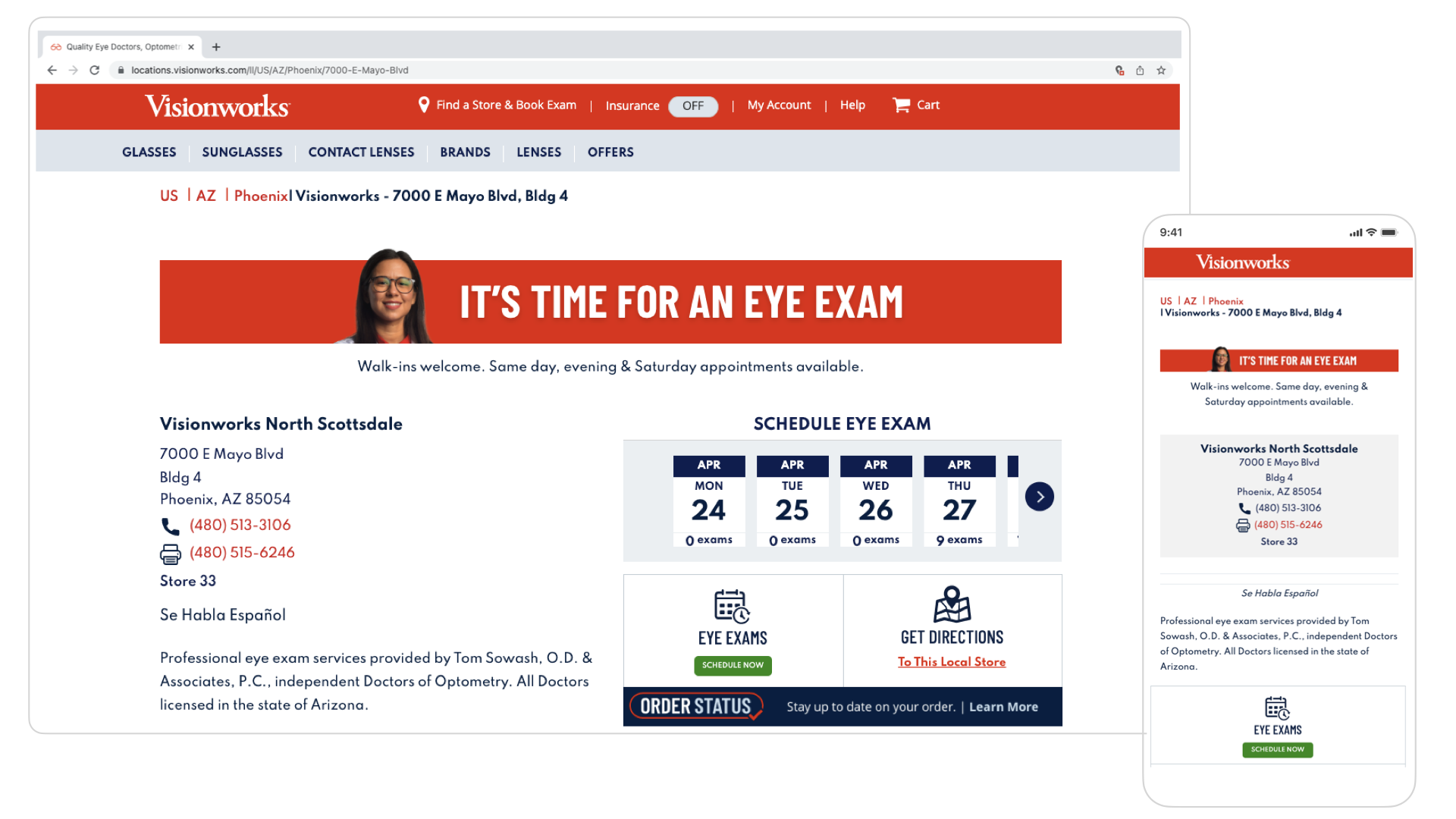 How Are Location Landing Pages Different Than Google Business Profile?
Your Google Business Profile (GBP) is used to populate the list of local businesses in the Google 3-Pack. The completeness and accuracy of your profile help Google determine which nearby businesses are the best match for the user searching.

Your Location Landing Page helps you rank in organic search — the non-paid results that appear below the 3-pack. If you snag No. 1 in those results, you can expect to get about 28% of the clicks. That's more than 1 in 4 people choosing your business over your competitors.
Where Location Information Can Appear on Google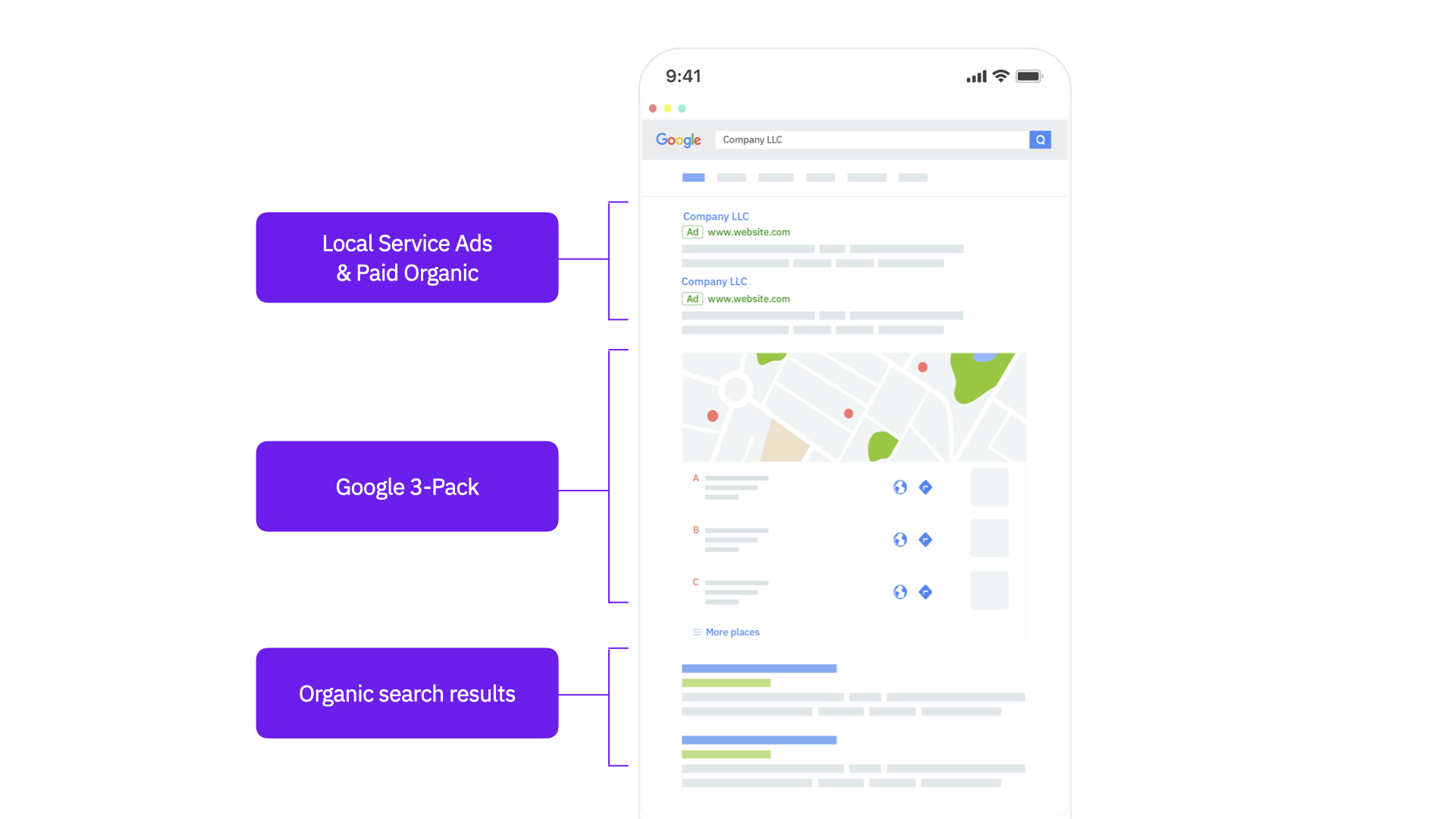 4 Reasons to Create Location Landing Pages
Location Landing Pages help customers find their nearest location via your brand website. By highlighting what makes each site unique, you encourage local customers to visit.
Comprehensive and engaging Location Landing Pages also improve your online visibility and reputation. Here's how you stand to benefit.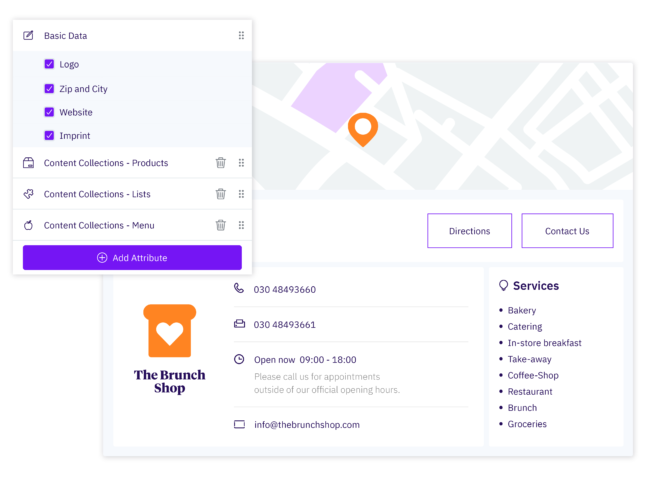 #1 - Gain Google Authority
Local Landing Pages significantly boost your local SEO efforts if they include the three most important ranking factors in Google's algorithm:
Relevance: How well your local page content matches the users search intent

Proximity: How far the business's location is from the searcher, based on Google's data

Prominence: How well-known and well-respected a business is that is tied to domain authority
Multi-location businesses have an edge in prominence, especially given strong regional or national reputations. When you create a Location Landing Page for a store, you emphasize that location's importance.
Location Landing Pages also highlight pertinent information about relevance and distance. For example, you want customers in southern California to know about your Santa Monica, West Hollywood, and Culver City locations, even though your corporate headquarters is in Texas.

#2 - Increase Local Search Rank
Authority is a crucial driver of your rank on search results pages, especially if you have plenty of credible links on each Location Landing Page.
For example, each landing page should interlink with relevant social pages for that site. Multiple links emphasize your site's authority and more authoritative sites rank higher in local searches.
Your Location Landing Pages also ensure information consistency on your third-party pages. The trust of customers and Google crawlers depends on each mention of a store having the same information, including hours and contact details.
For instance, if your website says your store locations are open until 6 p.m. and your Facebook Local profile says you close at 5, customers will wonder if they can trust either data point. Interlinking allows you to verify the accuracy of each profile, driving more trust among humans and algorithms.

#3 - Control the Message
Customers use sources such as Google My Business, Facebook Local, and Yelp to learn about your business. Even if you submit correct and up-to-date information, those sites' algorithms determine what photos, reviews, and more appear most prominently depending on the search query.
For example, when you submit photos to Google My Business, the algorithm sets the display order. It may feature the exterior of a location even though the inside shows your brand in a better light.
However, Location Landing Pages are completely brand-owned. You can customize them for each location and highlight what you want visitors to see first - an option that Google Business Profile doesn't offer. Possibilities include:
Inventory or menu items available at that store

Photos of the local experience

Local promotions and events

Changes to local hours or information
For best results, link from each Location Landing Page to the relevant social sites. Your customized content will build authority, making your stores more likely to appear at the top of search results.

#4 - Improve the Customer Experience
A branded website with a store locator is a strong starting point for multi-location businesses. Location Landing Pages take the same strategy to another level by maximizing the customer experience. Each optimized page becomes a go-to resource, helping customers find what they need to take the next step.
You decide what that "next step" should be based on your customer's needs. Each local landing page can have one or more CTAs, such as "Book an appointment" or "Order online."
Making your Local Landing Page informative and helpful encourages customers to navigate there — instead of to a third-party, non-brand-controlled site.

The Essentials of Location Landing Pages
To generate impressive local SEO results across your business, make each location landing page engaging and user-centric with these six tips.

#1 - Incorporate Local Keywords
Search trends differ across cities and regions. Dig into local search data and learn what high-intent keywords are popular. High-intent keywords are words and phrases that indicate a desire to purchase.
"Buy" and "near me" are popular high-intent keywords. So are terms from these categories:
Branded searches and non-branded categories: Samsung Galaxy S23 or Wireless provider near me, Starbucks or Coffee near me, Tempur-Pedic or Mattress store near me

Comparisons: Top 10 pizza restaurants, Best pizza restaurant

Reviews: iPhone 14 Pro review

Product or Service by region: Dry cleaners Boston, Spin Studio in Santa Monica, Hotels in Chicago, Vegan food in London

Near Me "Now" Searches: ___ near me now, ___ open now near me

Differentiated services: Black Friday sales near me, happy hour near me, furniture store with free delivery near me
Choose keywords related to your best-known products or services. For example, suppose your restaurant is known for its quality vegan options. If "vegan food near me" is a popular search in one of your service areas, consider optimizing that landing page for this keyword.
Similarly, if you're expanding your offerings, look for locations where your new products or services are popular.

Also, new in GBP, location-based businesses will soon start seeing the top local keywords driving traffic to their GBP profile. While this is not the same as your local page, it is a good indicator of what keywords people are using to find your business and might be good to consider for your local landing pages as well as your listings.


#2 - Connect Your Local Page to a Store Locator
Creating a store finder helps customers but also helps improve search engine results. And the more people that find your stores, the more people will visit your stores to make a purchase.
Store locator widgets allow your customers to search for a place – by zip code, city, or on an interactive map – to find the local resource your business offers them. It is important to have a map that users can use to pinpoint where the store is.
For your store locator to work well, make sure your latitude and longitude entered in Google My Business for each location are accurate. The store locator widget is what also serves to connect your Location Landing Pages back to the main site.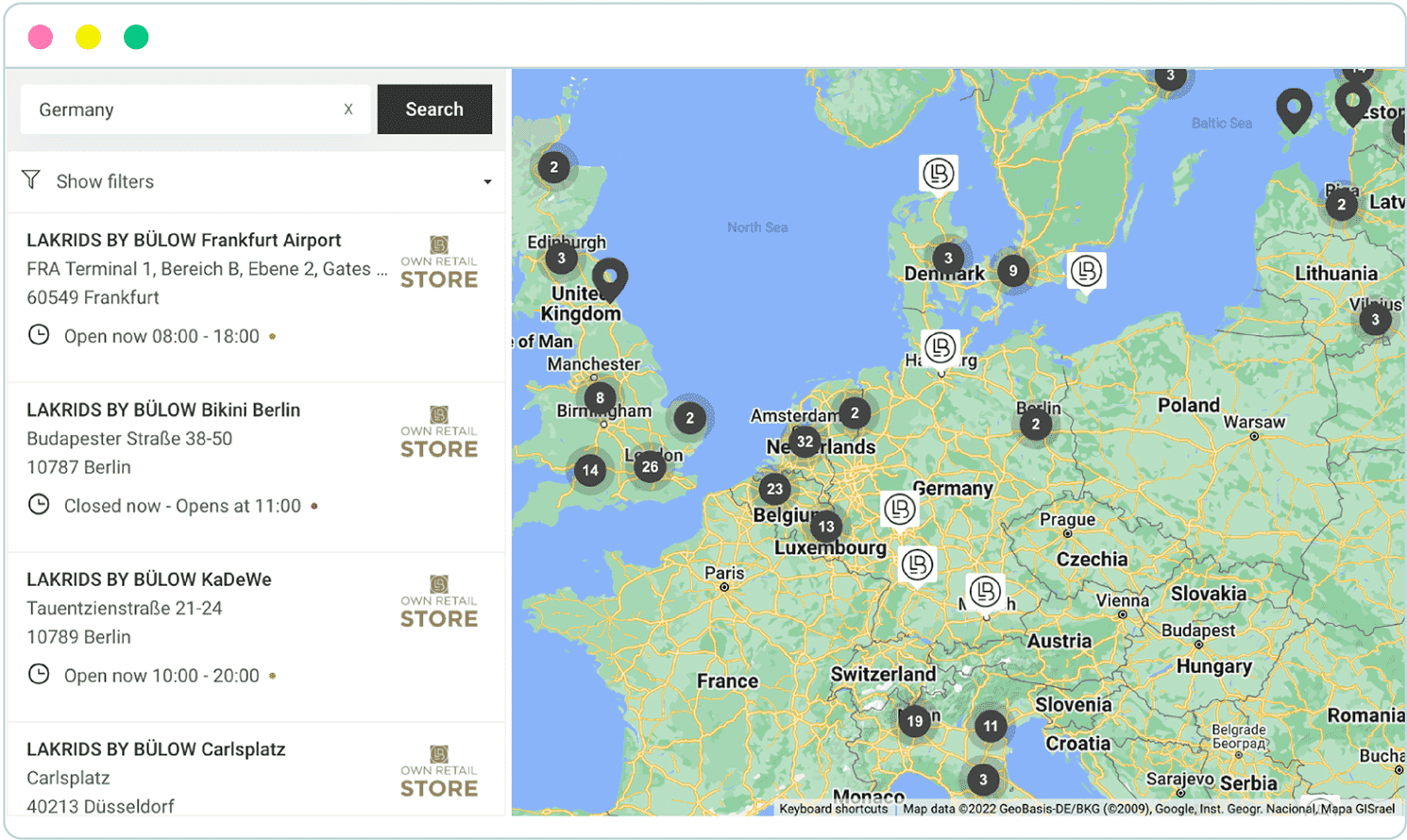 #3 - Introduce Local Staff Staff

This is your "Hi, we're humans!" section. Let your visitors get to know the people behind every location you operate. Beyond biographies, the human touch can also be incorporated with social widgets, like a glimpse into your latest Instagram posts or the store's Twitter feed.
This personal touch is particularly applicable in industries like insurance, law, health care, and financial services, which deal with sensitive personal matters. For instance, when someone needs a new dentist and is considering a multi-location practice, they often want to see the local provider and review their credentials.
Healthcare practices frequently benefit from having stand-alone landing pages for each provider. Such pages allow providers to link to other practices or care locations.
For other industries, such as restaurants and retail, consider an "employee of the month" profile or "employee favorite" product highlights.

#4 - Build in Social Proof

In 2023, more than 99.9% of consumers read online reviews when shopping. Reviews tell potential customers what it's like to do business with you, and this social proof builds your credibility.
Enhance your Location Landing Page with positive reviews and other user-generated content. Let local managers or franchisees know you're looking for more local reviews. Ask them to invite customers to review the local experience on Google.
Add snippets of positive reviews to Location Landing Pages, including a link to the complete review. Consider also creating or updating a review page, which can provide backlinks to each landing page.
Many customers will navigate to original review pages like Google or Yelp to see the full range of customer comments.
Don't hide negative reviews — it looks suspicious! Instead, embrace the chance to respond to those reviews and showcase your customer service skills.

#5 - Optimize for Mobile
Google's priority is a great search experience, and most searchers — 58% — surf the web on mobile devices. If your site isn't easy and intuitive to navigate on a smartphone, you're likely to drop in search results. Ensure your entire site is mobile-optimized, including all Location Landing Pages.
Also, look for ways to embed multimedia content into each local page. Google is reimagining how it presents mobile search results, with an increased emphasis on visual engagement and multi-source results. Get the edge by highlighting customer videos, local photos, and user stories featuring your business.
#6 - Measure and Continuously Improve
Algorithms and consumer search behaviors change frequently. Stay ahead of the game by tracking each page's performance and the trends in your area.
For Location Landing Pages, key metrics to track include:
Overall impressions: The number of people who saw your page URL

Click-through rate: The number of people who click the link to reach the page

Direct conversions: Number of conversions the page completed

Assisted conversions: Number of conversions the site was part of
Google defines a conversion as a user action you've marked as valuable. For example, if you want visitors to your Location Landing Page to book an appointment, you would set that up as a conversion via your analytics account. Google walks you through this process.
Also, keep track of keyword volume in your industry and each geographic area. Tools like Semrush, Ahrefs, and Google Analytics Search Console can help you to connect keyword popularity with site performance.
Finally, don't neglect your Google Business Profile data. Many customers take action directly from these profiles instead of visiting a business's home site. They'll book appointments, call to order, and so on, all from the Business Profile.
The more you understand what drives customers to your GBP, the more you'll learn about what keywords to boost on your Landing Pages.

How to Create Awesome Content for your Location Landing Pages
Your SEO benefits when you have a variety of content on your Location Landing Pages. After all, only the highest quality content can sustain growth and generate leads. Here are the best practices for creating awesome content for your Location Landing Pages.
Tip #1 - Consider the Path to Purchase
Meet your visitors' needs better by considering where they come from and what they need. For instance, are they coming to your page from a Google search or a paid Facebook ad? Are they responding to a promotion or looking for a particular product line?
Suppose you're a sporting goods retailer with a growing location. One of your landing page visitors might be a customer looking for the latest trending water bottle, and they want to know if you have it before visiting the store. Another visitor to your landing page could be a student looking for a part-time job.
Every business — and every location within that business — has different search trends. Know the top two to three goals your page visitors have and what pathway they'll need to follow to meet those needs. That pathway is your customer journey, and it's essential to converting website visitors.
Tip #2: Answer Your Customers' Most Basic Questions
Most people visiting a local page are looking for basic information, including the store's address and hours of operation. Post those details on the page, and consider adding an FAQ section for other details, such as Wi-Fi availability or parking.
For instance, if you have an urban location, one of your FAQs might be, "How do I get there?" or "Is there parking?" Create a drop-down with public transit and parking details to win the appreciation of new visitors.
Tip #3: Build in User-Generated Content
With user content taking a more prominent place in local search results, it's increasingly important to highlight your customers' experience.
Source employee and local customer social posts that highlight the flavor of a local store. To get more, run contests encouraging users to post photos with the brand and share them on social media.
Tip #4: Create Unique Community Events Calendars
Work with each store manager or franchise owner to identify unique events happening near them. Brainstorm ways to get your business involved through promotions and local engagement.
For example, if a community is having a summer festival, an ice cream shop might set up a booth offering samples of new summer flavors. For extra community points, it could donate a portion of that week's sales to a local charity

Increase Search Rankings With Location Landing Pages
Location Landing Pages play multiple roles in your SEO strategy. They improve search visibility, provide customers with crucial information, and enhance each location's online presence.
Your customers and Google need each landing page to be comprehensive and up-to-date. Uberall can help by allowing you to manage your store locator and landing pages from one place, eliminating the need for guesswork.

How can we help grow your business today?