To get reliable and comparable results in our research on local marketing maturity, we needed a framework that allows us to assess business maturity.
The ways to assess maturity vary depending on the topic at hand. An organization's software development process would usually be assessed with the Capability Maturity Model. This model looks at the quality of processes on five levels—the levels' hierarchy being initial, repeatable, defined, managed, and optimizing.
In the realm of local marketing, we're not looking at processes alone but also at strategies and tools. This is why we translated the Capability Maturity Model into a matrix that displays the current processes, strategies, and tools that contribute to growth. As those capabilities weigh in at different levels of maturity, we consulted the market experts at Uberall to assemble each capability in the matrix by degree of sophistication.

The Maturity Model for Local Marketing Is a Matrix
The maturity matrix lists business capabilities, all of which enable companies to get found, be chosen, and/or drive loyalty within the hybrid customer journey. The maturity of each activity is expressed in a number ranging from 1 (low maturity) to 5 (high maturity).
To make the model actionable and comparable for businesses in the local marketing maturity self-assessment, we selected the capabilities that should be relevant across all industries. That said, the model represents the most critical capabilities (yet not every considerable capability) to mastering the hybrid customer journey.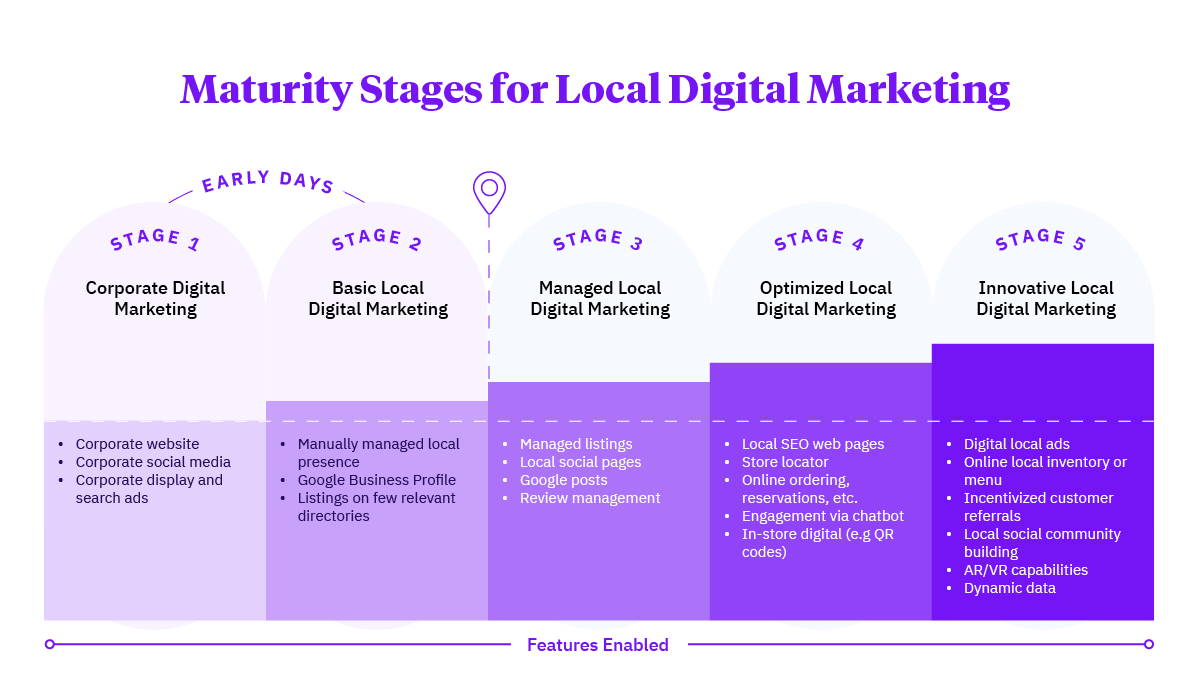 Surveying Businesses About Their Local Marketing Maturity
With the maturity matrix in our hands, we wanted to understand how today's businesses are creating more streamlined, convenient experiences for their customers that naturally move between online and offline. We translated the matrix into a survey but didn't simply ask for the availability of a certain capability—in some cases, we also wanted to understand how businesses are using the available tools.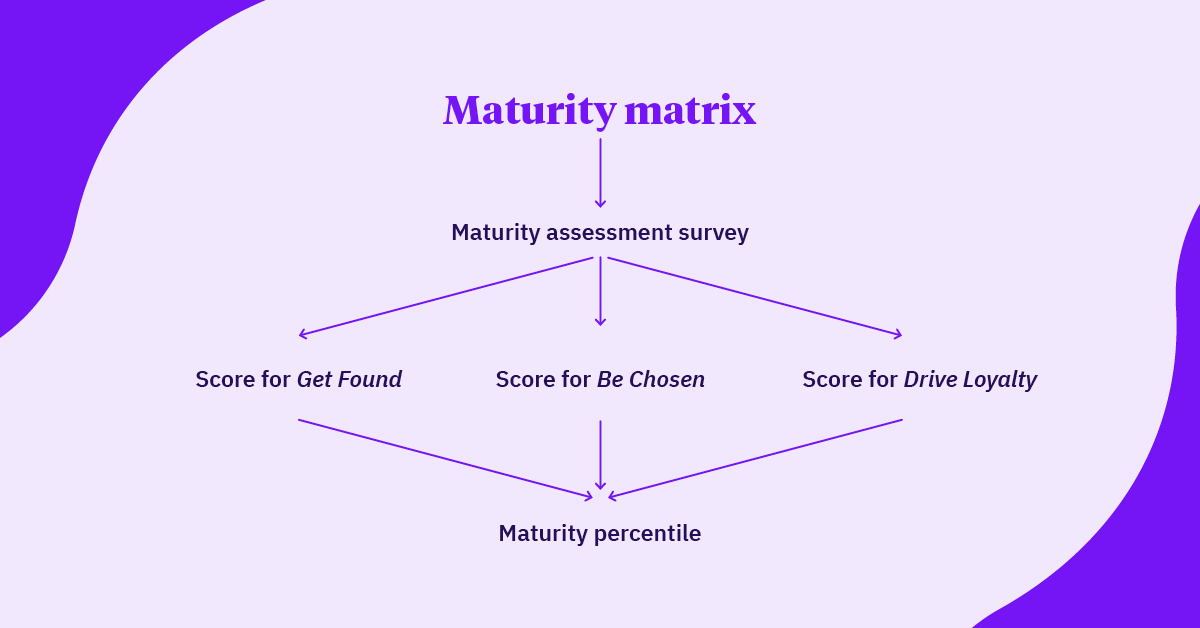 We clustered the responses according to their impact on main business objectives—get found, be chosen, drive loyalty—and aligned them with their respective maturity value from the matrix. This then allowed us to calculate the maturity for each objective, and hence an overall maturity. The maturity values are based on the maximum points achievable in the survey and are expressed as a percentage. An overall maturity of 48% among all businesses surveyed hence means that these businesses are leveraging less than half of their local marketing potential.
As a result, local marketing maturity is an index that shows whether a business is unlocking the full potential of their local digital marketing capabilities.

Assess your local marketing maturity and benchmark against your competitors.
In April 2022, we conducted the survey with Zogby Analytics, interviewing 459 business decision-makers (senior marketers or higher) to get a valid overview of local marketing maturity today. The interviewees were distributed among North America (total: 244; Canada: 73; USA: 171) and Europe (total: 215; France: 76; Germany: 50; United Kingdom: 89), as well as various industries that typically have physical locations and need to bridge the online and offline worlds (Banking, insurance, finance: 61; gas or EV/service stations, convenience stores: 98; hospitality, tourism, leisure: 41; retail for consumer products, grocery, hair salons, health, beauty, pharmacy, etc.: 111; restaurant and food: 100).
We analyzed the results from this survey to understand the state of local marketing maturity of markets and industries as well as the reasons that contribute to an inferior or superior maturity. In this article, we share the global results.