How to Win in Times of Economic Uncertainty
Today, inflation and the threat of a recession require location-based businesses to creatively navigate challenges, even as consumer behavior becomes more unpredictable.
With all this uncertainty, one thing we know for sure is that consumers are leveraging digital channels with nearly every purchase decision they make. In a digital-first world, multi-location businesses must ensure their nearest locations are found online, chosen, and chosen again. They can only win if they create seamless experiences that bridge the digital and real world.
With our latest benchmarking report, based on a survey of more than 450 businesses, we look at how fit and future-ready multi-location businesses are to provide the seamless customer experience that will make a difference in these uncertain times.

Assessing Local Marketing Maturity
Local marketing maturity is a measurable indicator of a multi-location business' ability to deliver seamless experiences between the digital and real world. Understanding the stages of maturity, as shown in the image below, is the first step to building a more modern local marketing strategy.
It is important to note that all activities up to stage 2 are table stakes for local digital marketing. It takes more advanced capabilities to meet and exceed customer expectations. To be considered even moderately mature, a business needs to be at stage 3 or higher.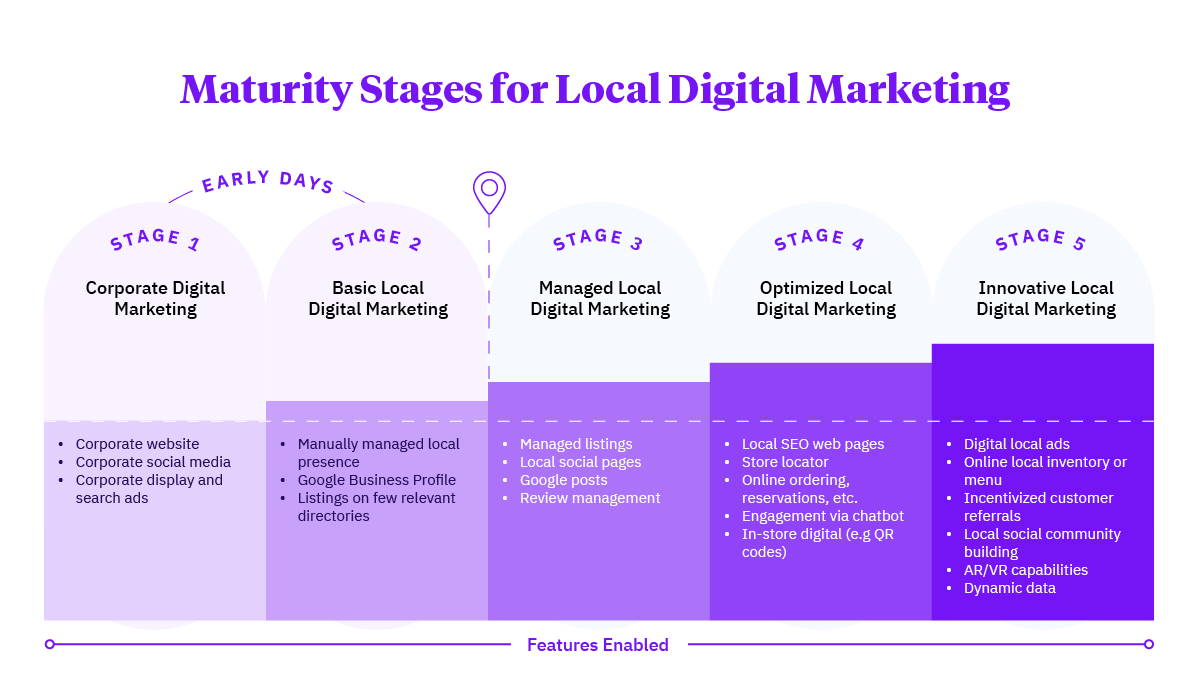 We explain our approach and methodology in more detail here. In summary, we did the following:
Establish a model for local marketing maturity, expressed in a table format (see above)

Translate the activities into a survey


Field the survey with 459 decision-makers worldwide

Attribute a value to the responses and calculate an overall maturity percentage as well as for the main pillars of the customer journey (get found, be chosen, drive loyalty)
Want to see how you compare? Assess your local marketing maturity!
Local Digital Marketing Benchmark Trends
Trend #1: Maturity Declines Along the Buyer's Journey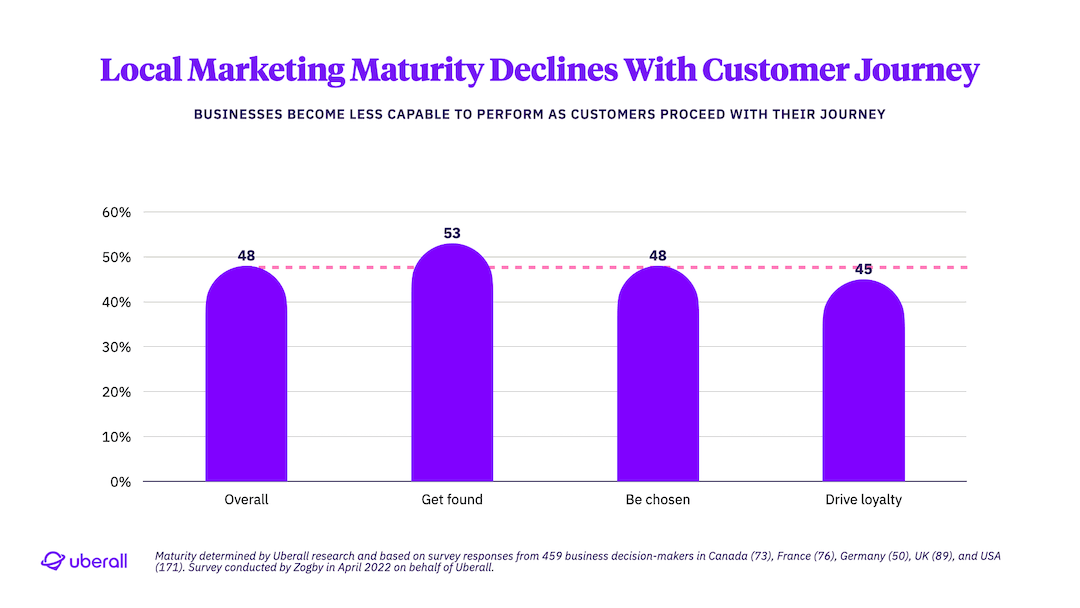 A majority of the businesses we surveyed are using moderately mature approaches to help themselves get found. However, as customers progress through their journey, the local marketing maturity of businesses declines. On average, businesses have an acceptable maturity to get found (53%) but are less mature when it comes to being chosen (48%) and driving loyalty (45%).

Trend #2: Maturity Varies by Geographical Region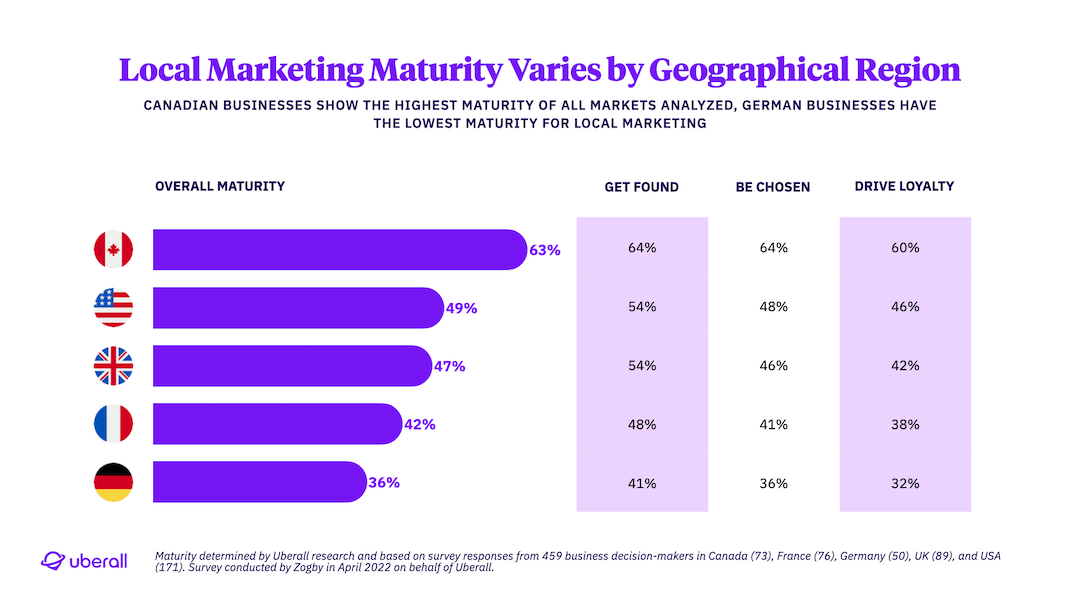 Canada has a higher overall local marketing maturity of 63%. That's higher than any other country analyzed. The overall maturity of US businesses is slightly above the global average (49%), giving them a slight edge over UK businesses (47%). The overall maturity gets lower with French businesses (42%) and lowest with German businesses (36%).

Trend #3: Maturity Varies by Industry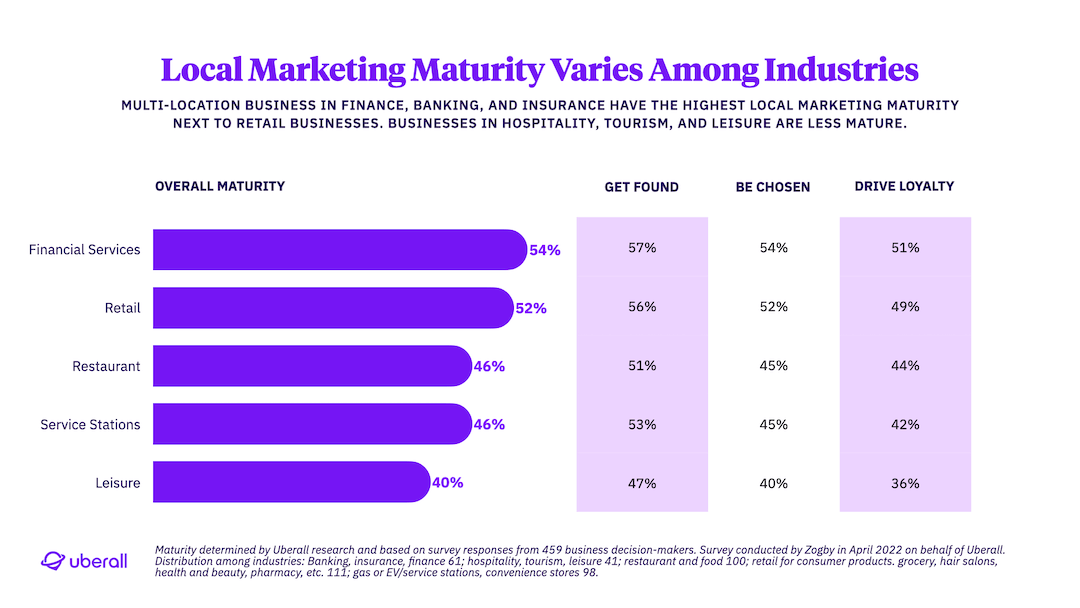 Financial services are the most mature (54%), followed by retail (52%). While the verticals for gas or EV service stations and convenience stores (46%), as well as restaurants, food, and beverage (46%), are a bit below the global average, businesses in hospitality, tourism, and leisure lag behind with an overall maturity of only 40%.

Opportunities for Multi-Location Businesses to Drive Visibility, Conversions, and Loyalty
Businesses that want to improve their local marketing maturity can simply look at the areas where most businesses are falling short along the customer journey—get found, be chosen, and drive loyalty.

Get Found: How You Can Improve Your Online Discoverability
While the average maturity for "getting found" (53%) is higher than for any other buyer journey stage, there is still plenty of opportunity for further optimization. Here are three areas where multi-location businesses fall short:

→ 29% do not use online business listings
→ 42% do not include a list of local stores on their website
→ 56% do not provide local web pages for each local store
Want More? Discover more benchmark metrics in our "Get Found" Data Deep Dive
Be Chosen: Untapped Potential to Convert More Consumers
While brand discoverability is critical, what matters most is being chosen. Here are three areas many multi-location businesses fall short. Improving those can increase consideration and online-to-offline conversion rates:

→ 66% do not respond to reviews frequently enough
→ 52% do not engage customers with CTAs on local pages
→ 75% do not have customer referral programs
Want More? Get more benchmark metrics in our "Be Chosen" Data Deep Dive
Drive Loyalty: Opportunities to Keep Customers Coming Back
In a downturn one of your top sources of revenue should be repeat purchases from loyal customers. Yet many businesses fail to optimize for this metric. Here are some areas businesses can gain an edge if they can get it right:

→ 62% do not analyze sentiment
→ 62% do not have customer loyalty programs
→ 65% do not use review management tools
Want More? Get more benchmark metrics in our "Drive Loyalty" Data Deep Dive
How Does Your Business Compare?
The biggest message from our analysis is that too many businesses still don't get the fundamentals right, resulting in a global maturity average of 48%. In the current economic climate, settling for average maturity may not be enough to gain a competitive edge.
Are you ahead of your competitors? We've created a self-assessment for local marketing maturity so you can assess your very own maturity.

Want to see how you compare? Assess your local marketing maturity!