Happier Customers, Lower Acquisition Costs
It's cheaper to keep an existing customer than acquire a new one—around five times as cheap. Businesses don't only save money when driving loyalty, they also experience a higher selling success rate. While this rate lies between 60-70% for existing customers, it only tallies in at 5-20% for new customers.
How capable are businesses, though, when it comes to driving customer loyalty? For our maturity research, we analyzed the potential of 459 businesses worldwide and saw the struggle to cultivate a loyal customer base and convert happy customers into advocates –with very few businesses using loyalty programs, encouraging customers to share a positive experience, or incentivizing returning customers.
What are other processes and behaviors that retain customers and/or win their advocacy? Here is what we found:

Insight #1: Many Businesses Risk Ghosting Their Customers
Have you ever written an online review and got a response from the business? If so, you might know how encouraging this sign of appreciation actually can be to visit that business again. Review responses are powerful, and this doesn't only reflect in customer loyalty but also affects conversions.
However, we found that only one in three businesses (34%) responds to almost every review and increases the chances of repeat purchase. The remaining 66% simply risk ghosting and disappointing customers.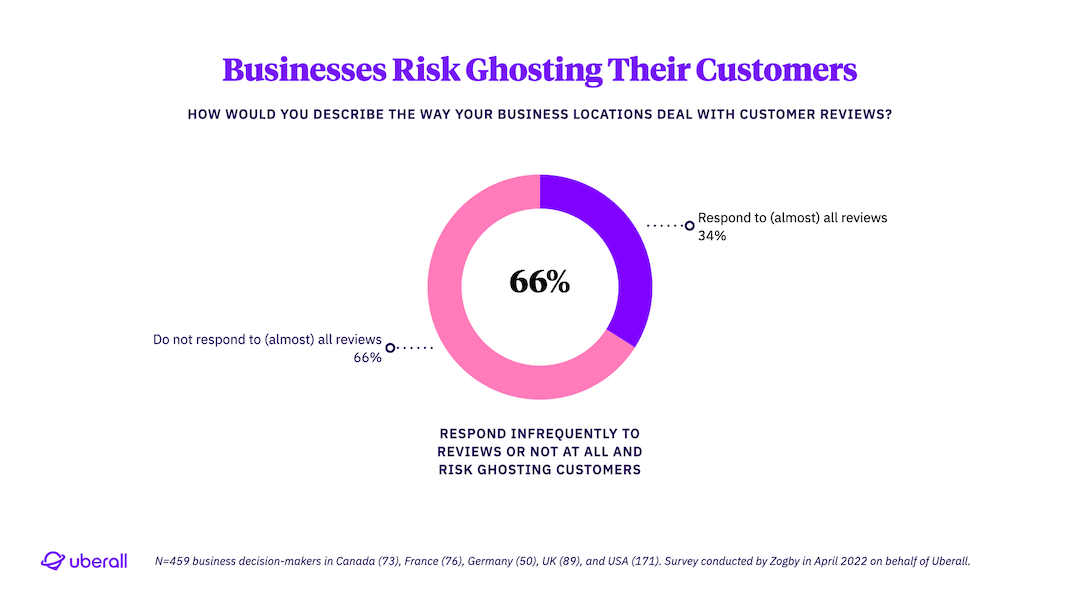 Key Takeaway: Respond to Feedback Efficiently
If you don't speak with customers, you leave money on the table. At the same time, manually responding to every review will grow your expenses.
Businesses can work around this dilemma by scaling their review management efforts with review templates and automated responses. With this best practice, you send automated answers to no-text reviews while you enable teams to respond more quickly to reviews that require actual attention.

Insight #2: No Incentive for Customers to Come Back
In our research, we found that 62% of businesses do not have customer loyalty programs. Since customer retention is significantly less expensive than customer acquisition, this is an area where companies can make their marketing dollars pay dividends.
Also, social channels are another missed opportunity for driving repeat business. 64% of businesses surveyed don't have an integrated strategy for corporate and local social media marketing. This means fewer fans get notified about new offers and activities, reducing their incentive to come back.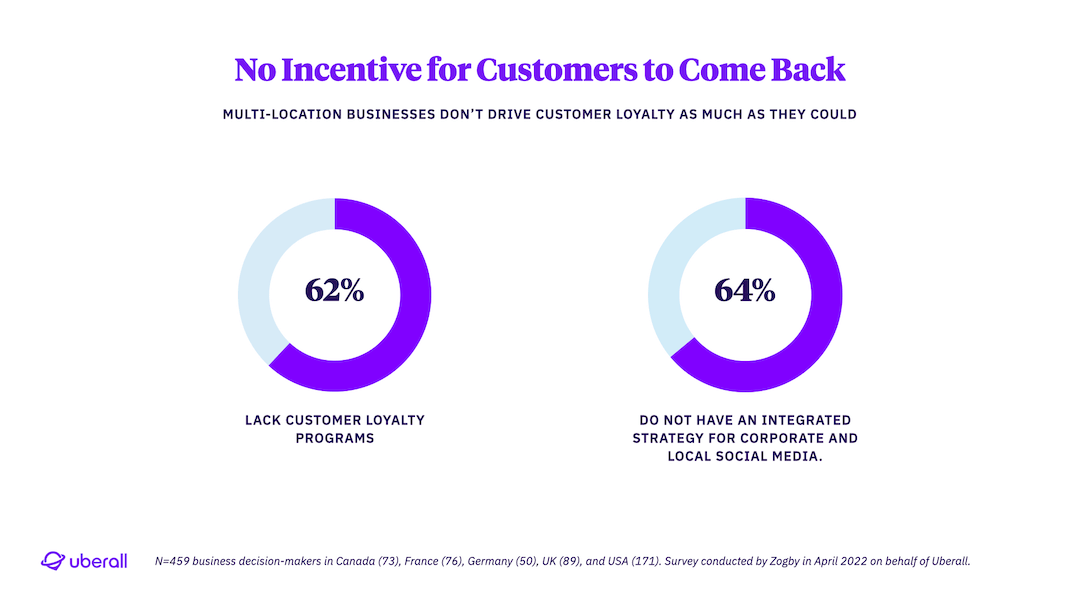 Key Takeaway: Start Simple to Increase Repeat Purchases
Many marketers minimize their chances of repeat purchases and by that almost hand business over to you. Use this opportunity, engage your customers to come back to you, and save on acquisition costs!
Comparably easy tactics emerge as the next low-hanging fruit. Test stamp cards, automated emails, and local social posts to keep customers coming back.

Insight #3: Businesses Often Don't Listen to Their Customers
Customer reviews contain a wealth of information to help businesses improve. However, the majority of businesses isn't fully leveraging these real-time insights—66% do not use tools like sentiment analysis. This means that two in three businesses don't glean deeper insights from customer feedback in a structured and digestible way.
A similarly cumbersome approach awaits the 35% of businesses that don't use review management tools to manage and analyze customer dialogue.
Key Takeaway: Automate Insights to Make Real Improvements
Sentiment analysis and review tools can be a big game changer when it comes to making meaningful adjustments to your business. Tools like these can read and structure feedback from various sources so you know exactly what your customers care about and what could turn them into fans of your brand.

Insight #4: Only a Few Businesses Create Stand-Out Experiences That Customers Want to Repeat
The decision to repeat a purchase depends strongly on the experience a customer had before. Was it a pleasant and convenient one?
Convenience can be established on many levels, yet many businesses still miss out on best practices. Only about half of the companies we surveyed (52%) said they are offering curbside pickup, and even fewer are using online purchase/return in-store options (41%).
When it comes to the in-store experience, even fewer businesses are leveraging conveniences like in-store QR codes (46%), mobile queues (41%), mobile apps (38%), or in-store digital "signage" push notifications (38%).
However, slightly more than half of businesses (55%) risk inconvenient experiences by not providing real-time information about their services, e.g. in-stock inventory, live wait times, or available parking spots.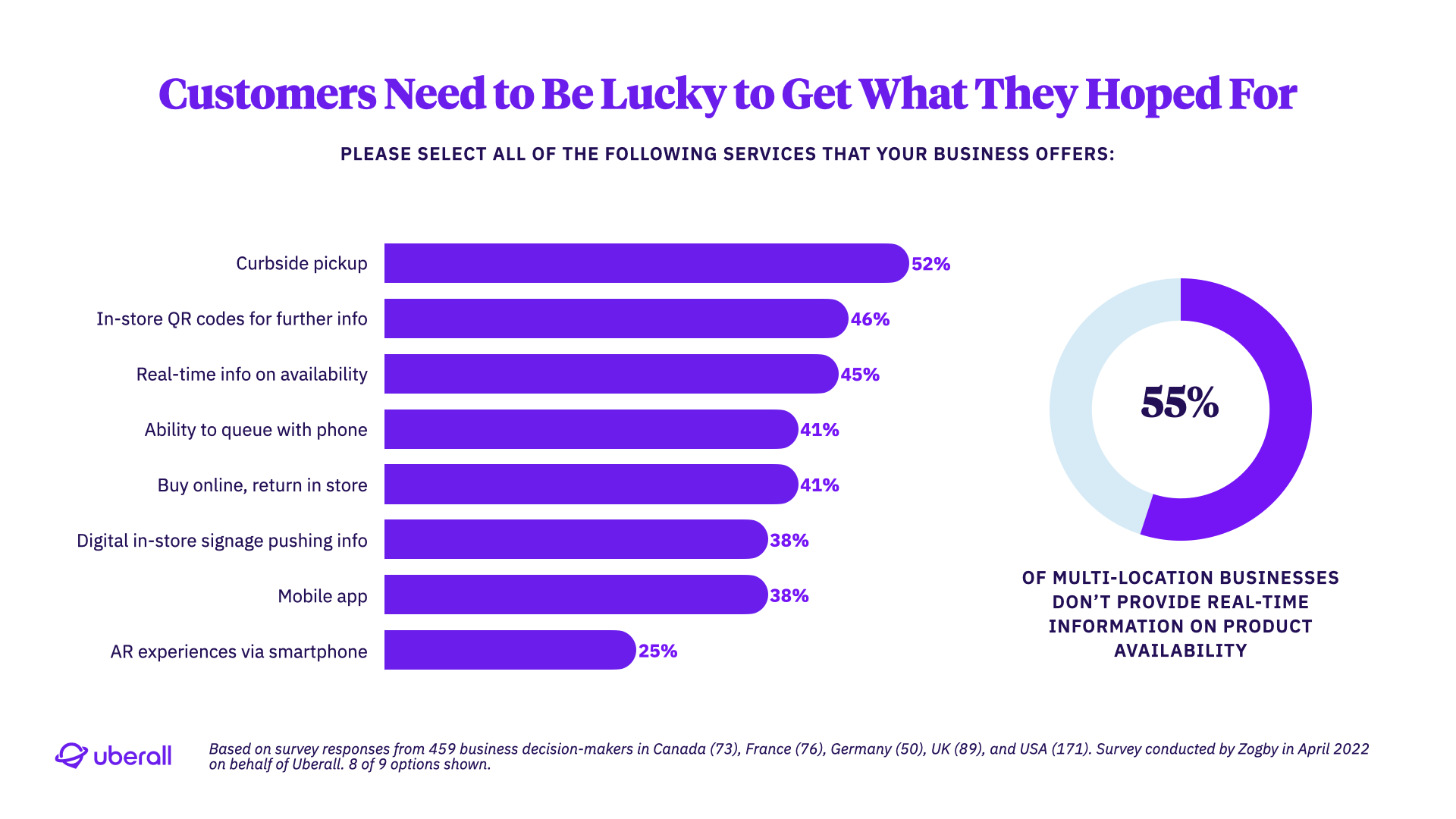 Key Takeaway: Convenience Is Key
Curbside pick-up and purchase online/return in-store are services that more and more customers take for granted. These offerings enable a hybrid customer journey that puts buying choices in the customer's hands. In many cases, the seemingly small things make the difference—an in-store QR code to access information or the possibility for mobile queuing, for instance. It will be on businesses to get insights from their customers as to what makes their journey just perfect. The way to get there is through customer surveys, reviews, and sentiment analysis.

Insight #5: Businesses Do Care, Though!
Most businesses told us they have either monthly (42%) or quarterly meetings (39%) to align their customer-facing teams. This is encouraging, as it shows that businesses do care about their customer experience. We believe a monthly frequency here is probably the most effective. At that cadence, teams are more likely to be agile and respond to experience issues quickly and effectively.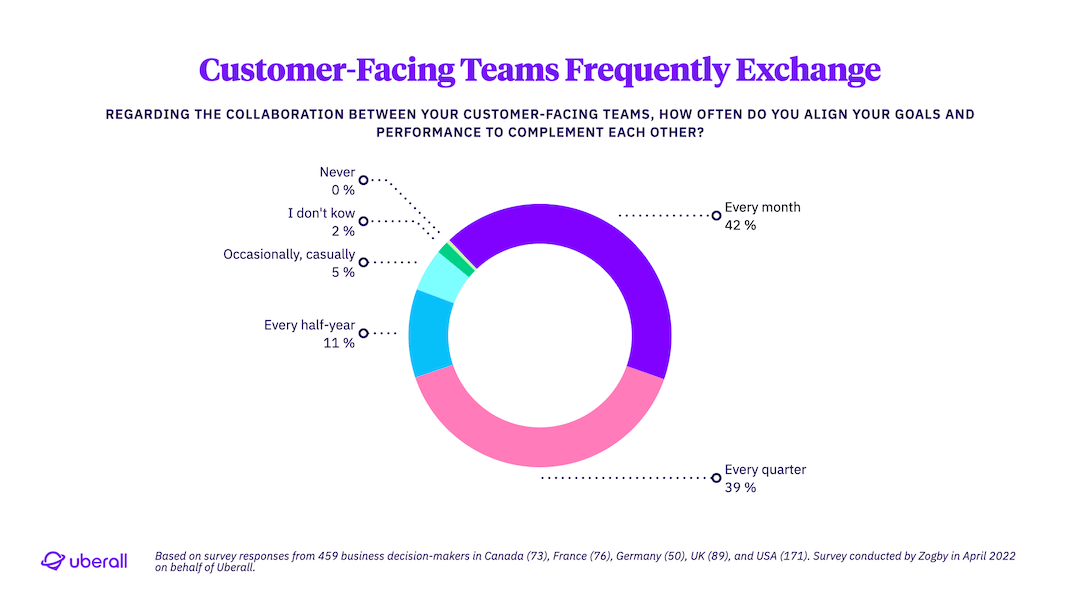 You are not the only one trying to increase visibility, conversions, and customer loyalty. Look at what you and other businesses are missing out on, so you can lead the way and gain a real competitive edge.
It's likely you'll want to do more than seems possible within a short period of time. This is why platform approaches tend to be most effective. Unlike standalone solutions, they implement several tools at the same time so you can get many things done at once.
We've created an assessment that helps you understand how prepared your business is for local marketing and how you compare to your competitors. Are you ahead of the curve in getting found, being chosen, and driving loyalty?

Find out how mature your local marketing is and benchmark against your competitors.