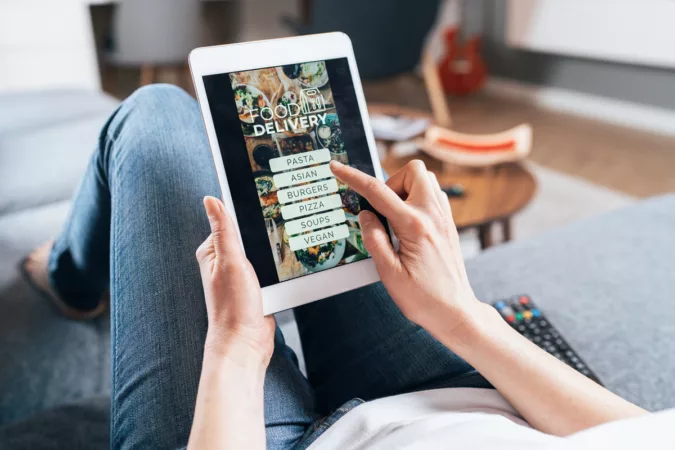 Blog
Win Over the Hungry Consumer with an Online Restaurant Menu
We know how important online restaurant menus are - so we're excited to announce the availability of Menu Manager!
Menu Manager empowers multi-location restaurant brands to win over hungry consumers, influence search rankings and easily manage their online restaurant menu information in one simple dashboard.
Consumers are relying more than ever on their mobile phones to find the food they're craving - whether that's using their fingertips or their voice. An accurate and complete menu online can be the difference between a consumer choosing to visit you or your competitor down the street. This presents a unique challenge for restaurants with tens, hundreds or thousands of locations, which may have regional items or location-specific pricing that needs to be reflected across multiple networks on the various location pages associated with each restaurant.
Menu Manager makes it easy for these restaurant brands to create and update menu information for all their locations, and publish it to the top search and social sites consumers use to find restaurants.

Win Over the Hungry Consumer
When consumers are looking for a place to eat, they are often deciding what they're going to order before they walk in the door. They are no longer waiting until they sit down in your restaurant to figure out what they want to order. Instead, they are beginning to make this decision before they even choose a restaurant.

This shift in consumer search behavior and expectations are born out by data: 49% of diners used their phone to browse a online restaurant menu before dining out1 and 75% will at least view online restaurant menus on their smartphone before trying a new location2.
Influence Search Rankings and Local SEO
When consumers are looking for what they want to eat, they're either searching by keyword or asking Google, Siri, Alexa or Cortana where to find "burgers" with "outdoor seating." In addition to the basic address, phone number and hours of operation, search networks are frequently allowing businesses to provide data for a wide range of business attributes. These include things like pricing, ratings and reviews, whether or not a location has Wi-Fi or outdoor seating. Google is using these attributes about your business to determine whether or not it shows up in search results - through a keyword or voice search.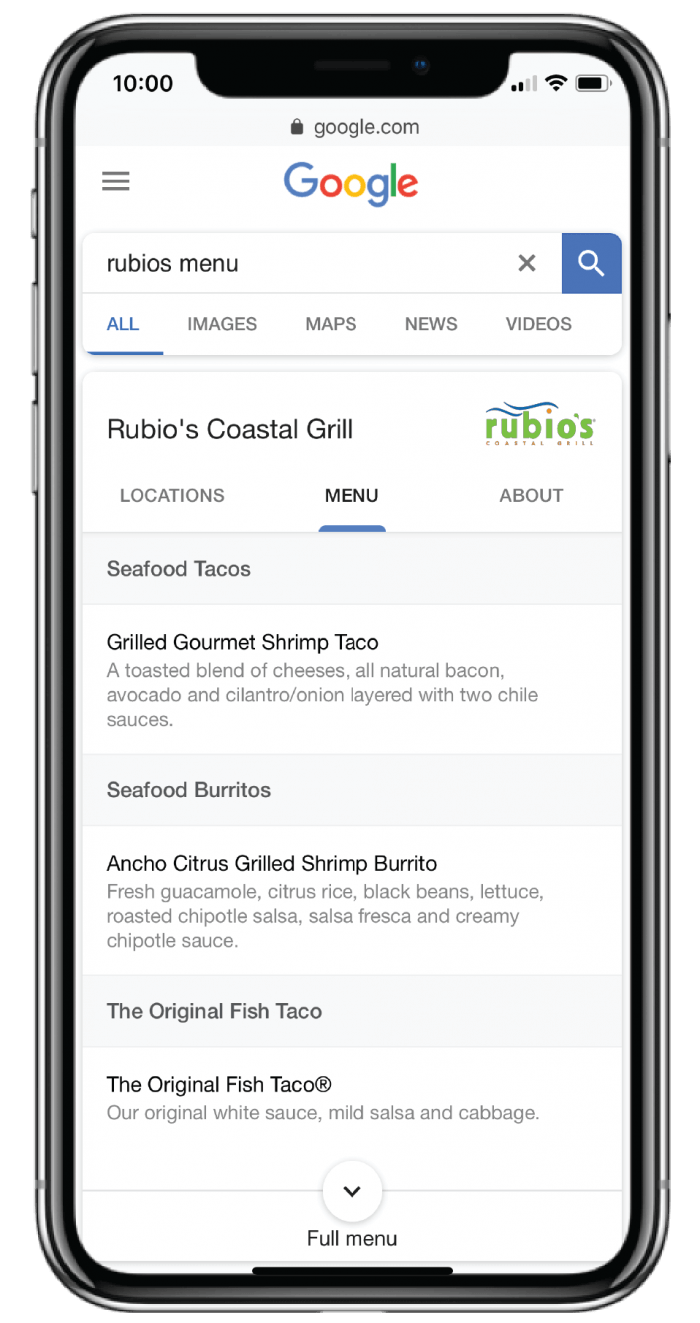 For restaurant brands, the most important business attribute of all is your menu. When consumers are searching for a place to eat, they are often searching not for a brand or a type of cuisine, but the specific food they're craving.
Current and accurate online restaurant menu information - food item, description, photos - is a key factor in increasing search rankings and local SEO. With the rise of non-branded food searches, such as "tacos," restaurants without online menus risk not appearing in the top results of major search and social sites.
Introducing Menu Manager
If you're a restaurant brand, the opportunity is clear. Online restaurant menu information can influence hungry consumers at the moment of consideration and drive them into your restaurant. But just like other information about your location, menus present a big data management challenge. How can a multi-location brand meet consumer expectations by making sure that accurate, up-to-date menu information is present across search sites?
For many brands, there isn't a "single source of truth" for menu information. It often lives in multiple places - photos may live with one team, pricing with another, items and descriptions with yet another. And if you have locations with local or seasonal items or pricing, that may live with the local or regional team.
Manage Online Restaurant Menus Quickly and Easily
With Menu Manager, multi-location restaurant brands now have control over their menu information, with the flexibility to set local pricing and availability of menu items. You can create a single source of truth and manage data across hundreds or thousands of locations and a variety of networks.
Using the Menu Manager interface in Visibility Manager, multiple master menus can be built manually or by uploading files, and section titles, item names, descriptions, photos and prices can be modified at any time. Updates can be done through a bulk update or one location at a time. You can also manage the Google-At-a-Glance view, import and export menu data, and integrate with online ordering systems, such as Olo, or point-of-sale systems. Brands can also enable their local users and operators to use Menu Manager, giving them the freedom and flexibility to manage their own menu data.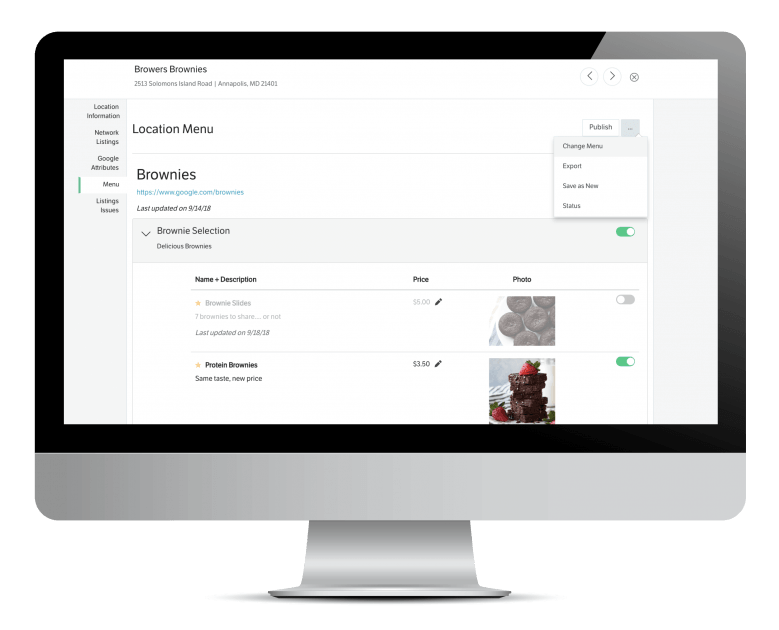 Create once, publish everywhere
With a single click, brands can publish local menu information for hundreds or thousands of locations to networks like Google, Facebook, TripAdvisor, Foursquare and Zomato. Updates appear in minutes, so consumers always have the latest menu information to help them choose where and what to eat.

Online Restaurant Menu Management Made Easy
As part of Visibility Manager, Menu Manager was designed with multi-location brands in mind. It enables restaurant brands to create and update online menu information for all locations quickly and easily, and publish to multiple sites with a single click. Menu Manager empowers restaurant brands to influence hungry consumers and improve their search rankings and local SEO.

MomentFeed Menu Manager from MomentFeed on Vimeo.
Learn how Menu Manager can help your brand.
1"The Evolution of Dining in the Digital Age," RetailMeNot, Inc. May 2016
2"Fast Casual Industry Analysis 2018 - Cost & Trends," Franchise Help.
3Google Data, U.S., Jan. - June 2015 vs. Jan. - June 2017