Blog
How to Optimize for 'Near Me' Searches
The retail apocalypse never happened. It ended up as more of a rainy day picnic than a zombie invasion scenario. Despite what you may have heard, e-commerce is not coming for your first born and if you rely on brick-and-mortar sales for your livelihood, the good news is that 90% of all retail sales in the US are still offline.
Although the way consumers purchase is still offline, the way they find that store has moved online and this is exclusively due to the phenomenon that is 'near me' search.
What Is a 'Near Me' Search?
'Near me' search is a term that defines local consumer searches for products and services nearby. These searches are usually associated with local brick and mortar stores and the intent is usually associated with making a purchase at the time of the search.
The Rise of 'Near Me' Search and What it Means For Brick and Mortar Businesses
Google knows that consumers still love to see what they look like in an outfit, want to test the quality of an appliance, or simply want to see how a product makes them feel when they interact with it.
It is for this reason that Google optimized its online experience for the average consumer who is looking for the best offline experience possible. This is a 'near me' search and Google is dedicated to building an online environment where consumers can find you quickly and easily because that is what consumers are looking for.
Consumers Have Changed the Way They Find Information: You Should Change, Too
Ironically, the move from offline-to-online search also encouraged the growth of online-to-offline purchasing.
It all started with the smartphone. According to Statista, since 2013, the share of organic searches made on smartphones has more than doubled to dominate around 60% of the total share of all searches.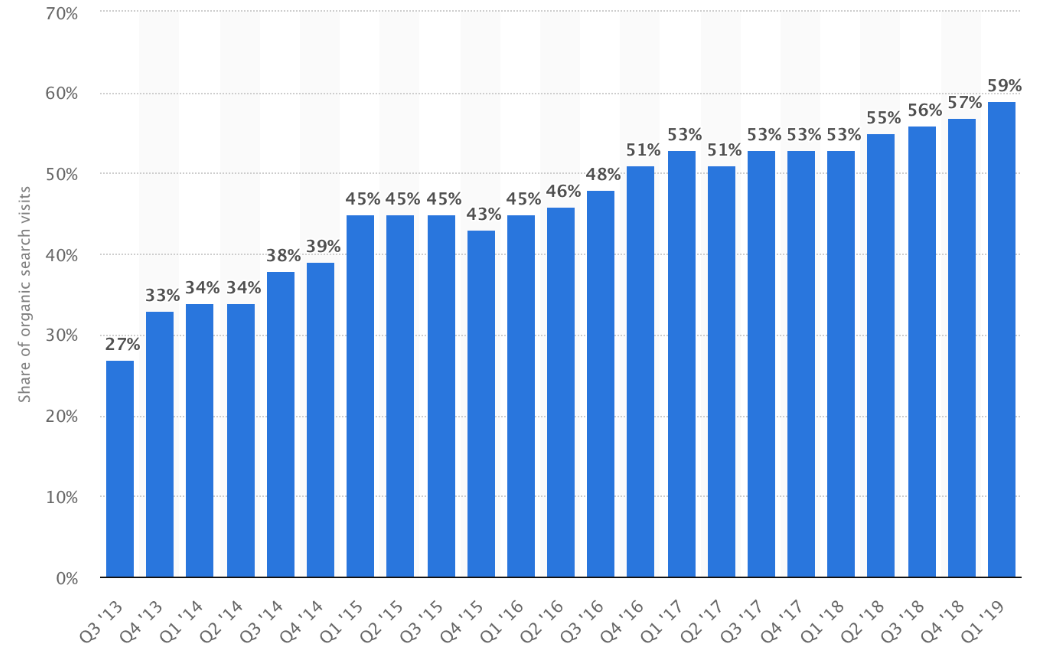 Mary Meeker's 2019 Internet Trends Report has also shown that time spent on mobile devices has finally overtaken television.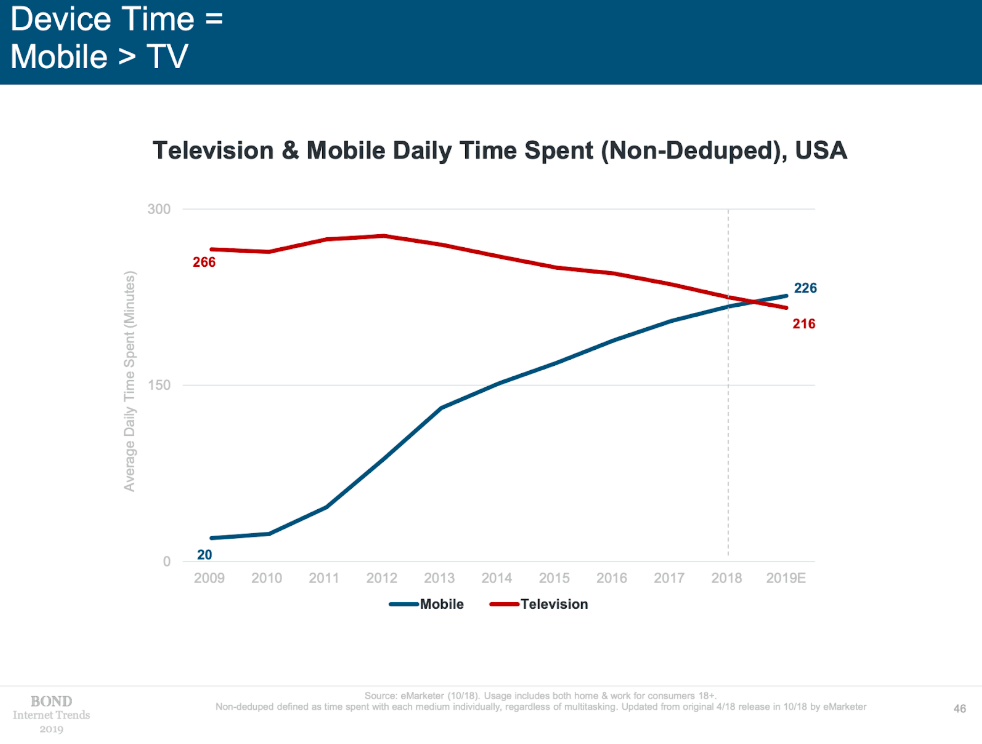 It is therefore fair to say that over the last 5-7 years mobile search has exploded and completely changed the way consumers are searching. smartphones dominate all other devices and allow consumers to be more...mobile.
Smartphones Are Driving Foot Traffic to Locations and Those Feet have Their Buying Shoes on
Brick-and-mortar stores have been re-born since the rise of e-commerce because consumers search online for physical stores in the area with the intention of visiting that store and making a purchase — 50% of all local search ends with a visit within 24 hours.
Google trends data from the last 5 years shows that the rise in smartphone use in organic search and the rise in 'near me' search queries have traveled on a similar trajectory.

As the trends data above shows, 'near me' searches have never been more popular and if you are looking to drive more foot traffic to your store, targeting the near me search is the first and best place to start.
Any brick and mortar retailer that has not already optimized for local consumer search or right this very second is trying to figure out their strategy has a fundamental misunderstanding of how consumers are finding information that leads to their purchasing decisions.
Consumers Want it and They Want it Now!
The explosive growth of mobile search, coupled with the mobile-first policy of search engines ensured the growth of mobile and ensured that users could have effortless consumer experiences on their smartphones.
According to Google data, between April 2016 and 2018, searches for the term "near me now" grew by 150%. There was also a 900% growth for the term "near me today/tonight" and a 200% increase in searches including the terms "open" + "now" + "near me".
Why is this important? The growth of these terms suggests that customers are increasingly interested in visiting stores that are open now or within that very day.
Optimizing for these search terms and others means getting in front of your target audience at the exact moment they are looking to buy from you. They are near your store and they are motivated to buy your product/service.
The Industries Where 'Near Me' Search Optimization Matters Most
We conducted a consumer survey last year to find out what consumers are searching for locally.
The top 'near me' searches were as follows:
Food — 84 percent

Entertainment — 56 percent

Banking — 50 percent

Apparel — 41 percent

Persona care — 38 percent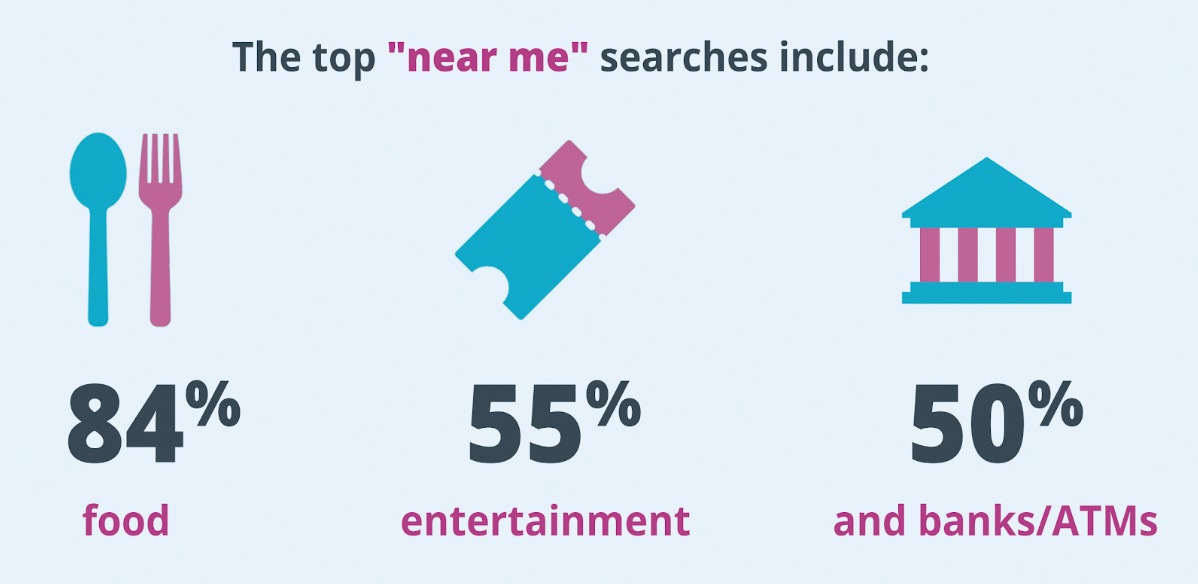 After comparing our consumer survey data to the volume of 'near me' organic searches every month in the US, we find the results to be very similar.
"Restaurants near me" is the most popular 'near me' search query with 6.2 million organic searches per month. In fact, food-based searches make up 3 of the top 5 positions in 'near me' search including "food near me" (3.1 million) and "pizza near me" (1.3 million).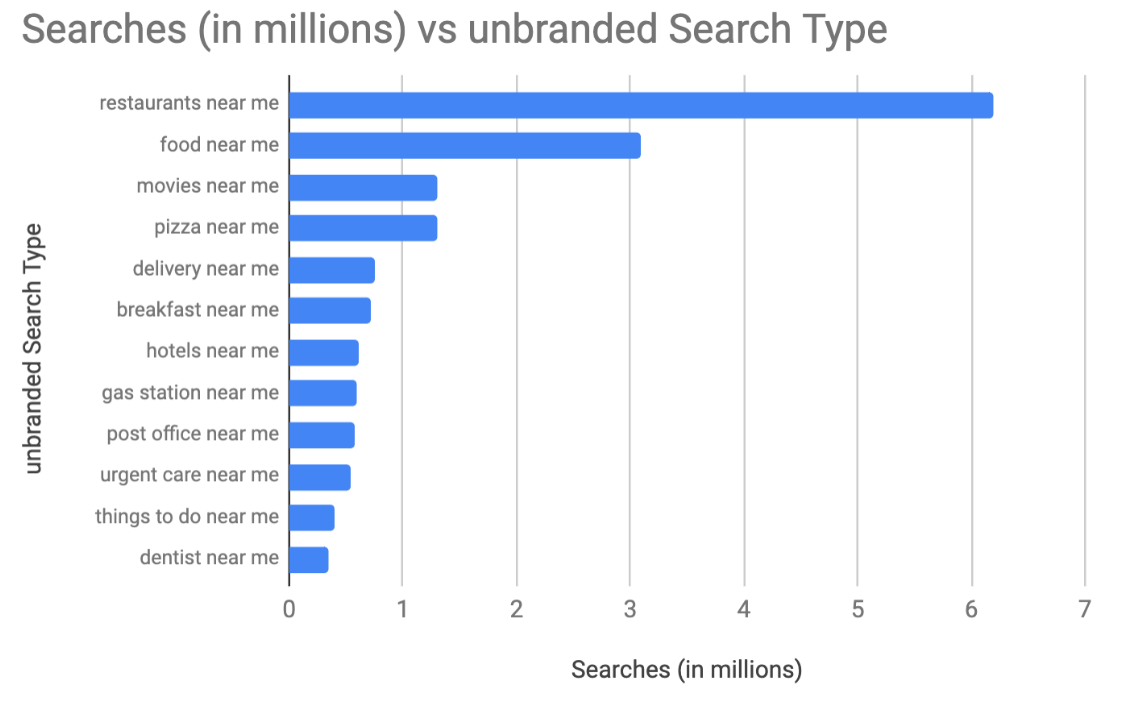 How to Optimize for 'Near Me' Searches
If you have a physical location that you are trying to generate customer foot traffic too, or you are a brand that sells through a physical location then you need to optimize your brand for 'near me' search...it's that simple.
The first and most important thing you need to understand is that Google structures its ranking factors around user search intent. When it comes to local search intent, consumers are looking for local businesses they can trust to give them the exact product or service they want, the exact way that they want it.
In this sense, local search optimization is incredibly simple to understand and in theory...easy to optimize for. However, the practical application of this is another matter....
List Your Business Information (Accurately and Consistently) on the Most Important Directories
Here is a list of 7 of the most important business directories you should be listed on:
Foursquare
Trip Advisor
There's a link to each one and if you fill out your profile on each, your website will contain links from strong domains and your business locations will show up on the most important map apps and review sites.
So, if it's so simple, why are businesses failing at optimizing so miserably?
Merely listing your business location/locations isn't enough to rank in local search for 'near me' searches.
The Science Behind Ranking for 'Near Me' Searches
After analyzing 73,000 business locations for local search optimization in one of the largest studies of its kind ever conducted, we found that only roughly 4% of locations were optimized for local search queries across Google, Bing and Yelp — three of the most important directories for local search engine optimization.
This suggests that most businesses are either not aware of the importance of optimizing for local search, or that they don't understand how to optimize for it.
Accuracy and consistency are the factors that will help you to rank for 'near me' queries.
Here is an example:
"What The Cluck" is the name of a Thai restaurant in San Francisco. After running them through Uberall's online presence check tool, which establishes the online presence, consistency and accuracy of a business location, you begin to understand how easy it is to have inaccurate location information online...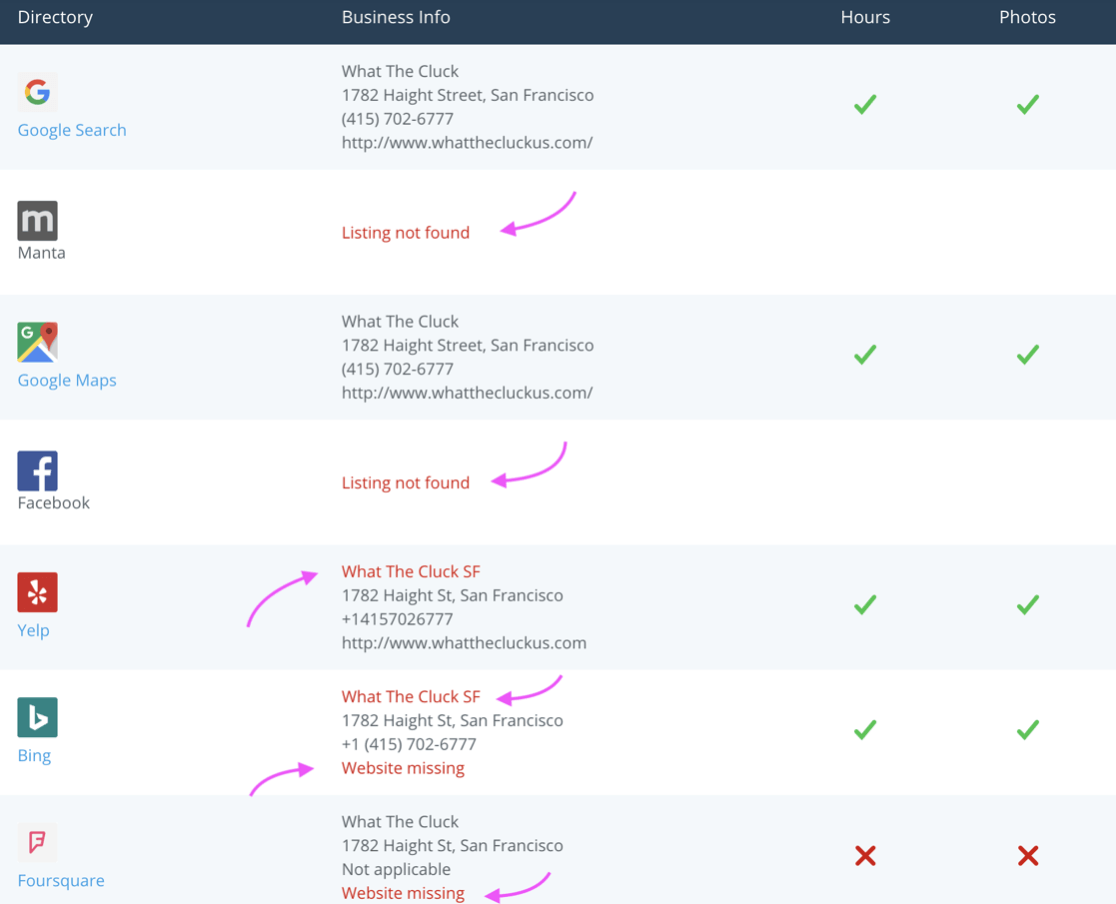 The main problems...
On Facebook "What The Cluck" isn't listed
The name of the restaurant is different on Yelp and Bing
The website is missing on Bing and Foursquare
There are no photos or opening hours on Foursquare
These inconsistencies may seem small, but they represent major trust factors to search engines and based on our analysis, 96% of locations, including fortune 500 companies and the family restaurant down the street, are still not getting it right across Google, Bing and Yelp.
NAP SEO: The Key Data You Need to Get Right to Rank in Local SEO
NAP (Name, address, phone) is the information about your business that is critical to have correct in order to rank well in local search results. Although NAP only mentions three pieces of business information, there are 6 pieces that you should have correct in order to rank at the top of the results.
Here they are ranked from most to least important:

When you think of ranking factors in local search, you should really be thinking 'trust factors'. Google uses certain trust factors to rank local businesses for 'near me' queries.
These queries include the accuracy and consistency of locations across every directory they are listed on.
Step-by-Step Guide to Managing Listings for 'Near Me' Searches
Enter an accurate business name and address for the location across all directories listed (Google, Bing, Yelp, Apple Maps, Facebook, Foursquare, TripAdvisor etc…)

Now add your opening hours and your contact details including website and phone number

Be as specific as possible about your business and what it does

Add photos that show off the best parts about your business and what that location has to offer

Make sure that each piece of information about the specific business location is the same across all directories and make sure that it is accurate. Having incorrect operating hours can easily generate negative reviews from customers
Review Factors Important for Converting Consumers into Customers
One of the best ways to optimize for 'near me' searches and convert consumers into customers is by acquiring reviews
Encourage the customers that love you to leave reviews by either telling them in person, emailing, or encouraging them on social media

Engage online with customers and consumers asking questions or talking about your brand

Reply to both positive and negative reviews. 33 percent of customers who receive a reply to a negative review change their review to be more positive, while another 34 percent delete their negative review entirely. This is a key ranking factor and is likely to encourage brand loyalty

Don't just focus on Google. Encourage customers to review your location on Facebook, Yelp, and TripAdvisor. Spreading your reviews around is another trust factor
Reviews and listings are the most effective one-two punch to optimizing for 'near me' searches.
Other Optimization Factors
Acquire backlinks from content and websites that are important in the area your business is located

Create an FAQ page within your GMB profile to build rich context about your business location and the products and services you provide. This will create more visibility for your location by establishing your relevancy for more keywords and gain more conversions because you are offering a solution to more specific search queries that few other businesses will rank for

Create a location page on your website with location-rich information and a Google Maps Store Locator

Create a blog to attract local links

Get help from a third party to manage your listings and reviews. Find out more about how Uberall can help
Want to ace your local search game? Let us help you!