To say the coronavirus pandemic has challenged multi-location brands and small-and-medium sized businesses in the restaurant, retail and travel sectors over the past few weeks would be an understatement.
On the flip side, stories of optimism and best practices are also gaining traction.
Every day, we're seeing new ways brands are adjusting their communication, collaborating with other businesses and employees to create new ways to serve customers and generate business.
Below are a few (but mighty) examples of how brands are responding.
Grocery Retailers are Leaders in Updates to Hours and Services
If your customers are used to stepping through your doors for your products and services, they'll be turning to you online first even more now.
Rapid responses to their queries across multiple platforms, and real-time information about your hours, delivery services and availability of your products and services and any other changes that arise during the coronavirus crisis are crucial to stay on top of.
We're seeing increased communication and modifications to hours by grocery retailers to accommodate the elderly and medical workers.
Here are some grocery retailers who are doing a standout job of modifying their hours, communications and information:
Brands are Supporting Their Communities
It goes without saying, but now is probably not the best time to beef your marketing campaigns or use the pandemic for aggressive marketing or sales pitches.
But it is the right time to use those marketing dollars to build brand awareness and show your customers you're responding during the coronavirus pandemic.
As a brand, this is your chance to build and strengthen customer loyalty longterm.
Sharing your actions about how you're being genuinely helpful to your customers and communities will make a lasting impression in consumers' memories.
Here are some examples of brands that are showing their support to and are marketing their actions well: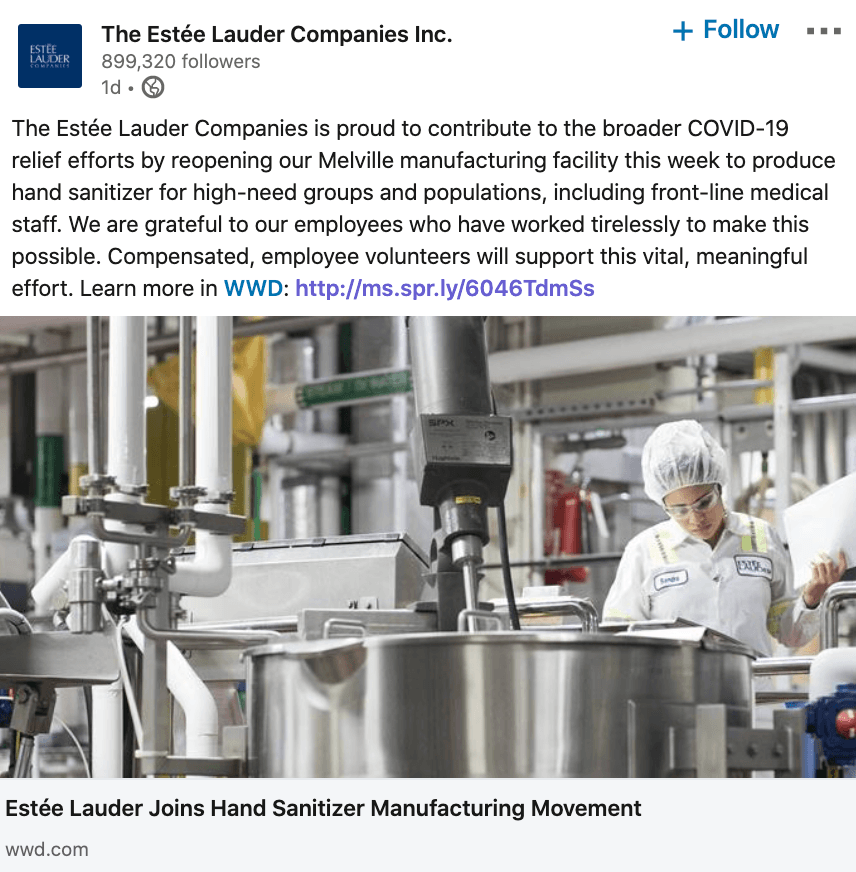 Takeout and Contactless Delivery Keep Local Businesses Running
With social distancing on everyone's mind, many restaurants and quick service coffee shops have had to move fast to adjust to new rules and regulations.
While some have had to shut their doors entirely, others have tapped into a new way of serving their customers, with takeout and contactless delivery becoming the new norm.
Food not finances. Uber Eats waives delivery fee for all US and Canadian customers who order from an independent restaurant. In addition, 300,000 free meals will be given to first responders and healthcare workers in US and Canada
Starbucks moves company-owned stores in the U.S. to a primarily drive-through-only model. Note: all employees will be paid for the next 30 days (either coming to work or making the choice to stay home).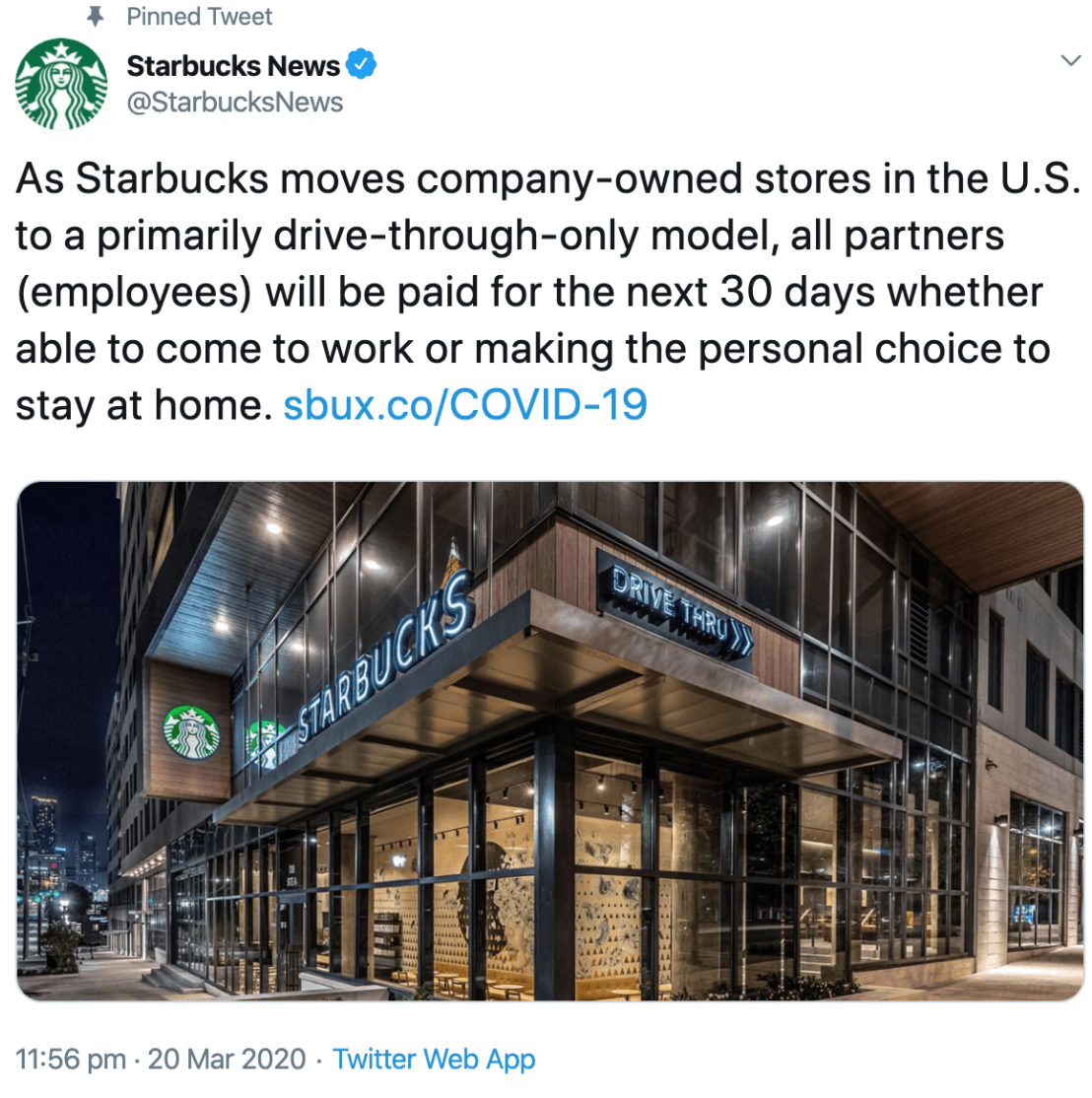 Brands Turn to Their Employees to Help other Brands
Your employees are your brand's best allies. They're your brand advocates and many are already using their voices to share what you are doing with their professional and personal networks.
People buy from people they are comfortable with — they don't always buy from brands or companies but from people they feel connected to and trust.
That said, when your're sharing your news and updates on social media, keep in mind that content shared by employees generates 8 times more engagement than content shared on brand channels.
Here are some examples of how brands are tapping into their internal networks to help other businesses who may be struggling right now:
Lightspeed will be reimbursing employees up to $500 in local currency on purchases from any Lightspeed local customer, whether e-commerce, takeout or delivery.
McDonald's sends employees from its closed restaurants in Germany to support Aldi stores in food distribution.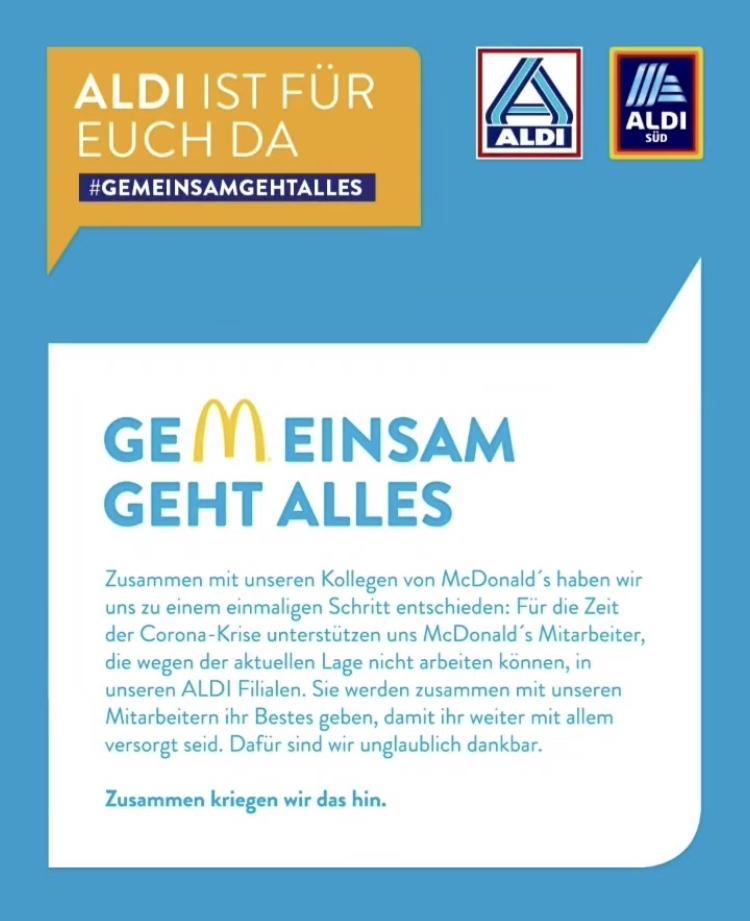 Uncertain Times Call for Optimistic Measures
We anticipate many more best practices unfolding over the coming weeks, so stay tuned for a follow up post.
Lastly, while there is no one-size-fits all solution in how multi-location brands should address the crisis, the ultimate way your brand responds, your offline interactions are more important than ever.
Take a look at Responding to Coronavirus: 5 Things You Should Do Now, by Greg Sterling, Uberall's VP of Market Insights on some tactical ways you can take action now.