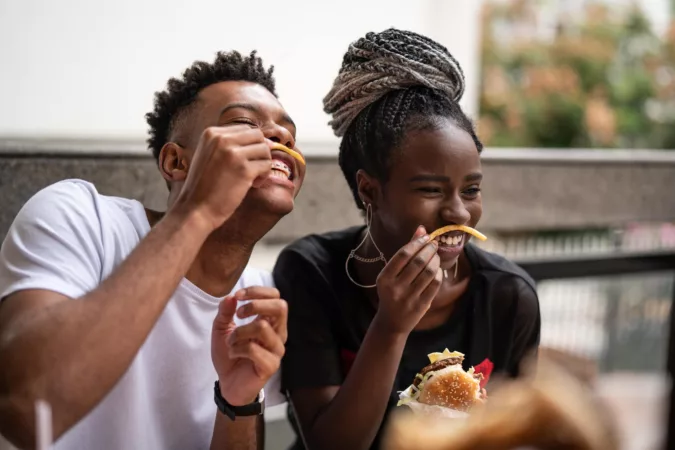 Blog
From Hidden Gem to Local Hotspot—How to Maximize Restaurant Visibility: 6 Key Insights From Google and Uberall
The restaurant industry faced a major setback in 2020 due to the COVID-19 pandemic, but it has since recovered and is poised to become stronger than it ever was. More than 80% of customers would rather spend time with their friends and family at a restaurant than cooking and cleaning up after dinner. To attract your share of these customers, your business needs internet visibility.
And to do so, your best friend is Google. It remains the most popular search engine, driving more than 85% of internet searches. If your restaurant is buried in a long list of search results, you're likely missing out on sales. Google is constantly evolving its search results to provide users with the most relevant information, meaning you need to be up to date on the latest trends to stay competitive and stand out in local search rankings.
Recently, Google joined Uberall for a conversation about the importance of location marketing in helping customers find restaurants online. We're sharing the key takeaways surfaced by Ashley Do, who oversees partnership strategies for Google Search and Maps, and Krystal Taing, VP of Solutions at Uberall and Google Business Profile Platinum Product Expert.
Discover the ins and outs of what makes the customer journey unique, Google's latest features for restaurants, and how Uberall can help improve your search visibility.

The Restaurant Industry's Visibility Problem
Restaurant owners face challenges related to online visibility, like:
Local search optimization

Brand consistency across digital platforms

Navigating multiple ordering platforms

Managing online reviews

Not having enough time to enhance their digital profile
Location marketing plays a key role in how customers find each of your locations online. And Google's tools go beyond simple search results, playing an important role in the customer journey and helping you improve your multi-location marketing efforts.
Why You Should Be Using Google in Your Location Marketing Efforts
As a restaurant owner, your local marketing strategy likely consists of a combination of channels. Although you might already have a Google Business Profile, you're probably also using social media marketing, pay-per-click ads, and more. However, by not using Google's robust selection of features, you could be leaving money on the table. Why, you ask?
81% of restaurant owners do not actively manage chat in their Google Business Profile.

69% do not use local webpages.

87% do not track online-to-offline conversions or in-store traffic.
These tools are readily accessible to you, and using them is a great way to boost your local presence to bring customers into your restaurant from their smartphones.
Features including chat and local webpages allow you to engage the 62% of customers who prefer digital interactions to talking on the phone. You can quickly answer questions, guide a customer to your online reservation system, or help them with a service issue. Google also allows you to track your return on investment for digital marketing efforts.
New Developments in Google Searches
As internet users have grown and matured, so have their search engine needs. Google has worked hard to respond to ever-changing needs. What started as a simple search result with a website link has evolved to a multi-media listing in search engine results.
Users searching for local restaurants on Google are now led to a social media-style interface with links to the restaurant's menu, map location, reviews, images, and more. The following are a couple of Google's newest features:
Perspectives
In 2023, Google introduced its Perspectives feature, which allows a user to access information with one click. For example, if someone types "Best Thai Restaurants in Los Angeles," they can click on Perspectives for a comprehensive collection of information. They can compare menus, look at photos of various dishes, find restaurants catering to their seating preferences, or compare customer reviews. All of this information makes the decision-making process easier for the searcher.
As a business owner, you can update these features so they appear in the map whenever someone conducts a relevant local search.
Dish Search
Dish search allows internet users to find and compare specific types of food. This feature appeals to the 40% of internet users who already know what they want when they're searching for food. With dish search, they can look at pictures of dishes from various restaurants, compare prices, and access customer reviews.
Users can even filter by certain criteria. For example, if someone in their party has dietary restrictions, they can eliminate restaurants that don't have menu options for this diner. Then they can sort by restaurant hours and available reservations.
If you aren't managing your digital profile as part of a multi-location digital marketing strategy, you are missing out on these potential customers.
How Do Restaurant Owners Take Advantage?
Stand out online in more local searches with these six tactics.
1. Update Your Google Business Profile
The first step in improving visibility is to update your Google Business Profile. Customers are more likely to think you're a reputable business if they can find you in a Google Search and on Google Maps. Additionally, According to Do and her colleagues at Google, they are 70% more likely to visit your business and 50% more likely to make a purchase if your Google Business Profile is complete and optimized.
2. Help Users Get Food From Your Restaurant
The majority of customers in the United States expect to be able to book reservations or place orders online. 'Order with Google' and 'Reserve with Google' are two tools you can use at no charge to make your restaurant more accessible to customers. They allow your customers to order pickup or delivery, reserve a table, or join a waitlist.
If you already use third-party providers for online ordering and reservations, connect them to your Google Business Profile to enable one-click ordering and reservations directly from an internet search.
3. Update Your Menu and Dishes with Photos and Attributes
Research indicates that 84% of people try a dish because they saw an appealing photo. When updating your Google Business Profile, add clear and appealing images of your dishes. Optimize descriptions and add dietary attributes like vegan or gluten-free. If you serve spicy food, indicate its spice level. These are just some of the attributes you can use to help people find you online. Finally, set your preferred menu provider.
4. Upload All Other Photos and Videos of Your Restaurant
Today's customer is all about vibes, and they want to know what to expect before patronizing your restaurant. Make your business stand out among competitors with photos of your food, décor, and other unique features. Then, add to the online experience with short videos.
Google also offers artificial intelligence (AI)-powered tools to tag images, allowing you to pop up in searches even if you didn't manually tag the photos yourself. If you apply menu items to multiple locations, Google will add these photos and tags to each location, allowing you to capture customers in each area.
5. Connect With Your Customers
Engaging with customers keeps them coming back. Add your phone number to your Google Business Profile or direct searchers to your frequently asked questions page. And don't hesitate to share information on special events and highlight positive customer reviews. Research shows that 90% of customers read online reviews before visiting a business, which is why reputation management is now more important than ever before.
6. Track Your Results
Your Google Business Profile highlights information including how many searches you appeared in, users who viewed your profile, website clicks, messages, reservations, and more. Use these analytics to improve your location marketing strategy.
You may notice search terms you hadn't previously thought of driving Google users to your restaurant. Run paid social ads based on these keywords. Use menu interactions to see which items may be slipping in popularity. You may consider switching up these items or adding different tags and attributes to make them more visible.
Finally, look at the value of your online bookings. With Google, you can see the monetary value of bookings and orders made from your profile. Use this information to run ad campaigns or special promotions that target people ordering online and encourage them to spend more per transaction.
Start Using Your Google Business Profile to Your Advantage
Improving internet visibility for each of your branches is a crucial part of location SEO. Google Business Profile makes it easy to create a robust, visually appealing online presence that puts your restaurant front and center in searches.
If you're not already using these features, you are likely missing out on customers who are looking for you online. With AI-powered tools, including tagging and online ordering and reservations, you can target customers in your area without spending a lot of time manually tagging photos or managing reservations.
To hear more from Krystal and Ashley's conversation, watch the on-demand webinar here. Or, to learn more about how to enhance your digital profile and find new customers in your area, download our restaurant readiness report below.

Restaurant Readiness Report