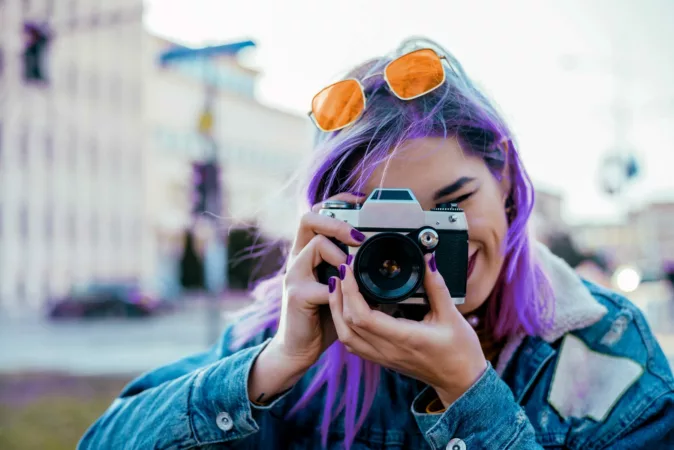 Blogs
The Ultimate Local Social Media Guide for Multi-location Businesses
With 4.8 billion active social media users worldwide, social media channels—from Facebook to YouTube to TikTok—remain some of the most influential digitalmarketing tools to reach a local audience. And when it comes to local businesses, local social media is not only a key tool for driving both online and offline traffic, it is also one of the primary vehicles to build a loyal local following.
Over the past several years, businesses have experimented with social media and have used it to connect their brands to real life moments and events, creating authentic connections with their customers. Today, it is one of the key touchpoints in the hybrid journey that customers experience in their purchase decisions.
Although broad reaching media campaigns via national TV, radio, and print can still build brand awareness, today's consumers prefer a two-way-media experience. They want to interact and experience brands for themselves. Local social media provides an unparalleled opportunity for national brands to create the authentic connections their customers crave while growing visibility and revenue at the same time.
What is Local Social Media?
Local social media marketinginvolves strategies aimed at informing and engaging your local audience. A local social presence also improves a community's trust in a business and helps foster customer loyalty. Local social media content can be:
User-generated (customer reviews and posts, tagged posts by customers, comments),

Business-generated (posts, event promotions, listing local specials, etc.)

Combine both, where a business promotes user-generated content on their corporate or local social media channels.
When it comes to local social, not all channels are created equal. Channels like Facebook, Instagram, Google, and Nextdoor have led the way by allowing multi-location businesses to create multiple local pages with content unique to each location. Twitter, Snapchat and TikTok have lagged behind in providing such features.
Admittedly, things change quickly in the world of social media. Twitter has made strides in serving multi-location businesses recently with the release of its Location Spotlight tool, and Tik Tok's meteoric rise in popularity has made it impossible to ignore, but Facebook, Instagram, Google, and Nextdoor have the strongest histories of focusing on local social media marketing, and in general, these platforms are where your corporate social team should spend the most time.
Improve your local social content using Uberall-recommended templates
Why is Local Social Media Important?
Consumers are spending more time online these days, with an average of 2.5 hours per day spent on social media platforms. With trends like these only accelerating, local social media is clearly essential for every business today.
Customers may actively look for reviews on social media or stumble upon information about a business they decide to buy from. It is of particular significance if you are a franchise working towards building a local following. Here are some of the top reasons your business should have a local social media strategy.

1. Local Social Signals Influence Search Rank
Local social media content is great for search engine optimization (SEO). It boosts your authority in your space on multiple levels.
Search engines, including Google, Yahoo, Bing, etc., see your social media channels as "mentions of your business." When those mentions match your website, search engines see your site as more authoritative. When you link to your website from social media, those mentions count as backlinks. When those backlinks connect to content that covers the same topics your website does, it creates a sense of consistency that search engines love.
Ready for some hard evidence? Here's a side-by-side comparison from one of our case studies, where one set of the company's locations created social media posts for its local Facebook pages, and the rest didn't. Check out the difference in rank improvements for the hyper-competitive keyword "pizza."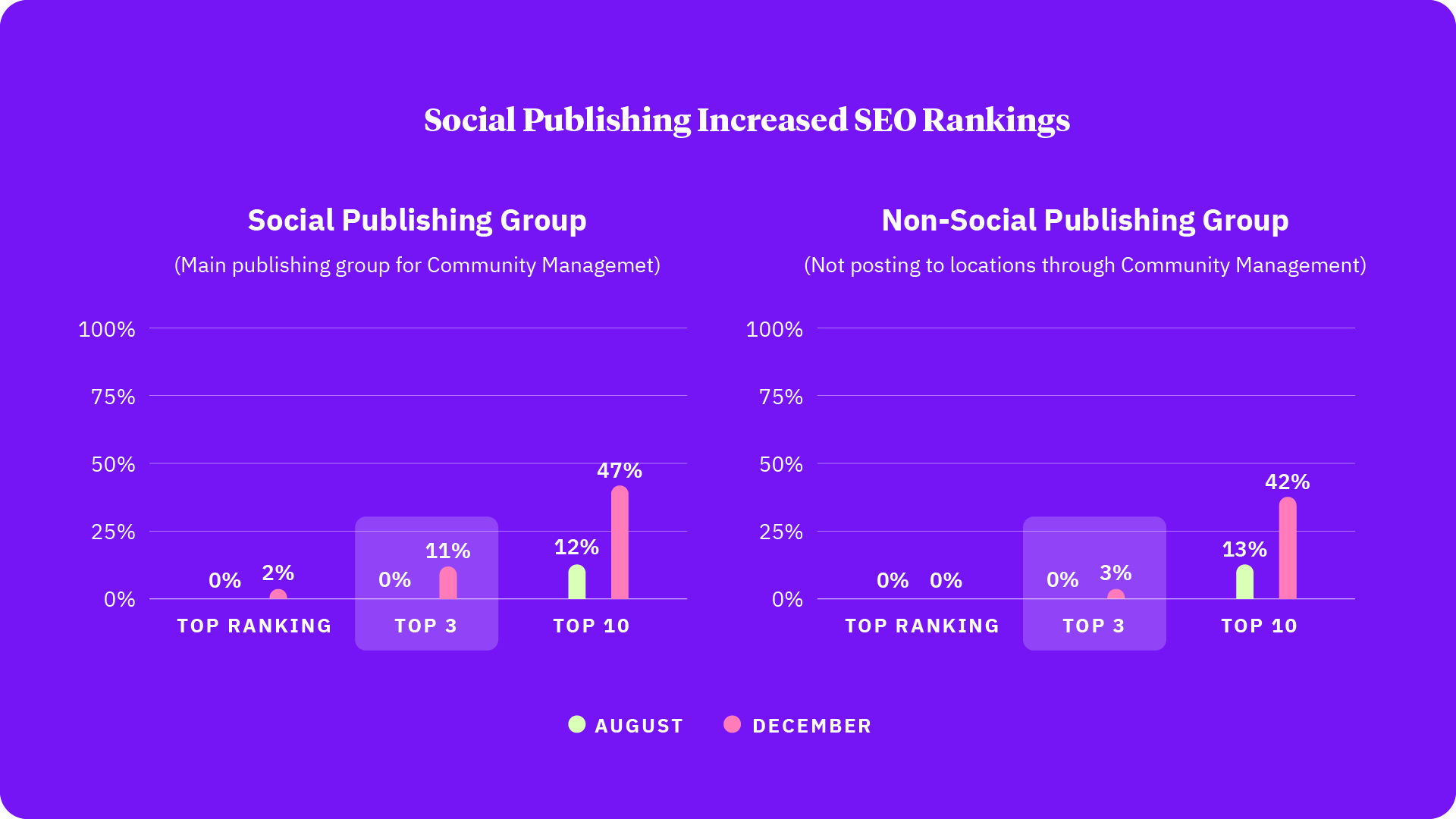 This particular client used Facebook, but Google loves content too, and it is the dominant search engine for the majority of internet users with 85% market share. When you leverage Google posts on Google Business Profile (GBP), you provide the platform with more text to crawl and more information about your business, while also upping your relevance with keyword-rich material. This can help your ranking and help your business appear more relevant to potential customers. Google will often display a snippet from a Google post to justify why it is displaying this result over others.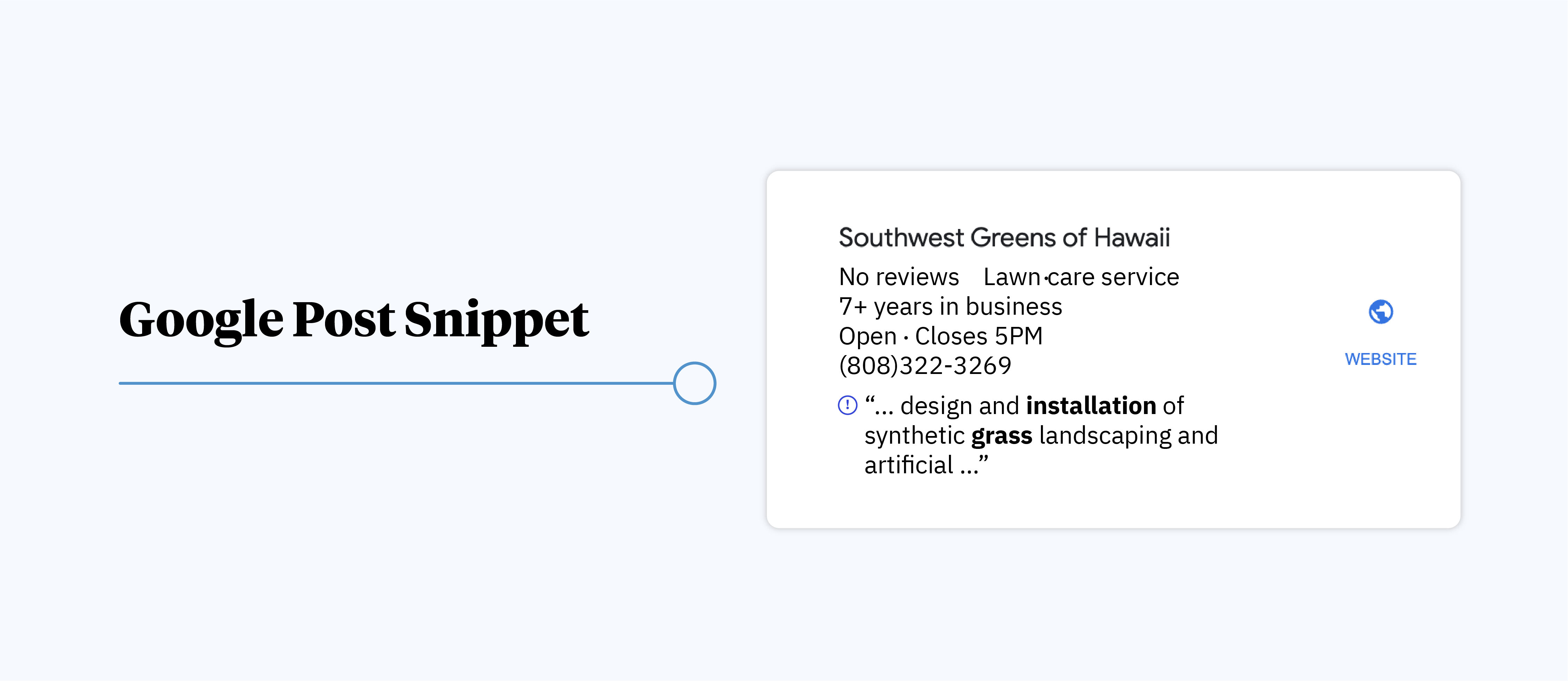 There are many ways to optimize your GBP, but according to local search experts polled in Whitespark's Local Search Ranking Factors report for 2023, GBP signals are the most important local SEO ranking factor for reaching the top of Google's SERP. So make sure your profile is as complete as possible, adding your business name, location, description, and photos are accurate and up to date. You should also answer questions and respond to customer reviews, and provide a link on your GBP back to your website or location page if you run a franchise.

2. Local Content Shows Your Relevance
Potential customers want to understand how your business is relevant and connected to the community when they perform a local search about you. Local social media communicates this message like nothing else can, with localized multimedia content and meaningful interactions with real customers.
Local social media marketingis also a great tool for boosting consumer confidence in your brand. Frequently posted local success stories and issues relevant to the local community perform better than generalized content. These posts can be very appealing to high-intent potential customers as they compare your business against competitors.
‌SCORE Mentors is a non-profit organization focused on matching business mentors with small business owners. Together with its agency partner Hiper and Uberall, it created a social media campaign including 12 localized posts per month for each chapter. With this approach, SCORE ensures that even small locations with limited marketing resources have current, localized content on their pages at all times. SCORE also encourages each local chapter to layer on their own unique content specific to their market.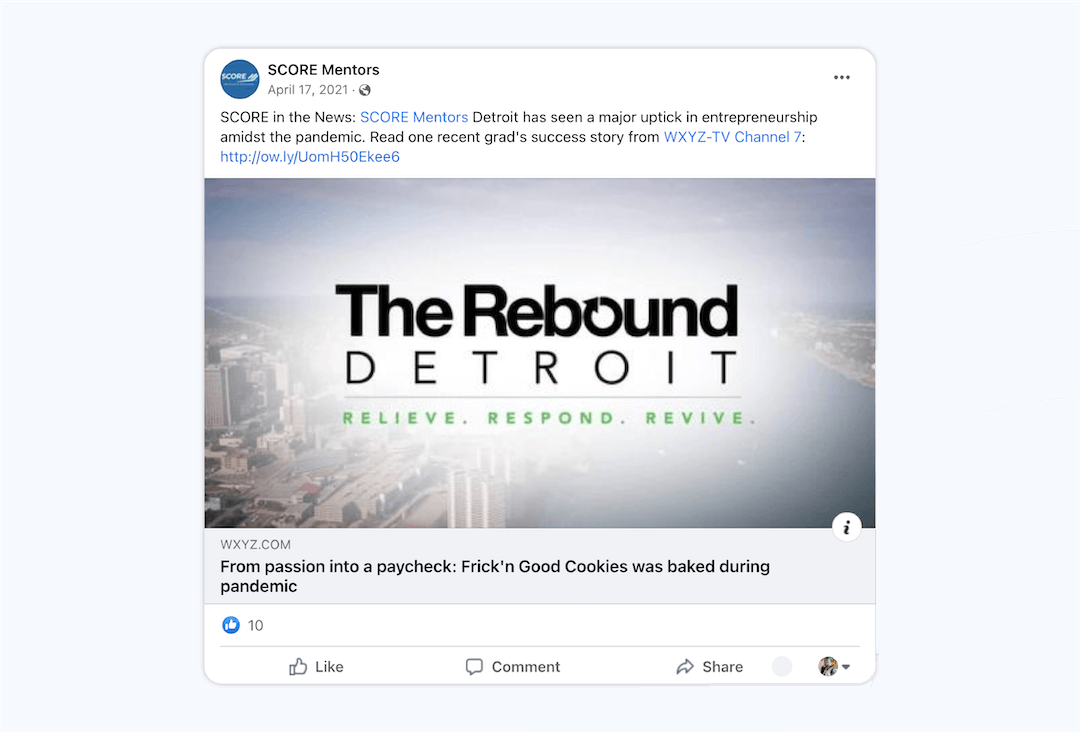 3. A Localized Social Strategy is More Accepted by Consumers
Business interactions on social media are more normalized than they once were, but you still need to approach them the right way. People generally want to think of social media as a way to connect, not to be buried in advertising.
This can be a delicate balance for multi-location brands, but it is possible. The key is to build a content strategythat taps into each location's unique local brand experience and its impact on the local community.
‌‌Engagement should always focus on offering value. If there's a local community event or outreach effort that people are buzzing about on social media platforms, then your brand can participate in the conversation, but only if you have a local page and can join in authentically.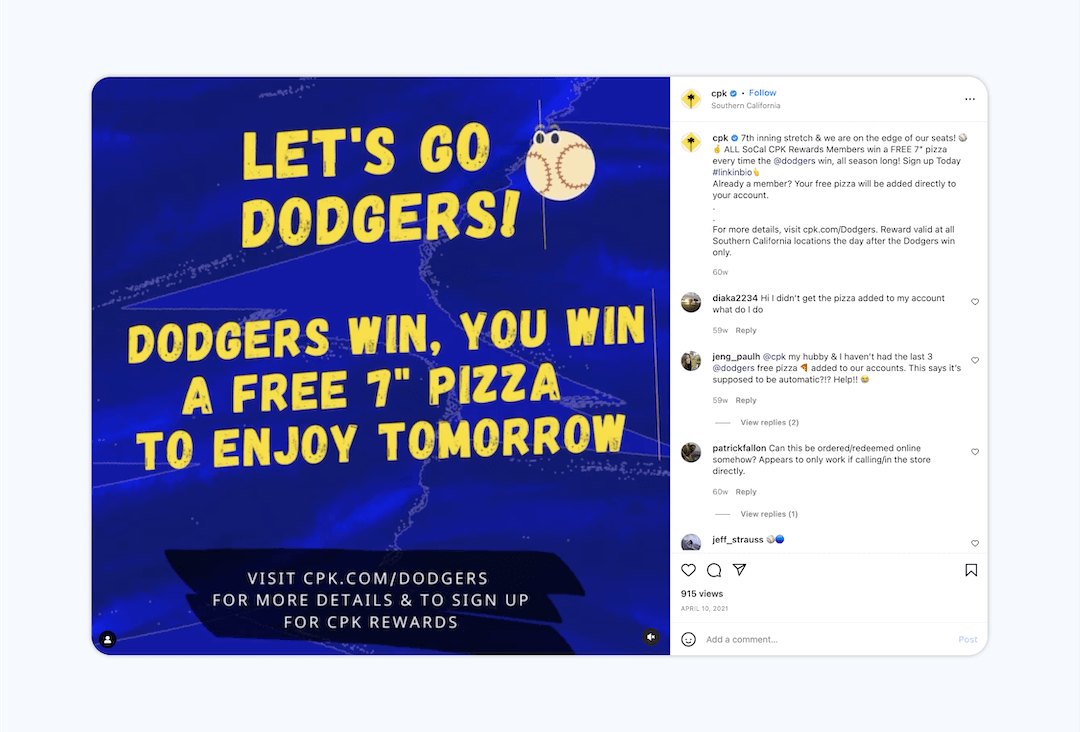 There are three key actions here:
‌Create engaging content that resonates with local audiences

‌Follow other established local pages and participate in relevant public conversations

Empower local store operators/managers to post relevant local content to their store's social pages
Brands and business owners can use a centralized platform like Uberall to provide local operators or franchisees with customizable social post templates and brand-approved content to use as a starting point for local social media content. And these can be combined with an approval loop to ensure corporate oversight and brand consistency. ‌

4. Local Social Helps Amplify National Campaigns
Localized social media marketing can help your national messages reach more people when customized to each audience.
‌Facebook posts reach about 5.2% of your followers and have an engagement rate of about 0.25%. It might not seem like much, but consider this: if you have 1,000 locations with an average of 2,000 followers, then you have 2 million total followers across your locations.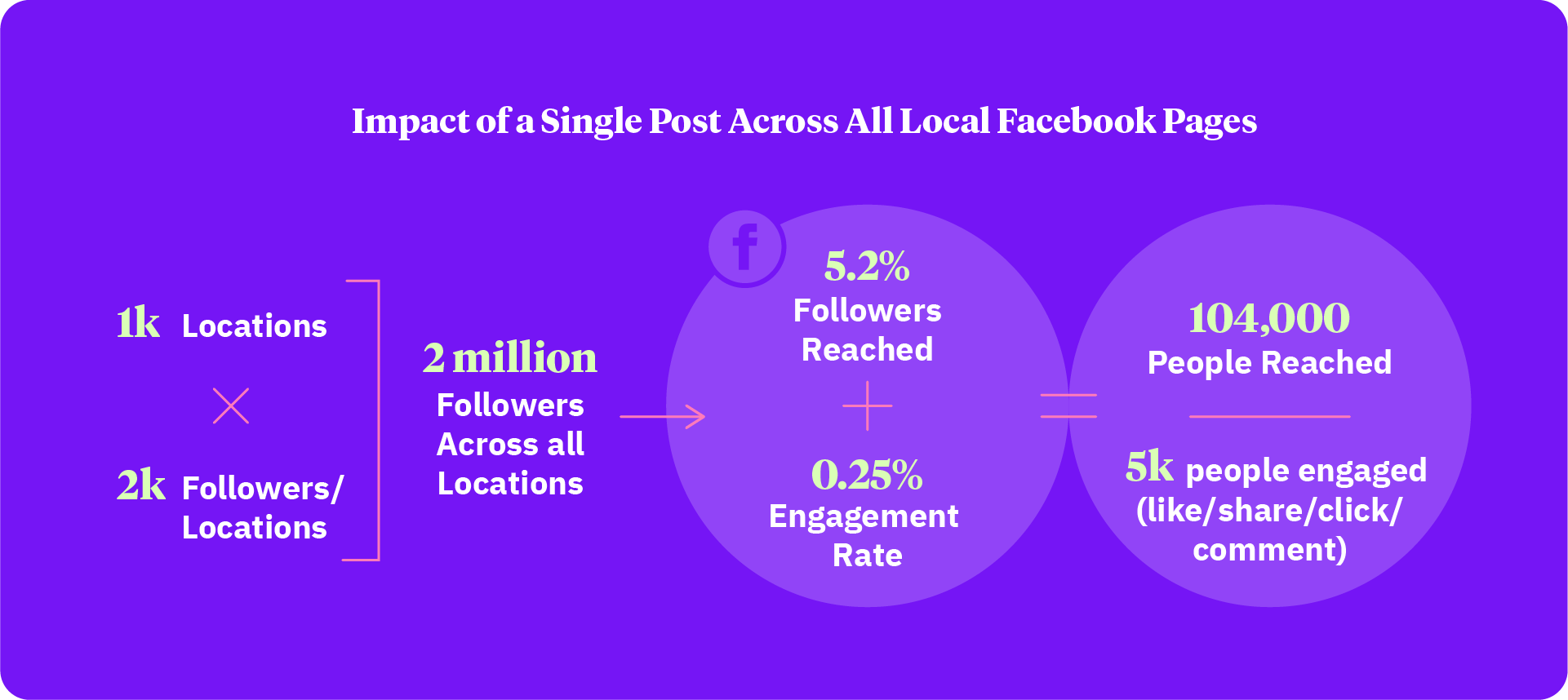 With those numbers, a single post or Facebook ad localized across all locations can reach 104,000 people and engage 5,000 with a like, share, comment, or click. Now that's amplification!
5. Google Posts Allow You to Share Timely Offers & Events
Google posts were once off-limits to multi-location businesses. But Google opened them during COVID-19 to help companies distribute important updates. Today, Google posts offer some of the best ways for multi-location businesses to get timely information and offers to local audiences.
You can create Google posts for free, and they can drive hundreds of thousands – and even millions – of impressions. Use your GBP to create the posts, and audiences will see them when they search for your brand.
Advertising new or ongoing specials is a popular use case for Google posts, and those that include location-specific offers can be particularly effective for attracting deal-conscious consumers from your competitors.

Keep in mind that unlike posts on Facebook or Instagram, Google posts should be used to sell or convince potential customers. This is due to the fact that people encountering your Google posts are less likely to be following your brand already. You have a very short window of time to prove that you have what your audience is looking for — don't let it go to waste!
6. Organic Paves the Way for Paid
Nothing beats paid social posts when you need to guarantee views and engagement from new audiences. Local social media marketing using sponsored posts is a proven strategy for growing profits and earning. But it's easier to implement when you already have an organic social infrastructure.
In other words, you can use your organic social program to measure which posts are performing best, and then boost those posts to be paid. This gives you a much better chance of achieving more views and higher engagement rates.
‌‌Uberall has helped US-based pizza chain, Toppers Pizza, leverage paid local social posts with great success. By using our platform to let franchise owners easily customize campaigns and audiences, Toppers created paid campaigns tailored to its distinct local communities.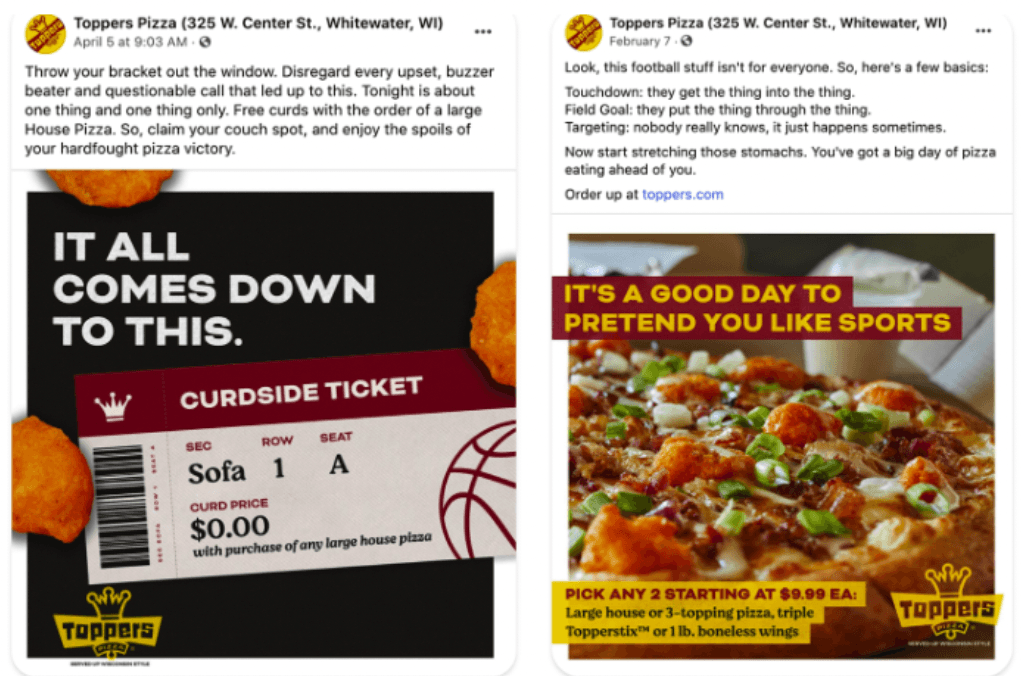 Since Toppers had already been posting organically on local social media, it could easily boost the adoption of the paid campaign option. Toppers increased its marketing return on investment (ROI) 25 times when compared to traditional ad spending, including print, radio, and billboards using this technique alone.
Overall, local social can be incredibly powerful for franchise businesses by helping them:
Amplify national campaigns at scale with locally targeted social posts and ads

Tap into what nearby customers want—turning local social into sales

Empower franchise owners with brand-approved creatives to be easily localized
Want to get fun ideas for local social posts? Use these templates
The Most Effective Post Types for Local Social Media
You can use a variety of business-generated and user-generated content to build trust with local customers across your locations. Here are some local social content types to consider using regularly to keep that local buzz going!
Offer posts: Keep your local audience in the loop by sharing weekly, daily, or seasonal offers by promoting them on your social media channels. Posting regularly about discounts and special pricing lets your audience know what's going on in your store and helps drive foot traffic.

You can highlight if an offer is for a limited period (for example, only certain days of the week), available to a certain section of the community (for example, special discounts to celebrate Women's Day), or is for celebrating a special day (for example, pizza deals on Super Bowl Day!)
Such timely deals and discounts help drive a lot of foot traffic and cover your business targets on a weekly or monthly basis.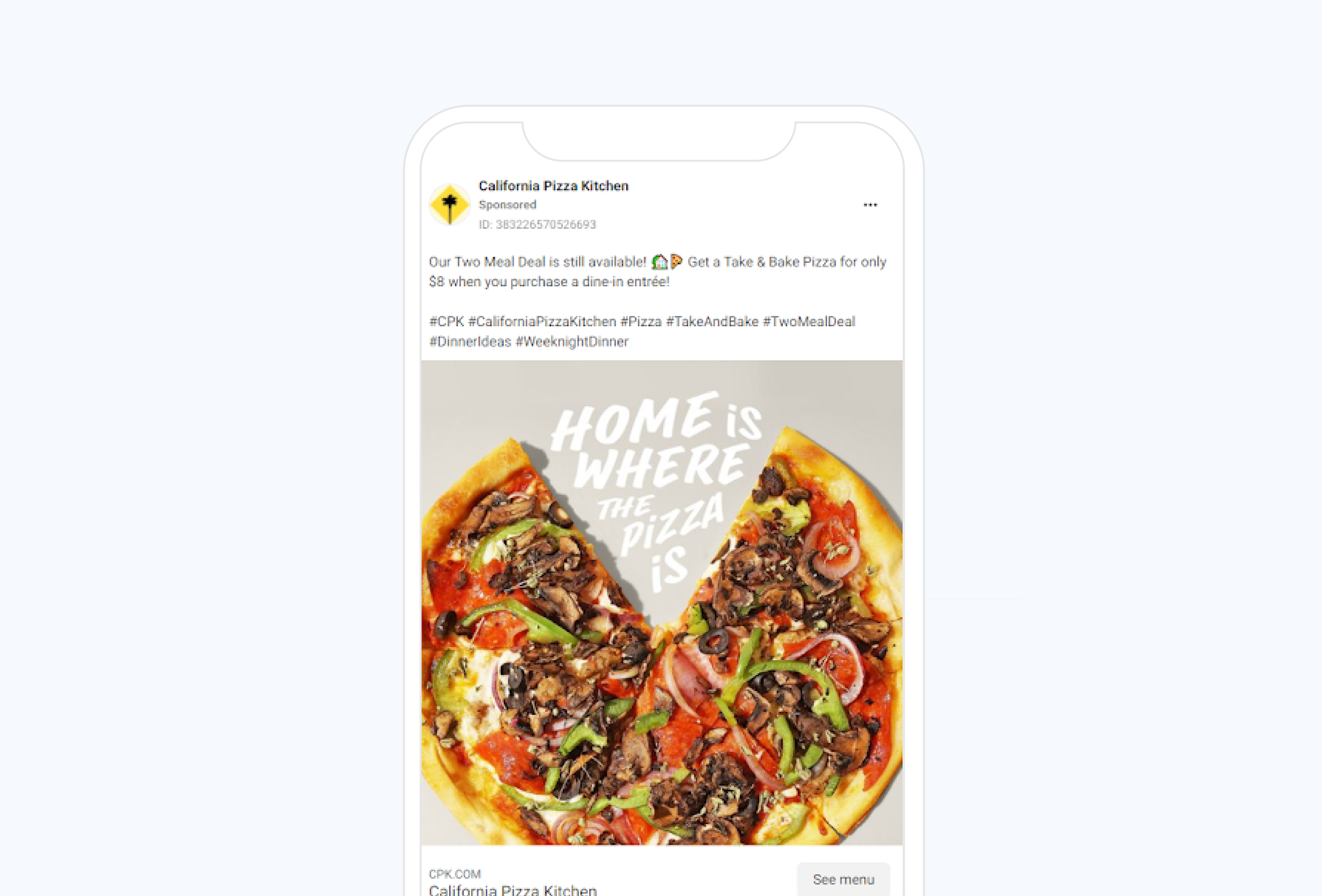 California Pizza Kitchen regularly posts deals on its Facebook page. This particular post offered diners a take-and-bake pizza for $8 when they purchased a sit-down meal, drawing business into local restaurants.
Product posts: Make maximum use of your local social media pages to showcase products to your customers. Display new products or inform people about a restock of popular items. Product posts are perfect to give your followers a reason to get to your store.
While planning your strategy, you can choose to make product posts your weekly feature just to keep your local audience in the know of what they can expect at your store. However, you must make sure your images are appealing and stand out in a busy social feed.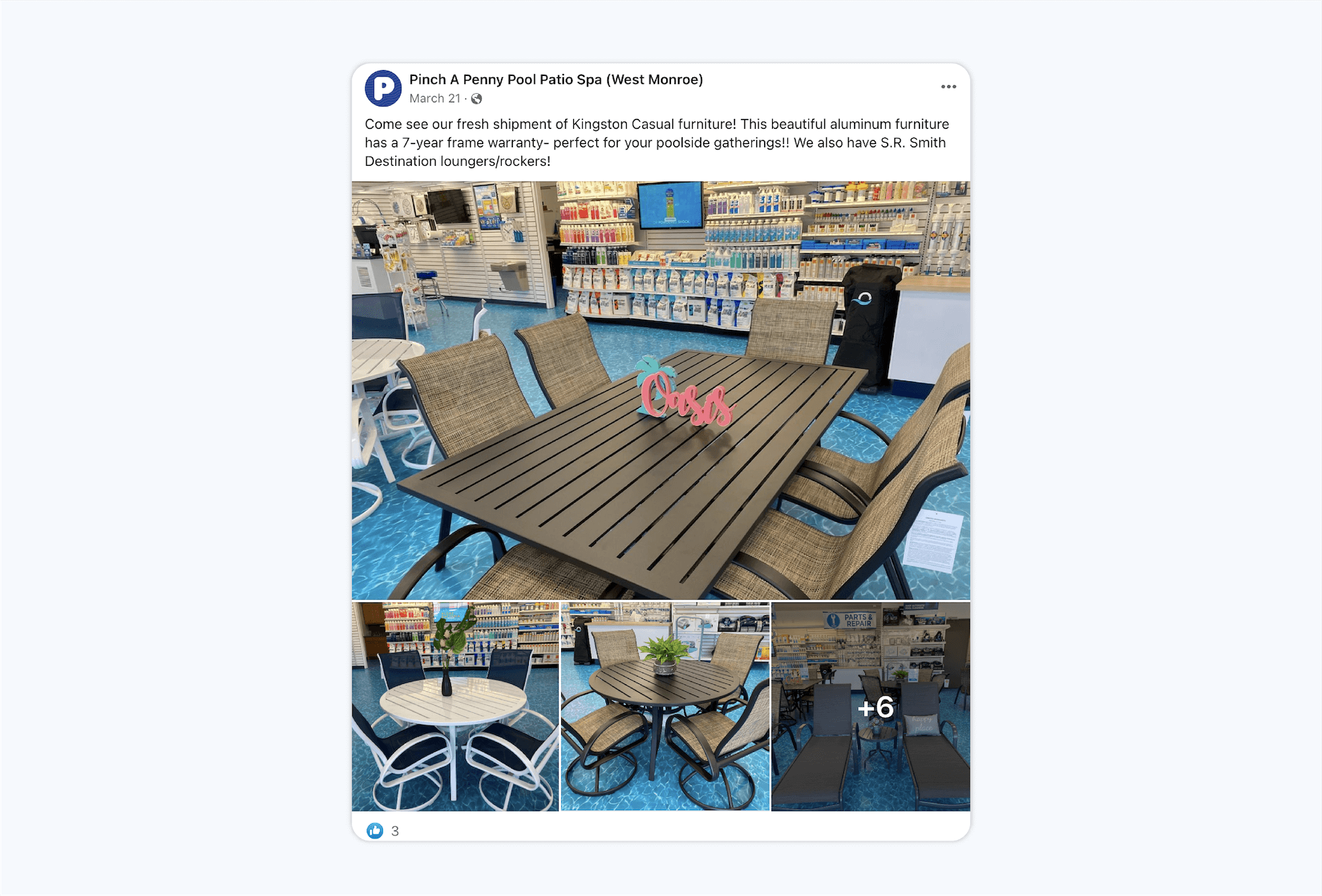 Here's an example from Pinch a Penny Pool Patio Spa's West Monroe Facebook page post announcing a fresh shipment of pool-side furniture available at their West Monroe store.
Seasonal campaigns: Many communities build up a sense of camaraderie by celebrating together during holidays and other seasonal events. Tap into such festive vibes by posting about your own seasonal campaign and drum up excitement among local patrons.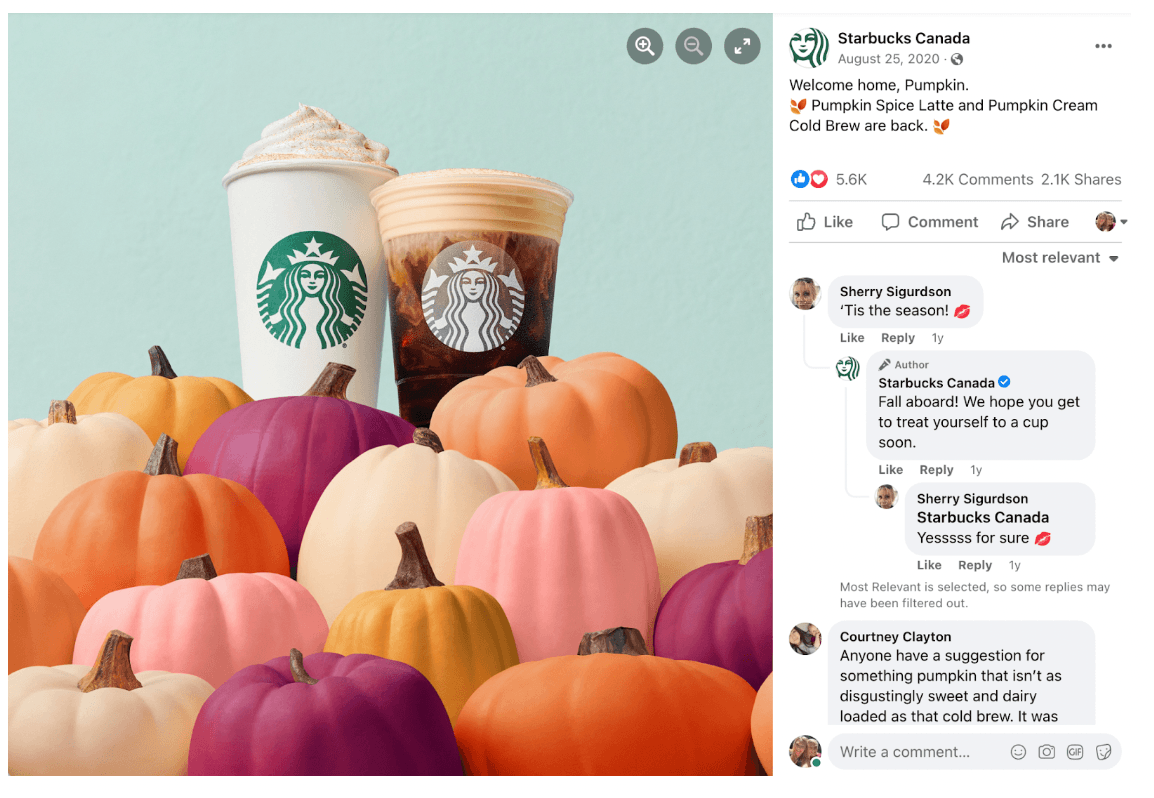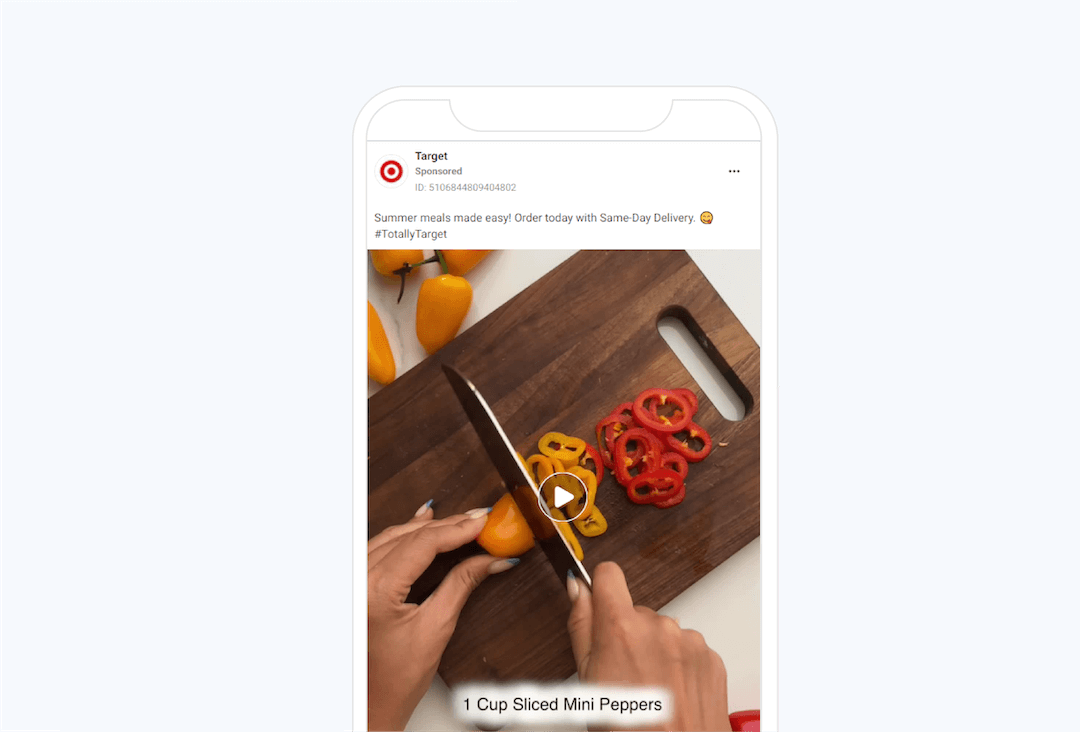 Target recently began an ad campaign with video tutorials for summer meals. The video offers a 15-minute healthy meal made with seasonal staples like mini peppers. It also mentioned several store-branded items viewers could buy to make the meal.
Polls: Polls are a great way to keep your fingers on the pulse of the community. You can ask business-relevant questions like "what's your go-to coffee order?" to get a feel for what the members of the community prefer or a simple engaging pop culture question like 'Which type of coffee is Joey's favorite?' (hope you remember Friends!). You could even tie your polls into holidays like "What's your favorite Labor Day cookout staple?"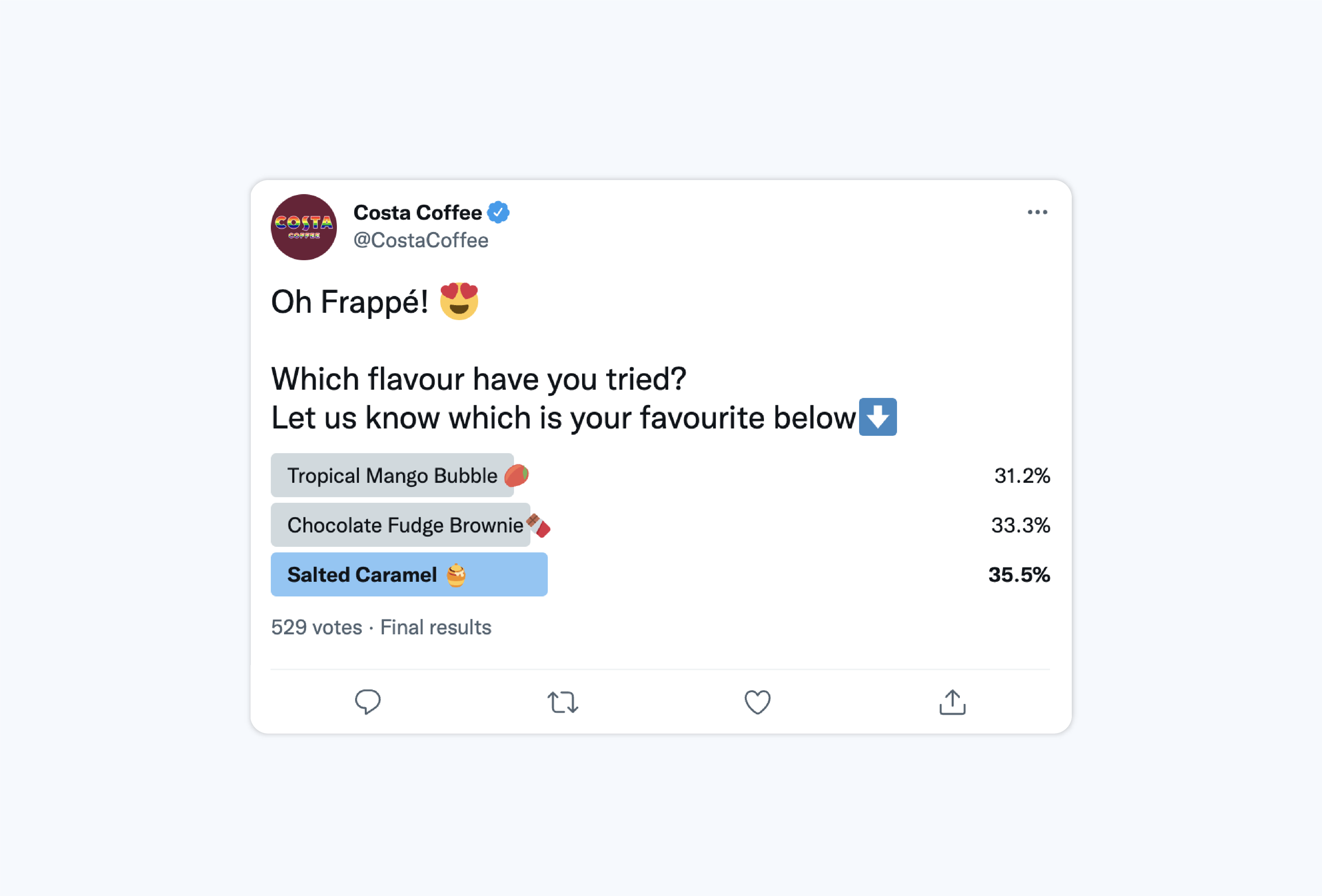 Costa Coffee, a UK-based Coffee chain, regularly posts polls on Twitter, to gauge the awareness of consumers on the various frappe flavors. These polls make it fun for people to engage with the brand as well as offer a ton of relevant information on people's preferences.
Contests and Giveaways: People love it when something is offered free! Might we add, that they also enjoy the thrill of competition? Contests and giveaways are not only engaging; they are a great way to inspire user-generated content. Have your local customers participate in contests and have them tag your business in photos and comments to drive engagements. It's a complete win-win because they get a chance to win free or discounted merch, and get more eyes on your social feeds.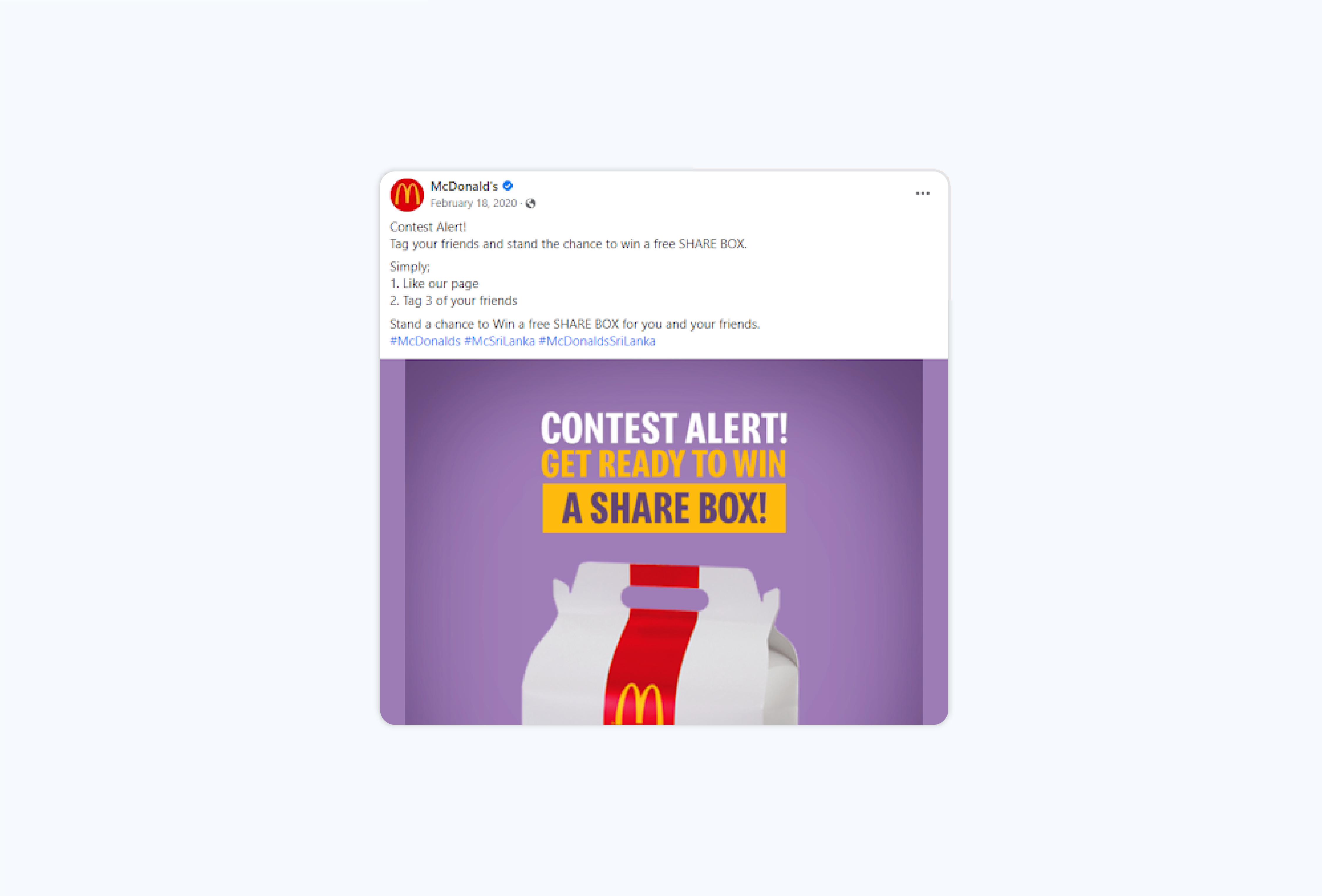 Here's an example from a McDonald's in Sri Lanka. The contest helps boost this location's social media presence because followers have to like the post and tag three friends. As more people enter the contest, it can potentially triple the number of people looking at the ad and learning about this McDonald's location.
Social Causes: Another strategy for improving credibility and building trust with the local community is by supporting the same social causes they do. Posting about social causes and issues should be woven into your local social media strategy. These posts show that you care about the community. Whether you're expanding your hours so seniors can shop before other customers or starting a challenge to help displaced workers find employment, you are showing a commitment to bettering the community - an act that will build people's trust in your business.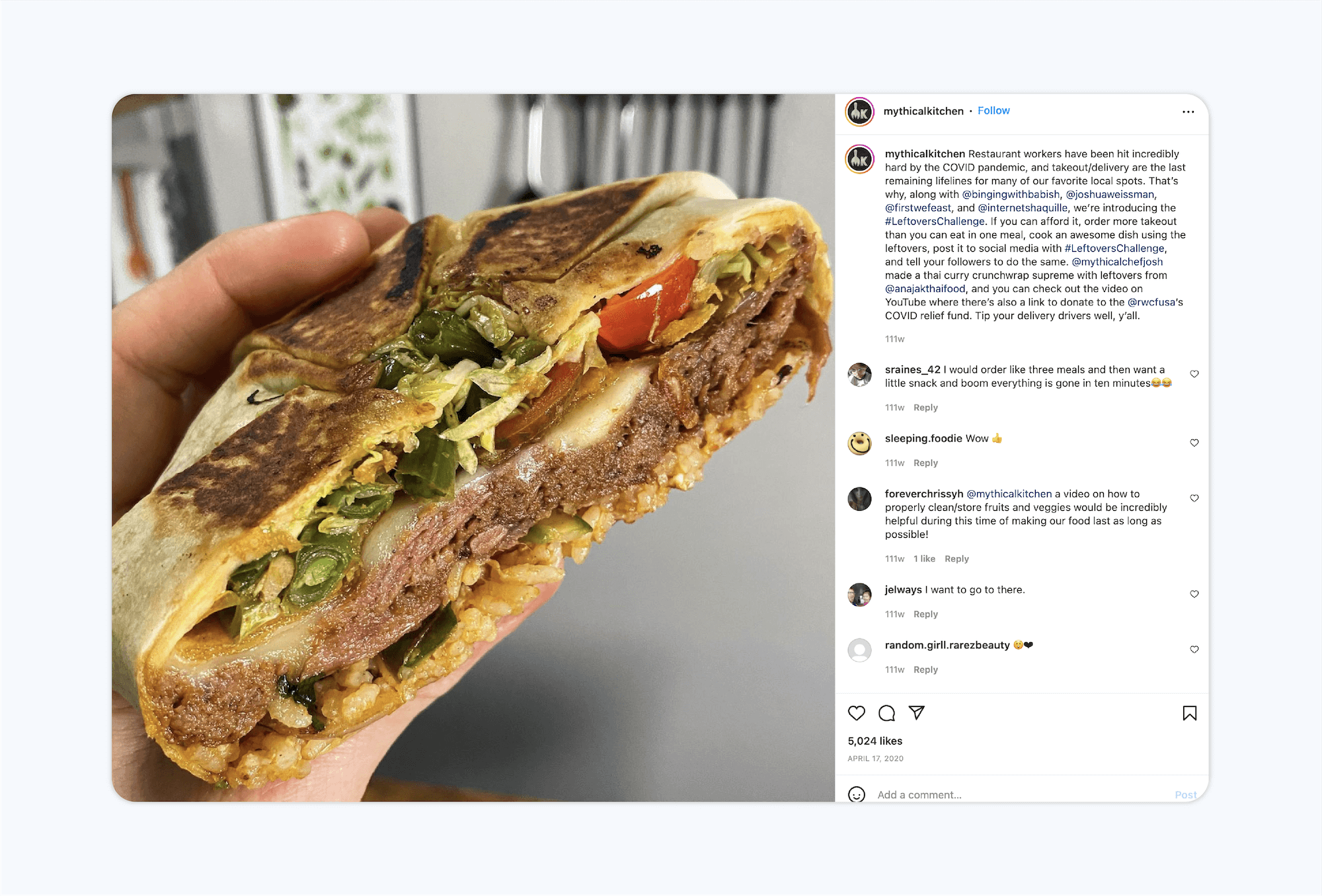 In 2020, food influencer Mythical Kitchen started the #LeftoversChallenge to help displaced restaurant workers impacted by the pandemic. The challenge inspired people to order more takeout than they could eat themselves and make something new with the leftovers. The challenge encouraged people to help keep local restaurants afloat during stay-at-home orders.
Google Posts: Google posts are similar to your traditional social media content, but they don't offer two-way communication.
A great Google post can help you stand out. Keep your post succinct, and include relevant information for local searchers. Remember that Google posts should be used to sell or convince potential customers. Use action oriented language, like "stop into our location for a great deal," and add high-resolution images of your location.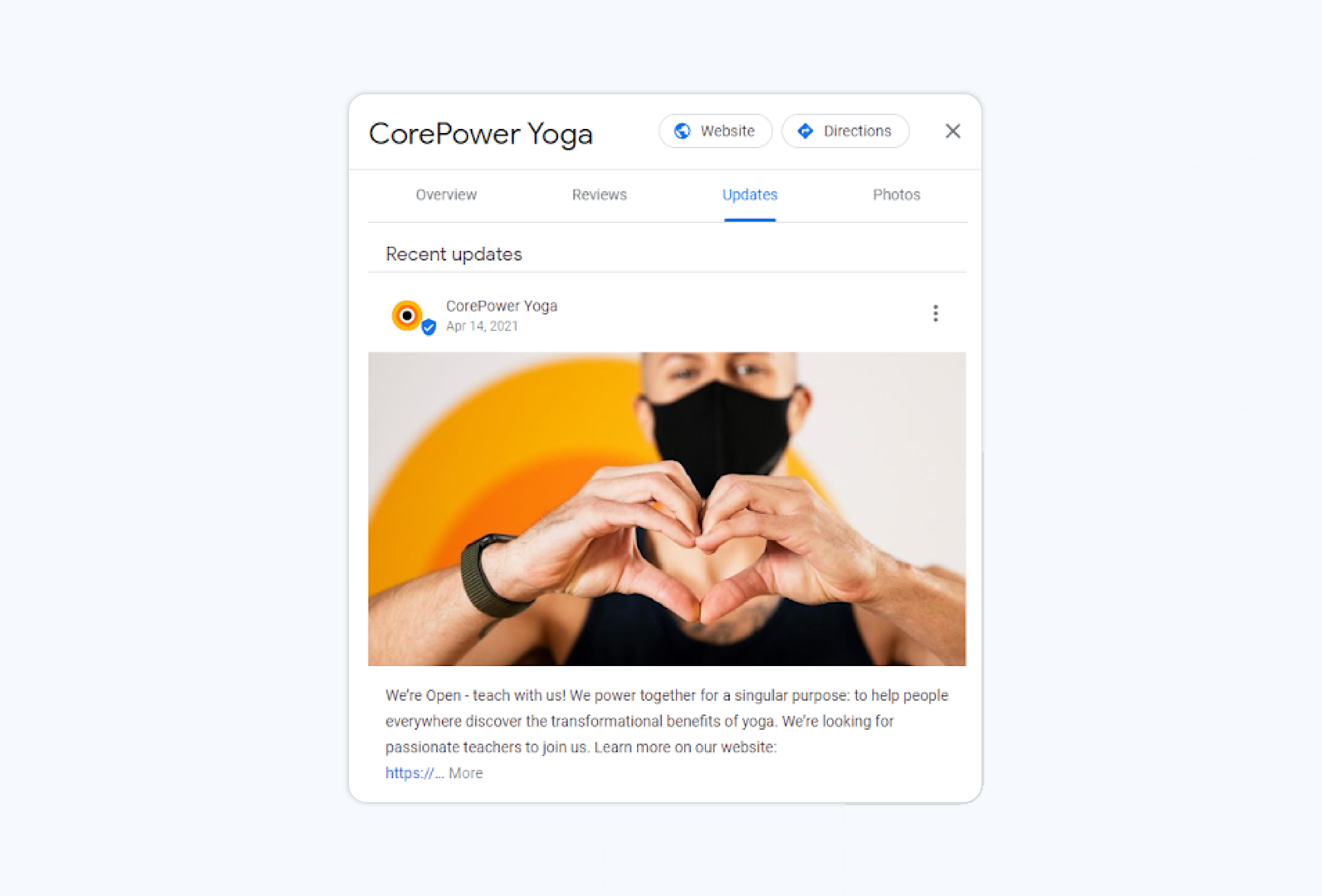 In 2021, this Core Power Yoga branch in Atlanta used Google Posts to share that it was open and hiring for new teachers. Keep locals informed with this resource.
Conclusion
For today's multi-location brands, local social media continues to be one of the most effective ways to build meaningful relationships with potential customers. It allows businesses to create and efficiently distribute localized content, engage in real-time customer service, and attract customers with locally relevant messages. With the right tools, you can customize your nationwide social campaigns to maximize reach and boost your SEO.
Uberall can help your business effectively leverage local social media platforms to drive foot traffic to your business. We can help you create and distribute geo-targeted content at scale, easily customizing and managing each post on a centralized, accessible platform.
The end result: your multi-location brand will finally achieve the intimate customer relationships that you once thought were only possible at the mom-and-pop-shop level.

Want to know more? Reach out to our team using this page or keep digging into the world of local social your own way using our library of free post templates.
Want to take your local social game to the next level?