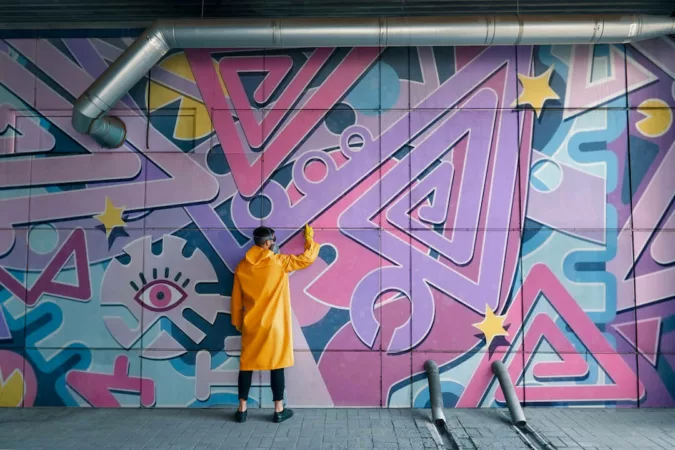 Blogs
Why Invest in Paid Social Media — On a Local Level
In today's competitive market, multi-location business marketers need to know: where should we invest our local ad dollars to get the strongest ROI? To drive real business results, paid local ads on social media are the answer.
With paid social media ads, you can build stronger connections with people who are the most likely to support your business. And by sharing authentic, locally-relevant content you can develop a brand image that is both unique and accessible, giving your business a sustainable competitive advantage by fostering a loyal base of fans in your area.
Although paid ads are offered by numerous social media platforms, this post will primarily focus on Facebook. With 2.98 billion monthly active users, Facebook is the most widely used social media platform in the world, and it's a great place for businesses.
In fact, studies have revealed that about 75% of people using Facebook and other social media platforms from parent company Meta—most notably Instagram—use them to discover brands or products online. Given these numbers, it clearly pays to have a local social media strategy in place.
Let's dive deeper into why local ads on Facebook are so beneficial and how to begin creating them to fuel your business growth across all your locations.

The Benefits of Advertising Your Multi-Location Business on Facebook
Paid social media ads on the local level are an easy way to gain increased exposure and connect with qualified leads near your business. But on Facebook, narrowing your ad targeting down by location is just the beginning. From there, you can get more granular by targeting your ads toward people of specific ages, genders, interests, and much more.
Another advantage of Facebook is that its ads are scalable across Meta's other social media platforms, including Instagram and Messenger, both of which have massive user bases as well. When you have the ability to gain the attention of such huge number of potential customers all on one platform, lead generation becomes much more promising.
Meta's ad solutions also provide a streamlined set up process, an array of customizable options, and various tools to help you glean insights from your campaigns and measure your success. The combined benefits of a large audience, precise targeting capabilities, ease of use, and measurability make it clear why Facebook has been the dominant player in local social media advertising for well over a decade.

Need help creating social media posts? Use our templates!
Facebook Brand vs. Location Pages: What's the Difference?
Before you can start creating paid local ads on Facebook, you'll need to create a page for your business. There are two distinct types of Facebook business pages: global brand pages and location pages. While global brand pages provide an overarching homepage for your brand, location pages are focused on publicizing content related to individual business locations.
Location pages are great places to share in-store promotions, community events, individual store hours, and other locally relevant content. Global brand pages, on the other hand, are for high-level content that represents the brand as a whole. Engagement generally tends to be higher on Facebook location pages compared to brand pages, and studies suggest that people are almost twice as likely to explore new brands if a Facebook ad has been tailored to them, making your investment in location pages all the more worthwhile.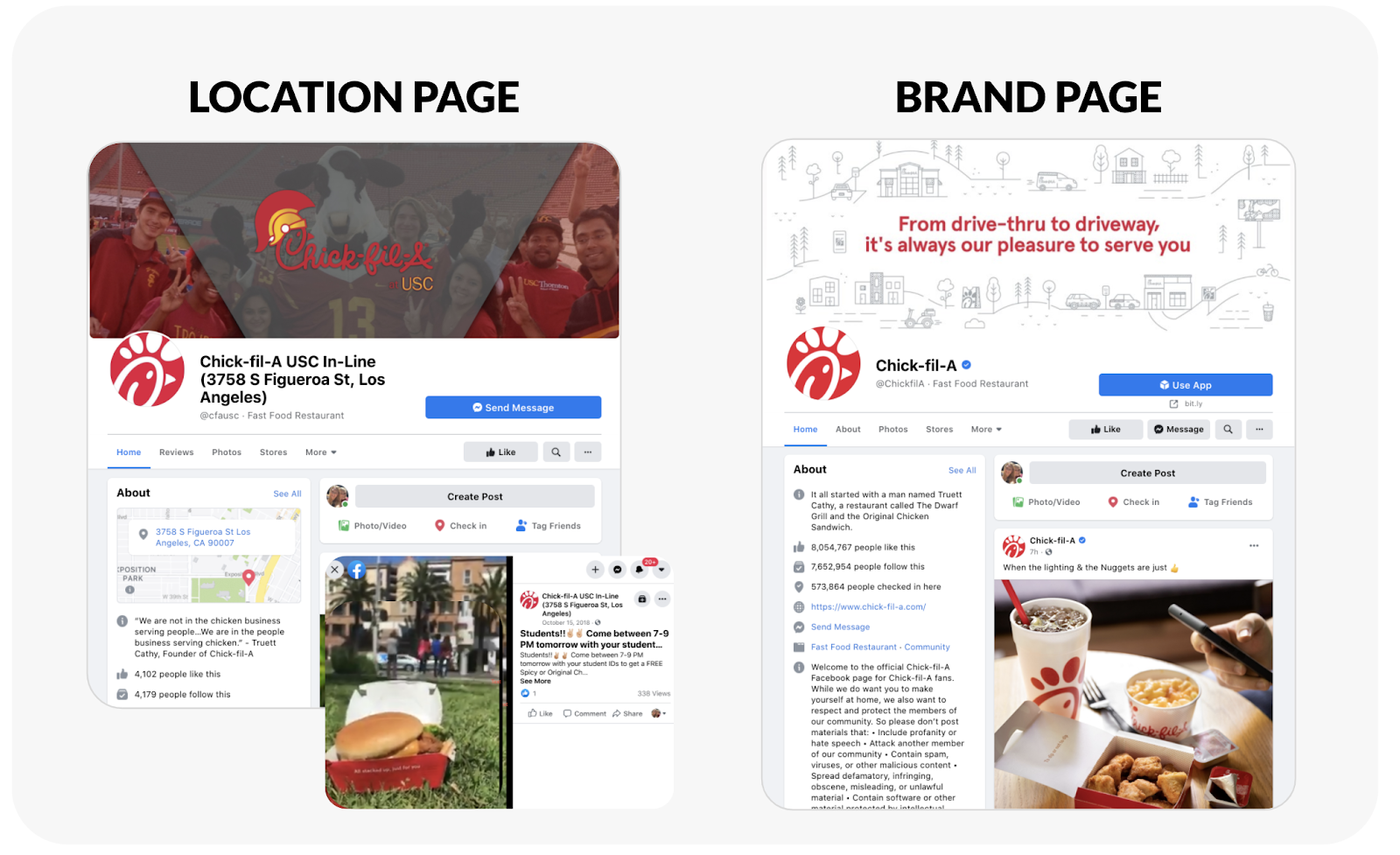 The Chick-fil-A USC Facebook location page above is a perfect example of how a location page can create true local connections. The page not only showcases the unique culture of the campus, it highlights in-store promotions that students can take advantage of as well. Organic content like this can be "boosted" on Facebook to get more people to like, share, and comment on the post, driving even greater interest in the location and the brand itself.
Let's explore the differences between organically posting to your local page and creating local ads on Facebook and how to get started with advertising on the platform.

Local Organic vs. Paid Social Media
Paid local ads on social media are shared with the intent of reaching a larger audience, and of course, they cost money to deploy. On the other hand, organic posts appear on the feeds of your existing followers and are created and shared for free. As a multi-location business, your best bet is to use a combination of local and paid social media to achieve your desired business results over time. Here's why:

Paid and organic social media target different goals: While organic posts are useful for boosting engagement and strengthening your relationships with existing fans and followers, paid local ads on social media are ideal for reaching new audiences, increasing conversions, and driving more sales. Solely focusing on one over the other is not a recipe for success—both represent important parts of the customer journey.


Organic social media posts inform paid ad decisions: Your organic post insights on Facebook—including post reach, impressions, reactions, comments, and shares—can help inform your paid strategy. If you see that a certain format of post is popular among specific demographics of followers, you can double down on that strategy by running a paid local ad using the same format to reach even more people within the community who share similar interests. This can help you meet your desired business results much more quickly.
Thanks to how well organic and paid social media complement each other, businesses that merge their paid and organic social media strategies report having more confidence in the ROI of their social media strategies overall. So although paid social media is essential, multi-location businesses that ignore the importance of organic campaigns do so at their own risk.

Defining Your Paid Social Media Goals
Before you begin localizing your paid advertising, you need to have clear objectives in mind for each market. The purpose of localization is to make your marketing more robust and strategic. Defining your objectives for localized campaigns in advance will help you identify whether your latest efforts are having an impact.
First consider your high-level goals for the campaign:
Awareness: Increase the number of local people who know about your business or a new service or product offering. How many people knew about your business before your new paid social media campaign? How many people are aware of it now? How will you measure this change in awareness? Page post engagements, page fans. Have a target increase level in mind.
Consideration: Increase traffic to your website or Facebook location page. Set a baseline using key website metrics before you launch your new localized campaign. Consider measuring metrics on specific location pages as well as monitoring overall lift.
Conversion: Get more appointment bookings, foot traffic, or sales for a particular location. Set a baseline for comparison using data from similar time periods in previous years to account for outside influences, such as shopping holidays or other seasonal events.
Next consider specific objectives. Whether you are looking to drive awareness or conversions, be sure to pull baseline metrics before you launch your new localized campaign. Pull data from a similar time period to avoid seasonal peaks. Analyze metrics on specific location pages and revenue lift by location.
Potential objectives for success include:

Store Visits: This ad objective allows you to focus on increasing traffic to your physical store locations. You'll be able to add local information for each of your stores, use a store locator map card and CTA buttons like "Get Directions" and deliver ads to people within a set distance of each store.
Page Post Engagement: If you are looking to drive awareness of a new service line or product, page post engagement can be one indicator. Engagement is measured by likes, shares, comments, saves, clicks on the post relative to the overall number of fans on your page. You are looking to measure any change in how many people knew about your product, service, business before and after your paid social media campaign.
Clicks to Website: With this ad objective, you can direct customers to a website for an event, promotion, or to explore more information and hopefully convert. Clicks-to-website ads typically include a call-to-action like: book now, contact us, order online, sign up, etc.
Online Orders or Appointment Bookings: This ad objective is easier to measure than foot traffic as it focuses on the actual act of clicking to book an appointment or order online. Consider running baseline reports from a similar time period to get an indication of the impact of a campaign on online orders and bookings.
Page Fans: Page fans is another great awareness metric. If a campaign boosts the number of overall page fans you know you've gained mindshare with new potential customers. However, keep an eye on post engagement as your fan base grows. More fans isn't always better if they aren't engaged fans.
App Installs: This ad objective encourages app downloads for your brand's mobile app. If you have a new loyalty app or online ordering app this can be a great way to drive awareness. Be sure to measure before and after installs.
Offers and Claims: This ad objective allows you to present offers and discounts with your customers on Facebook to encourage people to shop on your website, at your physical store, or do both. You can track offline purchases as customers will present the offer at the point of purchase for scanning.
Boosting an Organic Facebook Post
Boosting your organic posts helps them receive more attention. It's the quickest and easiest way to share information about your business with potential customers in your area. For the highest ROI, it's wise to select posts that are already performing well organically.
After clicking the "Boost Post" button shown on your desired post, you will be prompted to set your goal—such as increasing engagement or getting more messages. You'll have the option to add a call-to-action button to encourage people to learn more, book now, or send you a message. You will need to partner with a 3rd party partner to allow for bookings directly from Instagram.
Next, you will need to define your audience. Here you can select a geographic radius where you want your local ad to run and specific characteristics of the people that you want to reach, such as age, gender, and interests. If you noticed that your organic post was extremely popular among a certain age group, for example, try narrowing your audience down to focus more on that demographic.
You'll be prompted to set your budget and timeframe as final steps so that Facebook knows how long to run your ad. If you have an Instagram page, you'll have the option to run the ad on Instagram to extend your reach even further.

How to Create Paid Local Ads on Facebook
There are multiple ways you can create Facebook ads for your different busines locations. One option is to simply boost an existing organic post, while another option is to create a local ad using the promote button on your Facebook business page. A third option that gives you the largest selection of advertising goals, creative choices, placements, targeting, and more, is using Meta Ads Manager to build your ads. Let's take a look at each option one by one.
Creating Paid Local Ads from Your Facebook Page
To create a new local ad on Facebook, click the "Promote" button on your Facebook location page. You'll have the ability to select different types of ads depending on your unique local advertising goals.
You can manually create your ads if you want full control over your campaign specifications and creative decisions. For example, if you want to get more phone calls to your business location, then you can build an ad specifically targeting this objective.
No matter what route you take, your ad will be comprised of three key components: visuals, text, and a call-to-action button. Facebook has stock images available if you don't have images on-hand, but it's generally best to provide your own visuals as long as they are high-quality.
From there, the process for manually creating your local ad is identical to boosting a post—define your audience, budget & duration, and whether you want your ad to appear in other placements such as Instagram.
For a more hands off approach to creating local ads, you can use Automated Ads on Facebook. Automated Ads offer an ongoing plan for advertising your location page's best performing posts. Select "get started with Automated Ads" after clicking the "promote" button on your local page to explore your options with Automated Ads.

Commit to Local Relevance
Once you have your objectives and budget defined, it's time to consider content. Assuming location-based targeting is a part of your approach, the effectiveness of your ad spend will also depend on your content, you'll see the most significant benefits if you fully commit to true localization.
Effective local social media involves strong CTAs that are relevant to local audiences. For example, a home improvement store with locations nationwide might spend the winter advertising snow shovels in Wisconsin and pool supplies in Florida. You can also include time-based offers or mention that a deal is only available in a certain location.

One franchise retailer, Pinch A Penny Pool Patio and Spa, is very savvy about their seasonal promotions on social media - both paid and organic. They promote things like pool heaters in the winter to extend the swimming season, and pool storm preparedness in the late summer, early fall months in locations on the gulf coast. Corporate will selectively run messages in some, but not all markets and also gives franchise owners the ability to pull messages from the library of social media posts that are relevant in their market.
Meta Ads Manager
For more options and even greater control over your local ads on Facebook, you can create an ad in Meta Ads Manager. Although novice advertisers are perfectly capable of using Ads Manager, it is a powerful ad management tool that includes a range of advanced features, including ad testing, custom audience creation, Meta Pixel creation, and much more. Boosting a post or promoting your local page is a good way to get acquainted with the process before working with this more advanced feature set.
Meta recently updated the campaign objectives available in Ads Manager. You can now choose between six objectives:

Awareness: Reach people who are likely to remember your ad. If you are opening a business location in a new area or recently changed your name, awareness can help people get familiar with you.

Traffic: Direct people to your website, shop on Facebook, or any other destination. If you are hosting an event or having a flash sale, use this objective to send people to a destination where they can learn more and take action.

Engagement: Find people that are interested in engaging with your business. If you want to get more views on a video you shared about your business or you want to message with people about your services, this objective can help you reach people who are likely to do so.

Leads: Gather leads for your business. If you want people to sign up for a free consultation related to one of your services, this objective can connect you to more people who may be inclined to share their information with you to sign up.

App promotion: If you have an app, this objective can encourage people to install the app or take a specific action within it.

Sales: Get discovered by people who are likely to buy from you and optimize for specific actions, such as making a purchase through your shop on Facebook.
Scaling Local Paid Social Media Successfully

With a smaller business that has just a few locations, a single person may be able to run every local campaign on their own. But if you are a multi-location business with hundreds or even thousands of locations, it's simply unmanageable. Multi-location marketers have to either automate the process of creating local ads at scale or work with local and regional leadership at some level to help effectively scale local paid social media.
Options for scaling your localized paid media campaigns can include:

Centralized Approach (Good) - Leverage a solution like Uberall that enables your corporate marketing team to localize Facebook ad content at scale using dynamic fields for things like [city] and [neighborhood name]. This requires little to no involvement from local store operators and gives your ads a more localized feel.
Hybrid Approach (Better) - Give local store operators some controls, but put guardrails in place to ensure their ads stay on brand. This can include a library of approved ads that local store operators can run locally, or a process to have local stakeholders suggest ads or themes that are relevant to their area.
Decentralized Approach (Best) - Let local store operators manage their own local advertising campaigns. This approach might still include corporate-approved content but puts more controls in the hands of local leadership. We see some of our clients even go so far as to create a dedicated budget for local store operators to use in their market.
Uberall can enable any of these three approaches, but we highly recommend a hybrid or tag-team approach for more local authenticity. Every neighborhood has its own personality, peculiarities, and other factors only understood by the people who live and work there. Tapping your local personnel for insight can help you create effective, truly local paid social media campaigns.

Get more ROI out of every ad dollar with paid local social — learn more.