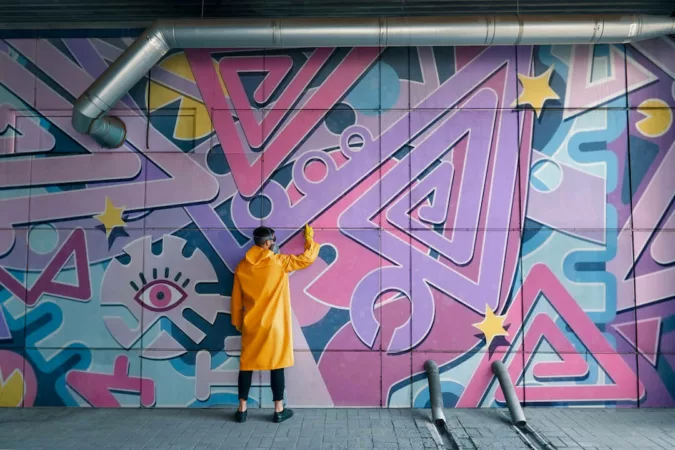 Blog
Why Invest in Paid Social Media — On a Local Level
In today's market, maximizing every ad dollar is more critical than ever. But where should you invest your ad dollars to get the most bang for your buck? If you're trying to drive real business results, paid social media should be part of your strategy — and more specifically, localized paid social media.
Localizing your advertising message to match the specific markets you serve is proven to yield strong results. A study of Fortune 500 companies found that the companies that localize their content are twice as likely to increase profits and 125% more likely to grow earnings per share year-over-year.
Although paid social media ads are available across different platforms, in this post we'll focus on Facebook — the social media giant with the largest global reach, plus hyper-local targeting to achieve real business results.

Benefits of Localized Paid Social Media on Facebook
If you're trying to market your business in multiple locations, local, paid social media marketing is the simplest way to get your message in front of qualified leads. Facebook's large global reach, coupled with the ability to target prospects nearby a specific business address make for a potent combination.
There are three big benefits to using Facebook that are simply unmatched by other social media platforms:
Audience and Reach: There are 2.7 billion active Facebook users worldwide. Many of these people check Facebook multiple times a day, every day. It's hard to match that kind of constantly available audience.
Targeting Ability: When your marketing is tied to your location pages, Facebook can target people on a hyper-local level. The platform's analytics tools can help you target your marketing campaigns down to the neighborhood level in many cases.
Ease of Use: Facebook has made it easy to set up campaigns based on your true goals. Whether you're working on improving local awareness of your business, getting more consideration and web traffic, or focusing on sales and conversions, Facebook's campaigns can be tailored to your needs.
Need help creating social media posts? Use our templates!
Brand vs. Facebook Location Pages: What's the Difference?
Having an overarching brand page on Facebook is helpful for your general marketing strategy, but it's not the end of the story. Before you can start running local paid social media advertising, you need to set up specific pages for each of your locations.
When it comes to local Facebook ads, the most important difference between the two types of pages is that local business pages include map listings. Map listings give you the ability to target ads at nearby Facebook users with the click of a button. You can use Facebook ads location targeting to personalize ads for a specific neighborhood, or even for a specific type of audience in that neighborhood.
This local personalization can significantly increase engagement with your posts. Studies suggest that people may be almost twice as likely to explore new brands if a Facebook ad has been tailored to them.
Organic vs. Paid Social Media
A local Facebook page for each location not only helps with targeted advertising, it also provides plenty of free promotional opportunities. Organic local social media posts help multi-location brands appear relevant to prospective customers, and drives brand amplification for large multi-location brands at a local level. Plus, if you have a local page and following established, you are perfectly positioned to step into paid social media advertising when you need to ensure a message or campaign is seen by prospective customers.
Defining Your Paid Social Media Goals
Before you begin localizing your paid advertising, you need to have clear objectives in mind for each market. The purpose of localization is to make your marketing more robust and strategic. Defining your objectives for localized campaigns in advance will help you identify whether your latest efforts are having an impact.
First consider your high-level goals for the campaign:
Awareness: Increase the number of local people who know about your business or a new service or product offering. How many people knew about your business before your new paid social media campaign? How many people are aware of it now? How will you measure this change in awareness? Page post engagements, page fans. Have a target increase level in mind.
Consideration: Increase traffic to your website or Facebook location page. Set a baseline using key website metrics before you launch your new localized campaign. Consider measuring metrics on specific location pages as well as monitoring overall lift.
Conversion: Get more appointment bookings, foot traffic, or sales for a particular location. Set a baseline for comparison using data from similar time periods in previous years to account for outside influences, such as shopping holidays or other seasonal events.
Next consider specific objectives. Whether you are looking to drive awareness or conversions, be sure to pull baseline metrics before you launch your new localized campaign. Pull data from a similar time period to avoid seasonal peaks. Analyze metrics on specific location pages and revenue lift by location.
Potential objectives for success include:

Store Visits: This ad objective allows you to focus on increasing traffic to your physical store locations. You'll be able to add local information for each of your stores, use a store locator map card and CTA buttons like "Get Directions" and deliver ads to people within a set distance of each store.
Page Post Engagement: If you are looking to drive awareness of a new service line or product, page post engagement can be one indicator. Engagement is measured by likes, shares, comments, saves, clicks on the post relative to the overall number of fans on your page. You are looking to measure any change in how many people knew about your product, service, business before and after your paid social media campaign.
Clicks to Website: With this ad objective, you can direct customers to a website for an event, promotion, or to explore more information and hopefully convert. Clicks-to-website ads typically include a call-to-action like: book now, contact us, order online, sign up, etc.
Online Orders or Appointment Bookings: This ad objective is easier to measure than foot traffic as it focuses on the actual act of clicking to book an appointment or order online. Consider running baseline reports from a similar time period to get an indication of the impact of a campaign on online orders and bookings.
Page Fans: Page fans is another great awareness metric. If a campaign boosts the number of overall page fans you know you've gained mindshare with new potential customers. However, keep an eye on post engagement as your fan base grows. More fans isn't always better if they aren't engaged fans.
App Installs: This ad objective encourages app downloads for your brand's mobile app. If you have a new loyalty app or online ordering app this can be a great way to drive awareness. Be sure to measure before and after installs.
Offers and Claims: This ad objective allows you to present offers and discounts with your customers on Facebook to encourage people to shop on your website, at your physical store, or do both. You can track offline purchases as customers will present the offer at the point of purchase for scanning.
Local vs. Corporate Facebook Ads
Certain Objectives require local level targeting. Use the following table to see what Page Associations are available when selecting a particular Objective.
Choosing 'Local' will run the ad from each location. Every page you target will create an ad on that local page. Choosing 'Corporate' will run the ad to your brand page only. Selecting 'Corporate-Local' will run the ad from your brand page, but using the targeting from your local pages.
| | | | |
| --- | --- | --- | --- |
| Objective | Local | Corporate | Corporate-Local |
| Store Visits | x | | x |
| Page Post Engagement | x | x | x |
| Click to Website | x | x | x |
| Online Orders | x | | x |
| Page Fans | x | x | x |
| App Installs | x | x | x |
| Offer Claims | x | x | x |
Defining Your Paid Social Media Budget
Understanding how much money to budget for a localized campaign can at first, be a daunting task. In this post, we'll strip the mystery out of the process and give you the best practices for understanding how much money should be spent on a given campaign.
Let's start with five critical points that will shape our budgeting decisions:

Facebook enforces a minimum budget of $1 per location, per day. Failure to meet this budget will create fatal errors for your campaign.
The average CPM for localized ads in Uberall is $3-$6. Note, however, that actual CPMs will vary depending on the granularity of targeting applied to the campaign. More on this in just a bit.
CPMs of $8 and above is very unlikely unless you are using many levels of targeting on top location targets. For example, the addition of fan, interest, or custom audience targeting would increase CPMs significantly.
Regardless of your settings, Uberall's localized ads will always be optimized for reach. Facebook's best practice when optimizing Local Awareness ads is to maximize reach. Given the hyper-focus of this local targeting, the best way to drive conversions is to reach as many relevant people in the target region as possible.
Uberall will automatically divide your budget evenly between all of the locations in the campaign target group.
With these guidelines in mind, it's actually pretty easy to figure out the right budget for your campaign. Here are three common scenarios:
"I know how many people I want to try and reach, but I'm not sure how much money to spend to reach them."
Let's say you know you want to reach at least 500,000 people around a set of 200 locations. Taking the above point #2 into consideration, we can arrive at an appropriate budget with a quick bit of math and the following formula.
Target Budget = (Desired Reach / 1,000) * $4.50
For our 500,000 target reach goal, we arrive at a target budget of $2,250.
We now divide our target budget by the number of locations we'll be targeting. $2,250 / 200 = $11.25 per location.
With our per-location budget set, we can determine the duration of the flight. Given point #1, we know that the absolute maximum we could run the campaign would be 11 days.
Given point #3, we know that the minimum days we would want to run the campaign, to get through the spend and hit our reach goal, would be 2.
This leaves us with a budget of $2,250 for a campaign of 2-11 days. It's up to you and the particular objectives of your campaign to determine the actual duration.
"I have $5,000 to spend on ads to promote a week-long event happening across 2,000 locations. How should I allocate that money? How many people can I reach?"
$5,000 is not a lot of money for a campaign covering so many locations and days. There are two options for handling cases like this: 1) Run the campaign for 1-2 days across all locations, 2) Select a smaller subset of locations and run the campaign for the full week.
Most brands opt for Option 2, focusing the spending on locations or regions that they know would benefit most from the additional promotion.
The challenge with Option 1 is that there is no way to maintain awareness over the life of the campaign. You may not generate enough impressions to break through the noise and convert customers.
To estimate your reach, you would use a similar methodology to the one outlined above.
Estimated Reach = (Total Budget / $4.50) * 1,000
For the above case, we can estimate a potential reach of 1.1 million
"I want to apply specific user targeting to my localized ad. What will that do to my budget?"
You have to be careful when layering additional targeting on top of a localized ad. Adding to interest, demographic or fan targeting can drive up CPMs significantly.
While it is often acceptable to spend more to reach a specific audience, once the CPMs get into the $8-9 range, campaigns may have difficulty delivering fully, resulting in low reach and an unspent budget.
Check the reach estimations in the preview section of Uberall's campaign creation wizard to get an estimated CPM for your selected targeting. If this number is above $8-9, consider reworking your targeting to make it more expansive.
The methodology for determining a budget and reach would be the same as in our first two cases.
Commit to Local Relevance
Once you have your objectives and budget defined, it's time to consider content. Assuming location-based targeting is a part of your approach, the effectiveness of your ad spend will also depend on your content, you'll see the most significant benefits if you fully commit to true localization.
Effective local social media involves strong CTAs that are relevant to local audiences. For example, a home improvement store with locations nationwide might spend the winter advertising snow shovels in Wisconsin and pool supplies in Florida. You can also include time-based offers or mention that a deal is only available in a certain location.

One franchise retailer, Pinch A Penny Pool Patio and Spa, is very savvy about their seasonal promotions on social media - both paid and organic. They promote things like pool heaters in the winter to extend the swimming season, and pool storm preparedness in the late summer, early fall months in locations on the gulf coast. Corporate will selectively run messages in some, but not all markets and also gives franchise owners the ability to pull messages from the library of social media posts that are relevant in their market.
Scaling Local Paid Social Media Successfully

With a smaller business that has just a few locations, a single person may be able to run every local campaign on their own. But if you are a multi-location business with hundreds or even thousands of locations, it's simply unmanageable. Multi-location marketers have to either automate the process of creating local ads at scale or work with local and regional leadership at some level to help effectively scale local paid social media.
Options for scaling your localized paid media campaigns can include:

Centralized Approach (Good) - Leverage a solution like Uberall that enables your corporate marketing team to localize Facebook ad content at scale using dynamic fields for things like [city] and [neighborhood name]. This requires little to no involvement from local store operators and gives your ads a more localized feel.
Hybrid Approach (Better) - Give local store operators some controls, but put guardrails in place to ensure their ads stay on brand. This can include a library of approved ads that local store operators can run locally, or a process to have local stakeholders suggest ads or themes that are relevant to their area.
Decentralized Approach (Best) - Let local store operators manage their own local advertising campaigns. This approach might still include corporate-approved content but puts more controls in the hands of local leadership. We see some of our clients even go so far as to create a dedicated budget for local store operators to use in their market.
Uberall can enable any of these three approaches, but we highly recommend a hybrid or tag-team approach for more local authenticity. Every neighborhood has its own personality, peculiarities, and other factors only understood by the people who live and work there. Tapping your local personnel for insight can help you create effective, truly local paid social media campaigns.

Get more ROI out of every ad dollar with paid local social — learn more.