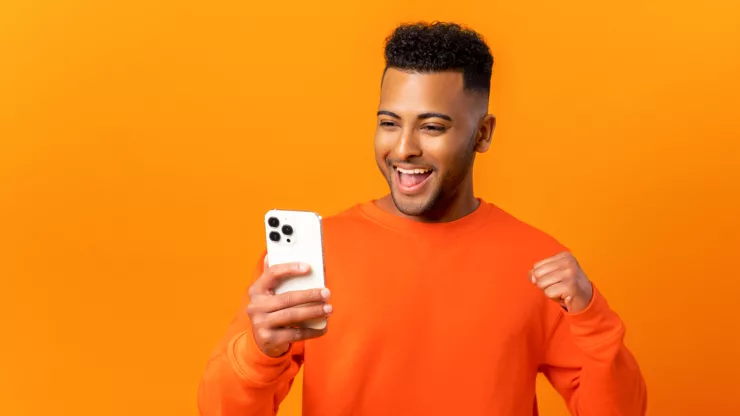 Blog
How To Create a Winning Social Media Strategy For Your Multi-Location Business
With more than half of the world's population active on social media, it remains one of the most successful marketing channels for reaching new customers. When you're managing a business with multiple locations, staying on top of social media for each of them can be a challenge. But with the right social media strategy, you can nail location marketing and authentically connect with your customers.
As a business owner with multiple locations, you've likely established your brand and amassed a following, so you already have a leg up on the competition.

Why You Need a Social Media Marketing Strategy
Your potential customers are likely looking for you through mobile searches, and appearing at the top of search results gets you more traffic. The average click-through rate of the top Google search result is over 30%. Location marketing helps you boost your ranking for local searches.
However, creating and copying one post to all your location-based social media profiles will not likely help your local search rankings. Social media is all about striking a balance between brand consistency and content that appeals to your audience. To do it well for multiple locations, you need to create content that resonates with people in each location without straying too far from your brand.
Additionally, multi-location digital marketing location SEO can be tricky since your website might need a national presence. Operating multiple locations makes it hard to add local keywords to your About page and other areas of your website where it's common to add local copy. Social media helps you build up your local presence online.

Top 10 Best Practices for Location Marketing Through Social Media
Use these tips to create a local marketing strategy for all your social media feeds and save time and energy without sacrificing results.

1. Set Branding Guidelines and Follow Them

If you're operating a franchise, you've probably received a binder full of branding and social media marketing guidelines from the corporate office. Branding guidelines cover all elements of the brand, from fonts and colors to voice and tone.
Keeping your social media feeds consistent is essential, even if you're a smaller brand. Setting up brand guidelines will help social media managers at each location build relationships with the locals while keeping your brand visibility intact.
Your social media guidelines should also cover how your social media team and location managers reply to posts. You might set a rule that a location manager should respond to all reviews or prepare guidelines for how they can reply to negative feedback.

2. Choose the Right Platforms
Social media is constantly growing and evolving, so choosing the right platform can be a daunting task. You're best off starting with the tried and true. In 2023, Facebook remains the most popular social media platform, with 2.96 billion monthly active users. The platform is home to over 200 million businesses and 7 million advertisers. Facebook enables effective paid local marketing strategies because you can update your location and run sponsored posts targeted at people in your location.
YouTube is the second most popular social media app, followed by WhatsApp and Instagram, each with 2 billion active monthly users. Location marketing is all about finding the right channels for your audience. To choose the best app for each location, research the most popular platforms in the area. Your social media team for one location may be more successful in generating organic traffic through YouTube, while another might see better results from Instagram.

3. Use a Mix of Organic and Paid Posts to Engage your Community

Even if your social media posts generate a lot of organic traffic, don't neglect paid social posts. Running sponsored posts allows you to target customers in your local area based on their demographics or interests. These posts help you widen your net, appealing to potential customers who have never heard of your brand. When you create a positive and engaging community around your brand, you build loyalty and trust with your customers, leading to long-term success for your business.
You can use your local social media analytics to inform your paid strategy. Look for the posts and keywords that generate the most engagement, and tweak them for other locations to appeal to more customers in a new area.

4. Schedule Your Posts
Operating multiple store locations takes time. Using software to manage your social media feeds lets you stay active for each location without having to physically post on multiple platforms for each location.
Social media software also lets you compare posts across locations. If you're running a promotion across locations, you can advertise it on each feed, adding local language and details to make the sale appealing to people in each area.

5. Create a Content Calendar
Content calendars are a great way to plan and schedule content. For successful multi-location marketing, create one shared calendar accessible to everyone on your social media team. This way, social media managers at each location can see what's happening at other locations, generate ideas for new content, and tweak social ads to appeal to residents in their area.
A content calendar will also keep you and your social media team organized. You can spend some time at the beginning of each quarter brainstorming topics and tying posts into seasonal trends.
When you're up and running with your content calendar, you can shift focus into managing your community proactively. By monitoring your social media profiles regularly, you can respond to questions and comments in a timely manner. Remember, building a community takes time, so be sure to post and engage consistently.

6. Keep Track of What's Trending
Most social media platforms let you see what's trending at a local level. Look at trending topics for each of your locations and see if there are any that you can connect to your business. For example, if one of your locations is near a college, post special game-day promotions and wish luck to the local team.

7. Delegate Tasks at The Local Level
If you have a robust marketing team with social media managers for each location, delegating is second nature. However, if you're running a smaller business and doing most location marketing tasks yourself, ask local managers to take care of social media posts. Your managers are on-site every day, talking to people in the area. They may have an idea of the type of content that will resonate with each audience. Delegation also gives you time to work on your overall marketing tasks.

8. Leverage Your Local Presence
When using social media to connect with community members, highlight how you fit into that community. You might offer a behind-the-scenes look into your locations, hosting interviews with staff members. You might sponsor local events and post links and photos on social media. However you're contributing to the local community, make it known and celebrate it.

9. Take Advantage of User-Generated Content
Encourage your loyal customers to share their enthusiasm for your business. If you're running location-specific events, create a unique hashtag, ask attendees to post with it, and tag your business. When you see people posting from your location, encourage them to tag you. Having your customers help with location marketing fosters a trusted relationship with community members.

10. Learn From Your Analytics
Track engagement, click-through rates, and other analytics across locations. Use these analytics to understand what resonates with each audience and your most successful channels for each location. Measure success rates to inform future strategy and determine how you can change less successful posts to make them better in the future.

Wrapping It Up
Social media is an integral part of location marketing. It helps you boost your local SEO rankings and build a relationship with the community. While social media can help specific locations stand out within their community, it's also essential to maintain consistency with your overall brand.
By creating a strategy with clear goals and guidelines, you can find the best direction for your business. Compare platforms and find out what's trending in each area to locate the right audiences and create content that appeals to them.
Want to know more about developing location marketing social strategies? Check out our social tool, or schedule a demo.