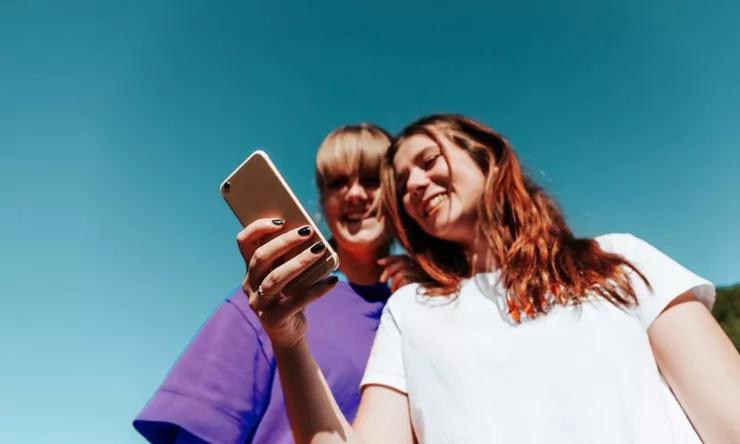 Blog
Customer Experience Methodology Explained
Although the term "customer experience" is thrown around frequently, it is a crucial part of any business. Nailing your customer experience methodology and offering a consistent experience each and every time helps to increase brand loyalty and boost revenue. ‌
This is not lost on business leaders; nearly 76% of company executives see improving customer experience as a critical priority. And for good reason, research from Forrester shows that businesses that get it right typically grow 5X faster than those that don't. Plus, brand loyalty leads to positive word of mouth, so focusing on your customer experience helps you improve this critical source of free advertising. ‌‌

Our framework helps you approach hybrid CX strategically and design solutions that's best for you
Customer Experience is Largely Local
Local customer experience refers to all the touchpoints a customer experiences with your brand, both online and in person. A customer's whole journey from research to post-purchase makes up the entirety of the customer experience. Their experience with your company often starts with an internet search...
‌Moreover, most internet searches are local. Nearly 70% of customers indicated that at least half of their searches were for local companies in their area.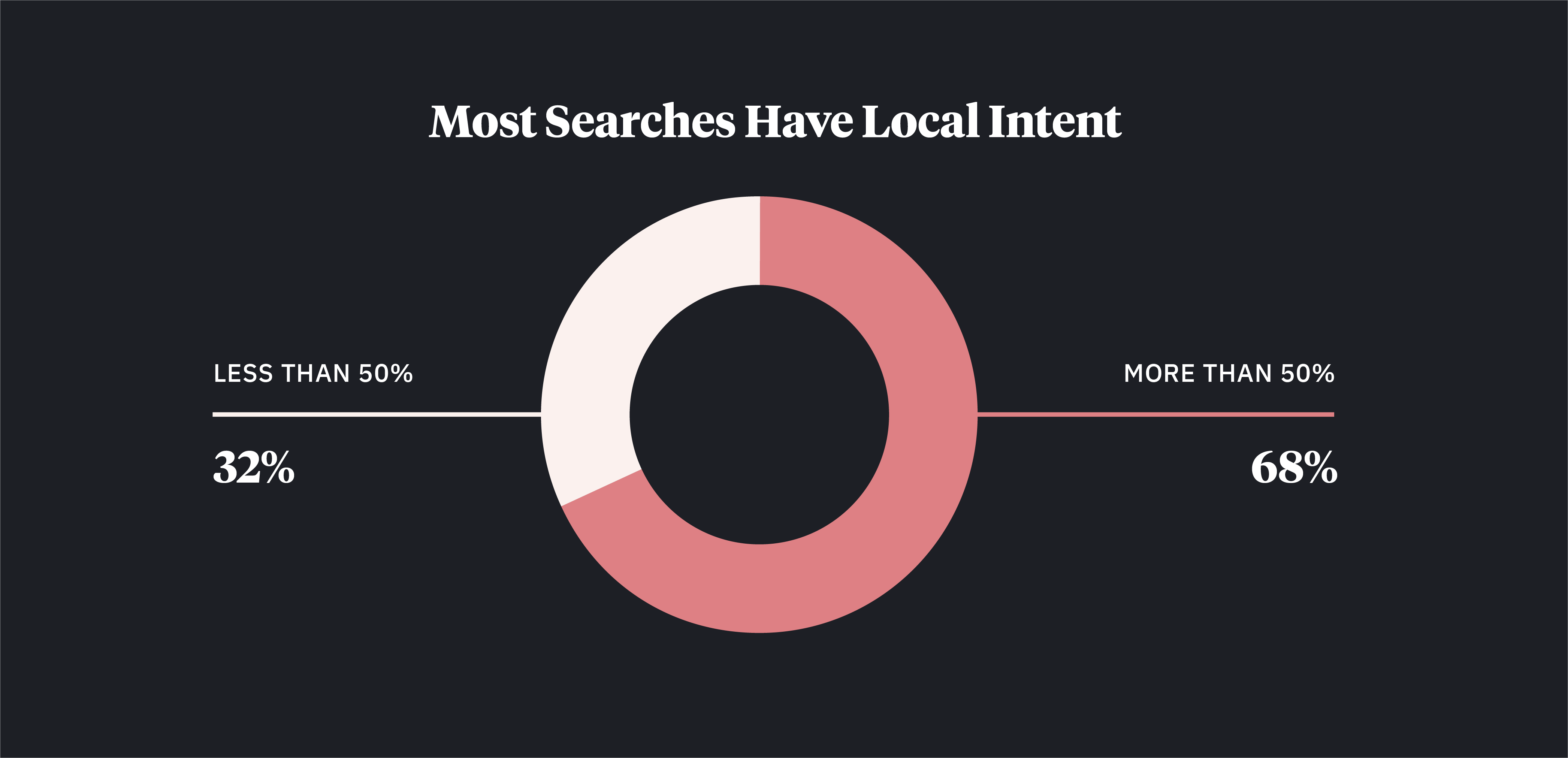 Your customer experience needs to be consistent at every touchpoint, from the moment a potential client visits your website.
If they can't find answers to basic questions on your website, they are likely to navigate off the site and move on to the next search result. If they like your website enough to go check out your business in person, but then encounter rude or indifferent staff members, they might also leave and stop doing business with you. ‌

The Local Customer Experience Methodology Can Help You Get it Right
The purpose of this customer experience methodology is to help you deliver a consistent experience that meets and potentially exceeds customer expectations at every touchpoint.
1. The Customer Perspective: What They Expect
The first step in creating a cohesive local customer experience methodology involves getting to know your customers. Develop a deeper understanding of their wants, needs, and expectations of the buying experience. For most customers, the discovery process of their journey begins online. They might consult with friends, family, and other trusted people, but they are even more likely to jump online at some point, conduct a search, view local listings on Google or Yelp, read reviews, and possibly go directly to your local webpage or local social page to get more information.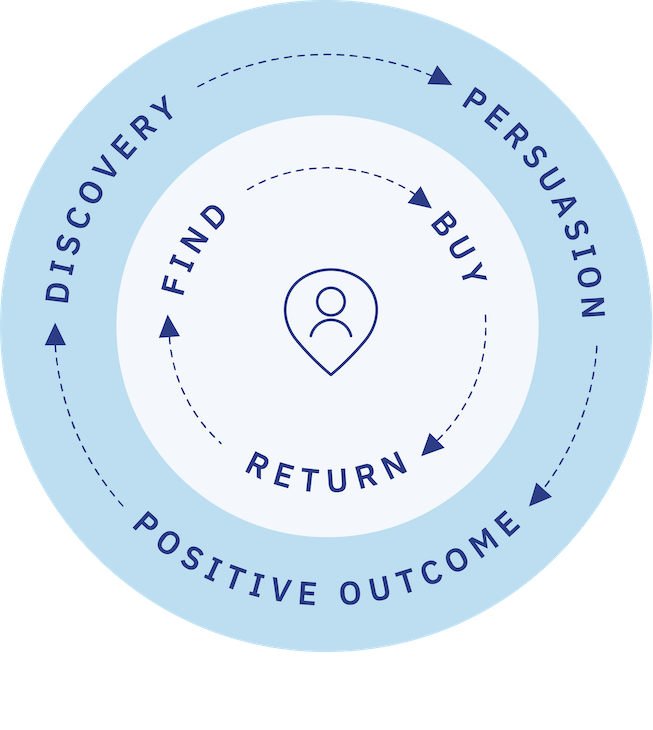 Find: Understanding what your customers expect can help you design your local presence to meet these expectations. Customers have indicated that they want answers to basic questions specific to the location - for example for a pharmacy a customer may want to know "do you offer COVID testing," for a retail store "Do you have this specific item in stock," and for a hotel "What is your pet policy." Local listings and local pages are becoming more sophisticated and self-service in many ways, but still, there will be times when a customer can't find an answer or just prefers to talk to someone. In this case, they should know how to get in touch with a customer service representative and be connected to a live person.
A smooth discovery is a fundamental requirement for consumers to complete the first stage in the customer journey.
Buy: If a customer is buying online, the check-out and follow-up experience should offer the same quality as finding and researching your product. For those who prefer to shop in person, customer experiences should be consistent offline. When customers enter your store, their experience with your brand should be similar to the online portion of their journey. Keep your messaging consistent, and train your staff to be helpful and friendly.
Consumers need persuasion to complete the buying stage, i.e. they must feel confident that your brand is the right choice.
‌Return: By offering your customers an excellent experience the first time, you are more likely to generate repeat business. When a client is satisfied and/or their experience exceeds expectations, they are more likely to be loyal. They are also more likely to recommend your business to others.
The requirement for customers to complete this stage is an overall positive outcome of their journey. ‌
2. The Brand Perspective: What Needs to Be Done
For a brand, customer experience is all about being found and convincing a customer to do business with you so you can drive more revenue. Our customer experience methodology can help align your business goals with customer expectations so everyone wins!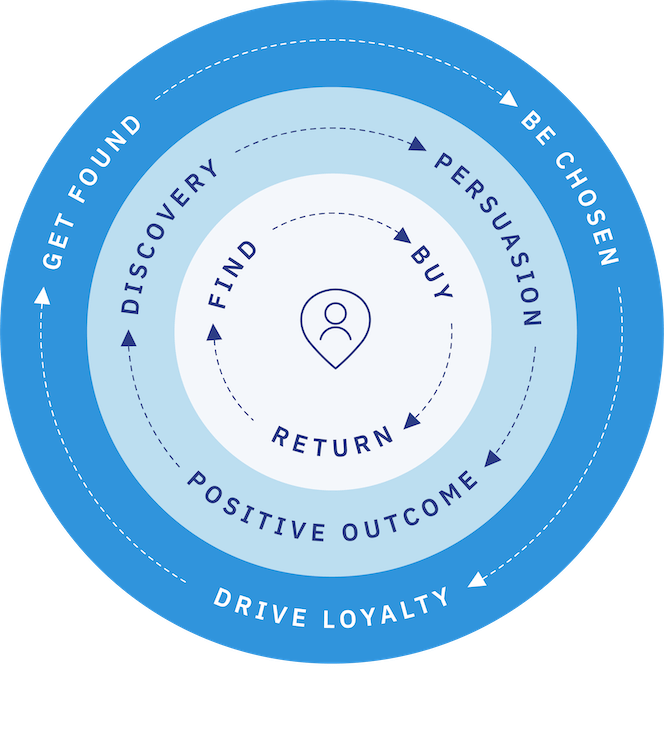 ‌Get Found: The first step is one of the most crucial. You have to stand out in an online sea of competitors. Improve your chances by boosting your local SEO online.
‌Start by fixing all your landing pages and listings on Google and other sites so your name, location, phone number, and hours are consistent.
You can manage your listings on Google My Business and Yelp and hundreds of other local listing sites by creating a business profile and updating your company information. When all of this information is correct, it helps Google Maps, search engines, and virtual assistants find you when a customer searches 'near me.'
If you have one or two locations, this might be manageable without automation although not recommendable. Any more than 3 locations will make a solution like Uberall a requirement to make managing your local presence more efficient.
Be Chosen: Getting found online is one part of the equation. Once a customer finds you, they need some convincing to choose you over your competitors. Using your website and social media effectively lets you build customer expectations before they even walk into a store.
In-store photos, inventory, online menus, social media engagement, and online reviews serve as cues that tell customers what to expect from your brand. Solidify your online presence so it's similar to what a customer will experience in person. Make sure your online promise matches the actual buying experience. Paint a picture of what you offer and what would be attractive and convincing to customers.
‌Drive Loyalty: Inspire loyalty by offering an excellent in-store customer experience, and by building relationships with your customers following their purchase. Personally reply to reviews, building on the positive and learning from the negative. Further, you can engage with customers on social media and share offers that matter to your clients who follow you there.
You can take concrete strategies to improve your local customer experience at every point in the customer journey. They are outlined in the Local Customer Experience Playbook.
3. The Performance Layer: How You Know You're Successful
For your local customer experience methodology to be most effective, you need well-defined metrics that can help you benchmark your performance over time. Use analytics tools to understand how customers found you, why they chose you, and why they continue to use your company. The answers to these questions will help you hone your customer experience strategy.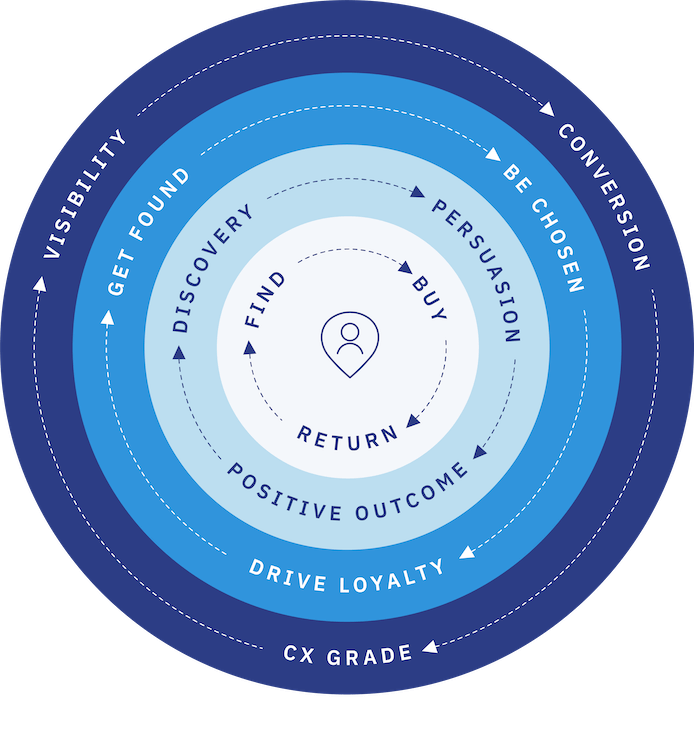 Visibility: Measuring how customers found you can help you identify your most successful channels and strategize how to manage less effective ones. You need to be aware of which local search terms and keywords drive the most business. Along with keywords, you should also measure locations in which your business pops up the most in 'near me' searches.‌
Conversion: Identify the reasons why people choose your business over your competitors. You should know how customers engage with your company. Measure which channels generate the most traffic and determine the kinds of content that make customers want to click on your website. When you can pinpoint your lower-performance content and marketing channels, you can take steps to improve them.
CX Grade: Ultimately the best compliment you can get from a customer is a referral or a positive review. Essentially when a customer has an experience so good they have to share it. Online reviews are one of the most measurable ways to see how you're doing in the eyes of your customer. This critical key performance indicator refers to your Google rating of 1-5 stars. Once you've set up a local profile on Google My Business, Yelp, TripAdvisor, Facebook, or any other industry-specific site that allows for online reviews, customers will be able to rate your business and/or write a review. Other users look to this rating as a consideration when deciding where to take their business.
Refining your local CX improves your chances of receiving a high rating. But if you're not quite there yet, look through the reviews to find out where you can improve. This is not the time to be defensive. Consider each negative review to determine where your service can be improved. If possible, respond to the customer and see how you can resolve the situation.

Take control of 14 factors that help you improve your hybrid CX
How You Can Start Improving Your Local Customer Experience
Now that you know how important it is to provide an outstanding local customer experience, how do you do it right? You have to execute your strategy at each stage of the journey from being found to being chosen to building loyalty. Failing to deliver at one of these stages impacts the others.
‌If a customer can't find you, then they can't interact with your business. If you don't succeed in being chosen, you're losing the opportunity to convert a new customer. Finally, if customers find and select you once but don't come back, you can't generate the same level of word-of-mouth advertising and grow your business as consistently.
Our Local CX Playbook helps you analyze your customer experience methodology from each perspective, giving you the tools you need to succeed. You can benchmark your search results among competitors, identify your most successful channels, and improve those that aren't working as well. Then, you can find out why your customers chose you over your competitors and why they keep coming back. Our playbook is a guide to customer experience factors you can control to increase your customer experience performance at each customer touchpoint.
Want to level up your hybrid CX with Uberall CoreX?