How to Ensure Local Consumers Choose You Over the Competition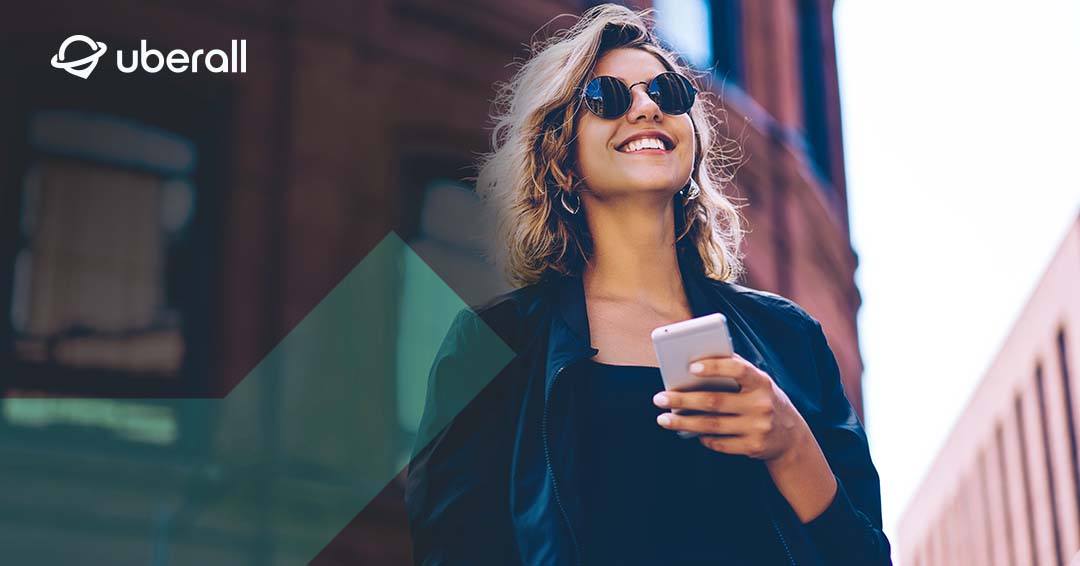 Today's customer journey is, to quote Google, messy. Purchasing decisions don't follow a linear path, and with a multitude of channels and choice at consumers' fingertips, how could they?
The purchasing journey is vastly different for each consumer and can involve anywhere from 20 to over 500 touchpoints. So for brands with multiple locations, defining where exactly on this journey you are losing customers is not an easy question to answer.

But one thing is for sure, the answer is always related to the customer experience.
Marketers need to analyse the whole customer journey and delve into the data provided through local channels.

By dissecting the right metrics you can measure where you started as a mere twinkle in the consumer's eye to the blossoming of a long-term relationship, and discover where exactly you're getting dumped along the way for the guys next door.
The Complexity of Today's Customer Journey
We promise we won't dwell on Covid, but we can't deny it's part in shaping and defining today's consumer behaviour. As e-commerce became the norm, it may have crossed your mind whether physical local presence is still necessary. It did ours.
So we ran a survey of over 4,000 consumers, analysed the performance of 80,000 business locations and interviewed a range of marketing experts. The result? A physical presence is still very much necessary. In fact, 82% of consumers will still shop locally after the pandemic.
When asked to indicate the preferred way to shop, over one third of consumers research online and buy in-store (37%), whilst only 17% research and buy products online.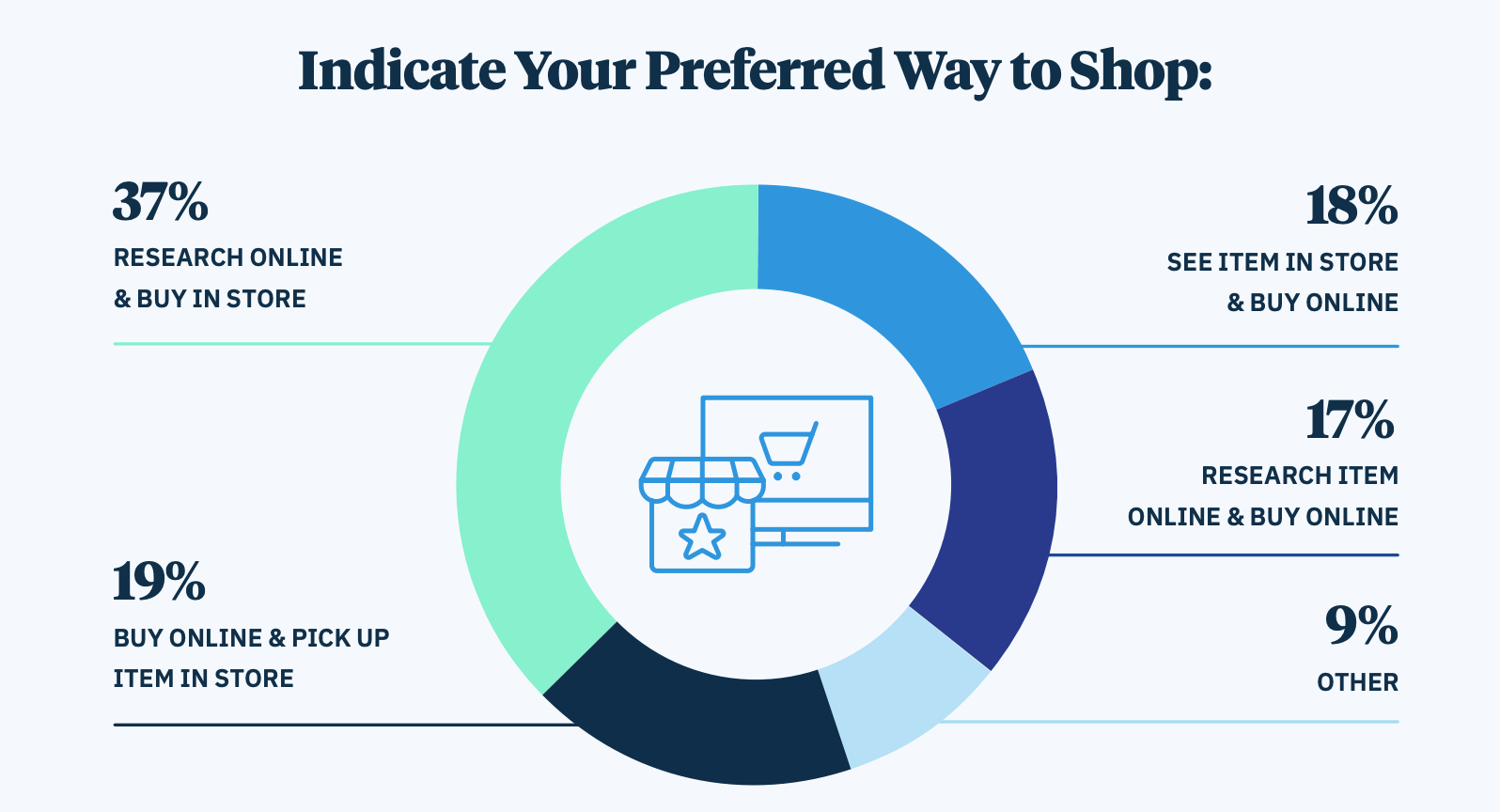 What comes as no surprise is the vast number of consumers researching online before making a purchase (73%). But what are they looking for and how are they making the decisions from one product or service over another?
Want to discover more stats and insights? Check out our New Face of Local report.
Google's study, Decoding Decisions, is a fascinating look at the triggers from exploration and evaluation–where customers are won and lost to the local competition–to purchase.
One of the ways we can start to understand the complex consumer process is by looking back at trends in search behaviour. The search term 'best' has shot way ahead of the term 'cheap', which identifies the complexity for organisations to decipher what consumers really want. After all, cheap is cheap, but what is best? Is it best value, best quality, best rated?
The answers to these questions are specific to your customers and your offering, but by looking in the right places you can start to build a picture of the most important aspects to local consumers.


The Customer Experience is Key to Gaining Competitive Advantage
In an environment of limitless information, consumers have to narrow down their options with the information in front of them. The goal is to provide them with the right information that reassures them towards making a decision without seeking out the local competition.
But how do you identify where you are succeeding and where you are losing customers? You have to break down each stage of the customer journey, from awareness, persuading and buying, to recommending and returning as a regular customer.
Dive straight in with our free Near Me 360 benchmarking tool, which shows how your locations fare against the competition in terms of data accuracy, reviews, conversions and search visibility.
How to Track the Performance of Your Online Visibility
The customer journey begins in the exploration phase, which means the overall visibility of your locations.
For multi-location organisations it's not always easy to keep track of where locations are listed, but it's important to make sure all your locations are listed on the right platforms, directories and mobile apps, especially on the big four: Google, Facebook, Bing and Apple Maps.
Looking for a how-to? We've got loads of resources to help you with building citations, including a report full of insights into where you should be present.
Our recent survey found that over three quarters of consumers use Google to find local business information (77%). With this in mind, let's examine the high level requirements for competitive listings on Google My Business (GMB).
Track Profile Completeness
Google identifies six key cognitive biases that determine how consumers pick one brand over another. One of those is category heuristics as consumers look for short descriptions of key products and services to simplify the purchasing decision. This of course means utilising categories on GMB, but also additional opportunities such as description and attributes. After all, if the competition is highlighting payment methods or a menu, and you aren't, you could be losing out.
Google identifies an upward trend in the UK of consumers' desire to be inspired. The search term 'ideas' has shot up by 180%, spiking each year around Halloween. Including such insights is valuable across your locations, ensuring your reaching consumers with keywords such as 'halloween costume ideas', 'christmas gift ideas', even 'lunch ideas'. Testing and tracking keywords across your listings is an essential part of your strategy to establish what's important to your potential customers.
Of course the goal is to complete as much as possible within each location's profile, from basic to rich data and media. By establishing the fields, you can then track this across your portfolio and assess where the gaps are that need to be addressed.
Measure Queries and Impressions
There are three types of queries measured on Google: direct, discovery (indirect) and branded:
Direct search is when a consumer directly searches for your business name or address, for example, "Starbucks Manchester".
Discovery (or indirect) search is when a consumer is looking for a product, service or category that you offer, and your listing appears, for example, "coffee shop near me" reveals the local Starbucks.
Branded search is when a consumer searches for your brand or a brand related to your business, for example, "Costa near me" also reveals the neighbouring Starbucks.
Search queries give you a great indication of brand awareness and how a consumer comes across your brand, while tracking impressions will give you a clear picture of how often your listing is shown in both Google Maps and Search. Tracked over time, both will highlight patterns and trends to enable you to successfully analyse consumer awareness of each location.
Handy hint: Organise your locations into groups using the label function and you can easily search for locations by label from your GMB dashboard. This can help access information easily to match your internal KPIs, such as region or location size.
Quantify Interactions
Track consumer intent and interaction with your listings through clicks on directions, calls and website. To get a thorough and effective view of location performance, these metrics are best tracked by date, location, labels and even by the hour to see when your consumers are interacting most. This can help formulate a strategy for promotional activity, like Google and Facebook posts and local ads, and even support your offline campaigns by highlighting spikes and trends on a franchise level.
Interaction insights can also provide you with valuable information to share with your customers, such as when they are likely to get a quicker response by phone.
How to Track the Performance of Your Consumer Engagement
Understanding consumer engagement metrics is essential for both customer acquisition and retention. This crosses over two elements of the customer journey: persuading and recommending. Local consumers in the discovery phase will be absorbing information about your product or service through peers, experts or from the brand itself. Those who have bought from you then come back to help persuade those a couple of steps behind.
Build Advocates with Effective Review Management
Review management is a wonderful performance driver where, when managed correctly, you can see your conversions thrive and prosper before your eyes. Google identifies social proof as one of the six cognitive biases that determine how a consumer can be persuaded to make a purchasing decision.

We have a whole heap of data, insights and resources to help on this topic - you can find everything in this dedicated review management article.
For now, what metrics will help you establish how your reviews are impacting the performance of your business locations, and potentially driving sales to local competitors?
Customer sentiment can be measured through an analysis of the star ratings you receive, including your locations' average rating and a breakdown of the number of reviews. However, engagement isn't all one way. Research shows that one-third of customers who leave a review won't make a return visit if they are ignored by the brand. As 66% of consumers report a lack of response to their reviews, this is a great opportunity to stand out against the competition.
Don't forget our Near Me 360 tool will show you how your average rating and reply rate stands up against local competition.
Breaking down your ratings by date, both those received and those replied to, will arm you with the right information and potential red flags to have constructive conversations with location managers. The number of replies by rating is useful to measure as it can coincide with internal processes to manage reviews effectively, for example, reply to 1 and 2 stars ratings first.
It's critical to track the type of feedback you receive, whether it's reviews, photos or questions. Each will provide an insight into the performance of locations from the eyes of the customer and how that might be influencing other consumers.
Drive Successful Local Campaigns
Google posts are a great way for locations to tailor news and offers to local consumers, yet they are surprisingly underused. The power of a free gift, even if unrelated, was recognised as a powerful motivator in the consumer purchasing decision process. This could be a highly effective asset in a local campaign, and a great tool to encourage consumers in-store.
Want to know how to create eye-catching Google posts? Check out our 10 tips to get the most of your Google posts.
It's increasingly difficult for marketers to prove the success of local marketing campaigns. Local posts on Facebook and Google allow you to provide the tangible engagement results you need to demonstrate the value of local campaigns and identify learnings for future campaigns. Previous consumer insights from the awareness and persuading stages will enable you to highlight locations to target for future campaigns.
It's increasingly difficult for marketers to prove the success of local marketing campaigns. Local posts on Facebook and Google allow you to provide the tangible engagement results you need to demonstrate the value of local campaigns and identify learnings for future campaigns. Previous consumer insights from the awareness and persuading stages will enable you to highlight locations to target for future campaigns.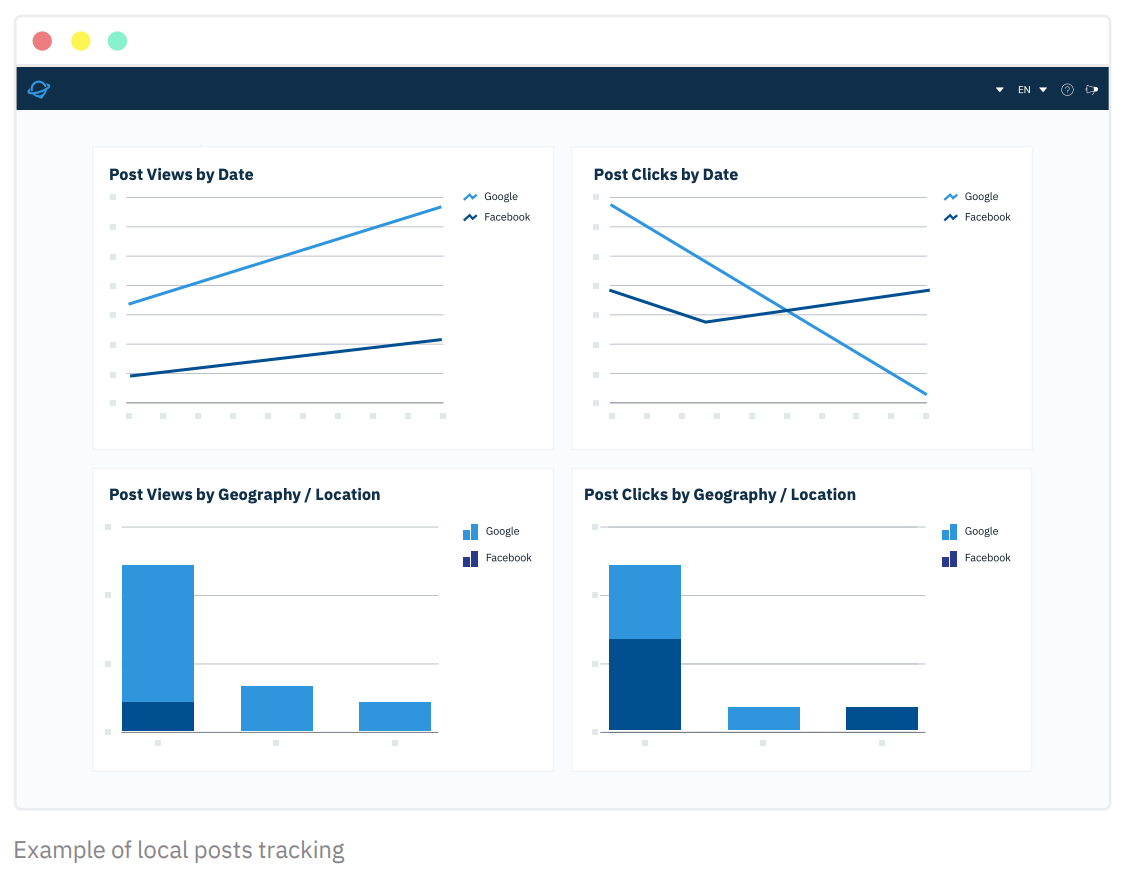 Craft a Local Experience with Dedicated Location Pages
A store locator page is more than a simple address page, it's a great way to provide updated, relevant and bespoke information to consumers in real-time. Of course the current climate has highlighted a real-time inventory as the King of Content as consumers want to know what's available before heading to a specific location. As well as providing valuable information, it could also create increased demand for a product if stock levels are low–scarcity bias is recognised to make a product more desirable. Used in conjunction with your local posts, this is the perfect omnichannel campaign to drive consumers towards your brand.
The metrics to track from the location pages are much the same as your listings, with impressions and conversions allowing you to identify locations that require attention, for example if impressions are high and clicks are low. Here you can also drill down according to specific CTAs, such as loyalty schemes or app downloads, to really understand what your consumers are interested in.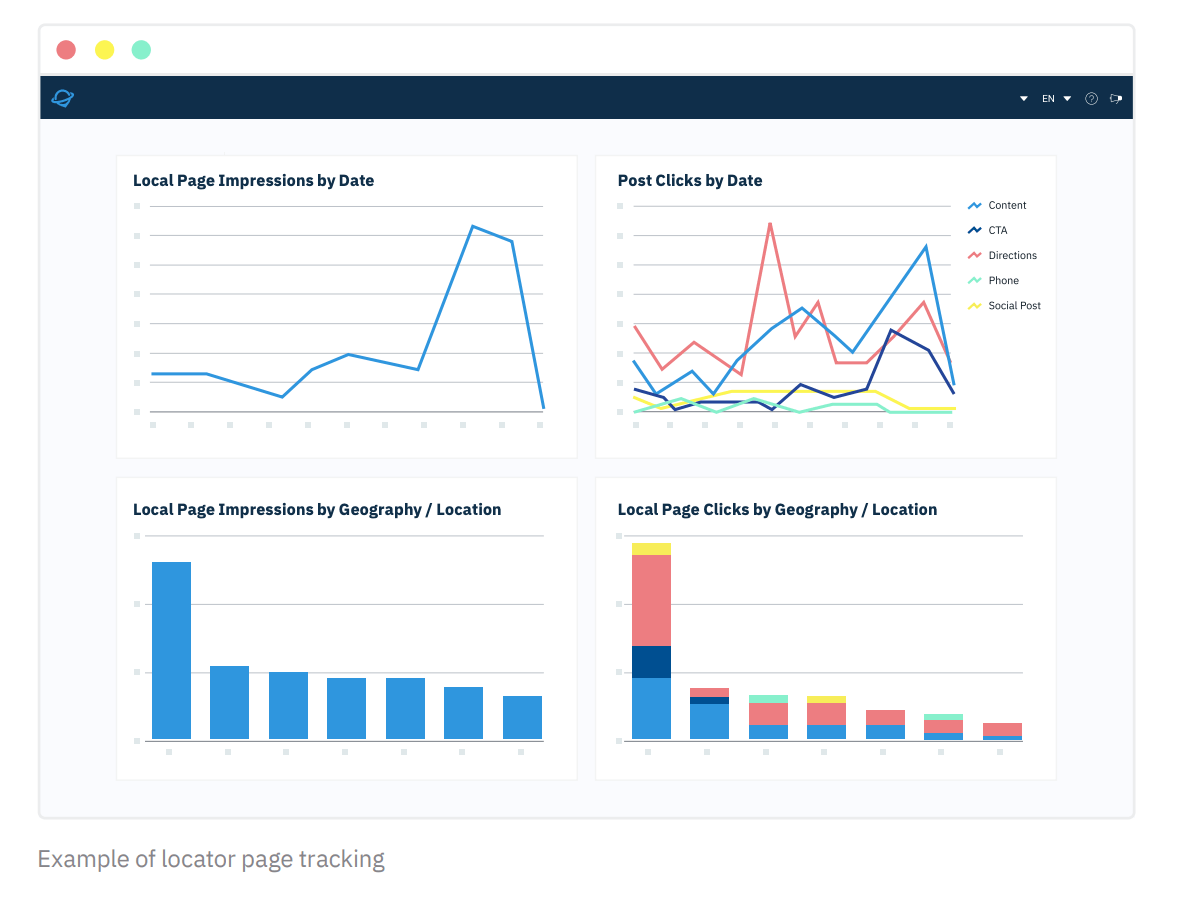 Increase ROI of Locations by Benchmarking Performance
Ensuring you examine the right metrics from your locations is essential to deliver a successful omnichannel marketing strategy and make data driven decisions to boost business performance. By mastering the 360 degree customer journey, your customers will not only return, but become brand ambassadors, driving authority towards your products and services.
'Near Me' 360 is a free tool that provides an indicator of your locations' market position in regards to online search, discovery & engagement.
Audit the digital strength of your locations and access real-time insights into areas of growth. 'Near Me' 360 is set against industry benchmarks for data accuracy, reviews, conversions and search visibility.


Through a thorough audit of these metrics you'll see real-time insights into the performance of your locations against the competition, including:
Missing listings on essential directories
Inaccurate and incomplete information
Review star rating vs. the competition
Reply rate vs. the competition
Conversion rate vs. the competition
Conversions across calls, directions and website clicks
Ranking in the local pack
Branded vs. unbranded search results
Impressions per month vs. the competition
The final 'Near Me' 360 score is a combination of all four elements, taking industry into account. Of course, the higher the score, the higher a brand's ability to get customers through the door.
Instantly See How Your Brand Stacks up Against Your Competitors

Most marketers don't have the tools to evaluate the customer journey from initial exploration to final engagement, as search is so fragmented and every in-store experience is unique.This is one of many reasons why we created the 'Near Me' 360 benchmarking solution.
So whether you manage a single location or thousands around the world, get a 360° overview of your search visibility, online engagement and customer happiness at the local level, compare the results of your locations with the competition and find out how to optimise for growth.
Connect your Google My Business account and get your free and complete 'Near Me' 360 report now!