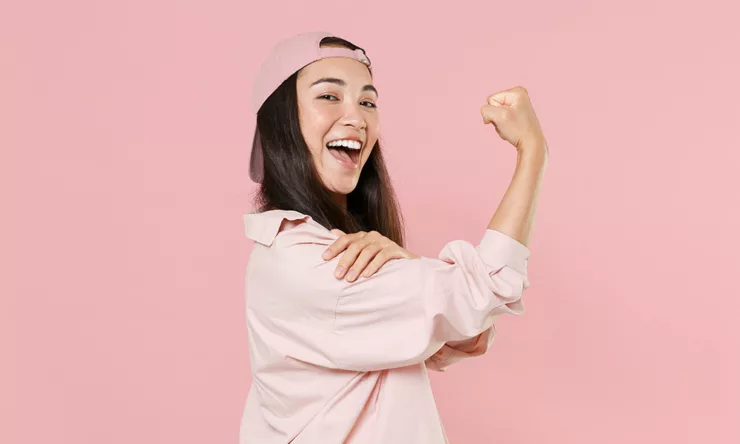 Blog
How to Nail Phygital Customer Experiences
Physical + Digital = Phygital
As simple as that equation seems, it is nonetheless loaded.

With phygital becoming more real, businesses with physical locations need to strengthen their presence online and market to consumers by combining both digital and physical touchpoints.
At Uberall, where hybrid customer journeys are at the heart of everything, we couldn't ignore phygital—a buzzword worth exploring in our times. Or is it more than that?

What Is a Phygital Customer Experience?
Phygital encompasses the way of combining digital and physical touchpoints for marketing to consumers. Phygital marketing strategies acknowledge how consumer purchase behavior now combines both online and real-world realms.
Other ways of defining Phygital experiences often include "omnichannel experiences" or even "hybrid experiences".
Phygital experiences have consumer convenience at their heart, allowing people to search and explore products/services online and purchase and experience them in the real world. Or, vice-versa.
How to Offer the Best Phygital Experiences
Most customers often won't knowingly set out on phygital consumer journeys. A really strong phygital experience would feel seamless and instinctive to them. Here are some tips that will help you improve such phygital experiences.
Phygital Tip #1: Being Available on all Touchpoints
Be visible everywhere your potential customers may search for you — especially in local searches conducted online via search engines, social media, directories etc. Using every channel that makes sense, you can tap into a broader customer base and improve the footfalls at your locations.

Our directory network combines the forces of 125+ key platforms. Check out our directories
Phygital Tip #2: Maintain Your Online Profiles and Listings
Your business's online profile information such as location address, business hours, phone numbers, etc are often more critical today than having a sign-up on your shop window.
Customers expect your online information to be reliable enough to make decisions about whether they want to buy from you.
Make sure that your information is up to date everywhere. This creates a positive experience with your brand and strengthens your customers' trust when interacting with you phygitally.
Consider using a listings tool to make it easier to manage.

Phygital Tip #3: Make Your Digital Shop Windows Attractive
Give your online presence as much attention as your physical stores. Using well-crafted, authentic images for your Google Business Profile cover photo creates a compelling first impression.
Adding inside photos, staff action photos, product images, etc, adds to a more convincing digital presence. Listing product and service info, restock info, offers, and discounts give more reasons to browsers to become buyers.

Phygital Tip #4: Enough Data for Faster Decisions
Most potential customers make a purchase decision after reading online reviews. In fact, online reviews impact purchasing decisions for over 93% of consumers.
It's vital to be on top of your online reviews and social media recommendations. It's important to acknowledge them and respond to each review or recommendation. This way, users will have enough information online to make decisions about visiting your business and purchasing from you.

Phygital Tip #5: Easy Paths to Conversion
It should be easy for potential customers to convert via your digital touchpoints. Some factors that make this process easier include:
Up-to-date locator pages with product listings

Easy-to-find product images, re-stock info, reviews, and social feed

Prominent calls to action (such as "book an appointment now") to let consumers take actions
Phygital Tip #6: Prompt Communications
Consumers expect you to respond to questions and reviews promptly and professionally. This makes well-established review management essential. Your responses to reviews (whether positive, negative, social recommendations etc) reinforce people's faith in your business and shows them you care about their experiences with you.

Phygital Tip #7: Flexible On-site Interactions
In our New Face of Local study, we found that, after the pandemic, 82% of consumers are still willing to shop locally, though they now expect more flexible on-site interactions. After all, many businesses had to offer a hybrid or fully online shopping experience during the pandemic. Shoppers are now accustomed to certain conveniences—leading to 67% of consumers saying they will do some or all of their shopping online now.
To offer more phygital flexibility, you must provide options catering to the increased preference for digital channels. For instance, you can let customers return digitally purchased items at the store and/or give them the choice of curbside pick-ups.
You should also consider how you can offer online-to-offline commerce or O2O commerce options that incentivize customers to go from your digital channels to your physical location, for instance, by releasing a discount code on social media channels that they can redeem on site.

Phygital Marketing in Retail
Phygital marketing has arguably infiltrated the retail industry most and is likely to become more powerful as people develop new ways to act on them. Some examples of recent phygital marketing in retail stores include:
Click-and-collect ways to let consumers order products online and pick them up at stores

Using online presence as a digital shop window to display opening hours, ongoing offers, product info, etc

Augmented reality (AR) technology now makes it possible to see how a piece of furniture would look in your home

Phygital Marketing in Restaurants
Phygital restaurant trends have been picking up since the pandemic. Most people expect restaurants to offer online reservations now rather than a requirement to call and make a booking.
Restaurants and cafés list every location on map services, maintain the most crucial information, and make every effort to be easily found. Menus and photographs of foods in their Google Profiles help potential visitors decide if they want to visit a restaurant.
On-site, QR menus are increasingly replacing classic menus. In many cases, guests can place orders directly through their own phones, an order terminal, or a tablet.
There are many ways in which businesses can use these new possibilities to enhance their restaurant experiences. For instance, caterers can use them to simplify and accelerate processes. But don't forget: personal contact is an important part of the customer experience, and using digital technology should not make you neglect that.

Phygital in Healthcare
The pandemic has driven many practitioners in healthcare to incorporate a phygital experience. Patients can now make doctor appointments online using apps, websites, or even Google profiles of clinics and doctors, for instance.
Practitioners are also more aware of the digital data available about them, as doctor and clinic reviews are readily available now. These serve as electronic word-of-mouth (eWOM) advertising, spreading the word about their services to people who trust online reviews as if they came from friends or family.

Phygital Experiences and Hybrid Journeys
The boundaries between the digital and analog world keep disappearing — and not just since the pandemic. In all likelihood, offline will not disappear, but local businesses need to integrate digital strategies to survive.
By offering hybrid or phygital experiences, you can harness the advantages of the online world for yourself and gain a decisive advantage over the competition.
But the question remains: How well are you positioned digitally?

Test your phygital performance!