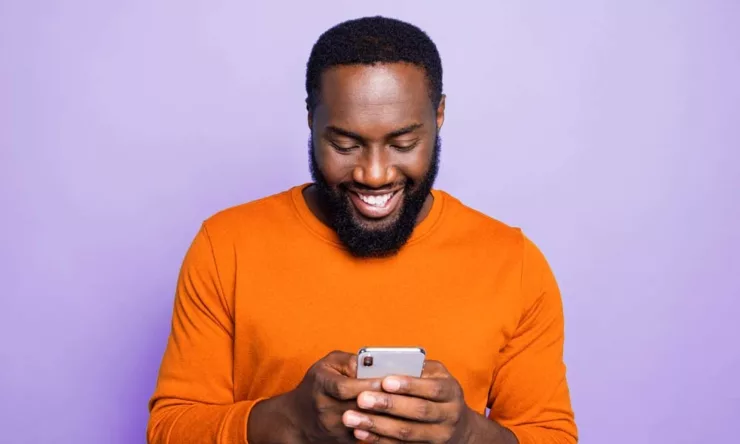 Blogs
5 Considerations to Level Up Your Local Customer Experience
If you're like most business leaders, you've already heard a great deal about the importance of customer experience (CX). You'll find an in-depth study of local CX in Uberall's new report, which examines local CX systemically from different layers — starting at the customer journey and moving over to customer expectations, business objectives, and performance criteria.
But what should you consider when formulating your CX approach? The following 5 points are critical today:

1. CX Matters
Providing a consistently great customer experience leads to more repeat business, more word-of-mouth marketing, and higher long-term revenue. That's why almost 76% of company executives prioritize improving CX.
However, there's a little more to it than meets the eye. It's not enough to simply improve your overall CX — the focus should always be on the local customer experience. Local CX is the most direct expression of your business or brand. Building a strong, consistently positive CX can improve customer loyalty and, by extension, long-term revenue.
In fact, a Forrester study shows that companies with a strong CX grew their revenue five times more quickly than companies with a weaker CX.

2. CX Is Local
To succeed as a business, you need to establish a strong brand that customers feel good about. That's where local CX comes in.
Building brand loyalty starts close to home, at the beginning of the local customer journey. Consumers remember the real-life encounters they have with your products, representatives, and stores or offices.
Shoppers actively seek out local experiences. Uberall found that 68% of consumers explicitly search for local businesses and local markets more than half the time when researching products. And 74% of customers say they prefer the experience of shopping offline to digital shopping.
But it's not enough just to have an offline presence that customers can access.
Consumers are constantly assessing their experiences with different brands. They evaluate their encounters based on convenience, enjoyability, and usefulness. Every time they visit a store, speak with a representative, or buy a product at a point of sale, they're assessing your brand. Over time, that assessment turns into a lasting impression of your business.
This means that every sales rep, cashier, and local store needs to produce a positive representation of your brand. It also means that every negative interaction, no matter how small, can lead to an overall negative view of your business.

Check out our framework that will help you align consumer expectations with business goals
4. CX Is in the Moment
Delivering great CX can ensure that your brand not only makes immediate sales but also drives customer loyalty and builds long-term revenue. That level of CX is not exclusively local — it's in the moment.
Simply put, consumers go through three stages in an ideal customer journey: they find a business, they buy and they come back. As a response to this, brands must perform well in three key areas: The need to get found, be chosen, and drive loyalty.
These three areas are critical so that consumers can complete their journey. If you fail to get found, they won't be able to buy from you. If you fail to drive loyalty, they won't come back but are likely to turn to your competitors. ‌
Only if your business excels in all three key areas, you'll make sure that customers can complete their journey and have a great CX, leading to loyalty, repeat business, and increased revenue in the future.

3. CX Needs to Keep Pace
In today's business world, it's not enough simply to meet consumer expectations. Shoppers have so many choices, which means they'll seek out better products and services. To keep pace with today's customers, your business needs to consistently exceed your customers' expectations by improving your local CX.
Exceed Expectations
There's a clear reason to keep improving. According to a recent Uberall study, 49% of customers are willing to switch companies if their expectations aren't met. And 43% will tell others about disappointing experiences.
How can you meet expectations? It's actually a better bet to aim to exceed them. Offerings that once seemed cutting-edge become run of the mill very quickly. There are numerous examples of shifting customer expectations. Here are just a couple of recent ones:
Free Shipping
When Amazon first offered customers fast, free shipping, it seemed like a wonderful novelty. But almost immediately, consumers got used to that convenience. They began to expect it, not only from Amazon but also from every e-commerce transaction. This meant businesses needed to keep up with that expectation by providing at least an on-par customer experience. Companies that couldn't provide fast, free shipping struggled to attract and retain customers.
Curbside Pickup‌
Curbside pickup has skyrocketed in popularity. Shopify research found that 31% of global consumers used the curbside option for the first time in 2020. The practice quickly picked up steam, with more shoppers saying they planned to go on using it in the future. Our CX survey found that 31% of consumers now expect curbside pickup as a standard option.
What started as an unusual offering has become a norm throughout the retail world. Any brand that doesn't offer curbside pickup is now failing to keep up with the status quo. ‌
Offer an Easy Experience
A recent Uberall survey found that more than half of consumers value "friendly, helpful staff," while 40% say that getting "quick answers to questions" is important to them. (You'll find the details of that survey in our report.)
Every time customers interact with your business, they're assessing how easy it is to carry out transactions, get answers to their questions, and get the products and services they need. Local CX plays a key role in all of those areas.
Make Transactions Simple
Customers value easy, straightforward transactions. Make it as simple as possible to search for products, exchange items, and place orders.
Uberall found that the typical consumer wants a hybrid shopping experience, usually starting with online research and shifting seamlessly back and forth between online and offline. As a retailer, you'll need to make it possible for shoppers to carry out every kind of transaction seamlessly, both online and in your brick-and-mortar store.
If you can make their transactions easy, you'll almost certainly see a big increase in repeat customers and overall satisfaction.
Create an Easy Return Policy‌
No matter how great your products and services are, shoppers will want to make returns once in a while. It's a good policy to make the process as easy as possible. Allow your customers to do returns in-person at your stores and also online. There are plenty of ways to make returns easy, whether that means allowing drop-offs at the shipping services counter or arranging for a delivery service to pick up returns for you.
The main goal: Create a smooth, hassle-free experience in your physical and digital spaces so that customers will associate your brand with comfort and ease — not with stress and complications. ‌

5. CX Needs a Strategy
Successful CX doesn't happen on its own — it's a constant work in progress. But responding effectively to consumer needs will allow your business to outperform the competition. Here's how you make sure that you achieve your goals with local CX:
Ensure customers find your business
Ensure consumers choose your brand
Drive consumer loyalty
Managing Your Local CX
Achieving a consistently high customer experience is a complex and ongoing process. Building a strong local CX is a great way to align business and customer expectations so that everyone wins. Ultimately, you'll work on this throughout the life of your business.
Educating yourself about local CX is an important first step. But you don't have to do this alone or manually. Today's most innovative global businesses automate processes around local customer experience to grow. Here's how.
Level up your hybrid CX ame with Uberall CoreX