Network News: Google's AI Updates, Immersive Maps, Travel Listings Enhancements and More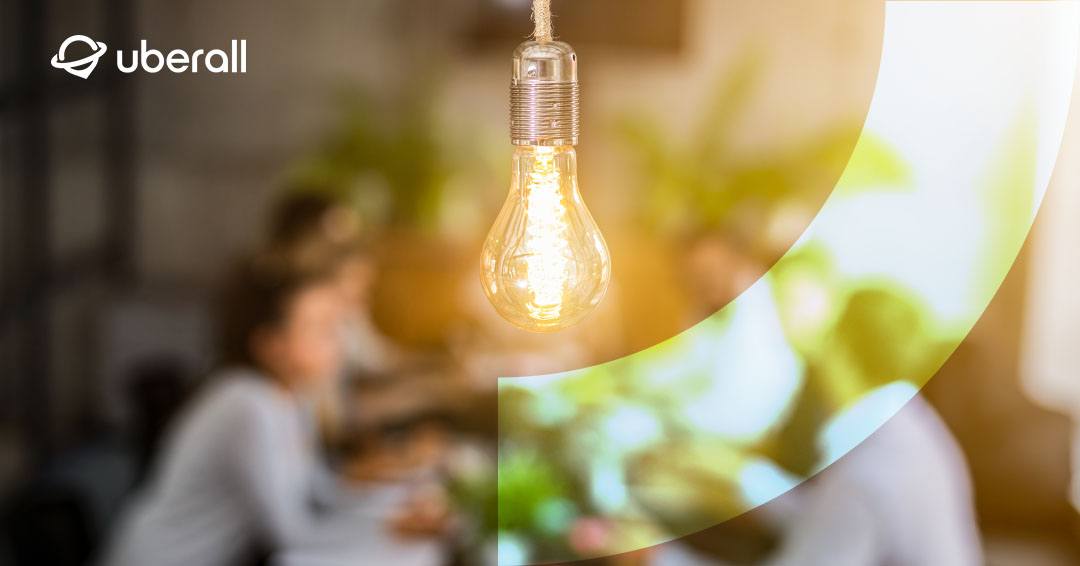 Summer is in full swing and so are the rapid changes in our industry. For one, there's a move to make travel-related online interactions more convenient for businesses and consumers. There's also a growing emphasis on immersive experiences and improving consumer trust. And Google has upped its AI game to take control of 'stale' listings data! What else is in store? Let's find out.
News About Google
Hotels Get a Streamlined Process for Updating Rates
With the summer holidays well underway comes an increase in travel and travel-related searches. To prepare for the surge in tourism, Google has offered business owners in the hospitality industry a much easier and more streamlined way of updating the rates displayed on their listings.
Google is supporting industry protocols that allow for consistent ways of booking, uploading new rates, and making changes.
Hotels don't need to upload complicated excel sheets to add their rates to their Google Business Profile (GBP). Now, they can directly make these changes on their profiles.
Hotels may also soon no longer require a Hotel Center Account to run paid campaigns.
What does this mean for you?
If you serve the hospitality industry, this is good news for you. Ensure your hotel data is updated on your GBP, across listings. This also means your hotel data is now going to be available on search and maps and that additional organic traffic will be directed to your website and location pages instead of third-party links.
Google to Introduce Immersive Indoor Views on Maps
Scoping out restaurants and other businesses will become more realistic with Google Maps introducing immersive 3D indoor views of business establishments in the latter half of 2022. The feature will be rolled out in select cities such as Los Angeles, London, New York, San Francisco, and Tokyo at the launch. More information on this is available here.
What does this mean for you?
This is great news for restaurant and retail businesses because consumers can make more informed purchase decisions with such rich visual input. The new Google feature also promises to result in more high-converting foot traffic. However, it may involve a bit of work on your end—by publishing high-quality photos and videos, you can ensure Google will be able to offer the best representation of your establishment in online listings.
Google Adds LGBTQ+ Owned Attribute to GBP
The most recent addition to Google Business Profiles is the LGBTQ+ owned attribute, which makes it easier for searchers to find LGBTQ+ owned businesses near them. Much like Google's black-owned and women-owned attributes, the LGBTQ+ attribute is designed to highlight minority-run businesses and community safe spaces. It's also a timely release as Pride Month draws to a close.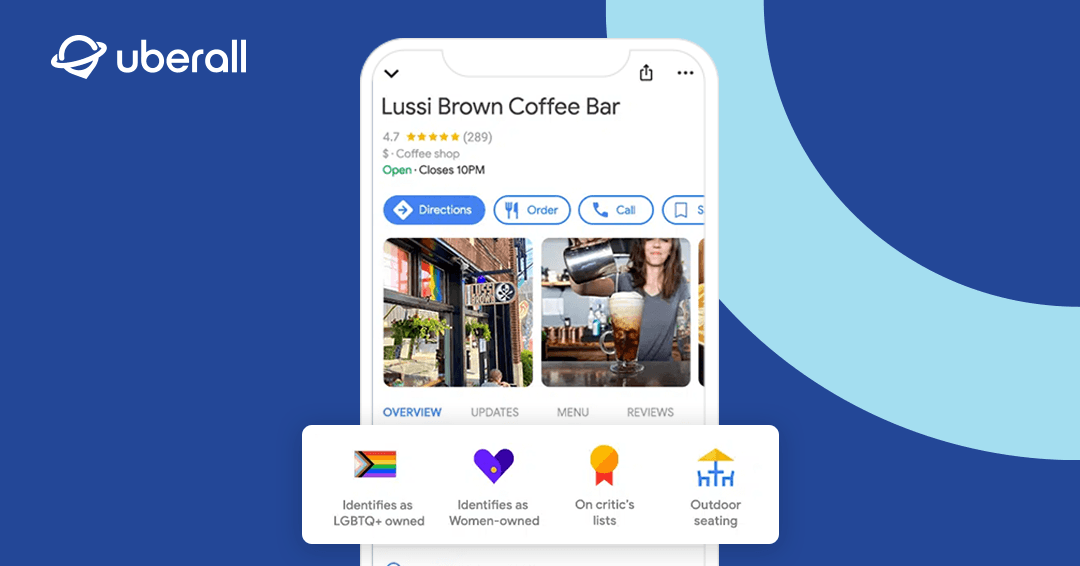 What does this mean for you?
These kinds of attributes help boost your business profile's visibility and potentially attract new customers. If your business is LGBTQ+ owned, why not try out this new feature and see how it affects your conversion rates?
Google's AI Tool May Update Your Business Hours
In a bid to improve consumer trust in listings data, Google announced in April that it may use its AI and Machine Learning tools to automatically update business hours if it suspects the info is stale or incorrect. Over the next six months, close to 20 million businesses may be affected by this update. Here's a more detailed post from us on whether it could affect you.
What does this mean for you?
You need to update your business hours on your listings regularly and keep your eye on a few more things, as suggested in the blog linked above, to make sure you and/or your clients avoid this automatic update by Google.
Virtual Food Businesses Can Now Have Google Business Profiles
Google has expanded the scope of Google Business Profile (GBP) by allowing food businesses only with virtual presence to have their own GBP, under certain conditions. With this development, the concept of local now expands to virtual-only businesses as well. Read more about this change in Google's policy here.
What does this mean for you?
In case you or any of your clients own a virtual food business, now your chances of online discovery are higher with a GBP listing—even if you do not have a physical address for your location. Will this feature be extended to 'local' businesses other than food and restaurants? We will have to wait and see.
Google Maps Showing 'Justifications' on Mobile Searches
If you type in a search query on Google Maps, you'll not only see the ratings for each location but also a 'justification' that suggests visiting or avoiding the business. These 'justifications' are snippets Google has pulled from customer reviews to help you make your decision. You can read more about this new map feature here.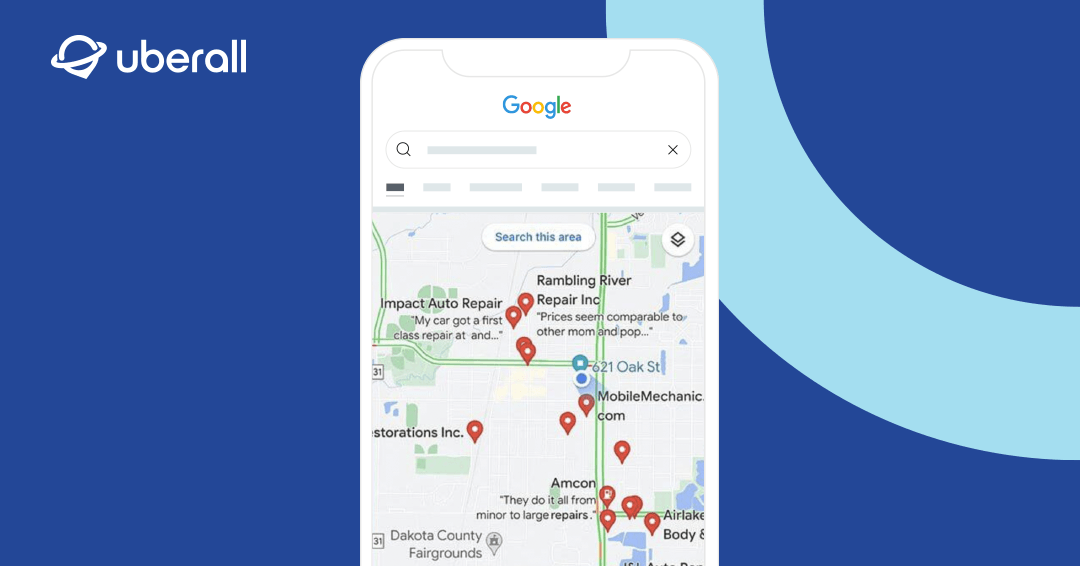 What does this mean for you?
This is all the more reason for you to build a community around your business by responding to reviews and engaging your audience in discussions. Justifications on maps are going to directly impact how your business shows up in searches, in the process influencing people to visit or avoid your establishment.
News About Bing
More Visibility for Ethical Fashion Brands
Shoppers will have more access to sustainable fashion products and the brands that sell them, with Microsoft Bing now lending more visibility to ethical brands via search. Last year, Bing also expanded its Ethical Shopping hub—a way for people to find fashion goods tagged as sustainable, eco-friendly, fairtrade, vegan, etc.—to Canada and the US. Shoppers looking for products in these categories will be guided by cues leading them to the right finds (as shown below), helping ethical businesses make sales.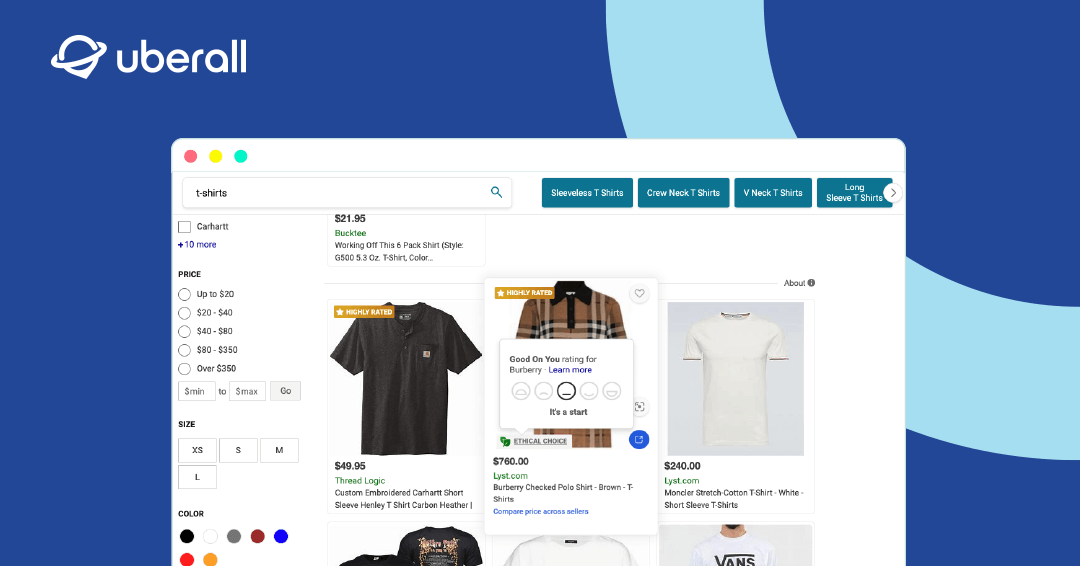 What does this mean for you?
If you are a business offering sustainable, eco-friendly fashion products, you must tag your products appropriately on Bing to make sure you are taking advantage of this useful feature.
News About Yelp
Request A Call Feature on Yelp
To ensure businesses don't lose out on leads due to missed calls, Yelp has launched a Request a Call feature with the aim of making phone tag a thing of the past. The feature allows prospective customers to leave contact information with a business and request specific call back hours. It's then up to the business to call back at the requested time or suggest another time. Here's some more information from Yelp about this new feature.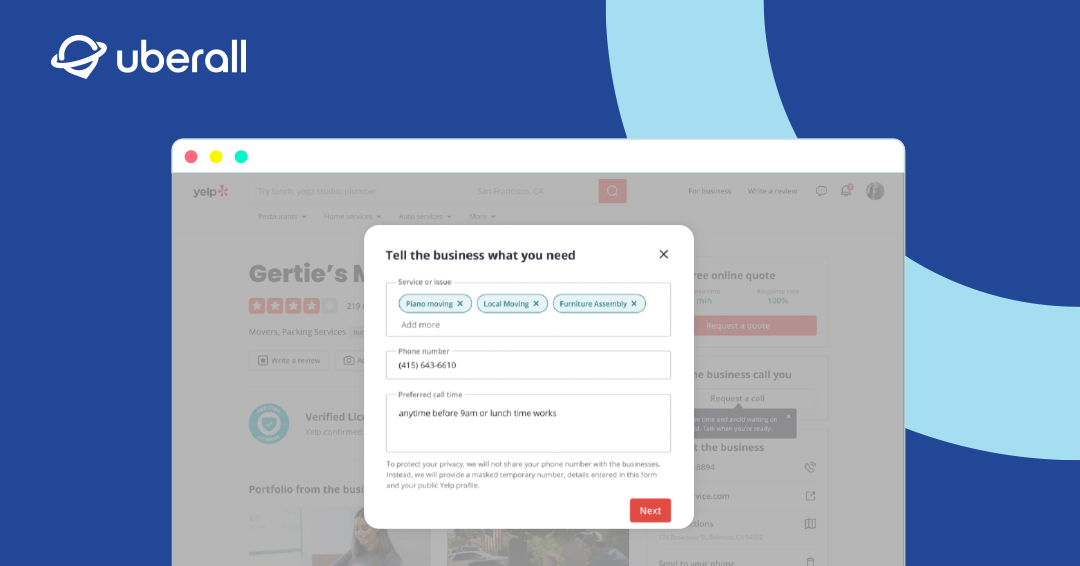 What does this mean for you?
This is a big reason to list on Yelp if you haven't already. Missed phone calls do not have to result in lost opportunities with this new Yelp feature.
Uber Explore Gets its Content from Yelp
Uber has recently launched Uber Explore, a product within the Uber app where customers can browse and book experiences, such as dinner reservations, fun activities, and more. The pool of experiences on Uber Explore will heavily rely on data from Yelp.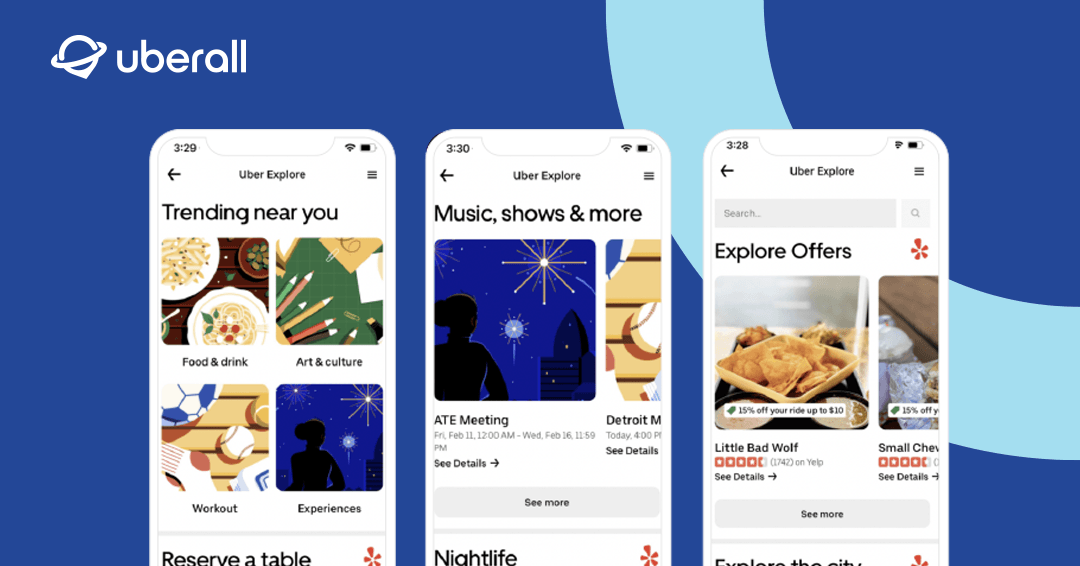 What does this mean for you?
This development is indicative of how important it is to diversify your listings to reach your customers in the most unexpected ways. If you are in the restaurant or food industry or offer any entertainment activities or services, you won't want to miss out on this opportunity.
News About Meta
Meta Announces Recurring Notifications Feature
Meta is set to enhance Messenger for business users with a new feature called Recurring Notifications. This will allow businesses to send several types of content, including newsletters, offers, and updates to "people who have opted in to receiving them." This opens up the possibility for businesses to connect with their prospects at any point during the customer journey.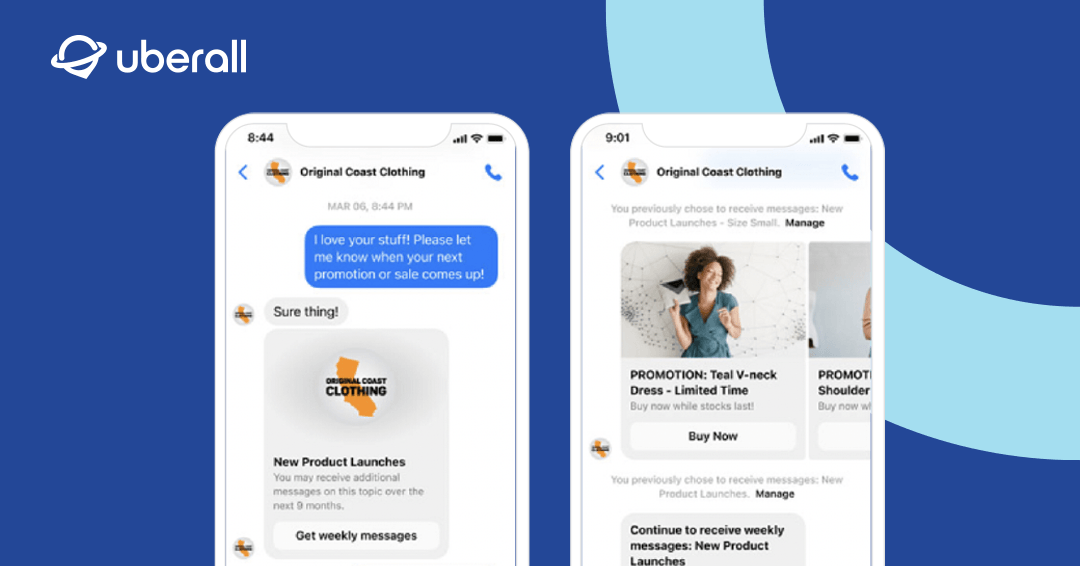 What does this mean for you?
Meta has always been a game-changer for businesses when it comes to local social media. However, with features like Recurring Notifications, it seems like Meta will become a more active driver of hybrid customer experiences. If you have a business page on Meta, make sure you are using this feature to connect and stay in touch with your customers and prospects.
New Meta Policies Aim to Fight Fake Reviews
In the US, Meta has begun targeting fake reviews appearing on its 'Ratings and Reviews' and 'Question and Answers' pages. Meta is using five key indicators to flag reviews as fake: manipulation, incentivization, irrelevance, graphic or inappropriate content, and spam. Automated technology and human reviewers will work together to weed out the fake reviews from the authentic ones—but be warned, as Meta is still working through some kinks in the review process.
What does this mean for you?
Fake reviews have been a long-standing issue on sites like Meta, but it appears the platform is finally taking action to rectify the problem. If you've ever relied on fake reviews, it could be time to think about your long-term business prospects and cut the cord. And even if all of your reviews are genuine, you should be on the lookout for the false positives and "Facebook jail" sentences that will likely result from Meta's flawed review processes.