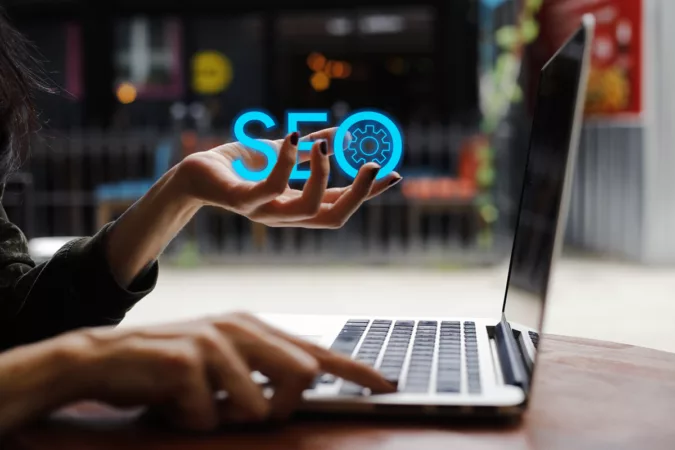 Blog
Local SEO Guide For Companies With Hundreds of Locations
For companies with hundreds or thousands of locations, Search Engine Optimization (SEO) is both one of the most important and challenging aspects of their digital presence.
This guide will go through the most critical local SEO ranking factors for Google's local pack, and provide actionable strategies for optimization.
While the majority of these tactics need to be implemented at the corporate level by a team of experienced SEO specialists, there are a few opportunities for regional or local managers to partake in the local SEO responsibilities as well' the latter will be pointed out throughout the article.
Before you begin using this guide, we highly recommend that you conduct a quick local SEO audit to gain a deeper understanding of your current local SEO performance and identify areas for improvement.
With that said, let's get right into it!
My Business Signals – Importance: 19%
Google My Business is an online listing that appears on Google Search and Google Maps when people are searching for businesses like yours.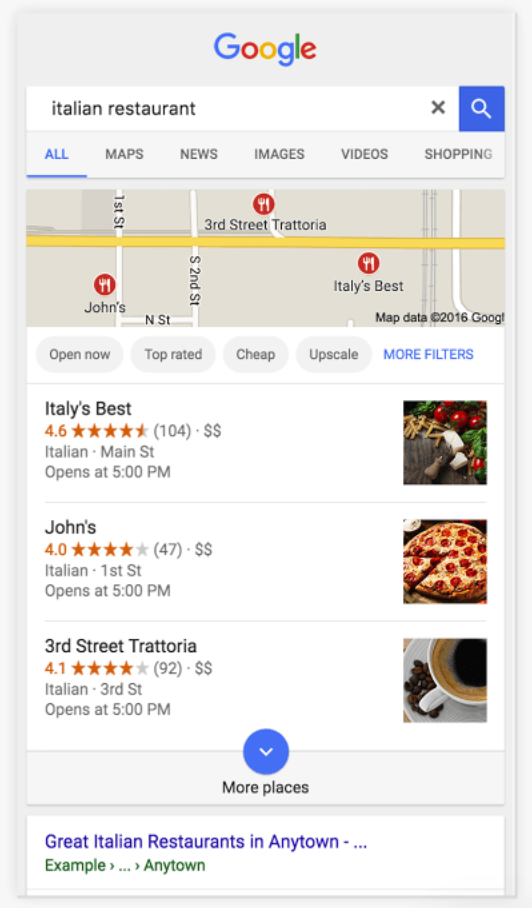 For multi-location businesses, you need to create a separate Google My Business for each of your business locations. Ideally, your SEO team should take this on with support from business locations. These local teams would provide the necessary visual assets to make each of your GMB listings stand out. It is also essential to ensure that there aren't any duplicates by first checking for any existing GMBs.
In the process of setting up Google My Business, you must fill out all the information for each of your location as accurately as possible by following Google's guidelines.
Specifically you want to pay attention to these fields:
Business Name: This is where you provide the official name of your business. As much as it might be tempting to add extra keywords here, you should stick to the name you use in the offline world.
Address: Entering the exact addresses will help searchers accurately find your business location that's nearest to them, so this step is tremendously important. Please note that the way your addresses are written and formatted should be consistent across all your online assets.
Phone: Add legitimacy to your GMB listings by adding local phone numbers.
Categories: Categories help your customers find services that interest them, so choose categories that are as specific to your business as possible. For instance, a sushi takeout restaurant should pick the category "Sushi Takeout" instead of "Takeout Restaurant". Bear in mind that you should avoid using categories as mere keywords or otherwise misrepresent your business. You can view the entire list of categories (in different languages) here.
Menu URLs: This is a must for businesses in the restaurant industry. Not only does it improve the quality of your GMB listing, a link to your menu will likely boost visibility and conversions.
Description: A unique description that is between 150-300 words is ideal to set your business apart. The best practice is to link to important parts of your website within your description, to help your customers get better acquainted with your brand.
Photos: People are naturally drawn to striking visuals. So don't squander the opportunity by uploading mediocre images. You have the chance to upload 3 images here: a profile image, a logo and a cover photo. Aim for large high-resolution photos that are sure to leave a great impression.
Virtual tour: Virtual tour is one of the latest additions by Google to GMB. With that in mind, if it is within your budget to hire a trusted photographer, create virtual tours to boost the visibility for each of your locations.
Besides adding and fine tuning the essential elements of your GMB profile, the following GMB-related ranking factors will also influence your local pack rankings:
Proximity: how close the searchers are to your establishment, which is determined by the location of the searcher and the location of your business. The former is based on either their IP or their phone's physical location, and the latter is based on the business' location's latitude-longitude coordinates
Category alignment: how much the categories of your business match the searcher's intent
Keyword in business titles: how much your business titles match the searcher's intent
To better illustrate the importance of GMB signals, one of our customers – a national convenience chain with over 700 locations – improved their 3-pack Google rankings for their primary target keyword after MomentFeed's geocoding process revealed 9.9 total miles of data inaccuracies on Google listings.
Once these were resolved they saw a significant increase in their listings across the nation.
Link Signals – Importance: 17%

Much like with traditional SEO, backlinks play a huge role in local SEO.
The most important elements within Link Signals are:
1. Inbound anchor text: the text that can be clicked to visit a page of your website
2.Linking domain authority: the quality and relevance of websites that are linking to your website
3.Linking domain quantity: the number of domains that link to your website
The common theme among these three elements is that you need to get locally relevant follow backlinks pointing to your website while ensuring that your linking profile looks natural to Google.
A great example of this was a home improvement multi-location brand working with MomentFeed. By directing a highly focused strategy on building referral traffic, they were able to rank locally for highly competitive keywords such as "pet supplies", usually dominated by their competitors.
Here are some tried-and-true ways that you can acquire local links:
Sponsor local events: Sponsoring local events that are relevant to your industry will usually get you a link on their website, at the minimum. This is ideally done at the franchise-level where franchisees could conduct searches for local events through Google or Meetup.com, and contact the local event hosts for sponsorship opportunities.
Create your own local Meetup: Franchisees could organize and manage their own Meetup groups. If these Meetup groups are interesting and successful enough, you will naturally acquire links from websites that highlight local events.
Get quoted in local publications: Find opportunities to be quoted in local publications by signing up for press request services that will connect your PR team to journalists. When pitching to these journalists, you could provide links to the appropriate local Facebook Page and landing page, which could be included in the published articles alongside your quote. The potential for earning high authority local links is huge.
Create local resources: Create a helpful local resource either from your own data or public data, and then reach out to local press to get coverage.
Enter local awards: If it's feasible, help your franchisees earn local awards as this not only gives you high-authority backlinks but also boosts your brand image in the eyes of local consumers.
Local PR: Dedicating some efforts into local PR outreach could yield coverage online from local publications.
Offer scholarships and internships: Offering scholarships and internship opportunities to university students might be a great way to earn you links from local universities.
Besides these linking tactics, conducting competitive link research on a regular basis is essential to uncovering new linking opportunities that could potentially be replicated.
Bear in mind that, unlike traditional SEO, local link building campaigns place a higher emphasis on attracting highly relevant and authoritative links from local sources.
On-Page Signals – Importance: 14%

To get your local SEO linking campaign off the ground, on-page signals are a key factor that you should not dismiss. Create separate landing pages for each of your business locations and optimize each one of them.
For the sake of briefness, this guide will only focus on on-page elements that pertain specifically to local SEO.
Mobile-friendliness: As expected, Google prefers mobile-friendly websites (that is becoming more apparent with each algorithm update) and that is especially true for local searches. You can use this online tool to test your site's mobile-friendliness. Additionally, Google Search Console is another great place to get feedback on your website's mobile usability.
Site speed: Your loading speed not only impacts the user experience of your landing pages, but it is also a factor in Google's algorithm. Google has created this resource to help web developers maximize site speed. Ideally you want your pages to load in under 3 seconds.
Presence of NAP: Including the name, address and phone number of each of your business locations on their respective local pages is definitely the key to success. This should be a simple step, but here are a few things to note:
Use local phone numbers instead of your 1-800 number
Avoid keyword stuffing
Everything should match the information on your GMB profiles
Make sure that the information is not presented as an image (for ease of crawlability)
Presence of keywords: Because we're optimizing for local SEO, your keyword should always be accompanied by the city and state for each location. Here's where your keyword, city and state should appear on your landing pages:
Title tag
H1 tag
Landing page URL
Body of content
Image ALT text
To avoid coming across as spam, your content should be relevant, unique and most importantly, provides a natural context for your target keyword.
Citation Signals – Importance: 13%
Getting citations becomes a natural next step after setting up the Google My Business profiles and optimizing landing pages. A citation includes your business' name, address and local phone number (NAP), and you need to get citations for all your business locations.
While building quality citation profiles takes time, it's definitely worth it as it can have a huge impact on the SEO rankings of each of your locations.
Before proceeding to build local citations, make sure to conduct citation profile audits for each of your locations first, as this would uncover any issues that you could fix right away.
While citations might seem easier to obtain than backlinks because the former does not need to be linked' a simple mention of the NAP would suffice. Nonetheless, here are some sources for quality local citations:
Competitors: It's always a good idea for one of your SEO specialists to conduct competitive link research to find the citations that your local competitors have gotten and try to replicate their efforts.
Authoritative Networks: Networks are a gold mine for sourcing citations because of the sheer amount of networks out there whose sole purpose is to curate business listings. In general, the more authoritative your citations are, the more likely your pages will be shown more prominently in Google's search results page.
There are three main types of networks that you can aim for: top national networks, industry networks and locally relevant networks.
Top national sources for citations (in no specific order):
Bing Places
Yelp
Facebook
YouTube (include NAP and website URL and other info in the video description)
Yellow Pages
Express Update
Factual
Neustar Localeze
Angie's List
FourSquare
MapQuest
Industry sources for citations: Moz has put together an extensive list of citations (categorized by industry) that you can refer to in order to manually submit your citations.
If you're in the restaurant business, here is a list of citation sources you can leverage by Brightlocal.
Local sources for citations: A great place to start would be your cities' business directory and chamber of commerce sites. Another effective way to find quality local directories would be to google your keywords and the cities that your business operates in to see which directories pop up in the search results.
The following two factors are equally important:
Citation volume: The volume of local citations that feature your business.
IYP/aggregator NAP consistency: We cannot stress enough the importance of consistency. You need to ensure that your NAPs on your website, Google My Business listings and citation sources are identical in every way.
Manually updating NAPs across the web would take an insurmountable amount of time and effort, but with MomentFeed, the process of resolving inconsistent information on listings becomes a walk in the park. One of our customers in the convenience business saw a 30% increase in rankings for "convenience store" and 100% increase in rankings for "gas station" by following this process using MomentFeed.
Review Signals – Importance: 13%

Online reviews have become the pillar of local SEO, not only because they have a direct impact on local search rankings but also because customers are naturally drawn to businesses with positive reviews.
Google takes into account both native Google+ Local reviews as well as reviews posted on third party sites such as Yelp and Facebook.
Specifically, the review signals include the following:
Review quantity: the overall quantity of reviews, both on Google+ Local and third-party sites
Review velocity: the speed with which native Google reviews have been obtained
Review diversity: the diversity of third-party sites where reviews have been written about your business
Keep in mind that some review sites, such as Yelp, actively discourage businesses from directly soliciting reviews, while Google, on the other hand, encourages it. Make sure to read each review site's terms and conditions to make sure that you follow the proper procedures.
With that said, here are some tips that will help you generate a constant flow of good online reviews for each of your business locations:
Keep your profile on review sites updated: Before driving customers to any review sites, ensure that the information presented on there is accurate.
Tap into existing customer base: This is a low-hanging fruit if you could get in touch with your existing base of loyal customers and entice them to write reviews. This can be done as part of an ongoing email campaign, so it doesn't overwhelm your customers.
Provide instructions on your website: Leaving reviews isn't intuitive to everyone, especially your non-technical customers, so why not make it easy for them? You could create a page on your website that provides step-by-step instructions for leaving reviews.
Link to review sites: What better way to gently nudge your customers to write reviews than linking to your review profiles on your website. This could be part of your website's footer or your email signature.
Handout cards/flyers with review site information: Create cards or flyers that include URLs to the most important review sites such as TripAdvisor and Yelp, and work with your local businesses' staff to hand them out to.
Social Signals – Importance: 4%
Social signals are determined by the number of followers you have as well as the social engagement you receive on your social media pages (predominantly Google, Facebook and Twitter).
The best practices for boosting social media engagement for your local pages is similar to those for your national brand page, but the former places a greater emphasis on creating locally relevant social media posts.
This is where MomentFeed comes in.
MomentFeed customers can create social posts that contain information pertaining specifically to each location without the hassle of manually doing so for each page. Thus increasing the rate with which people share, like and comment on their content.
We have routinely observed instances where localized social content strategies significantly affected local search rankings in a positive way.
Gain a Competitive Edge
According to stats by Go-Globe, 3-pack local results appear in 93% of Google searches with local intent while 50% of consumers visited a store within 24 hours after conducting a local search on their mobile devices.
Whether you're tackling local SEO in house or through an agency, upping your local SEO game is critical to moving up Google's local pack search results and gaining an edge against local competitors.
Once you've implemented these strategies, go back out there and conduct another audit. Without a doubt you'll see real improvements.
Still not convinced? Check out these success stories from our customers.