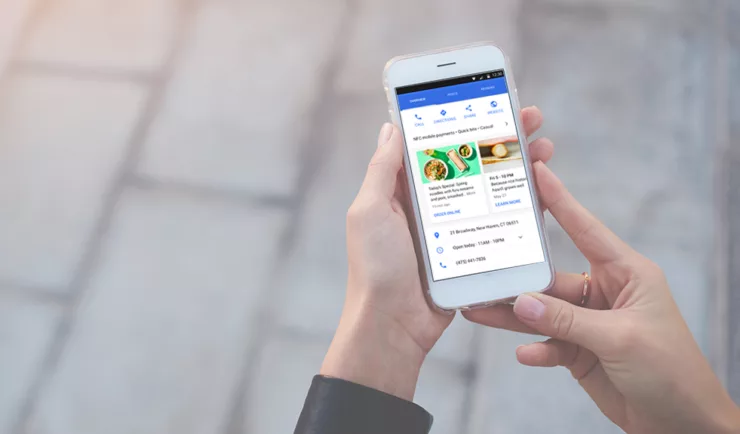 Blogs
Google Posts Are Here to Stay!
In late March, Google My Business (GMB) reopened Google Posts for use by multi-location brands through its API. Have you taken advantage yet? If not, you definitely should. Why? Because in a world of declining organic reach and impressions, there's significant media value in Google Posts. And did I mention it's virtually free, other than the time it takes to post. This makes Google Posts a low-cost, high-ROI digital strategy that will not only increase your local market reach, impressions, recall, and engagement rates, they will also help you generate traffic to your website or store, and are even reported to improve your overall local search ranking!
While some specifics about Google Posts for multi-location businesses remain in Google's infamous black box, this hopefully informative blog post will give you:
Brief background on Google Posts for multi-location businesses
Insight from early adopter MomentFeed clients who took advantage and what we're learning
Detail on the Local SEO value we (and the wider SEO community) believe Google Posts drive
High-level information for clients on how to publish Google Posts through MomentFeed
Brief Background on Google Posts for Multi-Location Businesses
After making their debut in the 2016 presidential election, Google Posts were made available to multi-location businesses (aka the Avis Budgets, Jamba Juices, and Red Lobsters of the world) through the GMB's Trusted Tester program in March 2017. Google Posts quickly enabled partners like MomentFeed to provide a powerful new local marketing tool to clients in a world where organic digital media value had all but disappeared. Even better was that this media was being viewed by an audience with clear intent. Searchers for your business or category on Google Search and Maps!
Well, it was perhaps too much of a success. Eventually Google recognized the advertising benefit it was freely giving away that could cannibalize local ad revenue from lucrative national advertising accounts. Google changed course and restricted Google Posts to businesses with less than 10 locations and that has been our reality ever since. Mom-and-pop stores retained access (later enabled natively in GMB platform as well as through API), while multi-location businesses could only look on with envy.
Fast forward to March 2020, with COVID-19 quickly impacting store operations, foot-traffic, sales and frankly, our sanity, good-guy Google stepped up and made free tools available to businesses to help them weather through. One of those tools was the [now likely permanent] (re)release of Google Posts for multi-location businesses!
Under our GMBTrusted Tester partnership (a role MomentFeed has proudly held since 2015), with our usual early access benefits, we were quickly able to dig up previously released code for the feature and ship it out to all clients shortly after Google's announcement.
Since then, our clients have been enjoying some great returns, despite the lower placement on the listing knowledge panel / business profile.
Early MomentFeed Client Results with Google Posts
Below is some data on the organic impressions or views generated in last 30 days from three clients in three different verticals compared to what their local page publishing efforts on both Google and Facebook yielded them: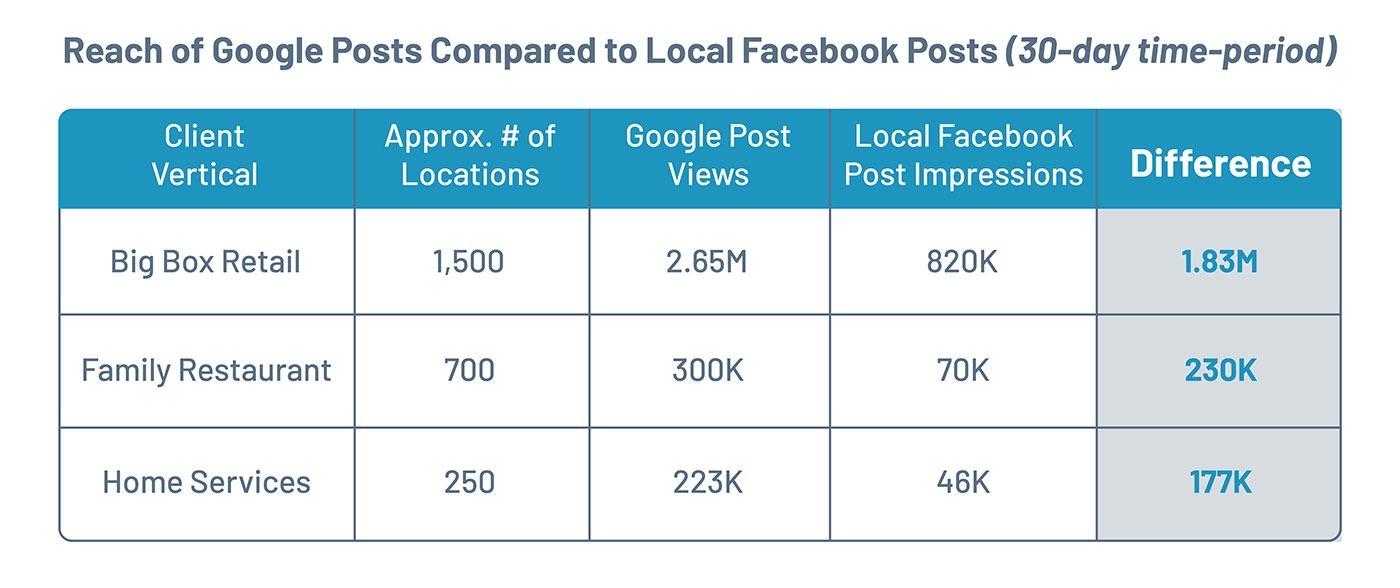 FYIs on this comparison:
The Facebook numbers are post impressions (organic + viral) on the brand's location pages only.
All three clients posted to their local Facebook pages more often than they did to Google Posts.
Google Post views are driven by the search volume of your branded and unbranded keywords, which make your GMB listing appear (so again, there's a clear signal of intent in the audience viewing your posts on Google), while on Facebook, impressions are derived from your already opted-in fan or follower base and their connections (a mixed affinity and socially validated audience).
What we're quickly learning:
Publishing content on Google Posts can drive significantly higher media value than publishing on Facebook Location Pages and with less actual publishing effort required!
You can quickly (and very significantly) increase local market impressions of your advertising, promotions, and store updates by simply publishing Google Posts alongside Facebook. In reality, the same content will often be appropriate to share to both channels.
Those impression numbers have media value. According to Adstage (Google Ads Partner) the low end CPM for a display ad across Google in 2019 was $2. If you choose to compare Google Posts to a Search advertisement (given they only appear when a user is searching for something vs. just browsing the web) the low end CPM is higher at $3.
Taking our Retail client, the 2.65M impressions their Posts generated are worth a $5,000-$8,000 monthly ad buy on Google! For users of MomentFeed and similar, for a single feature in an often broad local search marketing program with many other facets of value, this a large incremental ROI.
Also remember, those are only average CPMs, many clients pay far higher as they advertise in hyper-competitive categories like car rental, home services and food delivery where marketplaces are popular (e.g. Grubhub, Expedia and HomeAdvisor).

Google Posts Influence on Local SEO Ranking
Beyond the media value and the incremental click or foot traffic Google Posts can drive, there's also strong belief with some proof across the SEO community that Google Posts help with ranking. It's still too early to tell if this is bonafide, especially for multi-location businesses, but given the media value and click through rate (CTR) improvements Google Posts clearly bring, this is a bonus benefit in our eyes.
If Google Posts really do impact ranking, they'll likely help performance under your category keywords and also the keywords you mention (which, for example for a restaurant brand, is often around menu items or if you're a retailer, your products, or in Home Services the services you provide).
Here's the theory behind this:
There's good signals here and this report by fellow GMB Trusted Tester agency, Sterling Sky quantitatively points to boosted rank performance thanks to Google Posts at least for small and medium businesses.
How MomentFeed clients can take action:
Contact your CSM or check out our Knowledge base article. We're trained and have resources ready to quickly get you up and Google Posting!
Skim the below and because MomentFeed is so easy to use anyways, you'll be Posting in no time!
How Our Clients Can Use Google Posts:
Navigate to the 'Social Media' tab in your MomentFeed account. Click 'Create' to launch the publishing wizard and select Google as your channel.
First, you'll notice there are two types of Google Posts:
Standard Posts
COVID-19 Alert
Key differences:
COVID-19 Alerts are higher in the business profile than standard posts.
COVID-19 Alerts expire (auto-archive themselves) after 28 days, standard posts expire after a week.
COVID-19 Alerts are text and link only, Standard Posts can include photos and a linked CTA button.
CTA button options available in MomentFeed:
Learn More
Book
Order
Sign Up
Shop
The CTAs are set by GMB and not customizable. You can always have an additional CTA in your Google Post text.
If you're a single location business or willing to go (painfully) location by location, native in GMB you can post videos, but as there's no data available yet to show the incremental benefit of publishing photo vs. videos on Google Posts, we're not recommending you spend the time until it's available through API.
Tracking:
To monitor the click traffic, links you share through Google Posts are trackable through UTM codes as long as you have the tracking report set up in Google Analytics. UTM coded URLs are easily stored in MomentFeed alongside your core website, local store page and other links through using our custom fields feature.
To quantify the views (aka impressions) your Google Posts get, you can simply click over to MomentFeed's recently launched dashboard where you can view global, group and per location insights and export the data for your own comparisons as needed.
For more local marketing strategies to help accelerate your recovery and return to growth mode, download our newest, Local Marketing Checklist to Drive a Quick Recovery. Even better, speak to one of our marketing experts today to see how your business might benefit from MomentFeed.
Learn how MomentFeed can benefit your business.