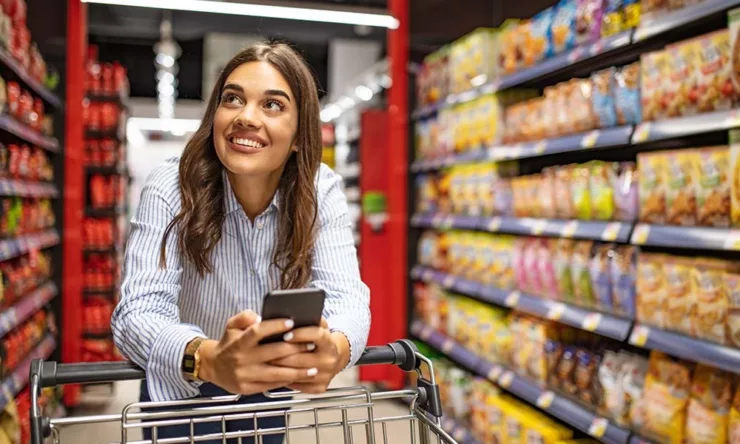 Blog
Google My Business Tips for Multi-Location Brands in 2021
I recently had the pleasure of chatting with Joy Hawkins, local SEO expert and owner of the agency Sterling Sky. In our recent webinar, we discussed feature updates, as well as Google My Business (GMB) tips for multi-location brands in 2021.
In this article, I recap some of the noteworthy GMB changes – driven in large part by COVID – as well as features we believe will have a lasting impact for multi-location business, and tips for how to lean into these changes and dominate GMB in 2021.
But first, why does Google matter? It drives visibility with nearby consumers more than anything else. In fact:

‌Google is also the number one non-direct source of all web traffic for MomentFeed clients, driving more than 95% of our clients leads, and dominating in terms of click-to-call, click-to-directions, and click-to-website.

Lean Into New Google My Business Features
To gain a competitive edge in local search, definitely lean into new Google My Business features early. The earlier you act, the less competition you'll have for ranking and conversion boosts. Then, when the laggards get on board, you're already far ahead.
During COVID, Google made a lot of changes to GMB that will have a lasting impact on profile rank. Here, I outline what's new and offer tips for multi-location businesses to optimize their GMB listings for visibility in the Google 3-Pack. First, let's dive into what's new:

Google Posts Go Mainstream – Google Posts were previously only available for businesses with 10 or fewer locations, but Google decided to offer them to all businesses amid COVID to help with important, timely updates. We believe this feature is here to stay. This is good news for multi-location businesses.

Pro tip: Make sure to use important keywords that your prospects are searching for in your Google Posts to help your brand appear more relevant to the searchers query. Google often pulls snippets from Google Posts into the Google 3-Pack display as a "justification."

Attributes Matter More Than Ever – Attributes are additional pieces of information that you can add about your business. During the pandemic, Google added several extra attributes related to health and safety and as consumers got into the habit of checking these attributes, it has made this GMB field even more important. Some of new attributes include:

‌Curbside pickup

‌No-contact delivery

‌Online services

Mask required

Safety dividers at checkout

Staff required to disinfect surfaces between visits



Secondary Hours Have Arrived – For larger and multi-services businesses, this is a long-awaited change. If you're a retailer with a pharmacy, a gas station with a car wash, or any other business with multiple sets of open hours at the same location, you can now list those secondary hours.

Fewer Reviews – Because people visited fewer businesses in 2020 due to COVID restrictions, consumers posted fewer reviews on Google in 2020 than they did in 2019. This makes the remaining reviews even more important.
9 Google My Business Predictions and Tips for Multi-Location Brands
As COVID ends and people start getting out more, location-based marketing will become even more crucial for multi-location brands. Here's what you should be doing to maximize visibility.
‌1. Rank in the Top Two on the Local Pack
In March of 2021, mobile users started to see two search results instead of three for Google's local pack. The change seems only to apply to certain industries, but about half of polled users can already see it. If you're ranking in either of the top two positions, you could see your impressions and clicks rise dramatically. If you're in position three, you could see the opposite.
2. Watch Local Services Ads
Once reserved for home services like pest control and locksmiths, Google has expanded Local Services Ads to include professional services like realtors and lawyers. These ads, with their photos, reviews, and other appealing features, take focus from traditional paid advertising.
‌When Joy looked at the stats for about 100 lawyers, she found they lost only about five clicks per month after the introduction of Local Services Ads, but there were sharp declines in their Google Ads performance.
‌If local ads enter the picture for your industry, watch your paid ad performance carefully.
‌3. Google Posts Are Here to Stay
Google My Business reopened Google Posts for multi-location brands in March of 2020, as a way of helping companies communicate with customers during the pandemic. It got great adoption and it wasn't as competitive with Google's paid advertising as Local Services Ads.
‌It hasn't always been clear whether multi-location brands would still be able to use this feature after the pandemic. But now that Google has removed its API warning, we think Posts will become permanent for all users.
4. List Your Years in Business
GMB listings now have a field where brands can display how long they've been in business, and multi-location brands have been wondering how to use this feature. Should you list how long the entire brand has been around, or give the opening date for a particular location?
According to Joy's contacts at Google, it's the brand's decision. If you're a service-oriented business and longevity is a major selling point, it might be best to use the brand's opening date.
‌Other businesses might choose to use the location's opening date. Local consumers will care more that there's a new McDonald's location in town, for example, than how many years McDonald's as a whole has been operating.
5. Focus on These Fields
Most GMB fields don't influence your ranking but do help you get conversions. They provide people with the information they need to choose you, but they don't influence where you show up. Here are five fields that do matter.

Business Name - You're likely to get more clicks if your business name is relevant to the search term you want to rank for. For example, if your business name is Starbucks Coffee, listing it that way – including the keyword 'coffee' – would probably get you more clicks than simply listing as Starbucks.

Website - Most multi-location brands get better results by linking to location-specific pages instead of overall brand pages. That won't be the case for every single business, so be sure to look at your organic results for key search terms and link to whichever page ranks higher.

Attributes - Some attributes do help you with ranking. In one study, listing a business as "woman-led" had a noticeable impact on a business's ranking for "female" and "women"-related keywords. "Black-owned" would likely have a similar impact.

Reviews - Reviews still matter, even though there are fewer of them. Star rating, keywords within review text, and quantity of ratings all impact how you rank.

‌Business Categories - Every month, Google adds new available business categories. If a new category describes your business better than your current primary category, updating it as soon as possible will give you a first mover advantage. For example, a few months ago, a shawarma restaurant used to have to describe itself as a "Mediterranean restaurant," or something similar. Now, these eateries can list "shawarma restaurant" as their primary category and get huge boosts in visibility.
Pro Tip: Check your GMB listings regularly to see if there have been category updates applicable to your business. Joy Hawkins' Local SEO agency, Sterling Sky, keeps an updated list of GMB categories. Bookmark this page and scan at least monthly for updates in your category.

‌6. Drive Conversions With These Features
Other GMB features will have less influence on your ranking – but will help you get attention and conversions.
Google Posts - Joy's company found that "offer" posts – coupons, promotions, etc. – perform the best out of all Google Post types. COVID-related posts also perform well. These may not be visible or relevant long-term, but at the moment, they're still attention-grabbing and highly prominent.

Menus - If you have a food or drink menu, fill it out completely and make sure it's accurate.

Product Listings - This recently launched feature improves a brand's visibility, especially on desktop, and you don't need to sell products to use it. Joy's company fills out this field for all of its service-based businesses. Insurance companies get listings for health insurance, auto insurance, and other categories, and this feature helps those companies get seen.

Photos - Some industries rely on photos more than others. Shots of a location's office and team could be enough for an insurance company, but product- and service-based businesses like retailers, restaurants, and car dealerships should have plenty of updated photos. In any case, your photos should be unique to your business. Using stock photos can hurt your ranking. Read our recent post for more tips on how to optimize your Google My Business photos.
‌7. Focus on the Complete Review
Google is now asking customers not just for star ratings and review text, but also for photos and attributes related to the customer's experience. When you look for reputation management services, prioritize vendors that will provide this context, so you can respond to reviews more effectively.
‌8. Keep Review Trust High
According to Reviews.com, 38.5% of people trust online reviews less than they did five years ago. It's a growing problem for many reasons, including the increasing prevalence of fake reviews.
‌This doesn't mean reviews aren't important. Quite the contrary – our recent customer survey showed that ratings are just as important as brand familiarity for getting conversions from the 3-Pack. Therefore, it's more important than ever to monitor and manage your reviews. Be on the lookout for fake reviews and flag them within the relevant platform.
‌9. Expect Polarizing Opinions
Over the past five years, the percentage of five-star and one-star reviews have been increasing. People are now more likely to express extreme happiness or intense dissatisfaction as the two, three, and four-star reviews slowly die off.
‌Assuming this trend continues, it will be even more important to provide great service and make customers happy. Respond quickly and effectively to reviews, as well — your one-star reviewers might change their tune.

Put GMB to Work For Your Brand
Google My Business changes all the time, and acting on those changes quickly can help your multi-location brand get ahead. Right now, that means making the most of trending features like Posts and Attributes and updating your categories.
Make full use of features like Menu and Products, and don't forget to keep an eye on your reviews. To get more details and learn more about managing your GMB profile, check out the full webinar.

Learn how to dominate Google My Business in 2021