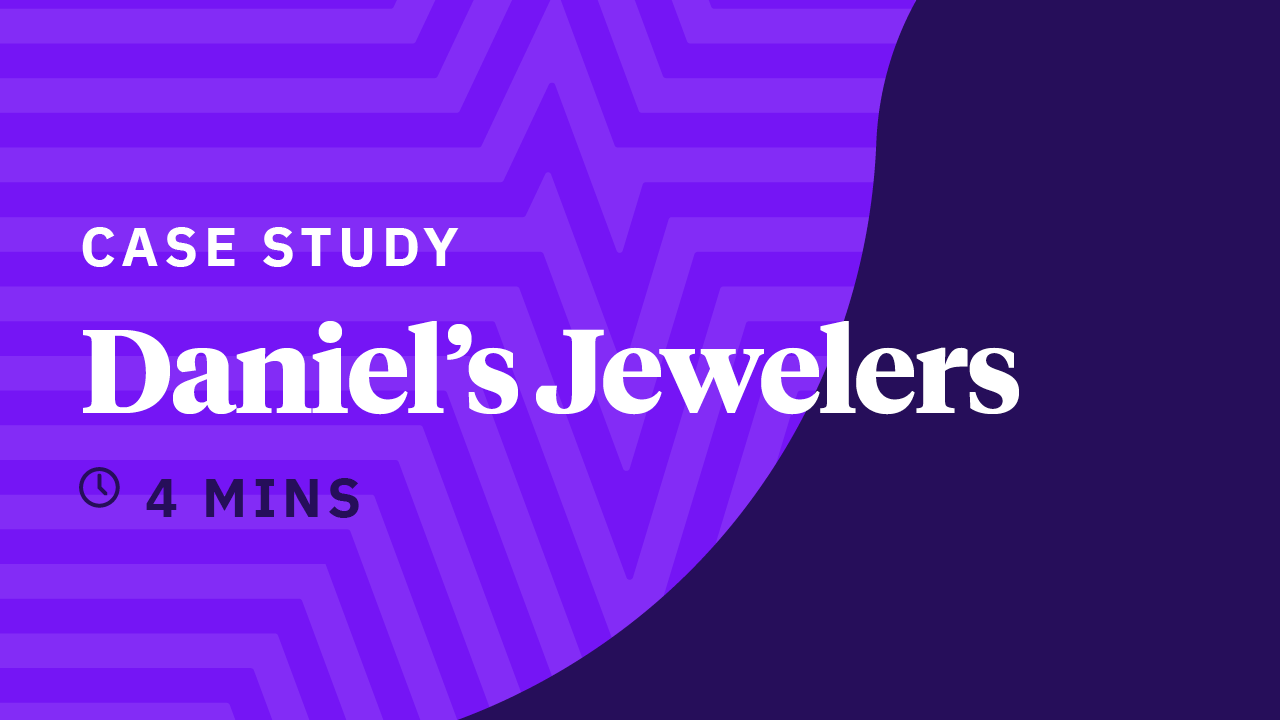 Since 1948, Daniel's Jewelers has built a shining reputation in the jewelry space as one of the fastest growing jewelry companies in the United States. Their unique selling point? Everyone gets approved for financing, regardless of their credit history.
With 100+ stores nationwide and a best-in-class e-commerce site, the retail chain takes pride in offering an amazing customer experience with their fine jewelry products and service.
Uberall has been partnering with Daniel's Jewelers for over three years. In that time, we've built an effective partnership designed to efficiently manage hyper-local, high-conversation social ads. Here's how we've done it:

Shining Bright, Selling Right: The Local Sales Challenge
Daniel's Jewelers has dozens of locations and a brilliant local sales strategy, but found themselves facing a dilemma: Drawing in customers within driving distance of each one-day-sale location.
With a goal of achieving 12-15 location-specific sales per week, it goes without saying that meticulous planning and precise execution are essential for Daniel's Jewelers. These sales require months of preparation, from merchandise selection to the creation of flyers and advertisements. Crucially, the challenge is to make these sales events relevant to a local audience, creating a sense of urgency and timed exclusivity within a 10-15 mile radius of each store.
Running multiple campaigns simultaneously on Meta became too overwhelming, and Daniel's Jewelers needed a solution to streamline their social advertising efforts.

Uberall: Your Gem for Streamlined Social Advertising
In a bid to make advertising efforts more efficient, Daniel's Jewelers turned to Uberall, whose versatile platform caters to multi-location businesses. With a focus on both organic and paid social media approaches, Uberall Social centralizes the management of social advertising across various channels, eliminating the need to navigate individual platforms like Google, Facebook, and Instagram separately.
The Uberall platform also allows for customization, accommodating everything from corporate-controlled to franchisee-managed strategies, and national to local targeting—exactly what Daniel's Jewelers needed for its social media strategy.
Two years after discovering Uberall's adaptable platform, Daniel's Jewelers continues to benefit from its scalability, particularly from features such as easy post management and segmentation. This allows them to easily categorize and customize posts with specific details like addresses and phone numbers.

Explore the Full Podcast With Daniel's Jewelers
Brilliant Outcomes: Daniel's Jewelers' Social Ad Success Story
The results Daniel's Jewelers has achieved through Uberall's platform have been nothing short of remarkable. By leveraging the platform's ad creation capabilities, they successfully drive more foot traffic to their stores on a daily basis.
Uberall's flexibility in audience targeting, from granular to broad, allows for tailored ad campaigns that consider factors like interests, gender, and age—an approach that often results in higher conversion rates.
The team at Daniel's Jewelers has devised an ingenious strategy, using the placeholders in the ad descriptions to add store-specific phone numbers that attract local customers. The Uberall campaign builder provides them with a streamlined process for ad creation and publishing guidelines, plus allows Meta's AI to optimize for short-term campaigns—perfect for their one-day sales events.
Tracking performance metrics was made easy with Uberall's built-in data function, which displays impressions and clicks. For instance, in an August 2023 sale in Glendale, Arizona, Daniel's Jewelers saw 6034 ad impressions and 58 clicks, promising markers of a successful sale.
Daniel's Jewelers has also installed traffic counters in their stores, allowing them to compare sale-day foot traffic to regular days and previous one-day sales events. For the August sale in Glendale, that store location saw a 177% increase in traffic for the sale day when compared to regular traffic.
This data provides insights into the effectiveness of their social ads and shows significantly higher foot traffic for sale locations.
Crafting a Shiny New Customer Journey
Tools like Uberall make it easy for businesses to adapt and try new things, regardless of scale. Via an iterative approach to advertising, Daniel's Jewelers has used Uberall's analytics to extend their advertising window from just one day to two or three days before the event.
This adjustment now allows potential customers more time to plan their visit, effectively guiding them through the customer journey towards conversion.

Make Social Ads a Shining Success
Uberall's platform has empowered Daniel's Jewelers to take their social advertising to new heights. By leveraging hyper-local, high-conversion ads and optimizing the customer journey, they not only increased foot traffic but also achieved impressive sales results. With Uberall, Daniel's Jewelers proves that shining bright and selling right go hand in hand.

Maximize Your Growth With Hyper-Targeted Social Ads