Overview
The Challenge
AGROLA gas stations were missing from many GPS navigation systems, causing the company to lose out on sales opportunities.
The Solution
Thanks to Uberall CoreX, AGROLA now lists all of its gas stations on all major platforms and has taken control of its online customer ratings.
The Results
80% more views on Google and Google Maps
70% more conversions
20x increase in responsiveness to reviews
The year is 2016: Almost every car has a GPS navigation system to guide them to the nearest gas station.
As one of the leading Swiss franchise service providers for mobility and energy supply, AGROLA AG was facing an important question regarding gas stations and convenience stores:
How do we list gas stations on GPS?
AGROLA is one of Switzerland's biggest energy suppliers: Its 424 gas stations provide motorists with fuel and other provisions, right from to-go salads and bread to bottles of wine, magazines, and more.
Especially in the rural areas, AGROLA gas stations have a regular clientele and are well known. For outsiders, however, searching is unavoidable and this is where AGROLA could lose out to competition.
For AGROLA's marketing team, it was clear that searchability on GPS navigation systems was the way forward to reach a new target audience and generate additional profits.
The team needed a solution to ensure their visibility across all the digital channels used by motorists to search for gas stations and convenience stores. Every location would also need to be presented in an appealing way to attract new customers. For example, they should each display images, positive reviews and all other location information.
However, since AGROLA AG is a franchise company, the solution also had to be user friendly. All gas station owners would then be able to adapt information such as opening hours, product and service offerings, or contact details independently and easily.
The team took these requirements to software provider Navads, now part of Uberall, and at the time specialized on visibility in GPS navigation systems.
Spoiler: AGROLA would be able to get much more than 'just' entries in the main GPS navigation systems.

"Centralizing location data to enable real scalability is completely in keeping with the times. Using Uberall CoreX to do this gives us a straightforward way of including more than 400 gas stations in an extensive network of GPS navigation systems and search engines. And it is easier for our customers to find our AGROLA gas stations and services."
Gas stations visible on all navigation systems – from Benz to BMW, TomTom, and Google
Uberall CoreX centralizes information on all AGROLA AG's gas stations, optimizes the data, and forwards it to a variety of channels.In addition to all the prevalent GPS navigation systems, Uberall CoreX also displays the AGROLA gas stations on Google, Bing, Apple, and any other platforms that may be used to search for 'refueling' and 'gas station' services.The data on the individual gas stations is centralized on the Uberall platform to which the franchise partners have individual access. If changes are made to opening hours, telephone numbers, products and services, or other important information, the franchisees only have to adjust the information once and it will be automatically updated correctly across all directories.

Taking control of the customer experience
"Reviews are of critical importance in the communication with our customers. They give us, as the marketing team, an insight into which services customers value and where there is room for improvement. With the Uberall platform, it is particularly easy for me to keep track of the numerous reviews and to pass on the feedback to the teams responsible."
The owners of AGROLA gas stations receive training on how to independently manage specific local information, complete their online profiles, and keep them up to date. At the same time, the AGROLA headquarters itself retains control over the global brand image and reputation:
The marketing team can centrally upload images, and adapt them for all the stations at the click of a mouse. And the team can also stay informed on how customers feel about the brand by monitoring online reviews.
Thanks to Uberall CoreX, AGROLA AG marketing specialist Christin Schmiedke has a global overview of customer opinions across various locations. And she is immediately able to see when new online reviews are received and can respond promptly.
If, for example, a customer complains about the cleanliness of a gas station, Christin Schmiedke can forward the feedback directly to the local team responsible and have the issue fixed.
This high level of responsiveness has enabled AGROLA's marketing team to take control of the customer experience they offer.
Annual growth in visibility, clicks, and loyalty

In terms of the central local marketing KPIs, AGROLA has recorded significant improvements in its customer journey from 2019 to 2021 and beyond.
AGROLA has stations appear more frequently in online searches
The increase in views on Google Maps provides a good indication of the overall success of digitalization at AGROLA: Between 2019 and 2021, AGROLA recorded 80 percent more views on the navigation app.
In 2021, the gas stations had a total of more than 41 million views on Google Maps alone.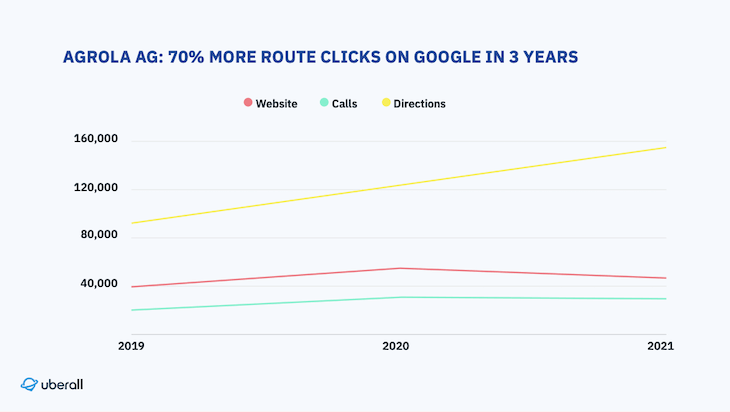 The improved visibility in local searches is also reflected in conversions:
Significantly more clicks mean increased sales
Especially in the case of gas stations, clicking on the directions is the most important indicator of new sales: If you search for the directions to a filling station on Google Maps while in your car, you will most likely visit it.
In 2021, AGROLA recorded over 150,000 such route clicks on Google Maps – 70 percent more than in 2019. The growth of all conversions, including calls and website clicks, is 57 percent.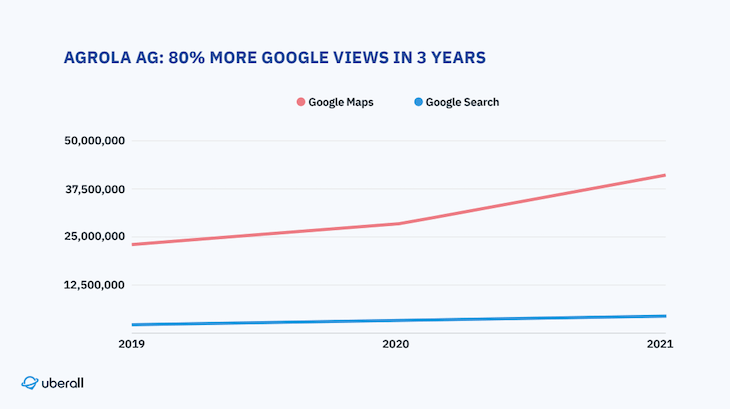 20X improvement in customer responsiveness
Christin Schmiedke continues to drive reputation management at AGROLA marketing. Through circular mails, she advises franchisees on important upcoming adjustments to online profiles. She also keeps an eye on incoming online reviews and reminds filling station owners of new reviews to keep the response rate improving.
Today, the company responds to more than one in five reviews, demonstrating its responsiveness to customers and strengthening customer loyalty. Such responsiveness is an important factor in the customer experience as it demonstrates that the company takes feedback seriously. It also has relevance for Google: The more reliably a company responds to online reviews, the higher its relevance and ranking becomes in local searches.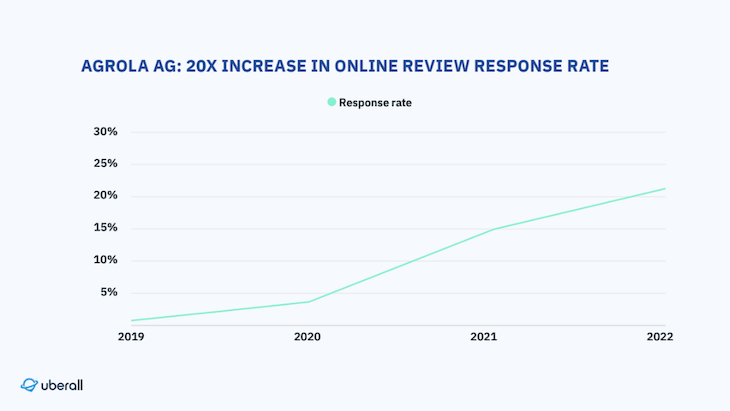 Outlook: The future is electric
The mobility industry is changing and AGROLA AG is increasingly expanding its offering to meet the needs of zero-emission motorists. Electric charging stations and hydrogen fueling stations play an important role in this.
The company is already working with Uberall on the next steps to provide this target audience with a seamless customer experience. The idea is that the charging stations in particular will show real-time availability information on Google to enable electric car drivers to find a free charging pump in their area without any wait.

"The future of the automotive industry is electric, so it is of the utmost importance for us to also offer electric vehicle users the right solutions when searching for the closest charging station. With Uberall, we have a partner on our side who is evolving with the technological trends and, in so doing, enabling us to play a pioneering role."