Businesses with physical points of sale are historically poor at optimizing for local Search. In fact, when we conducted an analysis of 73,000 business locations to check the state of their voice search optimization across 37 directories, we found that that only 4% of business locations had correct business information on Google, Bing and Yelp - the 3 most important directories for voice search SEO.
What we found in our study led us to the conclusion that most businesses don't know what voice search optimization actually means...
What Is Voice Search SEO?
For a local business, voice search SEO means having accurate business information on the most important directories. Those are Google, Bing and Yelp because those are the platforms that fuel voice search assistants.
In this article we outline 3 reasons why most businesses fail at voice search SEO and provide some steps for making sure that your business is voice search ready.
Why Businesses Fail at Voice Search Optimization
1. 50% of Business Locations Have Incorrect Info on Bing
Almost 50% of all business locations we analyzed had errors or missing information on their Bing profiles, which means that almost half of all locations are not reaching consumers who use Cortana or Alexa - voice search assistants that Bing feeds directly.
Bing is not only one of the most important directories for voice search, but also local search as a whole. Brands that want to rank online for local search queries, whether it be voice or text, simply cannot ignore Bing and live to tell the tale.
Recommendation: Complete Google, Bing and Yelp Profiles
If you want your business to be optimized for voice search, one of the first actions you need to complete (and one of the easiest), is to make sure that your business listings are complete and accurate across Google, Bing and Yelp.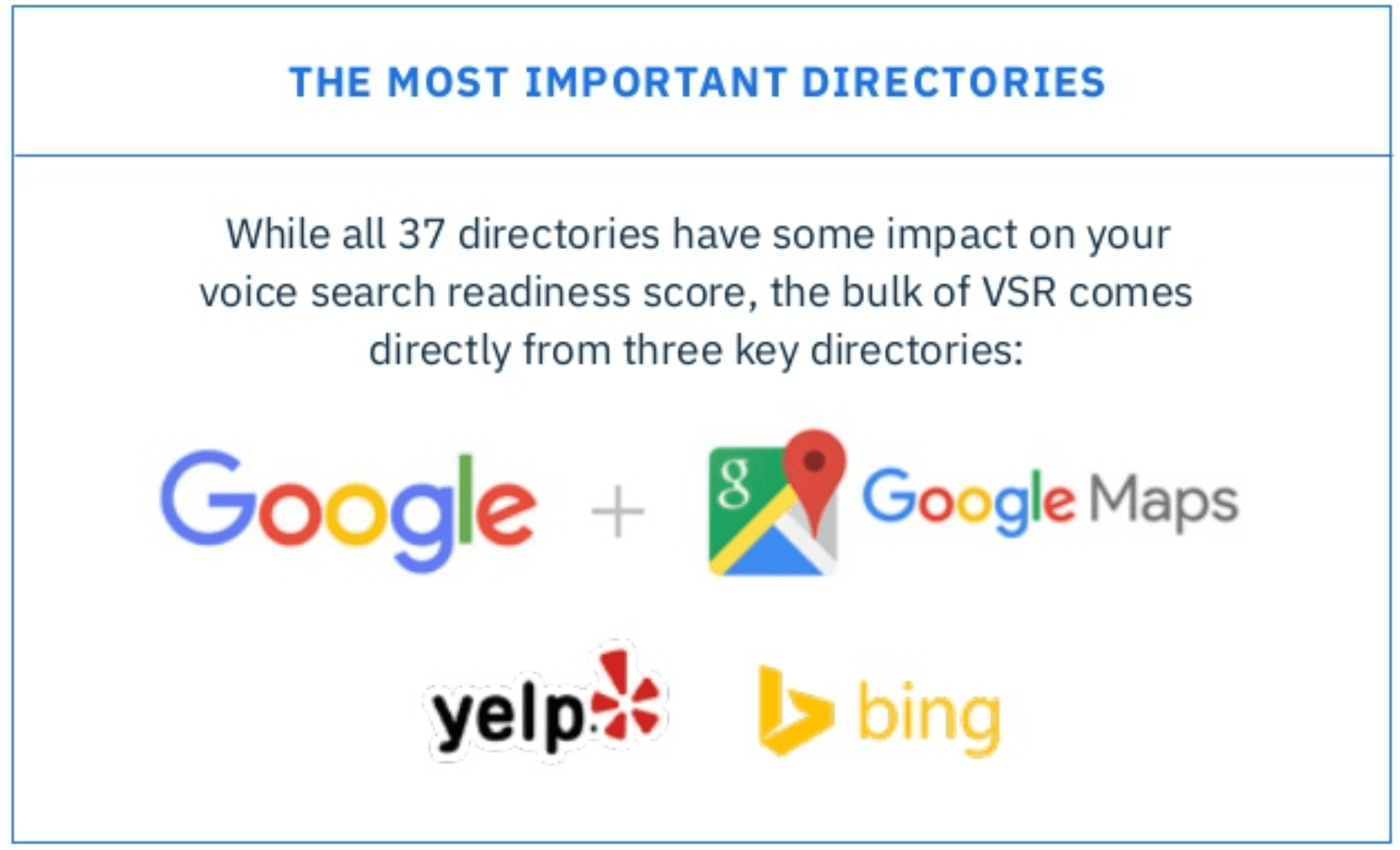 Based on our in-house methodology, we calculated that 90% of voice search readiness involves having accurate listings for your brand's locations across these three directories. Getting these right means getting voice search right.
When your business information is accurate and consistent across directories, it is an indication to search engines that your information can be trusted and, as such, it is more likely that you will top the list of local voice search queries.
2. More Locations = More Listings = More Inaccurate Information
If only 4% of all locations have the correct business information across Google, Bing and Yelp, this means it's nearly a certainty that your business locations have incorrect or missing information online.
When we broadened the analysis to include all 37 directories that matter for voice search and again looked at listing completeness across these directories we found that:
Almost 50% of all listings had errors/missing opening hours
Almost 1/3rd of all listings had errors/missing website information
Almost 25% of all listings had errors/missing location name information
Almost 20% of all listings had errors/missing street information
The Problem With Multiple Locations
For a business with one location, optimizing across Google, Bing and Yelp means listing one business across 3 directories.
For a business with 100 locations, optimizing across Google, Bing and Yelp means listing 100 business locations across 3 directories, equalling 300 separate listings.
The more locations a brand has, the more complex it becomes to manage and the more likely it becomes that there are errors, inconsistencies or missing information.
Attempting to manage tens or potentially even hundreds of business locations could mean manually updating and managing thousands of listings. This quickly becomes an impossible task when businesses try to do it themselves.
Brands usually understand that they are too big to manage this problem alone, so the question then becomes, what is the real value in making sure listings management is a priority?
Recommendation: Prioritize Listings and Reviews at the Top of Your Marketing Strategy
First of all, incorrect information online (opening hours, location information, website etc...) will negatively impact your local search rankings.
When a customer can't find your business, or finds incorrect information about your business, they will lose trust and potentially leave a negative review. It is no surprise then that search engines use the accuracy of business listing information and reviews as a major ranking factor in local search because the accuracy of local business information impacts the customer experience.
There are tools out there that will help you to see the health of your brand online and diagnose errors in your individual business listings. You can use this presence check tool to see how optimized your business is for local search.
3. Businesses Are Managing Their Online Presence Alone
When Uberall broke down the 3.82% of business locations with perfect citations on Google, Yelp and Bing by business size, enterprise businesses (39.1%) topped mid-market (36.4%) and SMB (24.6%) as the most optimized business type.
While single location businesses (SMBs) were the most successful at being voice search ready without a supplier, they were least likely of any group to be voice search ready.
Interestingly, although enterprise business locations are most likely to be voice search ready, they are also by far the most unlikely to be successful without using a third-party supplier.
Our 2019 Voice Search Report found that 93% of enterprise locations that are optimized for voice search across directories are using a third-party supplier to do it. When we include mid-market and SMB in that analysis it isn't much better; 76.5% of business locations that are voice search ready are using a supplier.
The major finding of our voice search report indicated that unless businesses use third-party suppliers, they will not be voice search or local search ready.
Do Enterprise, Mid-market and SMBs Need to Optimize for Voice Search?
21% of consumers are using voice search every week
80% of consumers search online for local goods and services
Mobile constitutes 60% of all search
Without optimizing for local search, your business is missing the crucial online-search-to-offline-purchase audience
Recommendation: Get a Supplier to Engage the Online-to-Offline Consumer Journey
If businesses want to take an omnichannel approach to marketing it is vital that they manage their business location information across all directories that are relevant for voice and local search.
The strength of this approach is that it allows brands to control the online-to-offline customer search journey providing a seamless experience for those searching for goods and services online then visiting a physical location to make a purchase or find out more offline.
In the 2019 Voice Search Readiness Report, we created a percentage-based analysis to understand the level of business optimization across all locations and directories.
For a full and free business analysis, please contact us today, or take a look at the full report now to find out how to optimize and capitalize on the rise of voice search in 2019.
Are your locations found online? Find out in just 2 minutes!