Challenge
In a world where digital presence is crucial to success, Brose treated an unexpected data manipulation to one of their Google entries as a starting point for a digital transformation— instead of a stumbling block.
Solution
With Uberall, Brose enters a new level of online visibility and customer engagement where location data is not only protected, but used as a strategic resource to position the company prominently on Google and Apple listings and maps.
Results
Brose reaches an above-average global growth in visibility on Google Maps by 248%, an 228% increase in GBP views, and an 13% increase in GBP clicks (YoY, Q2 '22 vs '23). Moreover, interactions with potential applicants in 24 countries have accelerated and sustainably improved.

Brose Reaches More Visibility—And A New Target Group
All car drivers know—or at least use—Brose because every second new car worldwide is equipped with at least one Brose product. Though often not visibly, they ensure safety, comfort, and efficiency; and have been doing so for over 100 years.
From Berlin to Coburg to The Entire World
Over a century ago, Max Brose laid the foundation for a family-owned company in Berlin that has grown to become one of the leading suppliers of mechatronic components and systems for the automotive industry. Today, Brose successfully employs 32,000 people at 68 locations in 24 countries. But the digital revolution—of course—doesn't spare a traditional company like Brose.
From Crank Drives to Lowerable Windows
Brose's core competency lies in the synthesis of mechanical, electrical, electronic and sensor systems. However, the group has seamlessly integrated online marketing and employer branding as well to increase its online visibility.

The Challenge: Unauthorized Data Alterations
Seven years ago, Brose faced an unexpected challenge: an external party had manipulated location data on Google. Specifically, the official phone number of a location had been replaced—a number frequently used by job applicants to contact the company. This alteration prompted the search for a global, external solution to ensure consistent data on third-party websites, search engines, and navigation systems with minimal manual effort.
In 2016, Brose was already aware that data manipulations could jeopardize the company's online visibility and credibility. This led Bernd M. Schell (Global Lead: Project Manager HR Online Services & Idea Management) to search for a comprehensive software solution for online presence management. The aim was to centralize data management—not least because it involves critical information that could impact the company's success in various ways.

"The right interface between the company, marketing/communications and human resources is just as important as between corporate headquarters and local sites. We have the same goal after all—creating more awareness and simplify exchange—and to ensure that we can reliably manage our data, we turned to Uberall."
The path to greater visibility and well-maintained data led Brose from Uberall to a competitor—and back again. Why? The first time in 2016 because we were an aspiring Berlin startup. And the second time in 2022 because we prioritize customer service.

Brose Ensures That 68 Locations In 24 Countries Stand Out Locally And Convert Better
Compared to competitors, Uberall follows a highly structured approach, concrete action plans, clear responsibilities, and a close collaboration. This allowed Brose to implement the platform within just one week, and summarizes what Susanne Dumbacher-Geyer and Bernd M. Schell value in their day-to-day operations.

"Uberall is available for us most of the time, and we usually receive a response and a solution within just a few business days. The regular appointments with the Uberall team ensure that we stay on top of things and always know about the latest features and trends. The personal contact is really the icing on the cake—because we take it for granted that a marketing platform is easy to use."
The superior customer support ensures that Brose can optimally utilize the Uberall platform:
With Uberall Listings, Brose manages more than 2,700 online listings, and our direct connections to over 125 platforms ensure well-maintained profiles with top placement.

With Uberall Reviews, Brose responds to customer reviews, using a central inbox and automated responses with templates from the template library.
Well-maintained location profiles—and especially the GBP as the most critical ranking factor and first point of contact for potential applicants—are crucial to success. In addition to NAP data (name, address and phone number), media, keywords, reviews, and calls to action are essential to both raise awareness and drive conversions. Since Brose does not sell products directly to consumers, the team uses the 'Products' feature to promote job openings, career opportunities, and HR events. This allows Brose to give users a quick overview of what to expect.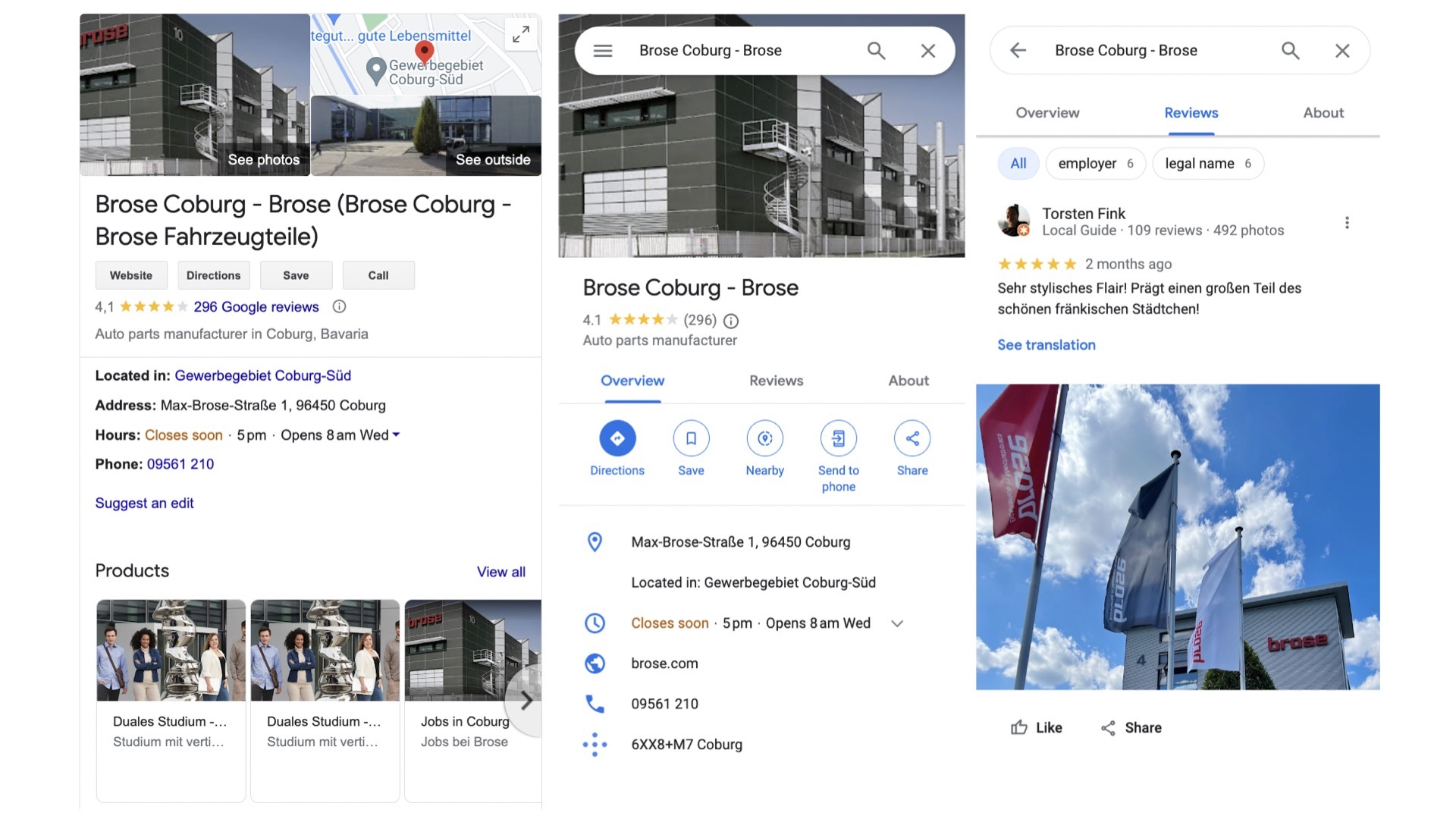 On the Uberall dashboard, Susanne Dumbacher-Geyer and Bernd M. Schell can easily assess their online presence at a glance: profile completeness, average ratings, impressions, clicks, and similar. Furthermore, they gain insights into how users enter and interact with their profiles. For instance, do they click on 'directions' or prefer visiting the website?
In the Listings tab, Susanne Dumbacher-Geyer and Bernd M. Schell manage all location data. On a daily basis, they work in tandem to update information such as opening hours, manage (and delete) images, or create new profiles. Additionally, they include job openings on local landing pages for all locations currently seeking new personnel. This serves local search engine optimization and leads to improved rankings.

"We want to raise awareness for Brose as an employer by increasing our visibility in online searches. That's why we maintain and optimize our online profiles with Uberall, and we were able to significantly improve our Google Business Profiles with the platform."
In the Reviews tab, the Brose team manages, filters, and responds to online reviews according to thought-through guidelines: 4- and 5-star reviews without text receive automated responses using three predefined templates in the respective language. 1-star reviews, on the other hand, are handled manually to allow the team to carefully address complex customer feedback.
To create response templates, the two Brose experts developed a comprehensive set of questions and, together with each location, formulated standard responses—because many customer messages require local expertise. Direct contact with internal experts around the world ensures that customer feedback is genuinely implemented. In fact, Bose extracts valuable insights from online reviews, thus constantly optimizing on-site processes.
From typical customer messages, it quickly becomes apparent that it is primarily job applicants and truck drivers who engage with Brose: Who are my contacts on-site? How do I submit my resume? Where do I unload my delivery? While job applicants were the primary target group from the beginning, truck drivers have only emerged since working together with Uberall. And this is just one of the many advantages of our partnership.

Brose increases views and clicks on Google with Uberall
In the year-over-year comparison (Q2 '23 vs. Q2 '22), Brose achieved a 248% increase in global visibility on Google Maps, a 228% increase in GBP views, and a 13% increase in GBP clicks. This translates to 19,598,207 Google Maps impressions in Q2 '23. 'Directions' has caused a literal buzz with nearly 100,000 clicks in three months (Q2 2023), demonstrating that Brose is gaining more online visibility and user engagement.
Due to our direct connection with Apple Maps, Brose is now significantly more visible to Apple users. As a result, the company receives more job applications and can reduce recruiting costs.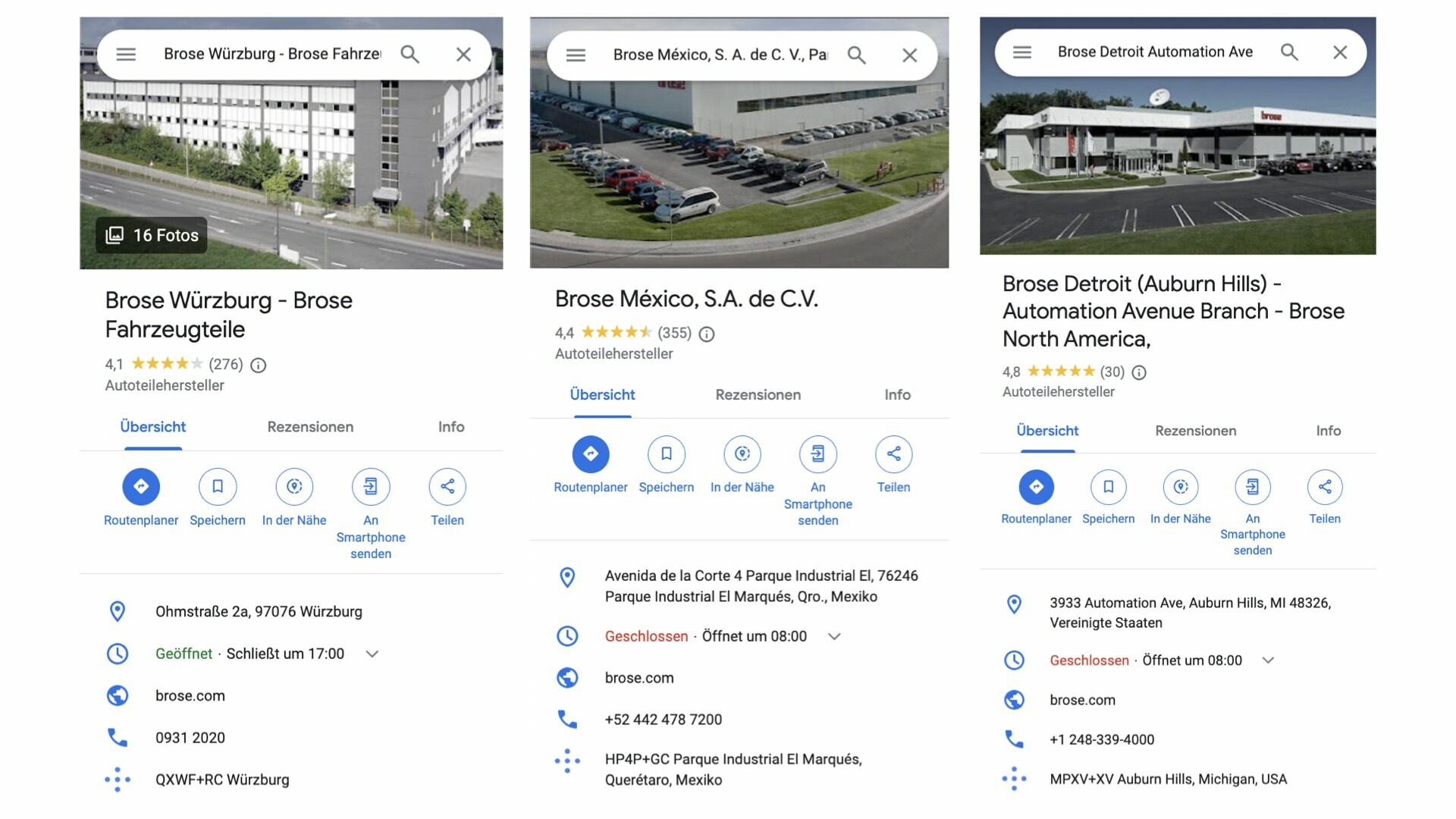 Susanne Dumbacher-Geyer and Bernd M. Schell manage over 2,700 listings for the 68 locations, requesting necessary information directly from their colleagues on-site: central functions such as logistics, site managers, and communication representatives; along with support from the Uberall team.
Brose's founding story is marked by a strong vision, entrepreneurial courage, and a determination to succeed—and we attribute the same values to our collaboration. Integrations with Instagram and ChatGPT are next on our to-do list, and we are already looking forward to our future shared successes.

Do you want to achieve similar results?