The Challenge
Consumer behavior has changed dramatically in recent years. Local retailers in particular have struggled to convert and retain omnichannel customers.
The Solution
With Uberall CoreX, Popken Fashion Group deployed a sophisticated omnichannel strategy that enabled the fashion company to take control of its local stores' online presence and increase customer engagement.
The Results
32% more direct queries
55% more search views
65% more clicks
Big Plus for Popken Fashion Group
Popken Fashion Group is a leading international fashion company that was founded over 140 years ago. Specializing in plus-size clothing, it is known for its collection of four brands—Ulla Popken, GINA LAURA, Studio Untold, and JP1880—that are sold in 230 stores, as well as online, in 30+ countries.
A small textile company turned into an international fashion group
Popken Fashion Group has an impressive history. The company was founded in 1880 by Johann Popken, who established a textile store in Hameln, followed by stores in Bremen, Hamburg and Hanover. Two generations later, his grandson Johann and his wife Ursula, or Ulla, established the specialty store 'Mami & Baby' in Oldenburg.
Johann and Ulla noticed that women continued visiting their stores even years after giving birth. This led them to start offering fashion from size 42 in order to serve women in all phases of their lives. After a successful mail-order trial, the first ten Ulla Popken stores opened in 1987. The online shop followed in 1999, and the transformation into an omnichannel company began.
The demand for plus-size fashion grew—and so did the company
Since 2000, more and more stores have opened throughout Europe. Today, the company is well-known internationally—and still family-run.
Popken Fashion Group has a keen understanding of trends and innovation. But keeping its customer relationships close to its heart is what has enabled the brand to deliver remarkable customer experiences over such a long period of time.
New Challenges Threaten a Long-Time Winning Streak
The evolution of consumer behaviors is a challenge for every industry, and fashion is no exception.
In the 2000s, consumers discovered and bought products offline. In the 2010s, most touchpoints of the customer journey moved into the Internet. But since 2020, customers no longer choose between online and offline channels—they use both.

"Online shopping is no longer an unknown concept—even at the age of 50+ years. Our customers shop across channels, and we are constantly trying to maintain this cycle. We offer online customers free shipping to our stores as well as shopping by appointment. On the other hand, we refer offline customers to the broader range of products in our online shop. Both initiatives are actually very well received."
Although digital native brands and increasing price competition put stationary retail at risk, Popken Fashion is confident in its future and readily accepts the challenge.

How does Popken Fashion Group lead online customers to offline stores—and vice versa?
During the pandemic, 47,000 local stores in Germany permanently closed. Due to regulations, Popken Fashion Group had to close its own stores for a few weeks, too. Fortunately, the company had its online store in place, but the sudden transition was not easy.
For example, Tina Kruse, project manager at Popken Fashion Group, reveals that since most customers prefer shopping on-site, they continued trying to reach local stores by phone.
The pandemic jumpstarted Popken Fashion Group's integration of mobile devices into its marketing strategy. Before, the company was not sure how many of its customers actually owned a smartphone. Today, mobile plays a crucial role in key marketing measures such as using QR codes on advertising materials.
While the company successfully replaced offline with online experiences at the start of the pandemic, it later wanted to bring both the online and offline worlds together when its stores reopened.

"Our omnichannel strategy has grown over the years and our channels have never been more connected. If you want to derive a strategy from changing consumer behavior, it is to familiarize store customers with the online shop and invite online customers to the stores. It would simply be wrong to pursue a rigid strategy like it was done 10 years ago."
A well-maintained online presence, which features appealing online profiles and accurate location data, is critical to omnichannel success. After all, online search is often the first touchpoint along the customer journey. Of course, a company also needs relevant content and good review management to attract new customers and increase loyalty.
Compared to most companies, Popken Fashion Group was well prepared for the hybrid customer journey due to its robust and well-established online shop. What Popken Fashion Group lacked, however, was the right partner by its side for reliable data management and search engine optimization.

Popken Fashion Group makes 230+ locations stand out in local online search
30.8% of customers in Germany state that they buy less because they are browsing on-site less often. Popken Fashion Group wanted to reverse this trend by bringing customers from online search to offline stores—and vice versa.
In 2021, Popken Fashion Group implemented Uberall CoreX to increase its online visibility and offline traffic. The local digital marketing platform equipped the fashion company with a variety of tools that opened up new business opportunities.
With Uberall Listings, Popken Fashion Group manages its online profiles. The connection to 125+ online platforms ensures well-maintained online listings on top of search results.
With Uberall Reviews, Popken Fashion Group responds to customer reviews. In the central inbox, employees manage reviews from across platforms and reply (automatically) with ready-made answers from the template library.
With Locator & Local Pages, Popken Fashion Group creates its store finder and local landing pages to showcase their locations and lead customers from the online search directly to the store.
"Last year, we added up-to-date photos to the stores' profiles. This makes us stand out in online searches and increases the time spent on our pages. We also added keywords such as "plus-size" to the titles, which definitely improved our online ranking."
Popken Fashion Group puts a strong focus on complete Google Business Profiles. Popken Fashion Group understands that the GBP is one of the most important local search ranking factors, which is why the team puts a strong focus on completing its profiles. In addition to providing reliable data, appealing media assets, keywords, and CTAs are crucial for strong search engine rankings.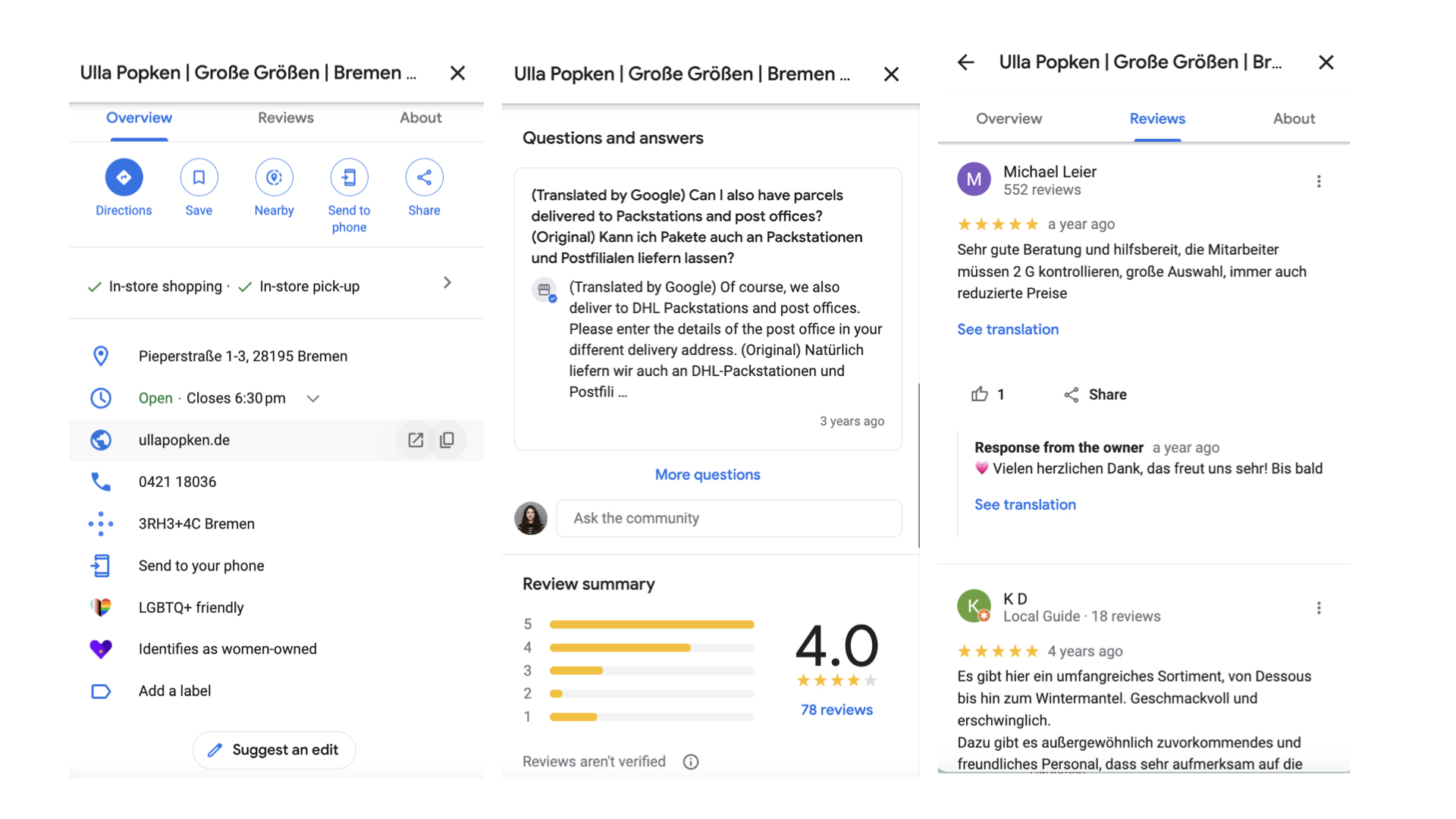 For better visibility, Popken Fashion Group also uses Google attributes such as 'women-led' and 'LGBTQ+ friendly' both of which are part of its secret sauce for better positioning.

"With Uberall Listings, we can check and update our data any time—for each individual location but also location groups or all locations at once. On the dashboard, we also see if and which parameters are missing to complete our profiles. Google attributes are particularly important, and the tool helps us to keep track of new ones."
With a strong online presence, Popken Fashion Group stores can hardly be missed. However, after-sales experiences are important too, which is why optimizing review management with Uberall Reviews came next.
Post-purchase experiences online can vary from customers sharing their experiences on social media to leaving reviews on rating platforms and more. In the past, Popken Fashion had to separately log into each platform to manage its reviews. Today, the fashion company finds all of its reviews in a central inbox.

"With Uberall Reviews, we can automatically respond to star ratings in seconds. For reviews with text, we need a bit more time, but get the right answer quickly with our response templates. All the reviews motivate our employees, and the high response rate ensures a better online ranking."
Another advantage for international companies like Popken Fashion Group is the template library where the team can create ready-to-post answers in multiple languages. This allows the company to respond to messages even without native speakers.
A peek behind-the-scenes reveals that Popken Fashion Group has a firm grip on its global online presence. On a local level, it also targets nearby customers with the Uberall solution for locators and local landing pages.
The store locator paves the way from the web to the store by providing all the information that customers need for their visit, including reasons why the visit is worthwhile.

"With the store locator, customers can search for locations nearby or in specific regions by using a search bar or a map. With just one click, they land on a separate landing page that shows them more about the specific location: offers, coupons, loyalty programs, job postings, and more."
Having 230 stores means hosting 230 landing pages, which can be complicated to manage. But Uberall Locator & Local Pages helps Popken Fashion Group maintain a streamlined overview of its pages and the ability to control all local landing pages on just one centralized platform.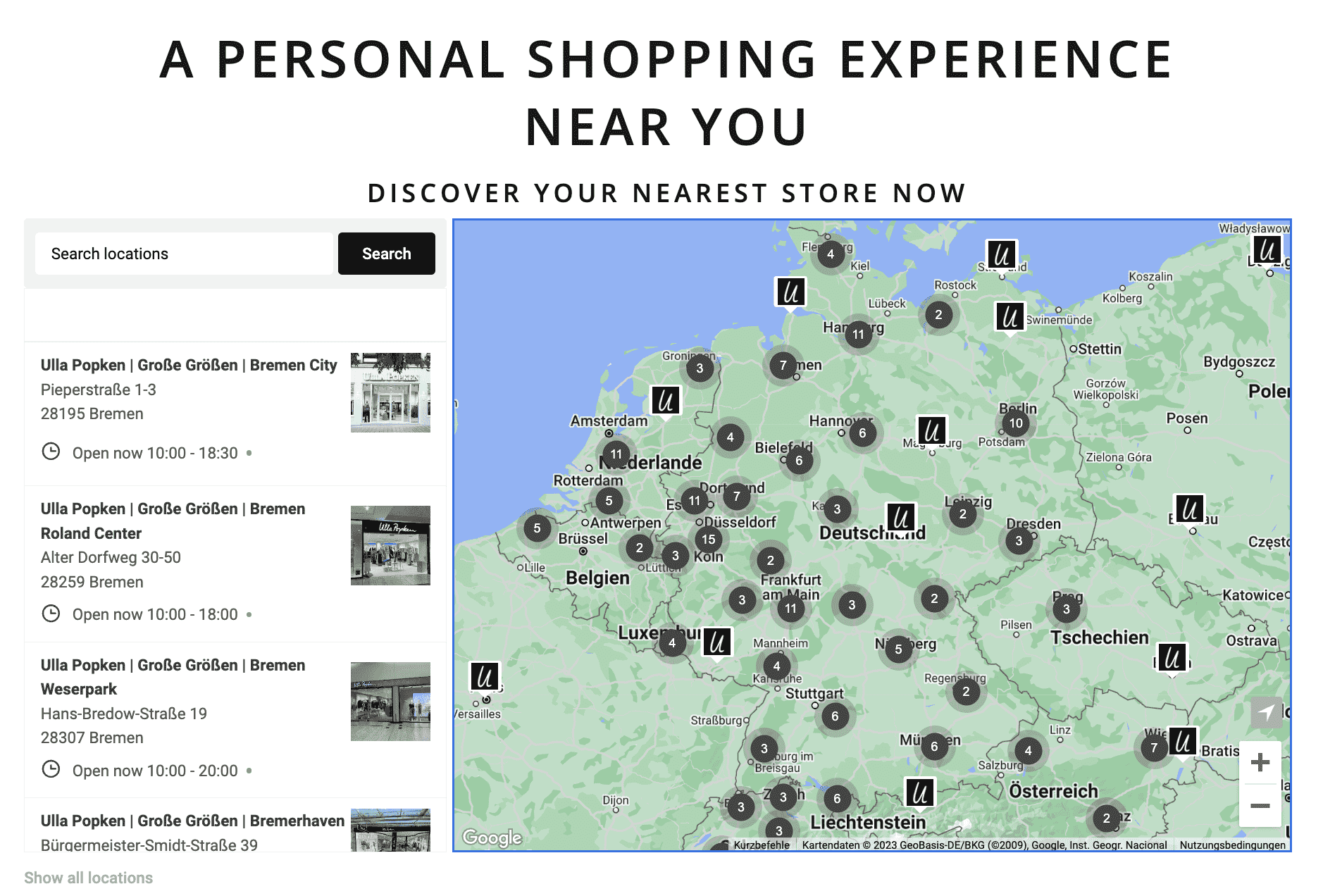 With local content, Popken Fashion Group sends strong signals to customers and search engines alike. And best of all: everything is on brand!

Popken Fashion Group reaches more search queries, views and clicks on Google with Uberall
Since 2019, Popken Fashion Group has reached 32% more search queries, 55% more views and 65% more clicks on Google. The fashion group is top-of-mind and stands out online.
Moreover, Popken Fashion optimized its review management with Uberall CoreX. In 2022, the company received more than 2,300 reviews, with particularly good feedback on the local staff, who are highly-trained fashion advisors keen on customer service.
Though it depends on available resources, the brand's rising response rate is another notable success. In 2022, the Popken team replied to 41% of all reviews and used response templates for more than half of them.
The store finder has been used almost 500,000 times. In 2022, it reached a record growth of 91%, showing that customers who are ready to buy prepare their visits to a store.
Popken Fashion Group's great results prove that search engine optimization pays off. Together with Uberall, the company has optimized its listings, reviews, locator and local pages management the easy way:

"Everyone can use Uberall CoreX: from trainees to team leads, even without IT knowledge. The tool is self-explanatory and we can't "break" anything. Thanks to unlimited licenses, it's also possible to quickly adjust opening hours via mobile on a Saturday."
In the coming months, Popken Fashion Group wants to further improve its review management, expand its store finder, and rethink employer branding. We look forward to the challenge and are excited about our next success story!
Take your local digital marketing to the next level