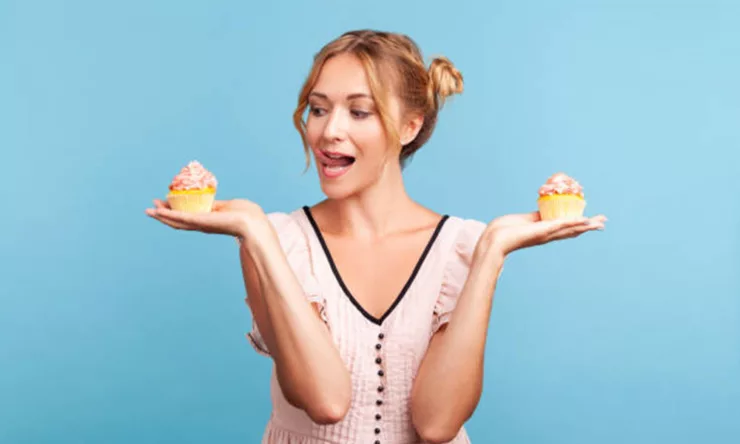 Blog
Uberall + Yelp for Business: Powerful Combination for Multi-Location Brands
Yelp brings in 96 million unique visitors per month across desktop and mobile that are typically highly motivated buyers. In fact, a recent survey from Yelp found 97% of consumers buy from a business they discover on Yelp, more than half within the same day and almost all within a week. Interestingly, Yelp has risen in importance recently due to an increase in voice search. Yelp is closely intertwined with Amazon's Alexa, Apple's Siri, and Microsoft's Cortana, which uses the discovery network to provide users with information about local businesses. Users can ask Siri for information about service providers in the area, which will return a top-rated option from Yelp and allow the user to tap into the app for more information.
Yelp also influences all the other places consumers are looking for you, including Google, which accounts for 94% of the mobile search market in the U.S. Google factors in your Yelp rating, a number of reviews, and responsiveness to reviews in its algorithm for local SEO ranking. In addition, Apple Maps, Bing, Uber, and most car manufacturers' GPS software rely upon direct feeds from Yelp to determine whether to show your location in proximity searches.
With all these new uses for Yelp, multi-location brands must better understand how they can build a strong presence on the review platform. Here's what you should know about Yelp for business and how you can leverage Uberall to put this powerful discovery network to work for your multi-location brand:

Yelp for Business — Not Just Restaurants
While many businesses believe Yelp is primarily for the restaurant industry, this simply is not true. Although restaurants do get the most reviews, other industries like retail, home services, and many others are not far behind. And given how influential Yelp is becoming with other discovery networks, it would be wise for non-restaurant brands to prioritize this review channel for a competitive advantage.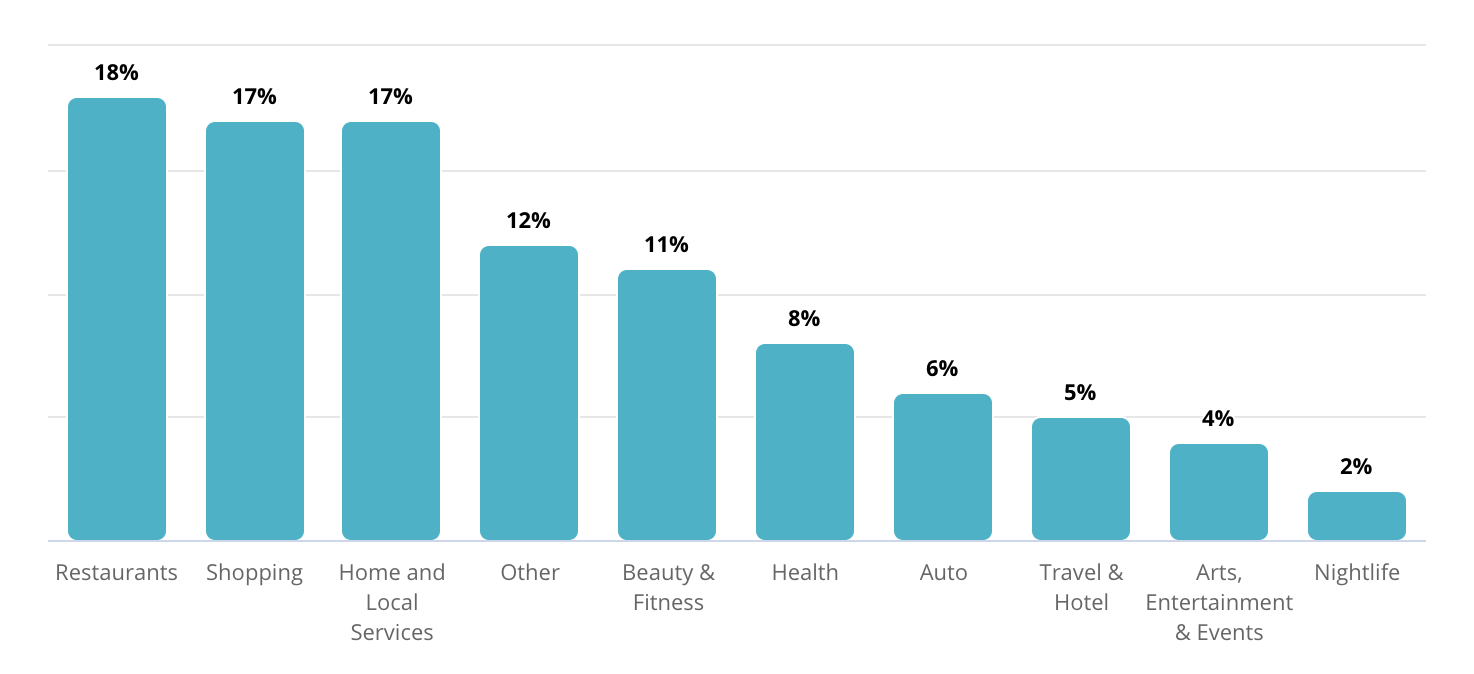 Yelp Amid COVID-19 — Helping Businesses Return to Growth
At no time has the power of a platform like Yelp been more apparent than during COVID-19. National brands across all industries are leveraging Yelp to give consumers confidence in safety measures, hours of operation, and more during a time of uncertainty. Additionally, Yelp reviews provide helpful insight to businesses as they adapt to changing regulations and consumer expectations. Recent reviews also give consumers confidence that you've seen customers recently and further validates the safety precautions your business is taking as reviews are likely to include COVID-19 related comments.
Yelp has made things easier for businesses during this time by releasing new COVID-19 tools that allow businesses to update their Yelp page with the health and safety measures they're taking, operational details (i.e. virtual consultations, takeout, delivery, etc.), and more.

Yelp for Multi-Location Businesses — Made Easier with Uberall
If you have multiple businesses or locations, each of them should have a separate business page on Yelp to maximize SEO and discoverability. Claiming and managing these separate business listings and their associated reviews on Yelp manually is almost an impossibility for brands with hundreds or even thousands of locations. Add on a national health crisis with variability in operational status from one location to the next, and you can see why a little help is needed to manage all of these details at scale.

To help simplify the process, businesses with multiple locations can use Uberall. As a Yelp Knowledge Partner and a Yelp Advertising Partner, Uberall has the unique ability to help multi-location brands claim, manage, monitor, and optimize their Yelp business listings and reviews through a single platform. Brands can view and sort through reviews across Yelp for all locations and personally respond to reviews through an easy-to-use single interface.
Uberall's partnership status with Yelp gives multi-location brands the power to manage their Yelp presence directly through Uberall's Proximity Search Optimization platform. With Uberall you can drive each location's success by:
Monitoring and optimizing your Yelp listings
Centralized Location Data Updates - Automatically keep listing information 100% accurate in real-time.
Listings reporting filterable at a group and location level - Report on views, click-to-call, map views, leads, and conversions.
Optimize Voice Search - Ensure Alexa, Siri, and Cortana - powered by Yelp reviews - recommend your location.
Monitoring and responding to Yelp reviews at a scale
Respond to reviews efficiently - Add a check and balance for all responses with corporate approvals and leverage approval workflows to ensure your team stays on-brand in review responses.
Deep review insights - View all ratings, reviews, responses, and keyword mentions across all locations in one place, identify rating trends, and even filter by region, franchisee, or store level.
Unrivaled Capabilities for Multi-Location Businesses

Uberall has a long-standing partnership with Yelp that started in March 2016 to give multi-location brands the power to manage their Yelp presence directly through Uberall's platform.
Why is a partnership with Yelp so important?
Yelp doesn't partner with just anybody: Yelp is particular about who it works with for good reasons. Some technology companies forgo a direct partnership and instead try to scrape Yelp's site to get Yelp data into their listings tool, which is understandably against Yelp's Terms of Service. Over and above the ethical issues that approach poses, the ultimate loser could be the corporate brand which could lose access to its business listings on Yelp. It's critical that multi-location businesses work with technology providers that have a direct Yelp partnership to avoid being harmed.

Yelp also has a strict policy against review solicitation by businesses because they are committed to providing consumers with authentic reviews and honest, unbiased business portrayals, and it's been proven that solicited reviews lead to bias. This is why Yelp bans any software vendor that provides review solicitation technology for any review site from obtaining a Yelp partnership (Yelp takes review authenticity VERY seriously).
Through the long-standing Yelp partnership and mutual commitment to client success, Uberall clients can reap the benefits of increased customer loyalty and improved business performance. Managing your brand's presence on Yelp for business has never been so easy or effective for driving business. Connect with Uberall today and learn how you can take advantage of this powerful partnership.
Learn how Uberall can give your business a competitive edge.