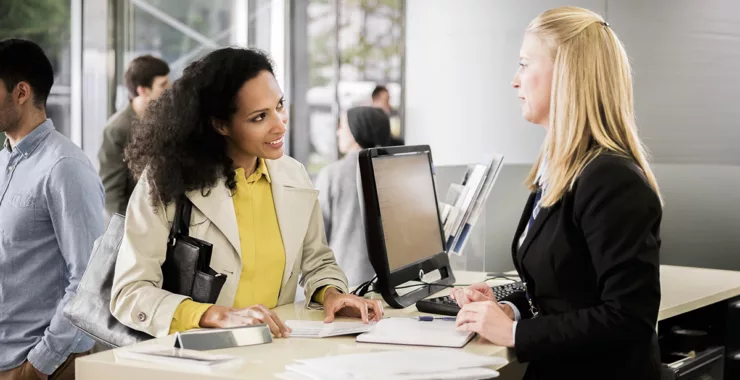 Blog
Study Reveals Bank And Mortgage Lenders Fail To Optimize For 'Near Me' Search
I've been fortunate to have had a front-row seat for the banking industry's remarkable digital transformation over the last decade. In the past ten years consumers have turned to digital and mobile banking in record numbers, and consumer-direct alternatives like Quicken Loans (aka Rocket Mortgage) for digital mortgages, and Venmo for peer-to-peer payments have gained in popularity.
With all this digital disruption, today's banking and mortgage landscape is fiercely competitive, with online, consumer-direct vendors posing a serious threat to the traditional brick-and-mortar consumer banking model. Despite the threat, financial institutions with brick-and-mortar locations have a digital marketing advantage that online consumer-direct alternatives don't — their physical branch locations.

Advantages of Physical Branch Locations
While digital banking tools remain important, the fact is, many consumers still want to visit a physical branch location when opening a new checking account, or taking out a mortgage on their home. And a bank that is nearby where they live and work is an important factor. Here are a few factors further working in the branch locations favor:
With millions of Americans relocating because of the pandemic, there has never been a better opportunity for new customer acquisition.
Even among younger consumers, digital and mobile banking is NOT one of the top-three reasons for selecting a new institution. Yet a bank's physical proximity to nearby consumers is one of the top factors consumers consider when looking for a new bank.
Mobile searches for the term "bank near me" are up more than 60% according to Google.
Optimizing For The "Near Me" Search
A bank's branch locations are not only a physical advantage, they are also a digital advantage. Google, Facebook, and other popular consumer networks have long since raised the bar when it comes to local business discovery. Consumers are becoming more and more accustomed to typing in just about anything on a mobile phone and finding a nearby option – from a sandwich shop to satisfy a sudden craving to a pharmacy that sells baby Tylenol when little Tommy is running a fever.
And "near me" search is no longer reserved for the restaurant and retail industry, consumers are also using these same queries to find a nearby financial advisor, mortgage lender, and a new bank.
It is no surprise then to see the term "bank near me" up more than 60% according to Google.
How a bank shows up in "near me" searches is not just luck, however, there are five controllable factors. And your performance against these five controllable factors — whether they are actively managed or not — determines whether or not your brand shows up when a consumer who just moved to the area searches for a new bank.

5 Signals that Determine Local Search Rank
Physical branch locations provide a strong digital marketing advantage in the current housing boom. Unfortunately, most banks and mortgage lenders fail to fully optimize their digital presence based on their proximity to millions of nearby customers.
This process, where multi-location businesses seek to improve how they rank on search engines that use the user's location to suggest nearby businesses is called Proximity Search Optimization™. With MomentFeed's Proximity Search Optimization platform, your branch and mortgage lending locations will be able to manage the five known signals that determine local search rank, including:
Local Listings Accuracy: Information accuracy and consistency across all networks
Local Profile Completeness: All applicable fields filled out on each discovery network
Ratings and Reviews: High rating score and responsiveness to reviews
Local Facebook Publishing Activity: Frequency of posts on local social and ideal keyword density
On-Page Signals: Local agent page alignment with Google's assessment of quality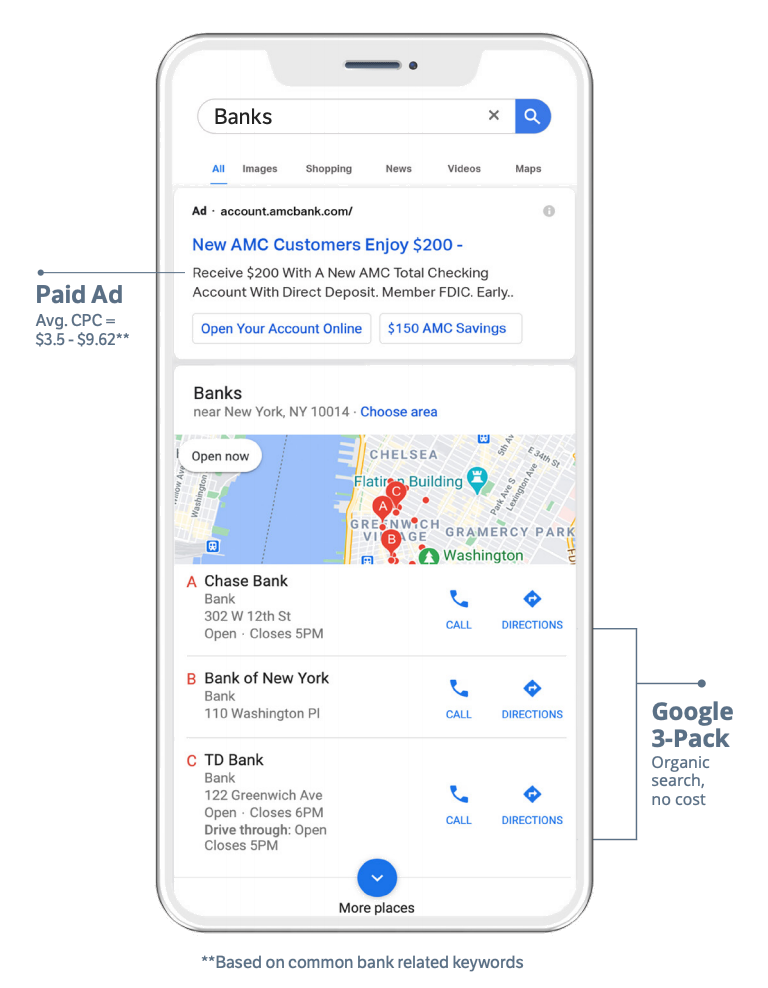 Banks Fail To Capitalize On Their Proximity To Millions Of Local Consumers
To gain a better understanding of proximity search performance and the opportunity in the banking and mortgage industry, MomentFeed conducted a proximity search optimization audit of 10 U.S. consumer financial institutions with brick-and-mortar locations. The audit found that the industry as a whole lacks maturity, and any bank willing to invest in a comprehensive proximity search optimization strategy, could dominate and see significant financial gains.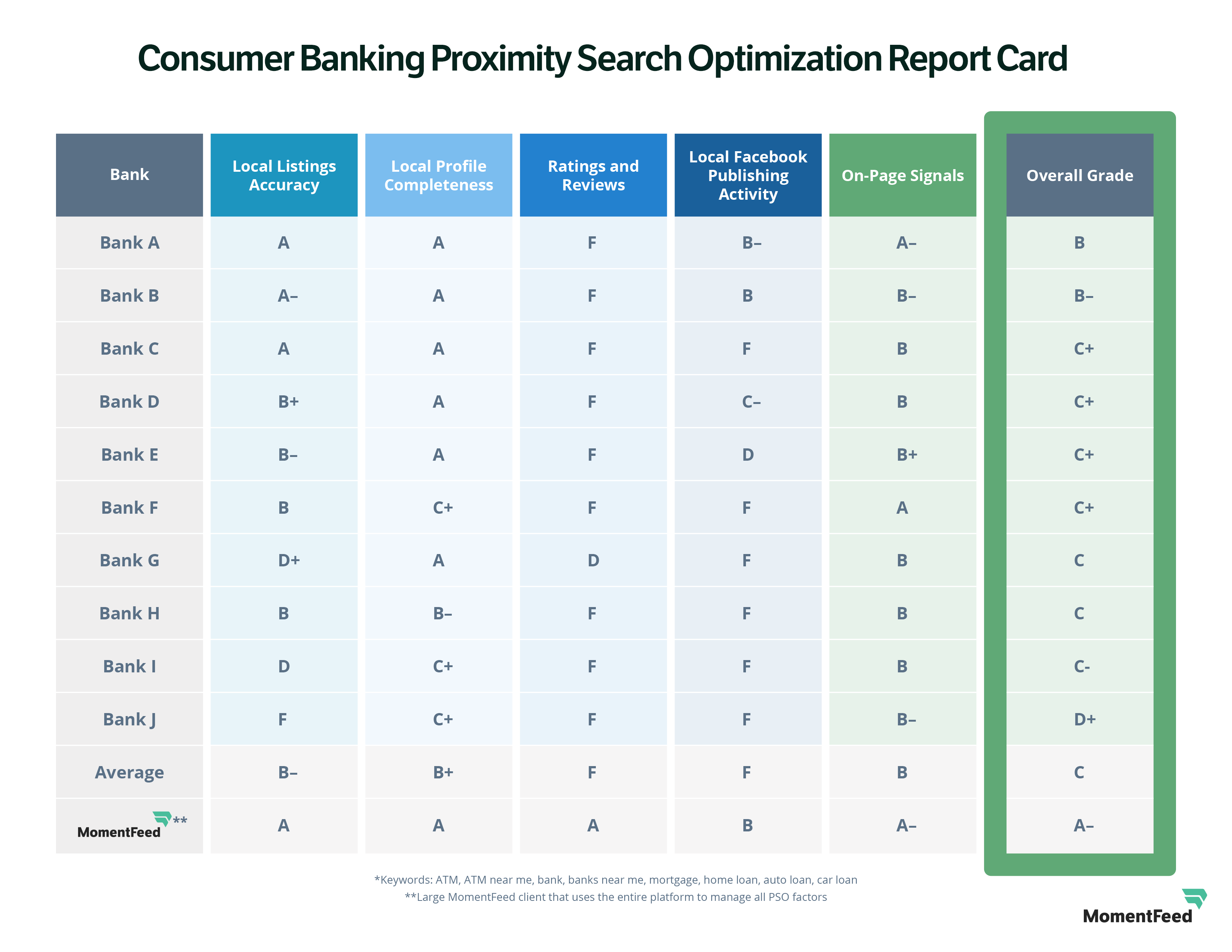 Overall, banks did a decent job on their location profile completeness, but there is room for improvement across every other category. Opportunity for improvement is particularly high in ratings and reviews.
As a whole, banks failed to adequately respond to reviews, indicating a significant opportunity – most banks had relatively unimpressive customer ratings, earning an average of 3.0 out of five stars. They did a poor job of responding to their customers, replying to only 21% of reviews on average. Only 11% of negative reviews received a response within the recommended 24 hour time frame. Several banks didn't respond at all.
Research shows that poor ratings can have a serious impact on business success. Three-star reviews receive 15% fewer clicks than 4-star reviews, and 80% of shoppers say they've changed their mind about a purchase based solely on negative reviews they found online.
Unclaimed bank Facebook listings, which lead to large amounts of inaccurate data, and lack of keyword optimization on Facebook posts were two additional areas of opportunity for banks to improve their local search rankings.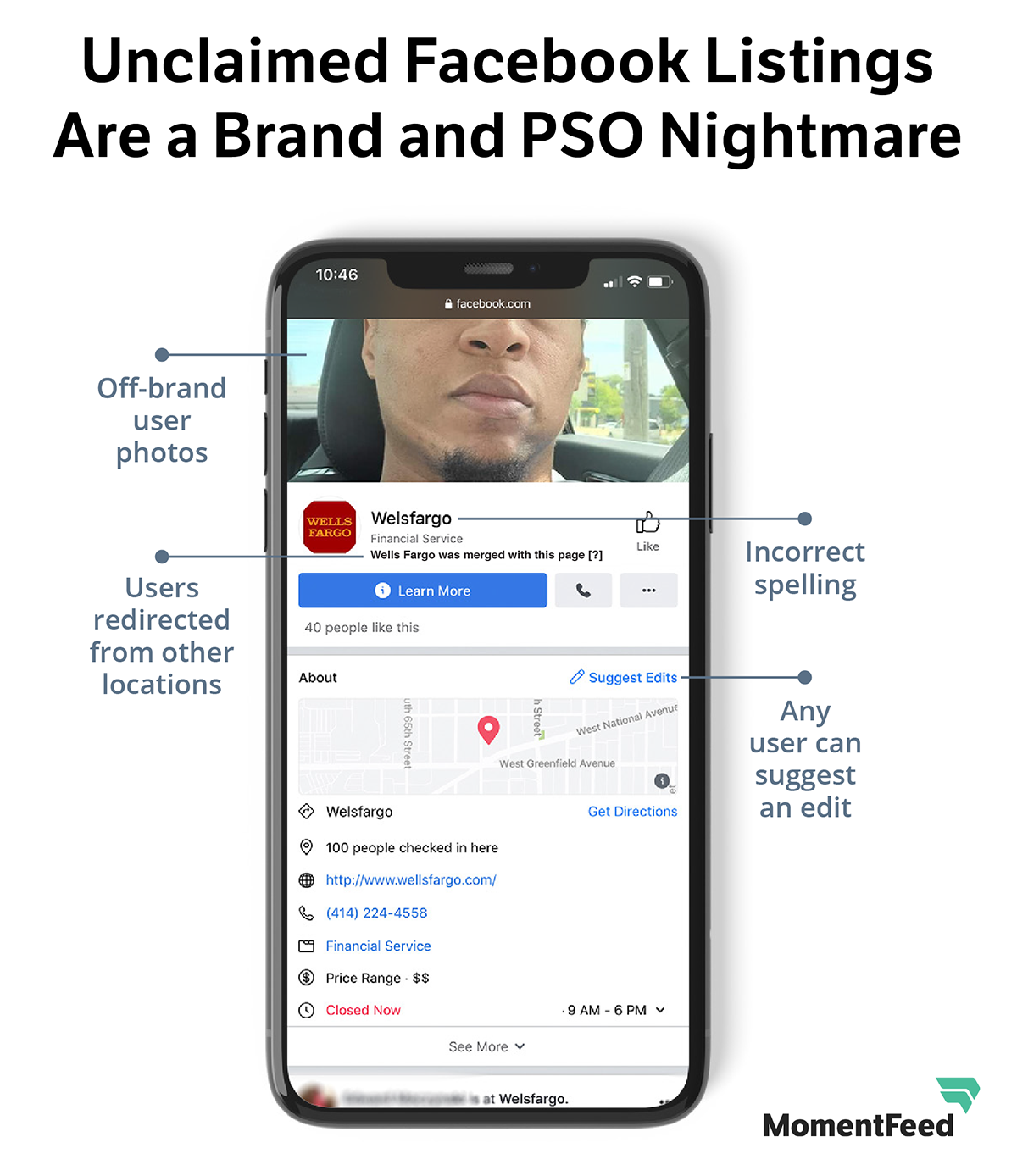 This lack of maturity leaves the door open for any bank willing to invest in a comprehensive proximity search optimization strategy to rise to the top of the search ranks.
Download the full study – Consumer Banking Proximity Search Optimization Report Card – for an in-depth analysis on the banking industry's effectiveness across the five key proximity search optimization signals.
See how your bank stacks up