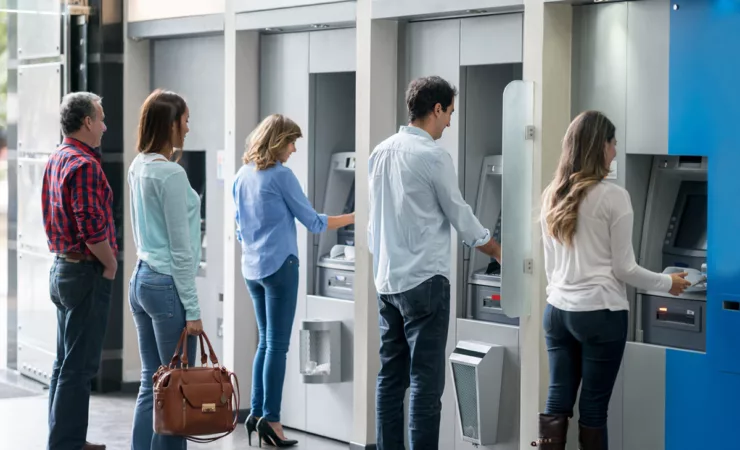 Blog
Better Listings Management Can Help Banks Boost Branch Traffic
When customers need to visit a bank, they're not looking to travel far' as evidenced by a steady rise in local searches for the term banks near me. With global consumers increasingly turning to mobile devices to assist with their banking needs, retail banks are grappling with the stiff challenge of driving traffic to local branches. How can retail banks attract these on-the-go consumers and get them into their branch locations to form deeper connections that turn casual ATM users into lifelong clients? The key is visibility. Coordinating a strong online presence that incorporates accurate and detailed branch information generates visibility in 'near me' searches, driving mobile bankers and anyone conducting local banking searches through the doors of local branches.
To be included in near me searches, branches need to be findable, and to be findable, maintaining accurate NAP information' name, address, phone number is critical. Additionally, retail banks must ensure that branch services (such as mortgage loans, home equity loans, wealth and account management, etcetera) along with their ATM network and teller services are all represented and accurate for each and every branch location. This task becomes daunting when services offered can vary widely from branch to branch. It takes a strong and specific SEO strategy to gain visibility in localized search and target the right audience at the right time.
Ensure That Your Listings Are Robust and Accurate
When a consumer conducts a search for nearby banking services, they may not be specific about what they're actually looking for. If they're interested in speaking to an expert about wealth management, for example, but search for bank near me, they may be sent to a local branch that doesn't provide that service or worse' simply sent to a local ATM. They'll be unsatisfied, as will the bank. This is why location management is so crucial. Retail branches need to maintain not only accurate names, addresses, and phone numbers, but also locational information that includes latitude/longitude data, business category, business description, and hours of operation' for every branch and every ATM.
Once a branch's locational data has been cleansed and updated, the next step is for the retail bank to claim their branches across all their assets' Google, Yelp, Facebook, Foursquare' and distribute them to network aggregators like Acxiom, Neustar, Factual, and Infogroup.

Optimize Your Listings For Local SEO
To connect with current clients' while always aiming to engage with new ones' making branches findable must be a priority for banking institutions. Google's local results are based on three primary factors: relevance, distance, and prominence. Searches for local services favor businesses with complete and accurate information. Providing the phone number, hours, and category for branches on Google My Business listings will help those locations be matched to more searches for local banks, and well-maintained listings boost online prominence. All it takes is inconsistent NAP info or locational data for a branch to be overlooked in a search for nearby banking.
The MomentFeed platform allows banks to manage locational and contact information to optimize search results for every branch. Consumers who want to visit a branch may have to travel further than they did in the past, and if they have trouble locating one' if a nearby branch doesn't show up in the top three results of a local search' they may switch to a competitor with branches that land higher in the results. Being part of the community with visible and locatable branches is a major advantage for financial institutions fighting the surge of online banking opportunities.

Don't Neglect Social Media & Reviews
With the increasing popularity of near me searches, financial institutions have the opportunity to gain significant exposure by engaging consumers in the digital ecosphere. Social media makes it easier than ever to interact with customers' and this interaction is becoming increasingly expected across the social media spectrum. A top priority for retail banks should be to encourage, influence, and efficiently manage as many genuine ratings and reviews as possible on platforms that consumers use most often, such as Yelp and Google Reviews. Review count and rating are confirmed local search factors, so engagement with a greater number of customers has the potential to improve local SEO.
Through social media, financial institutions can increase loyalty with targeted, interactive campaigns that lead to greater customer advocacy. MomentFeed allows for unprecedented ease in managing the social media pages of local branches, making it possible for large institutions to nurture genuine connections with their clients, even in the fast-paced world of mobile consumers.
Learn more about how MomentFeed can help your bank brand succeed.