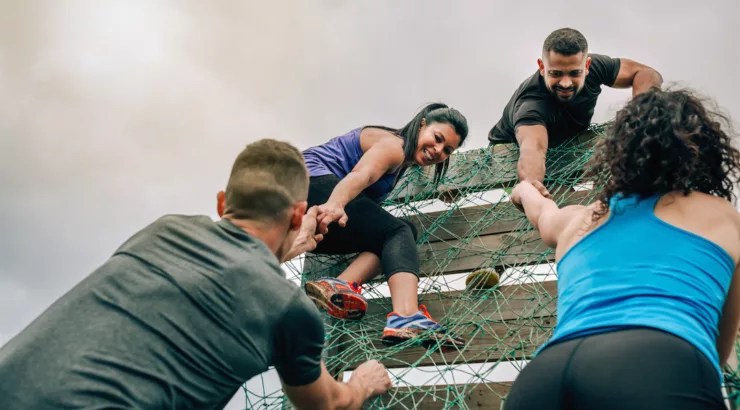 Blog
Show Your Support for Ukraine Refugees on Google Business Profile
The outpouring of humanitarian support for Ukrainian refugees over the last few weeks has been unparalleled. We've seen it on our screens and TVs: train stations full of essentials such as strollers and warm coats for arriving refugees; people sharing spare bedrooms; businesses offering jobs; and relief organizations like World Central Kitchen deploying in record time to feed displaced families.
Moving quickly and figuring out how to get essential goods and services in the hands of those who need them – as these countless individuals and organizations have done – is crucial in a crisis. But it's often a major challenge.
Google is providing a new way for Ukrainian refugees to get connected to the many businesses and organizations offering support. The company is rolling out new Google Business Profile attributes for businesses to show what they are doing to support refugees from Ukraine.
Google will begin displaying these attributes to users on Search and Maps over the next few days with the initial rollout focused on businesses throughout several European countries including Poland, Romania, Moldova, Slovakia, Hungary, Czech Republic, Austria, Germany, Bulgaria, Slovenia, Croatia, Lithuania, Estonia, Latvia, Italy, Greece, Sweden, Denmark, Finland, Netherlands, Belgium, Luxembourg, France, Spain, Portugal, and Ireland. Here is how the attributes will appear to users.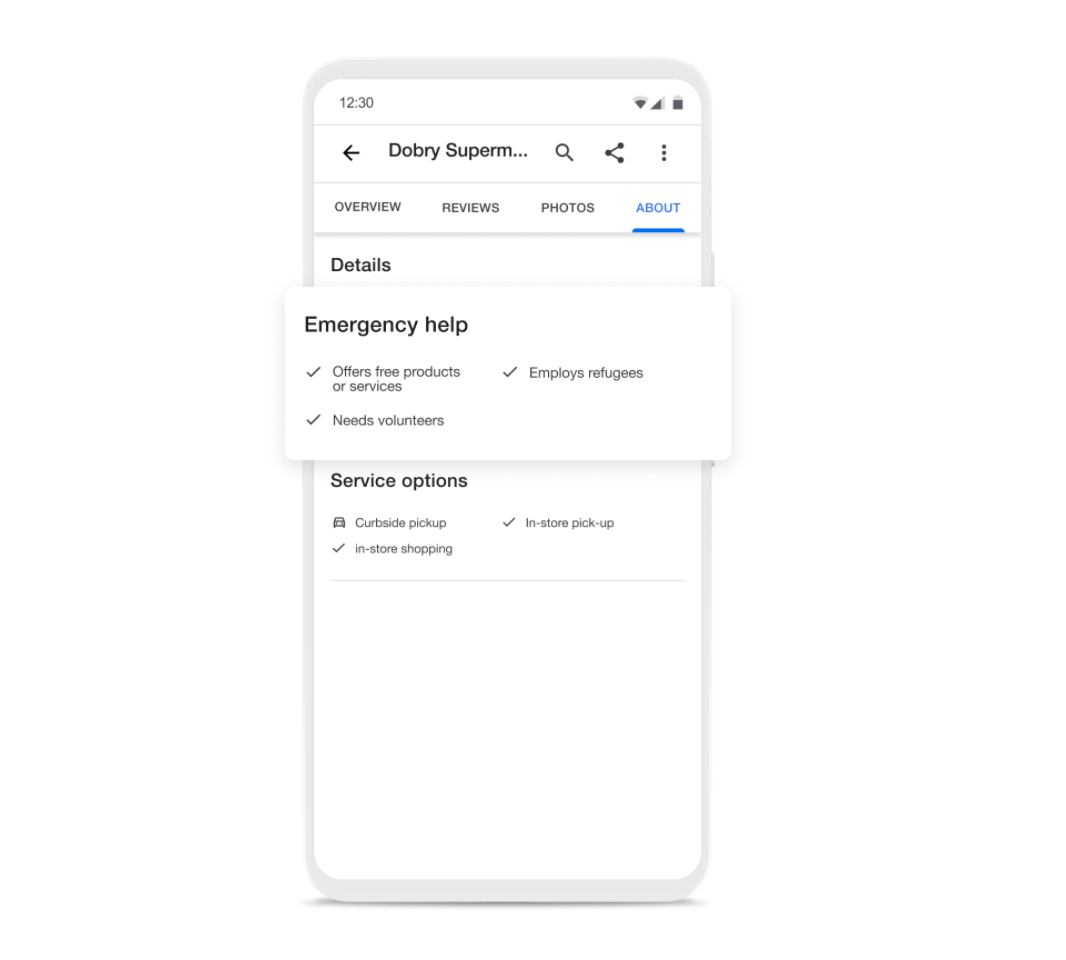 New Emergency Help Attributes
Attributes at launch are in three main categories - Hotel / Transportation / Legal Services - and will be included in a section called Emergency Help.
Available attributes will vary by category and will include:
Needs volunteers: Highlight the need for volunteers to help refugees
Offers accommodation for refugees: Offer accommodations to refugees in need of a place to stay
Offers free products or services: Show that your business offers any type of good or service at no charge
Accepts donations: Let others know you're accepting donations for refugees
Employs refugees: Offer employment opportunities to refugees
Offers free legal help: Provide legal support at no charge for refugees
Offer transportation services: Offer to transport people or supplies in need
Adding Ukraine Support Attributes Is Easy with Uberall
Uberall is supporting new attributes in our platform via an API plugin for all types of businesses that have the functionality available on Google. If you need any assistance please don't hesitate to reach out to your CSM.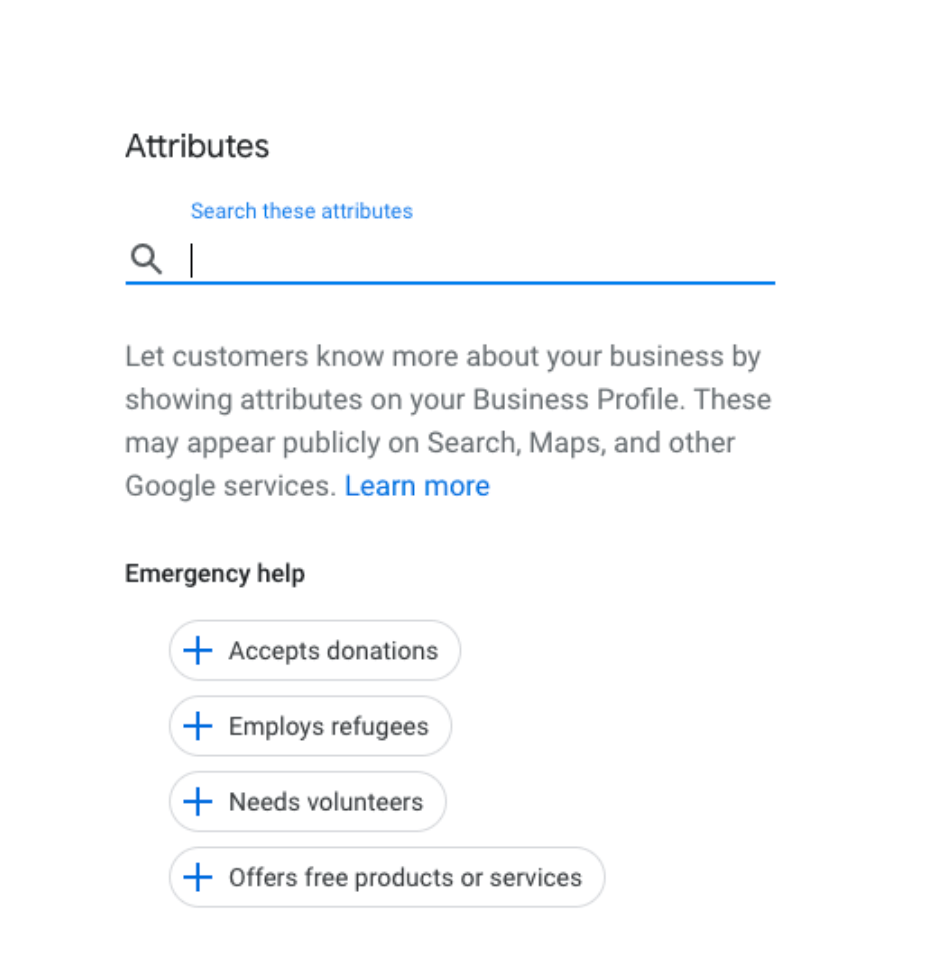 Don't See Your Category on the List? Here's What To Do
What we know about Google is that they understand they have the broad reach and responsibility to move quickly in times like these. Only a few months ago, we watched Google add Covid testing attributes to connect individuals to organizations offering to test. We expect Google will add additional attribute categories as user behavior continues to evolve in this crisis.
But you don't have to wait. Here's what you can do now:
If you have a recommendation for a new category in this area, feel free to make a suggestion in the Google Business Profile Forum here. Google is always looking for this type of insight from users.
If you are not one of the categories included in this first update you can still get the word out about how you are serving Ukrainian refugees by adding a post on your Business Profile about what you are doing. Here are some tips that can help if you're new to posts.
Actively Manage Your Profile Content to Stay Relevant
We hope you are as inspired as we are that users are in need of important information like this. We always encourage businesses to update attributes as they become available, and leverage resources available to surface content like this via posts, and Q&As. For businesses that are providing emergency help, it's more important than ever to ensure your contact information and hours of operation are up to date on your business profile.
Not only is it a small thing you can do to show your support for Ukraine, but it is also good for the customer experience and can even help increase visibility for your business for relevant queries. Attributes can inform prospective customers if your business identifies as a women-owned business, is wheelchair accessible, or is LGBTQ+ friendly, helping people learn more about your business.
Maintain an online presence that customers are drawn to during high-intent searches