While your local customer needs might be different from region to region, what remains consistent across every location is that each customer who walks through your doors feels safe and comfortable.
With Pride Month in full swing around the world, we've teamed up with our partner Google to highlight the LGBTQ-friendly attribute for businesses — and to showcase some of our customers who are adding the attribute to their local profiles.
Why Allyship from Businesses Matters for the LGBTQ+ Community

LGBTQ+ people still experience discrimination and poor treatment when accessing businesses and services, including shops, cafés, banks and gyms.

According to Stonewall, more than a third of trans people (34 per cent) have been discriminated against because of their gender identity when visiting a café, restaurant, bar or nightclub in the last year.

While more than one in seven people among the LGBTQ+ community in general. And, like each one of your customers, when an LGBTQ+ person has a bad experience with your business, your reputation can be easily tarnished as reviews or online comments spread to other members of the LGBTQ+ community — and their allies may be less likely to support your business.

Google also found that more than 45% of under–34s say they're more likely to do repeat business with an LGBTQ+ friendly company.
How Does Google's LGBTQ-friendly Attribute Work

To show that your locations are friendly towards all visitors from the LGBTQI+ community, allies can add Google's LGBTQ-friendly attribute to showcase their business as a safe space.
By doing this, your business will enable more consumers who want to connect with LGBTQ-friendly businesses because the attribute is visible on Google Search and Maps.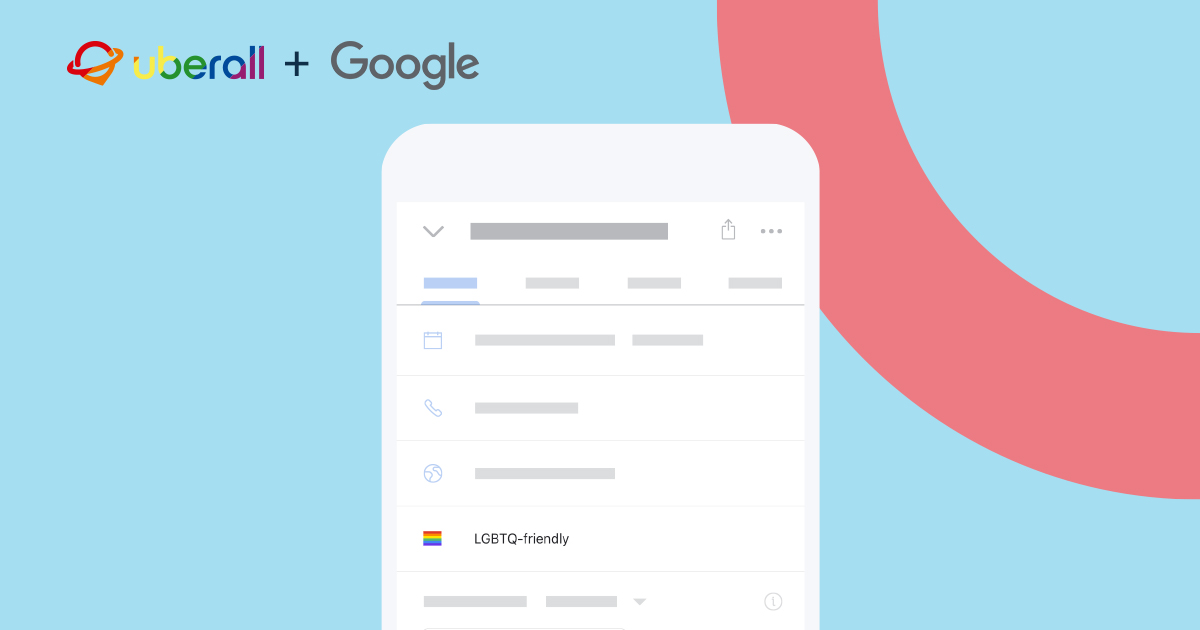 To learn more about Google's LGBTQ-friendly attribute and why this matters now, more than ever, I had a conversation with Jasmin Kaur to learn what Google is doing for Pride this year and what the attribute is all about.
Prefer an audio version? You can listen to the discussion here (approximately 3 minutes) or read through the transcript of our conversation.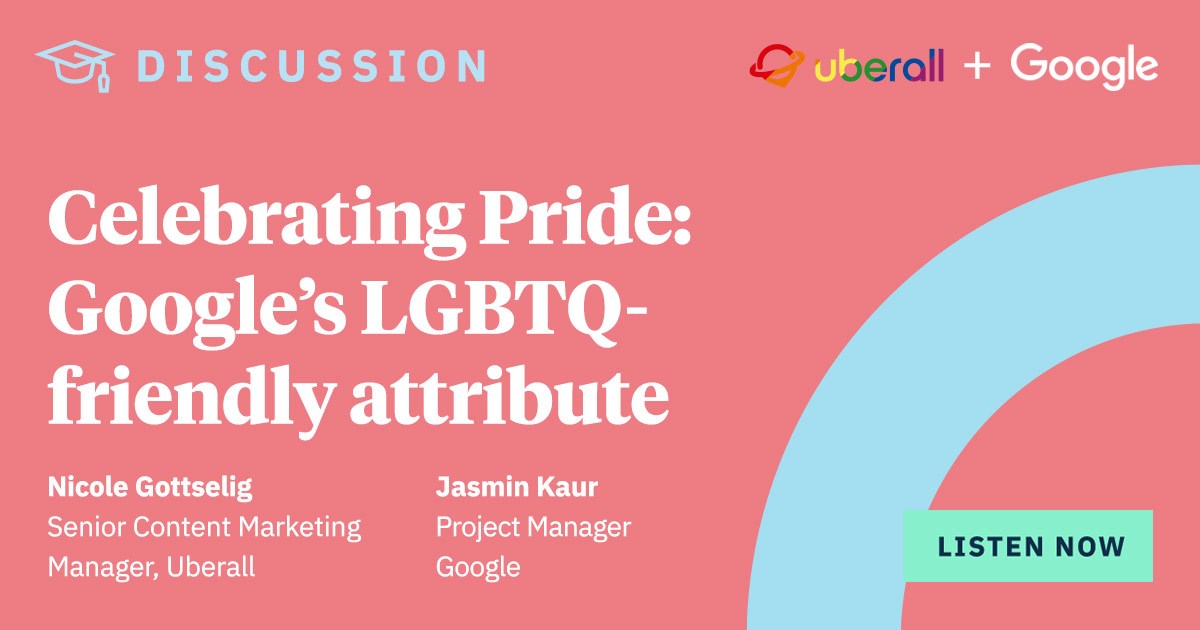 Nicole Gottselig: What is your team at Google doing for Pride this year?
Jasmin Kaur: This year the team is championing businesses who create a safe space for the LGBTQ+ community. We spoke with Stonewall recently and their research found that LGBTQ people still experience profound levels of discrimination when accessing businesses like shops and cafes. 1 in 7 LGBTQ people reported experiencing discrimination when shopping and this goes up to 1 in 3 when looking solely at transgender people.
So this is why we've decided to showcase and champion businesses that proactively ensure their business is a safe environment for the LGBTQ+ community.
Additionally, we have been promoting the LGBTQ-friendly attribute in Google Maps so the community can easily find businesses that they know will make them feel welcome.
We've done a couple of video case studies in the UK and a few written ones across EMEA. One example of this is a business called Orhan London Tailoring, an East London tailoring business who specialise in creating bespoke, tailored suits for women.
As his business grew, women from all different backgrounds were seeking his services including lesbian women getting married and who sometimes might be looking for something different from the classic white dress but couldn't find a tailor that would be able to offer other options and really make them feel comfortable.
Through their Business Profile, they've been able to communicate to the community that they are a safe space by activating the LGBTQ-friendly attribute.
We've also partnered with some big brands who are LGBTQ+ allies such as Sephora who have focused many recent campaigns on Transgender rights and with you Uberall who manage big LGBTQ ally brands such M&S and Ikea to show on all of their Business Profiles that they're a safe space for the community via the LGBTQ-friendly attribute.
NG: What is the LGBTQ-friendly attribute on Business Profiles on Google?
JK: The attribute is an icon in the shape of a rainbow pride flag which can be seen when someone searches for a business on Google Search or Maps.
The business doesn't have to have a LGBTQ+ owner, it means that the business is an ally of the community. Businesses can easily activate the LGBTQ-friendly attribute at a click of a button on their Google Business Profile and we call upon all LGBTQ+ ally businesses to do this.
As Stonewall suggests, it's important for businesses to signal they are inclusive so the LGBTQ+ community knows that the business is welcoming and is a safe space for them.
In Our Customers' Words

bp
"Our new purpose and strategy make delivering against our diversity, equity and inclusion ambition more important than ever. We want bp to reflect the diversity of the world around us and we aim to be recognized by our stakeholders as an industry leader on this. The Google's LGTBQ-friendly attribute is one of the initiatives that allow us to show our commitment on diversity, equity and inclusion and we are very happy to take action for our customers."
—Natascha P. Díaz, Global Digital Channels & Platforms Advisor at bp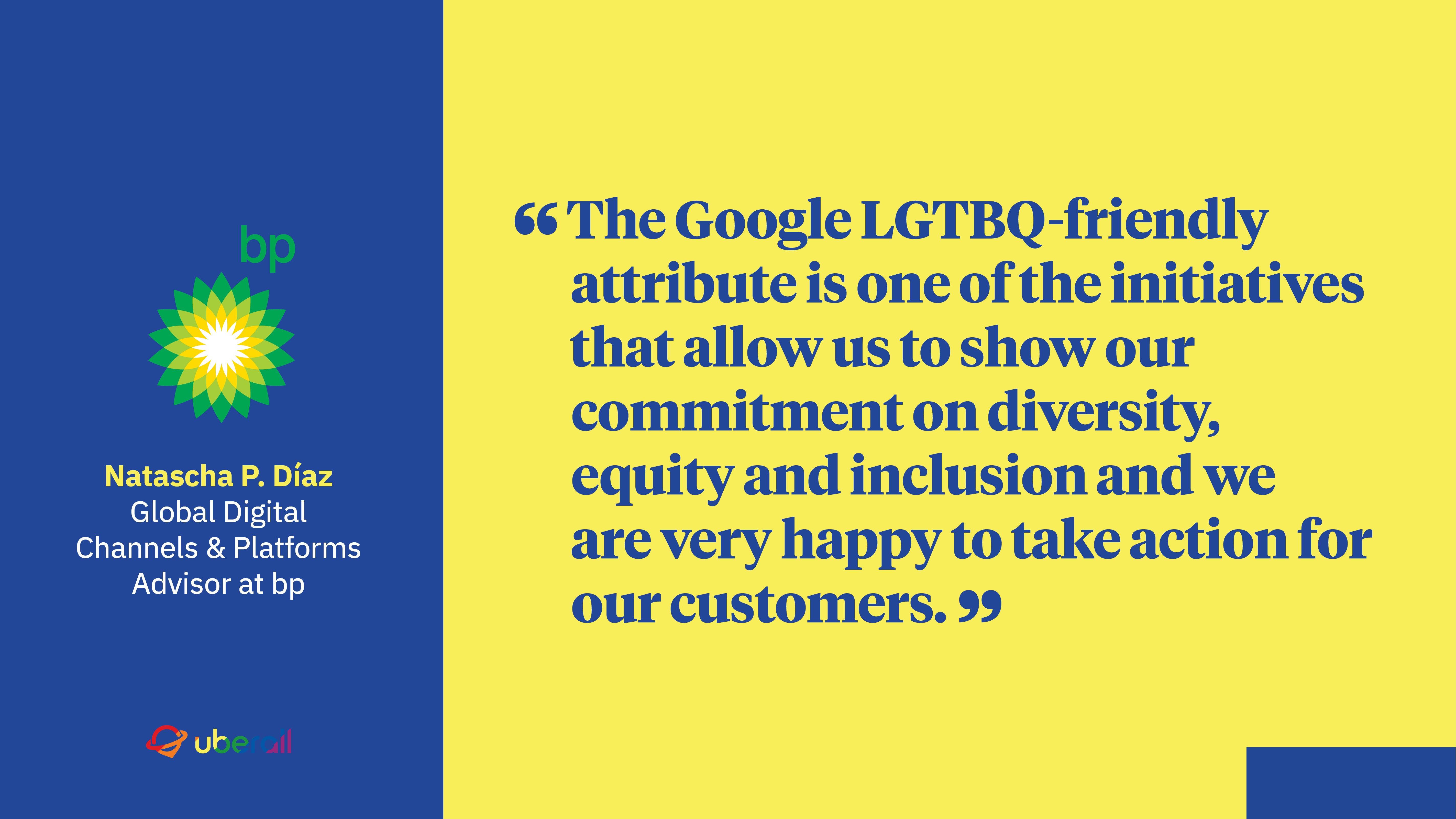 Douglas
"Douglas stands for diversity. We make no distinctions in skin color, origin, sexual orientation, personal pronouns or age.

Douglas sees itself as a democratic and inclusive brand that stands for an open and diverse society.

In 2021, Douglas achieved the Diversity Certification of the initiative BeyondGenderAgenda and represents diversity, equal opportunity and inclusion internally and externally. We want to encourage everyone to be the way they want to be.

We always strive to inspire our customers and employees to express their individuality.

Therefore, we have anchored our long-term commitment to the topic of diversity not least in our purpose, in which we commit ourselves to a world where everyone feels seen, heard and valued in their individual uniqueness.

By using Uberall Listings we were able to quickly and easily add the 'LGBTQ-friendly' flag to all of our locations. This allows us to demonstrate our commitment to the topic of diversity in each of our stores."
— Nils Winter, Head of Crosschannel Douglas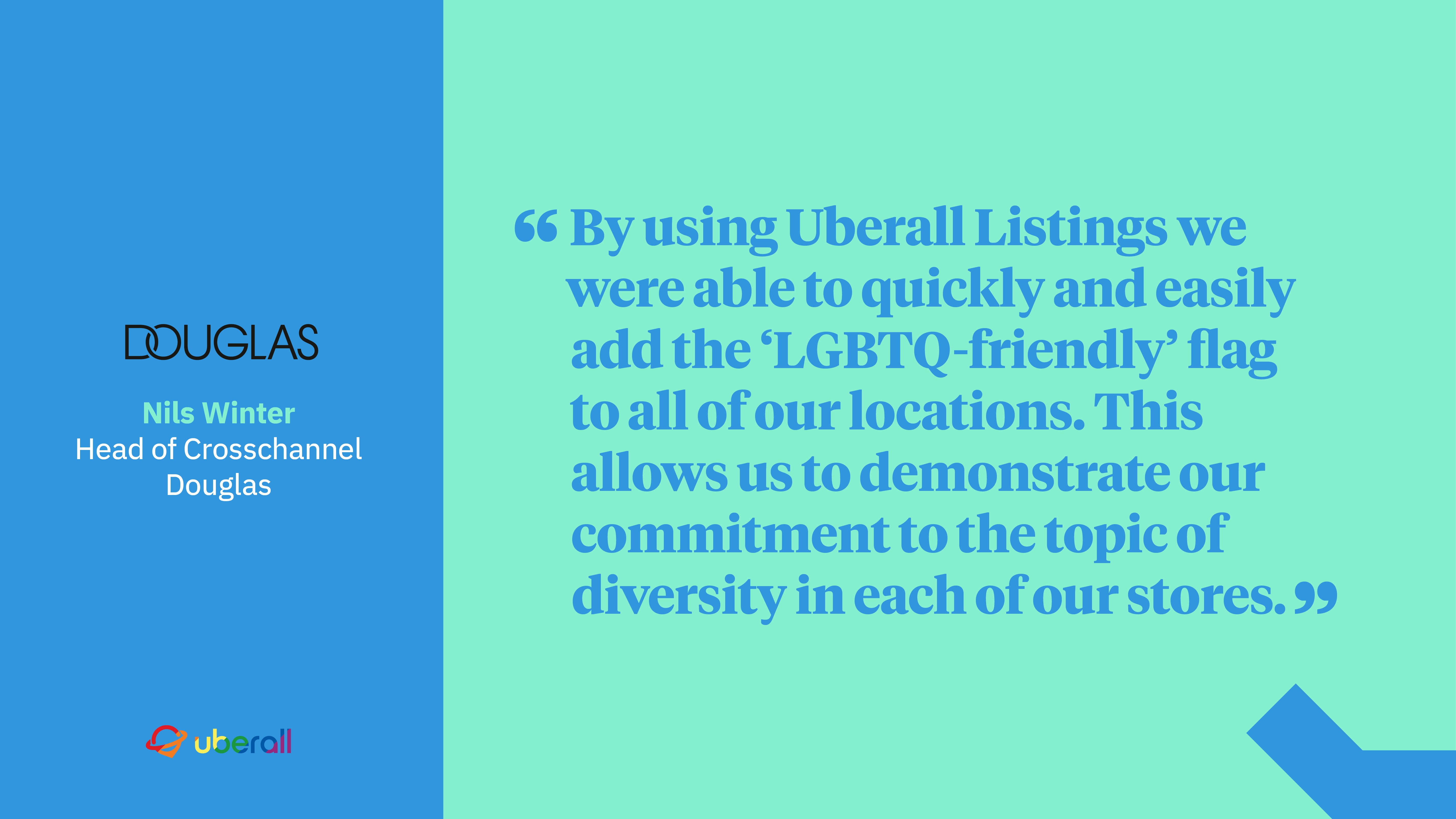 LSL Property Services
Louise Hudson, Marketing Director at LSL's Estate Agency Division commented:

"Google's new LGBTQ-friendly attribute is a very welcome initiative and completely in line with work already being undertaken by our dedicated Inclusivity & Diversity forum with its overall aim being to recognise, celebrate and respect the diversity of our staff and customers.

This is a great idea."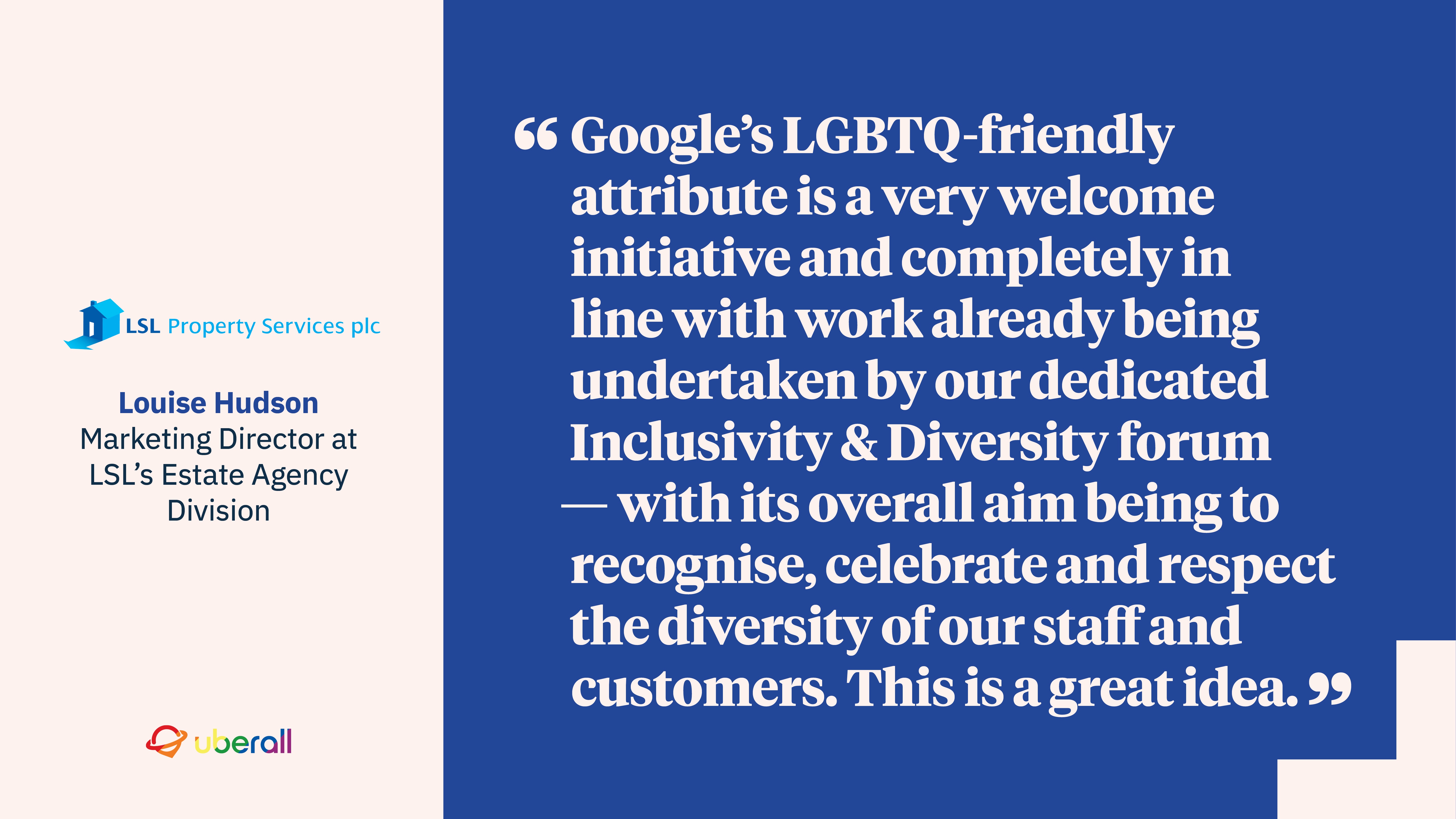 M&S
"At M&S we're focused on ensuring that inclusivity is embedded into how we operate — from the ranges we sell to how we help our colleagues feel part of the M&S family.

June is traditionally Pride month, when marches and events kick off around the world – and whilst the parades across the UK will look a bit different this year, we're delighted to be running our own M&S Pride Festival to mark this important month.

Alongside this we want to keep showing our customers that everyone is welcome at M&S so we're really pleased to be rolling out the LGBTQ-friendly attribute across our Business Profiles on Google via Uberall."
– David Barnes, Co-Chair of M&S's LGBTQ+ network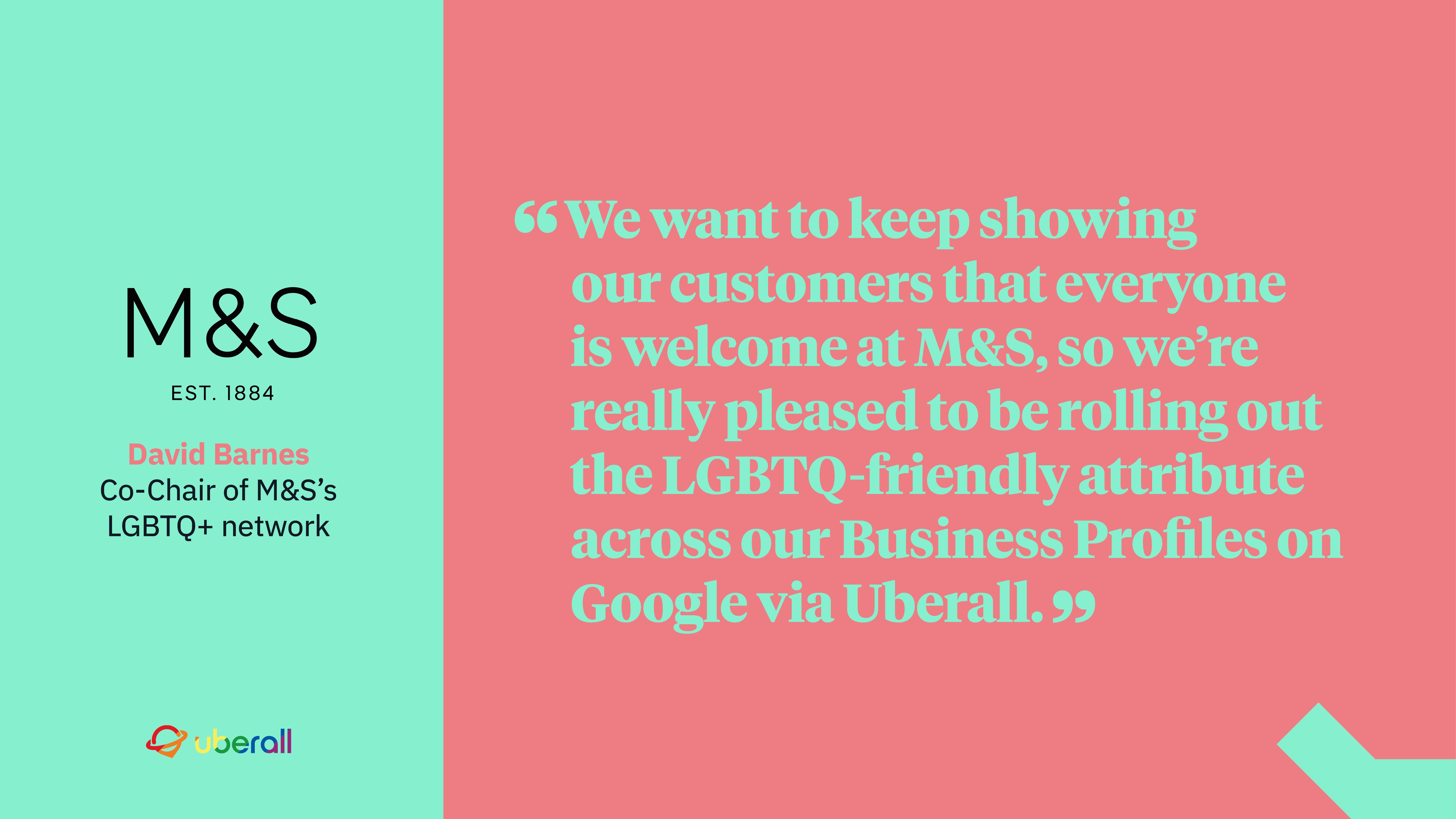 Ready to Join +190,000 businesses Globally that Have Enabled Google's LGBTQ-friendly attribute?

If you're an Uberall customer, you can add the attribute across hundreds of locations directly from the Uberall platform. If you're not an Uberall customer, please see this article from Google for step-by-step instructions for small businesses.