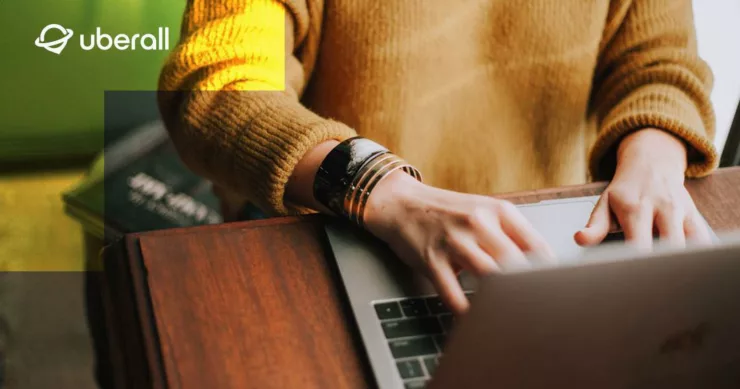 Blogs
Responding to Coronavirus: 5 Things You Should Do Now
By Greg Sterling, Uberall's VP of Market Insights

The speed with which the COVID-19 outbreak has transformed daily life is unprecedented. And making it to the other side will involve equal measures of communication, collaboration and creativity.
In Europe and the US, governments are imposing new restrictions to stop the spread of the virus and "flatten the curve." But social distancing, working from home (WFH) and general uncertainty have already started to take a significant toll on local economic activity. It's beginning to impact small businesses, which often don't have meaningful reserves or lines of credit. But the coronavirus won't spare enterprises either, as B2B spending and investment slow dramatically across the globe.
What can and should businesses do now to address the crisis? The answer depends in part on your industry and your position in the market. But here are 5 general steps you can take whether you're a national brand with 1,000 locations or a small business with only one.
Communicate with customers
People are getting a lot of emails from Covid-19 almost every company they do business with. Don't deliver one more generic-sounding missive. It's critical to be authentic; don't make your communications rote or, by the same token, too self-important.
Let customers know what's going on in a simple and direct way. Are you shutting down in-store sales or activities, but still have e-commerce or delivery capabilities? Let people know how to access your products or services during the temporary closure or "lockdown" period.
A minority of companies have taken the outbreak as an opportunity to sell more or acquire new customers. If that happens, great. But don't make your "we're here for you" message a sales pitch. How can you be genuinely helpful? What does that mean for your customers, many of whom are struggling just like you.
In addition, your communications strategy should be multi-faceted and multi-channel. Use your social media accounts to engage your audience with useful and appropriate information. This is also a potential opportunity to strengthen your community. But don't overreach; people are preoccupied with their own situations. Try to see things from their perspective. It's about them; it's not about you.
Update your information
If you have stores, dealers or other physical locations that have reduced hours or are temporarily closing, update this information in Google My Business. Google will be the first place people look to determine if you're open or for which locations are functioning. (If you're an Uberall customer, you can do this easily.)
Google makes a number of additional COVID-19 recommendations for businesses with physical locations. Among them, edit your business description to address changes in your service or product availability, update phone numbers if appropriate (eg, to a hotline), use Google Posts to convey updates or promotions, if relevant, and utilize Google Q&A (like FAQs) to answer common customer questions.
You will want to create new FAQ pages on your site to address consumer questions, concerns and changed circumstances from the coronavirus. You could also see some ranking benefits from these pages, depending on their content.
Revisit your marketing
Take a look at your marketing campaigns. Some marketers are putting ad budgets on hold until the second half, when they anticipate a rebound in spending or demand. This may be prudent. But being too conservative might not be the right move either.
Right now might be a good time to be more aggressive with SEO or PPC advertising to build greater awareness for your product or brand. As your competitors retreat, you may want to advance. It may be time to turn up the volume on your e-commerce offerings. But this is entirely contingent on your situation.
In pulling back or moving ahead, you need to be thoughtful, evaluate your competitors' positions and run some scenarios. Regardless, don't exploit the virus as a selling opportunity.
Collaborate with employees
While WFH has become common in certain industries, it's still not the norm. Where available, WFH allows flexibility and, in some cases, greater productivity. But it can also pose challenges for team problem solving, collaboration and creativity.
Calls and even video conferencing can't truly substitute for in-person communication. But they are very helpful when that's not possible. And there are lots of good online collaboration and conferencing tools (eg, Google Hangouts, Zoom, Slack, Loom, etc.). Many of these companies are offering free tools or premium services for free during this period.
Some WFH employees may begin to feel disconnected. Keep groups connected with regular communication, collaboration tools and video. People will want to connect to overcome the social isolation they may feel at home or in being cut off from normal work routines. Uberall is initiating a daily virtual coffee meeting to brainstorm and stay connected.
While many employees are anxious and distracted right now, they're also a great source of ideas and inspiration. Tap into employee creativity for operational improvements and client servicing. Your employees have some great ideas. Beyond the intrinsic benefits of these ideas, you will likely increase employee engagement and improve morale, which are keys to maintaining productivity at an uncertain time like this.
Get creative
Sometimes crises enable us to develop new ways of serving customers and generating new business. And, if nothing else, the current crisis calls for creative thinking and problem solving, whether you're a large enterprise or small business.
For example, the cancellation of numerous trade shows in 2020 is resulting in lots of experimentation around virtual events and other ways to deliver content, as a substitute for in-person meetings. Some small businesses are using gift certificates creatively to keep cash flowing. And many businesses with casual online sales are being forced to make a bigger push into e-commerce. Here's another example: grocery and food delivery services have created "contactless delivery" protocols to minimize the risk to drivers and customers. Some grocery stores have special hours for seniors. There are many other examples.
These recommendations above are not perfect solutions but intended to start internal and external conversations. It's also important not to despair. Businesses that are focused and creative and genuinely seek to support their customer communities can come out the other side - stronger than they were before.
A final word to all: stay safe and healthy.