Blogs
How Multi-Location Businesses Can Manage Online Presence During Coronavirus (COVID-19)
Recent news of the spread of Coronavirus (COVID-19) across the world, and in the U.S., has been disturbing to everyone at MomentFeed. We have been closely tracking COVID-19 and the impact it is having and could have on multi-location businesses in the days ahead.

You have likely already been thinking about and implementing new plans and policies as the CDC encourages all businesses to do their part to keep their employees, customers, and themselves healthy. New guidance from the CDC and local government officials is being released daily. In fact, in an effort to slow the spread of COVID-19, many local government officials have closed or are considering closing bars and restaurants in their local communities.

In this climate, managing your online presence at the local level is more important than ever, and it is an area where we at MomentFeed can help. We've compiled a checklist below to ensure you are providing timely and accurate online information to your customers at a local level:
COVID-19 Checklist for Multi-location Businesses
1 - Provide Timely Communication
Ensure local store managers and franchise owners have the most up to date information from the corporate level regarding how to interact with customers.
Make sure to keep this a two-way dialogue as some store managers and franchise owners may have insight into local government policies that may differ from the national companies overall guidance.
Create a library of approved content to ensure control of the brand message from the top down for use in social media.
MomentFeed can help, we've drafted a starting library of templates that can be tailored to fit your market and specific needs. Be sure to partner with your public relations and corporate communications teams to ensure alignment.
Here is a great example from Chick-Fil-A providing regular updates on operations from the corporate site https://www.chick-fil-a.com/corona-virus and on a local level https://www.chick-fil-a.com/locations/ca/south-bay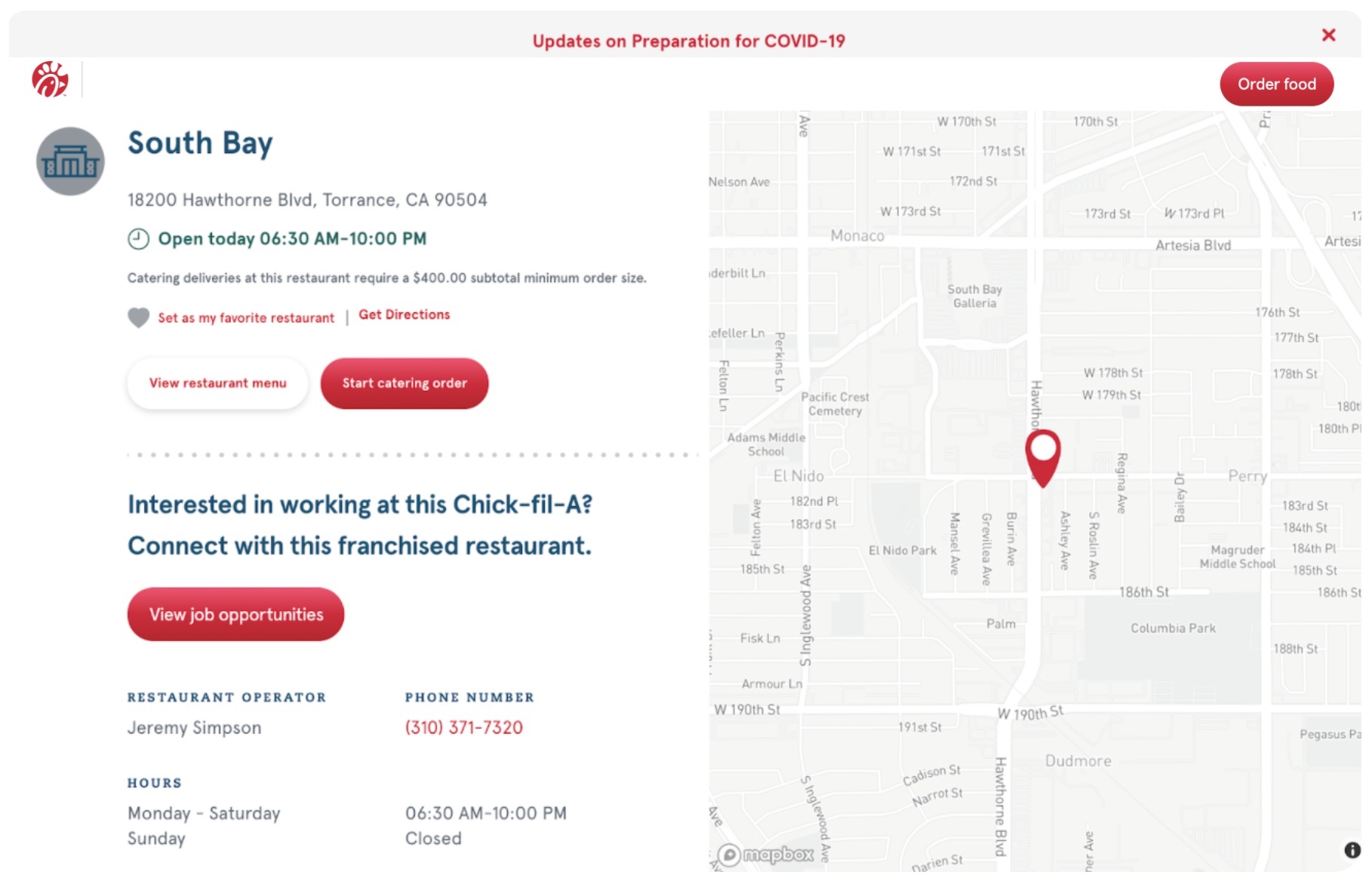 2 - Update Your Local Pages
As COVID-19 develops, with varying levels of sensitivity in every community, you'll want to update local pages with information such as:
Changes to local store hours.
Closures.
Updates regarding operations such as: drive up / mobile orders / delivery only.
Highlight delivery options for your customers, whether you provide delivery services yourself or rely on a third party.
Update your local pages with out-of-stock or restocking information, particularly high-demand items.
Provide reassurance by offering transparency into the policies and procedures that your business is implementing to ensure the health and safety of employees and customers. This messaging should be provided by corporate to ensure consistency and reassurance to customers during a time of uncertainty and could simply be a link back to the message on your corporate website.
3 - Leverage Your Local Social Presence to Get the Word Out
Social media can be a powerful tool to keep local customers updated, especially when constant email updates may feel a bit invasive during such a sensitive time.
Utilize social media broadcast posts for updates on hours and operational details. Let your customers know to check back for changes regularly.
If you are a MomentFeed customer, leverage dynamic fields to make it easier to post to all of your local social pages in order to get the word out quickly across all locations.
Consider specific local social campaigns as it makes sense - restock notifications, local delivery options, etc.
IMPORTANT - Don't forget to unschedule any non COVID-19 related content that may appear insensitive.

4 - Paid Location-Based Advertising
With likely variations in operations across your multiple locations, consider paid local social campaigns to increase the effectiveness of your ad dollars.
Run open-for-delivery campaigns to highlight that you are open for business, or to encourage consumers to support the local economy by ordering through local businesses.
If you are a MomentFeed customer, leverage Paid Media Manager to easily send targeted, location-specific ads. Research shows that 75% of consumers are more likely to take action on a location-specific message.
Manage your online reputation - As always, your reputation is important to monitor, crisis or not. During a highly sensitive time, you'll want to be on high alert for brand-damaging comments.

Make sure to add additional keywords related to COVID-19 to your alerts. Here are some of the trending hashtags:

#Coronavirus
#COVID19
#COVID-19
#SocialDistancing
#CoronavirusOutbreak
#ToiletPaper
#HandSanitizer
#HandWashing
#Outofstock
#PanicShopping

Monitor for brand-damaging comments and set up escalation for quick follow up and closure/resolution.
5 - Update Your Google My Business (GMB) Listing Pages
Google views your GMB listing page with a high-level of authority. Ensure all your local GMB pages and other local listings are consistent and up-to-date with the latest information including:
Your operating hours if you are closing early for example.
Any changes, including restocking times, early closures, etc. Google recommends doing this through your merchant description.
The GMB team published a new help page that outlines several steps businesses can take to provide customers with relevant, up-to-date information during the outbreak.
We are in uncharted territory, with business operations being modified almost daily to protect the health and safety of our communities. Managing your online presence at the local level is just one aspect of the larger picture, but it is an area we at MomentFeed can help. Whether you are a MomentFeed customer or not, please contact us with any questions about how you can manage your online presence, we're here to help.
For more information and guidelines from the SBA and CDC visit these helpful resources: