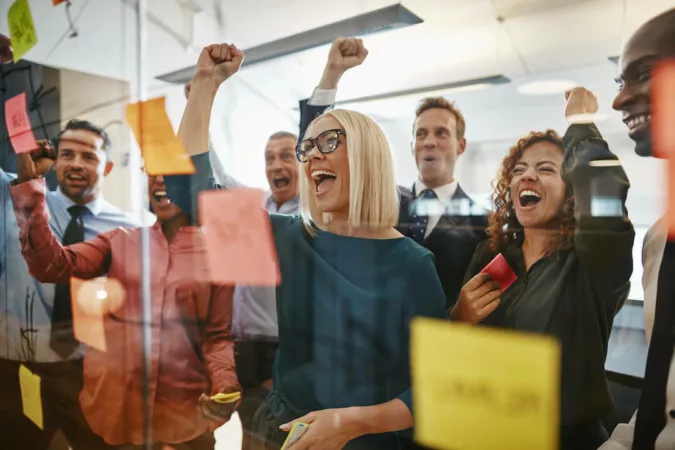 Blogs
How Arvest Bank Creates Memorable Online and Offline Impressions
Despite all the digital advancements in banking, when it comes to a big financial decision, consumers still want an in-person experience with their local bank. Big events like buying a house or helping a child open their first checking account are all opportunities for a bank to form a lasting impression.
But before a potential customer steps into a branch, they often conduct online research. For a bank to gain consideration, it's becoming increasingly important to create memorable digital impressions.
No one understands this online-to-offline journey quite like Josh Rinkenbaugh, Director of Digital Marketing at Arvest Bank. Today Josh oversees the company's digital presence, but Josh began his career at Arvest working in a branch as a financial sales representative. I had a chance to catch up with Josh recently as a part of our Local Marketing Masterminds series, and wanted to share a few insights from him.

Watch virtual chat with Arvest Bank.
How Localized Digital Content Forms Positive Community Connections
Arvest Bank is a regional bank founded in 1961 with its first location in Arkansas. Today Arvest operates in more than 135 communities across Arkansas, Kansas, Missouri, and Oklahoma. What is unique about Arvest Bank is that in each of its 14 major markets the bank has independent leadership and management teams that are able to make localized decisions based on what is happening in a local market.

This allows each regional leadership team to really focus on a localized marketing strategy and allows the corporate team to support them with a focus on brand and digital marketing.

"It's really a tag team effort. The branches have a pulse on what is going on at the local level and create hyper localized content that drives higher engagement."
Josh continued by saying that In some of the really small communities Arvest serves, doing things like spotlighting a branch manager for a job well done or giving back to the community creates strong engagement with very little promotion. "You can't underestimate the things that seem, 'small town,' it drives a sense of community and connection, and people want to work with brands they feel connected with," he said.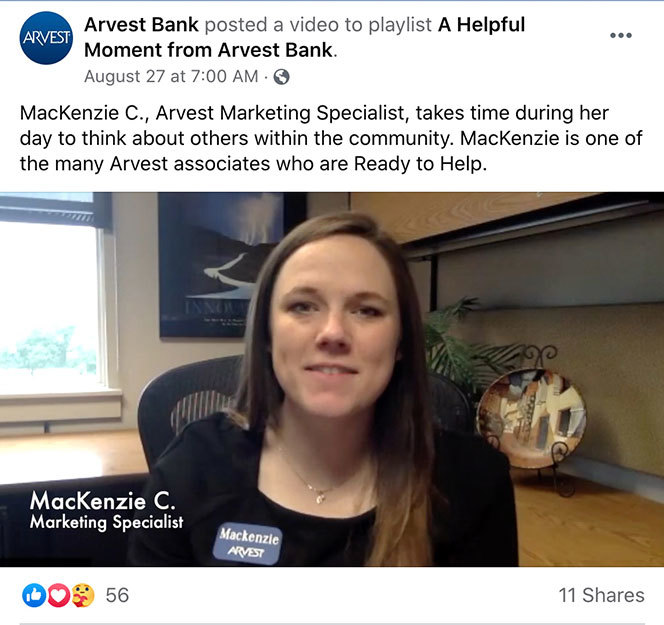 Being Visible in a Consumer's Moment of Need
While community connections are important, Arvest Bank must be visible online the moment a consumer needs banking help or financial advice. With only a handful of life-changing events that drive a customer to switch banks, it is important for Arvest Bank to be discoverable online in those critical moments and to form a positive digital first impression.
When it comes to online visibility, Josh and his team are very focused on Google, which accounts for – 93% of the mobile search market in the U.S. "We all know that Google runs the world," said Josh. "If Google doesn't like what they see about you on all your listings they are going to push you down on the rankings."
And when an Arvest Bank location doesn't show up in the Google 3-Pack (first three organic search results) for relevant, non-branded keywords like "bank near me" or "financial advisor near me," Josh is the first person at Arvest Bank to hear about it. To make sure Arvest Bank's local listings show up in the Google 3-Pack, Josh and his team switched to Uberall, and focus on doing a couple of things really well:
Accurate local listing data - local listings, with accurate information about branch locations and hours are extremely important to Arvest Bank. Not only is it important for a customer that wants to do business at an actual Arvest Bank location, but it's also important to how Arvest shows up in local searches. "Uberall helps us ensure we have the most up-to-date listing information," said Josh. "And not just on Google but everywhere on the web, this ensures Google's crawlers don't find any data discrepancies that push us down the ranks." In the highly competitive banking sector, Arvest Bank sees strong performance in the Google 3-Pack for competitive keywords like "bank near me." And have improved their clicks on local listings by 44% over an 18-month period.


Reputation management - When Arvest Bank first started working with Uberall they decided to put more emphasis on reputation management, reading and responding to all reviews. It was clear from the research that more reviews, more stars, and response rate and speed all factored into how Arvest Bank ranked on Google. Arvest even hired a dedicated person to manage the bank's online reputation in coordination with local bank managers. With a renewed focus on reviews, Arvest Bank now has a review response rate of 92% and responds to reviews within 24 hours on average. Reputation management not only plays a critical role in Google local search rankings' for Arvest, it's also about building deeper customer relationships. "Most of our online reviews are about an in-person branch experience, whether it's good or bad," said Josh. "We see this as an opportunity to make a positive experience even more memorable and turn a negative experience around. We've saved some pretty important relationships by leveraging Uberall to facilitate an authentic online review response."
Creating Memorable Digital Impressions
For Arvest Bank, it's important to build meaningful relationships with the customers whenever there is an opportunity. And in today's environment, digital definitely has its place.
"Uberall helps us create memorable digital impressions of Arvest Bank. Those impressions help us gain consideration with new customers, and hold on to what we call our, lifetime delighted customers.'"
See how Uberall might benefit your business.