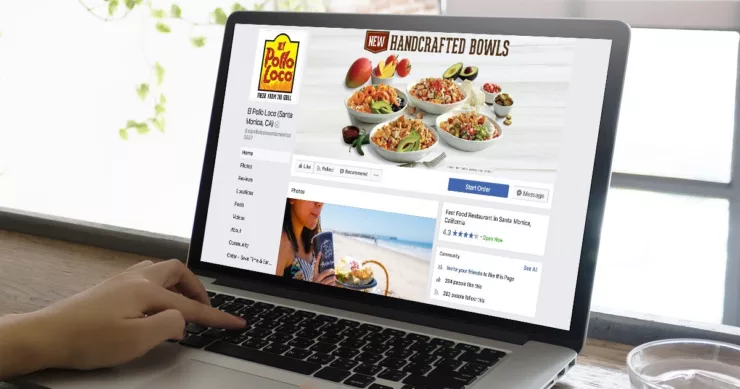 Blogs
Facebook Adds Online Ordering To Boost Local Restaurant Pages
"People already go to Facebook to browse restaurants and decide where to eat or where to order food, so we're making that easier."
Alex Himel, Facebook's VP of Local
Facebook's newest update is helping restaurant brands attract more customers. It now allows its tens of millions of users to order food through their app and website.
Facebook has partnered with deliver services like ChowNow, GrubHub and Doordash, as well as direct partnerships with restaurant brands such as Chipotle and El Pollo Loco.
"As a local restaurant owner, having mobile ordering is no longer an option, it's a necessity. Consumers have come to expect that they can order their local favorites from their phone. With the amount of time people spend on Facebook, restaurant brands using ChowNow can easily convert their fans and page visits into orders without paying commissions on them. And with the "order food" search feature, not having a Facebook ordering partner could mean missing an opportunity to attract new customers."
Drew Woodcock, ChowNow VP of Sales
Facebook local restaurant pages are already highly interactive and important digital assets as they allow potential customers to evaluate them through their reviews and interact with customer service agents. With this new feature, they've given their users one less reason to leave the platform.
How do I take advantage of this?
The first and foremost step to take is ensuring each of your location pages are updated accurately and actively engaging with local communities. Good review ratings, correct location data and higher quality content on your pages will vastly increase the likelihood that they'll use additional features such as online ordering.
Accuracy is key: We have to stress the importance of claiming, cleaning, and managing all your Local Facebook Business Pages. Facebook local searches take place every second of every day and have tremendous purchasing intent. Think of the number of searches your brand is being excluded from by not investing enough in these pages. Investment firm Cowen forecast a massive 79 percent surge in the home delivery market over the next five years, now imagine all the missed online orders and lost revenue. A strong network of claimed, cleaned and properly managed local pages can create a sizeable boost in profit to all your locations.
Stay Active: Simply put, the more active you make your business pages the more relevant your page becomes. A great example of this is Robeks, they were able to increase impressions by 250% through local Facebook publishing. In another case, Cousin Subs leveraged geo-targeted Facebook ads from each of their local pages, resulting in a 63% increase in online orders. By building an engaged group of followers, you can easily transition them into online order customers. An additional benefit to having highly active local Facebook pages is its positive influence on local search results (find out more about this here).
What's the Benefit?
The clearest benefit to your business is the increase in online orders, which is a source of high margin revenue and higher than average order sizes. However, a secondary benefit is that this ordering service will already be on your Local page so when consumers can order immediately after browsing reviews and comments, pictures and videos and taking note of any additional features or deals you're offering.
In short, this new feature not only increases the likelihood that a user will order from your restaurant but also become more engaged and convert into a fan of your local page.
If driving online orders and growing your brand's online presence is a primary objective for you, this new Facebook feature will go a long way in achieving that. If you'd like to learn more about how to optimize your pages and set yourself up for success, check out our Facebook business page guide.
You can also find additional marketing and network partner information on our dedicated Restaurant industry page.