Uberall and Nextdoor join forces to promote businesses and services 'Near Me'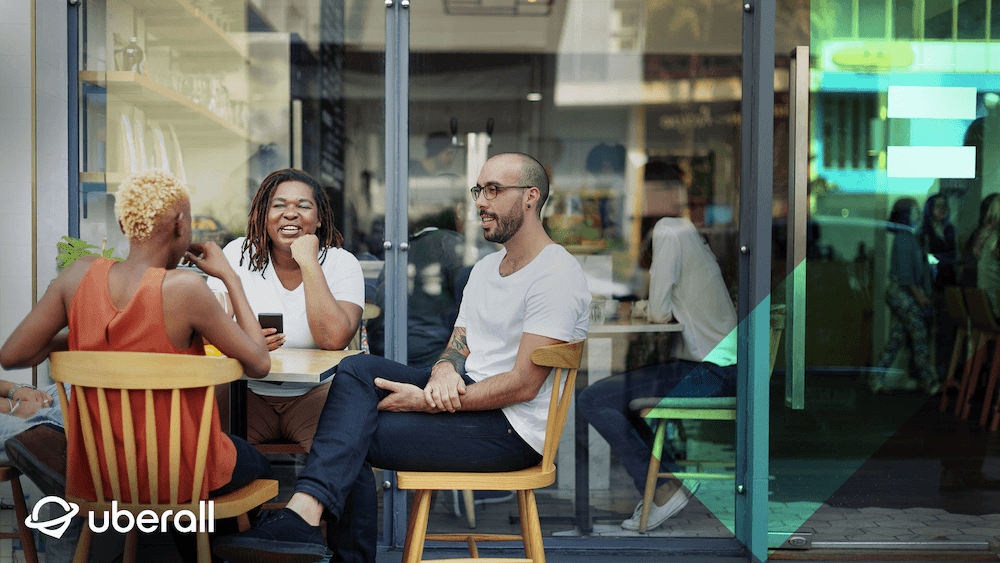 Partnership enables businesses to build trusted connections, strengthen local reputation and more deeply engage with their communities
SAN FRANCISCO (October 06, 2020) - Uberall, the leading provider of 'Near Me' Brand Experience marketing solutions, today announced a partnership with Nextdoor, the neighborhood app for trusted connections, to boost local business visibility and engagement with consumers. This will enable businesses linked to the Uberall and Nextdoor platforms to increase their points of contact with nearby customers and enhance their local visibility and reputations.
"The growth of 'Near Me' online searches is a development that companies need to take into account when interacting with their local consumers," said Florian Hübner, CEO and founder of Uberall. "The partnership between Uberall and Nextdoor will enable many companies to get closer to their local customers by providing them with accurate and up-to-date information in their search for products and services nearby."
Nextdoor connects neighbors to local businesses and services, which starts with a free profile called a Nextdoor Business Page. It distinguishes itself from other local search and directory sites with its neighborhood-based community of verified members who post recommendations, ensuring authentic and truly local content, as well as high-quality interactions.
'Uberall Listings' customers will now find Nextdoor in Uberall's network of partner platforms. Thanks to a centralized platform, the information on their Nextdoor Business Page will be updated in real time, and will sync with all their online profiles.
Claiming a Business Page on Nextdoor allows local businesses to establish an influential online presence and instantly reach thousands of neighbors with high buying intent and potential for conversion. More than 88% of Nextdoor members make local purchases at least once a week. The site provides businesses with an easy and efficient way to connect to nearby customers.
"We know 2020 has been incredibly challenging for local businesses and want to provide them with as many tools as possible to be successful. Vibrant local businesses make vibrant communities," said Adel Farahmand, Head of Partnerships at Nextdoor. "We're excited to partner with Uberall to help more local businesses and reach the customers that matter the most to them — those right in the neighborhood."
For more information, visit www.uberall.com.
About Uberall
Uberall empowers some of the world's biggest brands to deliver a memorable 'Near Me' Brand Experience (NMBX) — from online interactions to offline sales. NMBX consists of all the online touchpoints that a consumer has with the local outlets of a brand, from finding, persuading, buying and recommending, to returning as a regular customer.
Uberall's solutions enable multi-location brands to easily manage search and discovery, engagement and conversion in real-time on all online platforms — mobile, voice and desktop — across websites, mobile apps, store locators, search engines, maps, social platforms and advertising networks.
Uberall is headquartered in Berlin, with additional offices in San Francisco, London, Paris, Amsterdam, Detroit, and Cape Town. Its clients include Fortune 500 companies and industry leaders from all over the world.
Learn more at www.uberall.com.
About Nextdoor, Inc.
Nextdoor is where neighbors come together for trusted connections and the exchange of helpful information, goods and services. We believe by bringing neighbors together, we can cultivate a kinder world where everyone has a neighborhood they can rely on.
Building connections in the real world is a universal human need. That truth, and the reality that neighborhoods are among the most important communities in our lives, have been guiding principles for Nextdoor since the beginning. Today, neighbors rely on Nextdoor to tap into more than 268,000 neighborhoods around the world, including the United States (1 in 4 U.S. households), the United Kingdom, Germany, France, the Netherlands, Italy, Spain, Sweden, Denmark, Australia and Canada, with many more to come.
We recognize that thriving communities are more than just residents. They're also made up of the local businesses, nonprofits and public agencies that keep our neighborhoods strong and connected. With more than 50 million local business recommendations from neighbors to date on Nextdoor, it's easier than ever to take advantage of the possibilities nearby.
Nextdoor is a privately-held company based in San Francisco with backing from prominent investors including Benchmark, Shasta Ventures, Greylock Partners, Kleiner Perkins, Riverwood Capital, Bond, Axel Springer, Comcast Ventures and others. For additional information and images: nextdoor.com/newsroom.
###