Convert More Online Browsers Into Buyers
Being found online is just the first step in making a sale. Your customers may know you exist, but their next step will be to decide whether or not they want to buy from you. They will do their research, so it's critical to engage with them at this point in their buying journey.
For most, this process starts where they first found you—online and more likely than not via a Google search. Consumers will peruse content on your local listings, webpages and social profiles such as reviews, posts, Q&As, website links, and multimedia when making their decision on where to buy.
For our maturity research, we surveyed 459 business decision-makers to understand their capability to be chosen by, and hence convert, customers. Here are the key insights:
Insight #1: Critical Content Features on Google Business Profile Too Often Overlooked
We found that only one in four businesses (28%) actively manages the chat function on their Google Business Profile (GBP), only 33% use Google Posts, and fewer than half (43%) actively manage their Q&A. Similarly, only 54% said they provide information on product inventory, menus, or lists of services.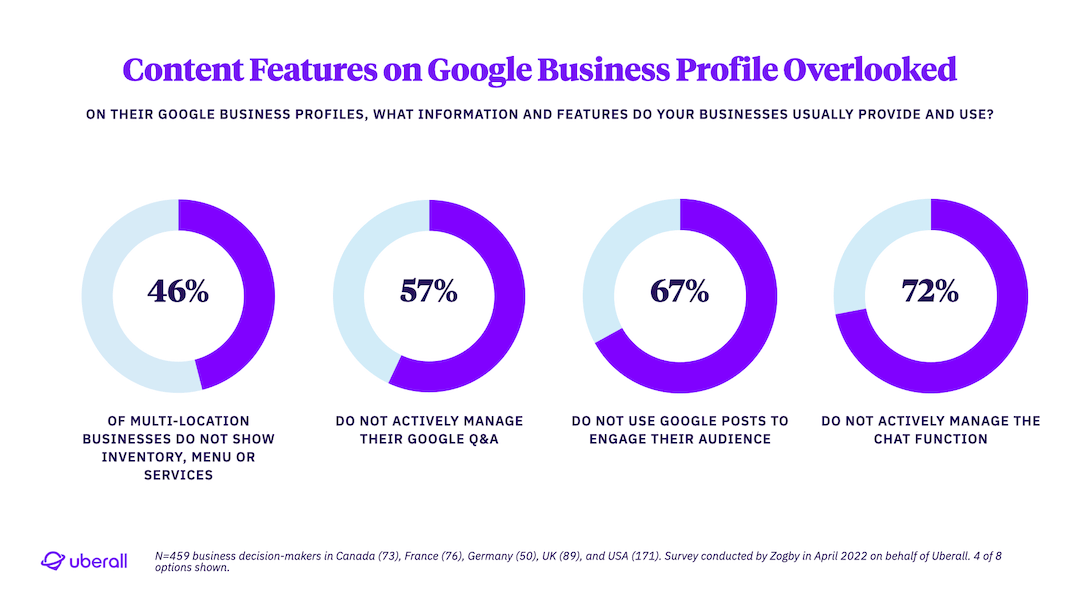 Key Takeaway: Leverage Your Google Profile
Not using your Google Business Profile to the fullest is a missed opportunity to share your stories with your customers, show them who you are, and encourage them to choose you. Omitting profile information could leave room for your competitors to swoop in. Be proactive by making the most of your Google Business Profile.
Insight #2: Lack of Review Responses = Untapped Potential
Ratings and reviews are particularly important in converting consumers. Our previous research showed that a rating increase of just 0.1 stars can increase the conversion rates of a business location by 25%. Also, the more a business replies to reviews, the more customers convert—we saw an increase of conversions of 80% when a business replied to 30% rather than 10% of reviews.
Responding to reviews is now conversion-critical, yet 66% of businesses surveyed only respond to a small proportion of reviews, if that. We also found that only 40% monitor their response rates and even less (32%) their time to reply.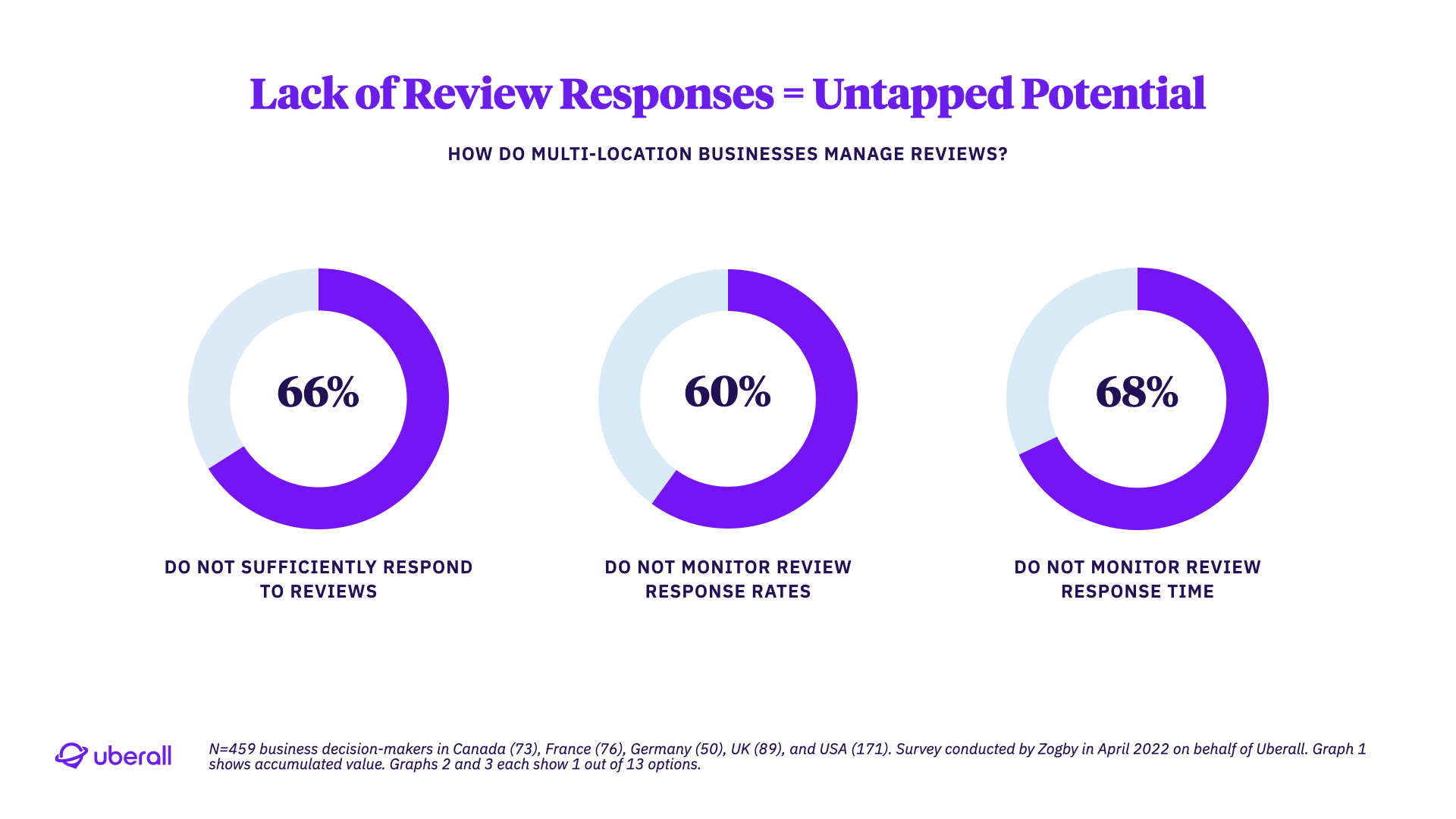 Key Takeaway: Speak With Your Customers
Even in today's interconnected world, many businesses don't pay enough attention to their reviews and ratings, leaving a gap that marketers can easily utilize to gain a competitive advantage. You can positively affect your conversions by simply responding to your reviews quickly and frequently. Review response automation can make this task a breeze, leading to higher response rates and speed to respond.

Insight #3: Businesses Need to Advance Their Social Strategies
Another important, yet often underutilized, tool for connecting with local prospects is social media channels. While many businesses have a corporate social media strategy, those accounts are not always able to engage in conversations at the local level.
We found less than half (42%) of businesses involve local teams for social media, and only 26% of businesses have an advanced local social strategy that includes shared ownership of social channels. In addition, 34% of businesses don't make an effort to post locally, instead confining conversations to the corporate brand level.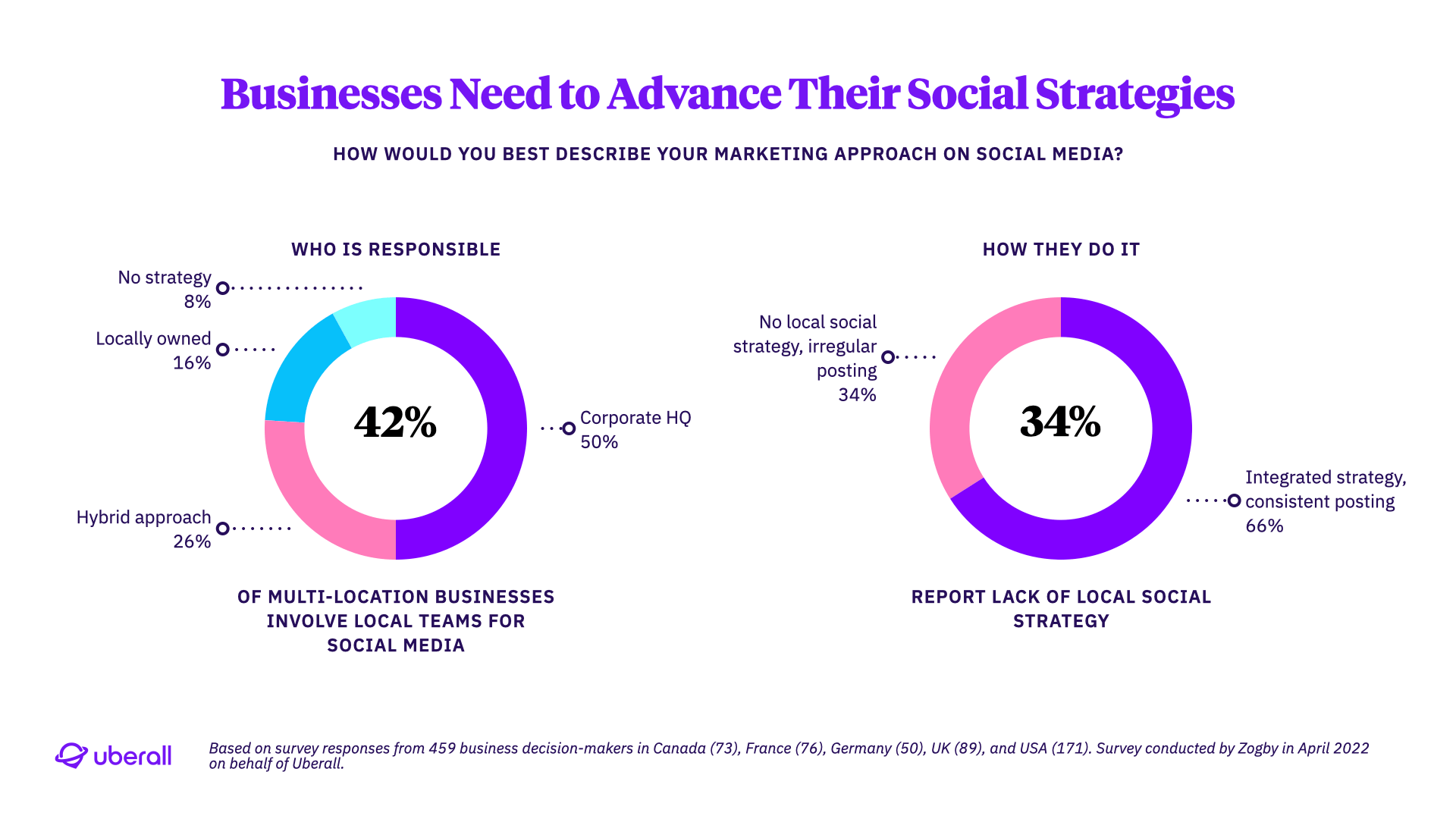 Key Takeaway: Enable Your Local Teams
Your customers care about what's going on with your local business, your offers, and your sales activities. By integrating localized content and enabling your local managers to contribute to your social media strategy, you can reach them in their neighborhoods and generate additional demand for your offerings.

Insight #4: CTAs Required for Conversions…But Where Are They?
It may seem like good news that 64% of businesses allow for online purchases, but when you consider the inverse of this statistic, it's concerning that more than every third business (36%) still doesn't allow consumers to convert online.
Even worse, when we asked businesses about their websites, 52% were not using calls to action (CTAs, e.g. to get directions), and even more (70%) do not track their website conversions.
In short, they're having a hard time actually increasing conversions.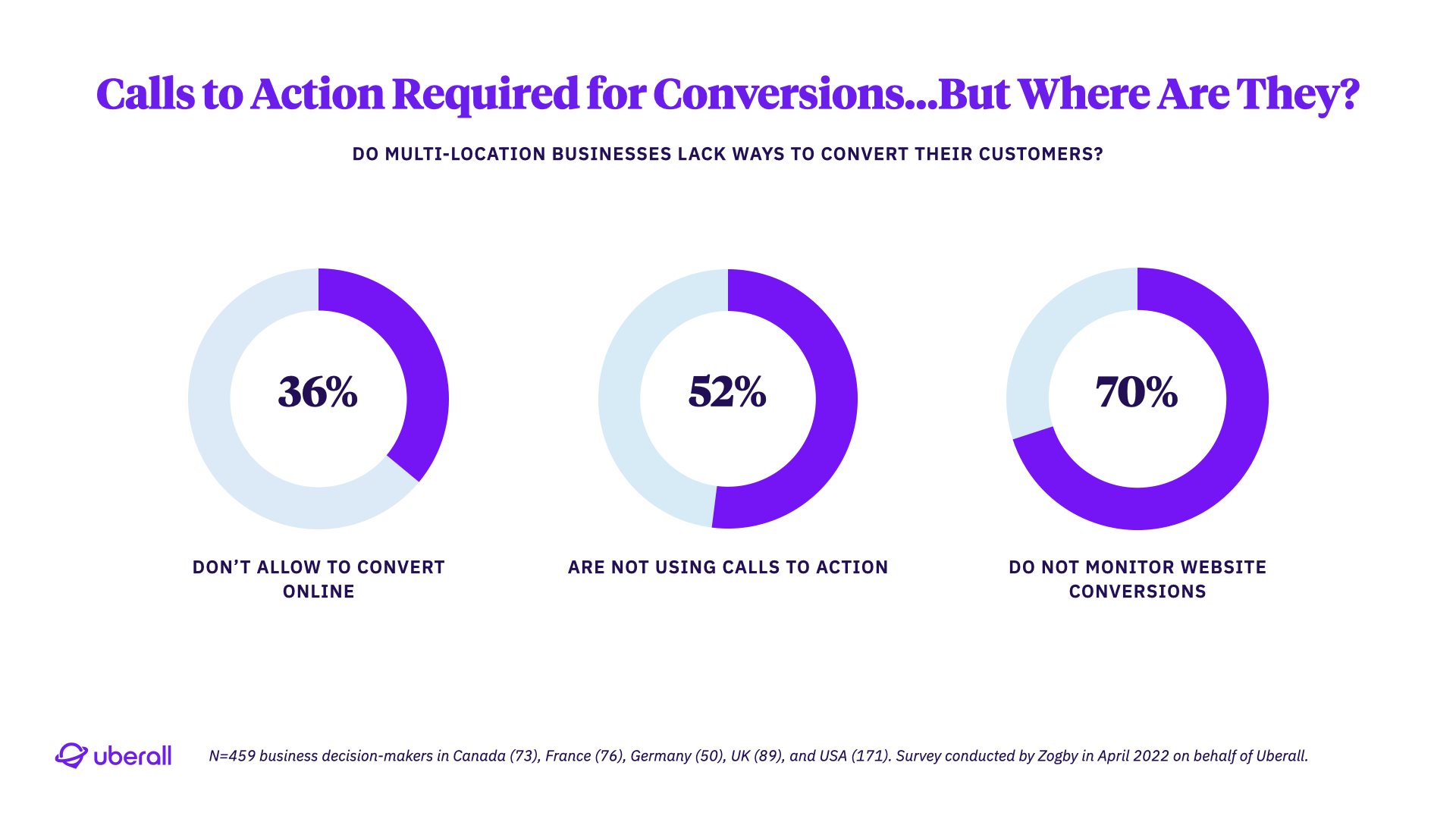 Key Takeaway: Make Conversion Easier and More Attractive
It is surprising that so many businesses neglect conversions and hence the most decisive moment for revenue generation. They can gain back their competitive momentum if they provide customers with more convenient ways to convert and actionable prompts to do so.

Insight #5: Businesses Don't Properly Leverage Happy Customers
We know that most people are strongly influenced by personal recommendations. Still, we found that 75% do not have a customer referral program to leverage word-of-mouth referrals from their happy customers. And 29% do not encourage customers to share positive experiences on social media, leaving room for improvement.
Here's another finding: If they get positive reviews, the 43% of businesses that don't display reviews on their website would miss out on an increase in conversions.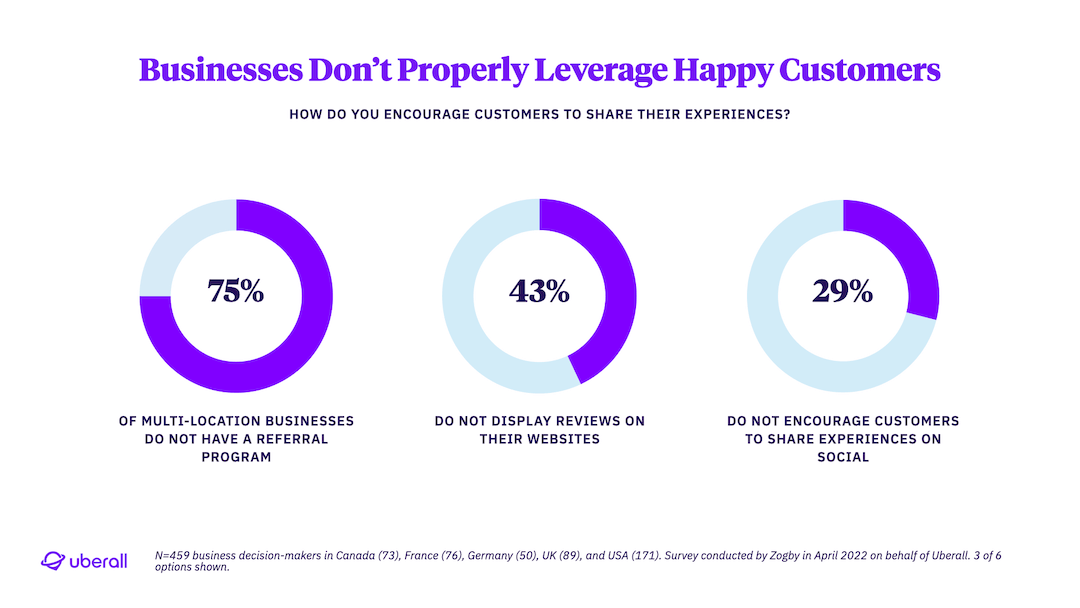 Key Takeaway: Leverage the Customer Voice to Influence Decision-Making
Doubling down on customer referral could give you a massive advantage over competitors, as it's one of the most underutilized strategies in marketing.
As a quick win to improve conversions, start adding customer reviews to your website or local landing pages. This way, you send positive signals to customers to choose you.

Does Your Local Digital Marketing Support Your Growth?
Do you know how well your business contributes to being chosen easily by customers?

Find out how mature your local marketing is and benchmark against your competitors.