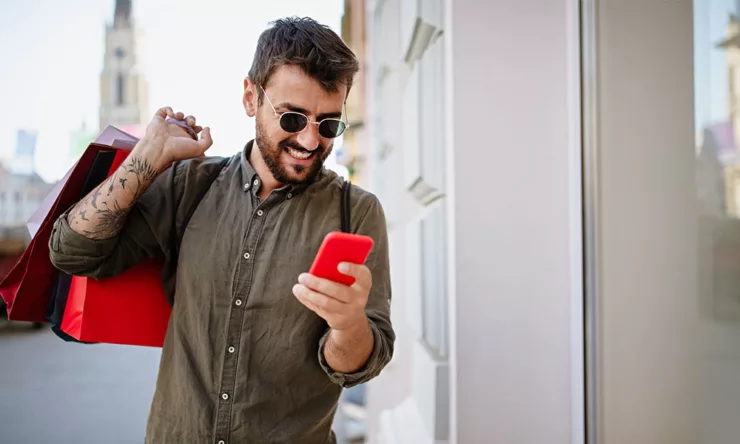 Blog
Why Hybrid Customer Experiences Are Table Stakes For Post-Pandemic Growth (Forrester Study)
As we emerge from two years of the global pandemic, it's clear there will be no going "back to normal" for brick-and-mortar businesses around the world. This period has irrevocably changed how businesses with physical locations attract, win, and develop relationships with customers.
To better understand how businesses must adapt, Uberall recently commissioned a study from Forrester Consulting, called "Reignite Growth with Hybrid Customer Experiences." The study takes a closer look at how more than 200 U.S. and European business decision-makers are responding to changing consumer behavior and a shifting business climate.*
Before we dive into results, let's first talk about what we mean by hybrid customer experiences.

What are Hybrid Customer Experiences and Why Do They Matter?
According to the Forrester study:
"Hybrid customer experiences are all the relevant and contextualized experiences that span devices, applications, and touchpoints throughout the customer journey."
Demand for hybrid experiences is driven in large part by the fact that a fast-growing number of consumers no longer distinguish between online and offline channels – the hybrid consumer.
The hybrid consumer has the world at their fingertips, when a need arises they often pick up their smartphone, search for what they want, and make a decision within seconds. This consumer is often driven by convenience, looking for the quickest and easiest path to get what they need, which often includes products or services provided by nearby businesses. Price, brand, and perceived quality factor into their decision — but are often secondary to convenience. Hybrid consumers seek social proof to validate their choices and create custom journeys based on their personal preferences.
In this new world, brick-and-mortar and omni-channel businesses can't expect to simply return to the 'old status quo' and survive. The good news, most businesses recognize this and are prioritizing hybrid customer experience initiatives, according to Forrester. The bad news, they also acknowledge major barriers and lack confidence in their ability to deliver true hybrid customer journeys.
Let's look at some of the insights from the study. To read the full Forrester study, you can download it here.

Grab your copy of the Uberall-Forrester study to know how customer experiences are changing today
Businesses Prioritize Hybrid CX Initiatives, but Lack Confidence in Their Ability to Deliver
Forrester found customer engagement to be a key focus for businesses coming out of the pandemic. In many ways, the pandemic sharpened awareness of the consumer journey. Businesses realized the value of not just being found when customers look locally — but also the importance of being chosen and driving loyalty through seamless experiences.
In fact, businesses report that they are prioritizing several hybrid CX initiatives higher now than before the pandemic. Key priorities include building connections with customers via social media (74%), integrating digital capabilities into physical locations (73%), and looking for ways to drive long-term loyalty and repeat business (72%).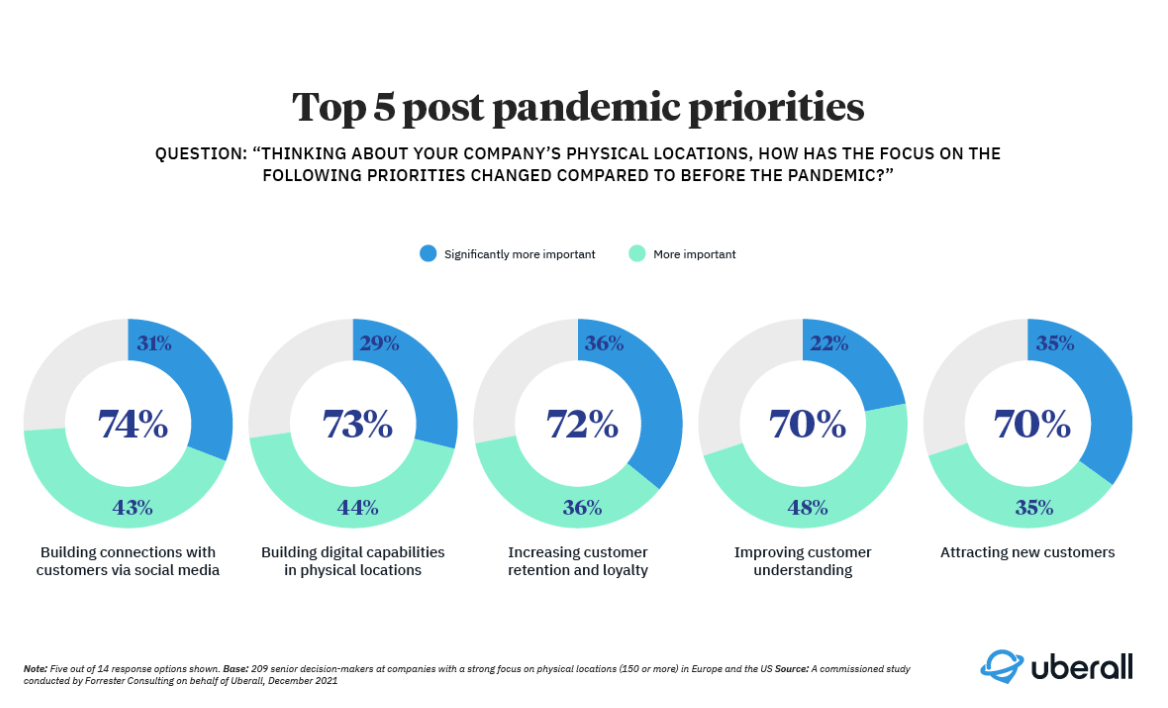 However, a large majority of companies (70%) told Forrester they lack confidence in their ability to deliver these kinds of seamless hybrid customer experiences across digital and physical channels.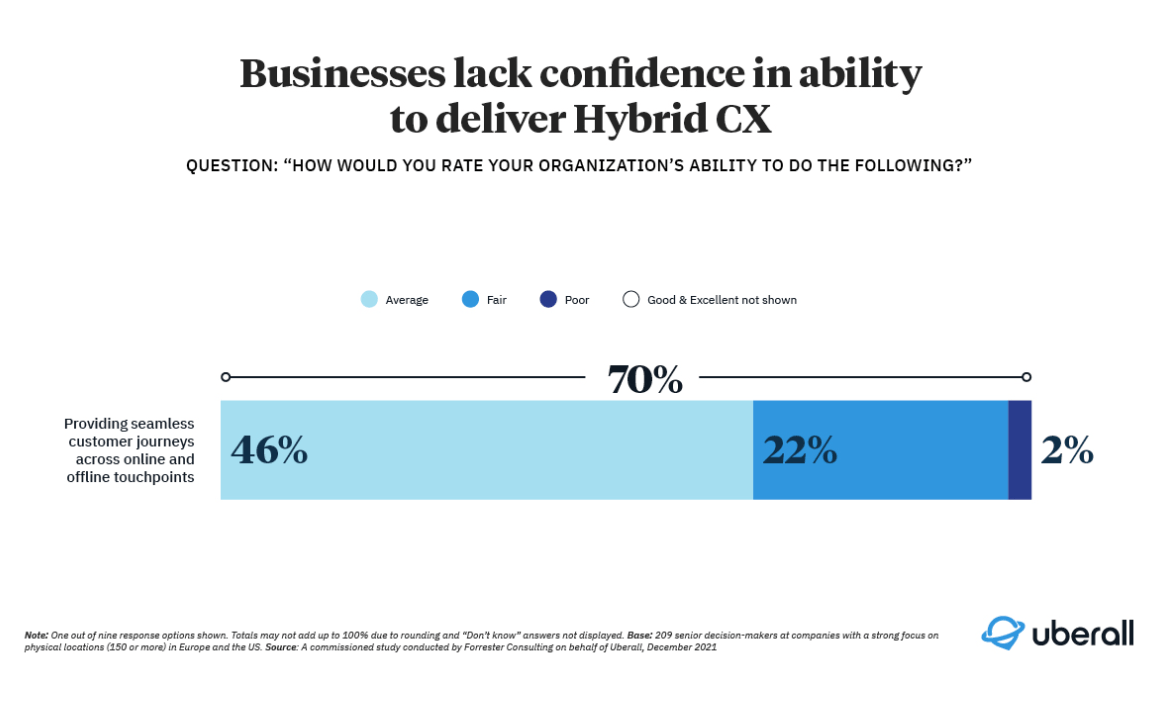 Major Barriers to Delivering Hybrid Customer Experiences
For many organizations, customer experience is and always has been a company-wide initiative with multiple stakeholders in different departments interacting with the same customer. A well-aligned strategy that puts the customer at the center is the ideal state, but many organizations get lost in trying to implement CX initiatives within their individual department, creating silos across people, processes, technology, and data.
This very challenge is the biggest barrier to the delivery of seamless hybrid customer experiences, which the Forrester study confirmed. Let's take a closer look:
Siloed responsibilities can create fragmented experiences
Distributed team structures, particularly in franchise business models, can lead to fragmented customer experience delivery. According to the survey, 25% of marketing and CX activities related to physical locations are outsourced, and the remaining 75% managed in-house are handled by a variety of different teams from digital marketing to dedicated customer service teams. In addition, the in-store customer experience is often managed by a local or regional manager, creating a disconnect with the digital experience usually managed by corporate marketing.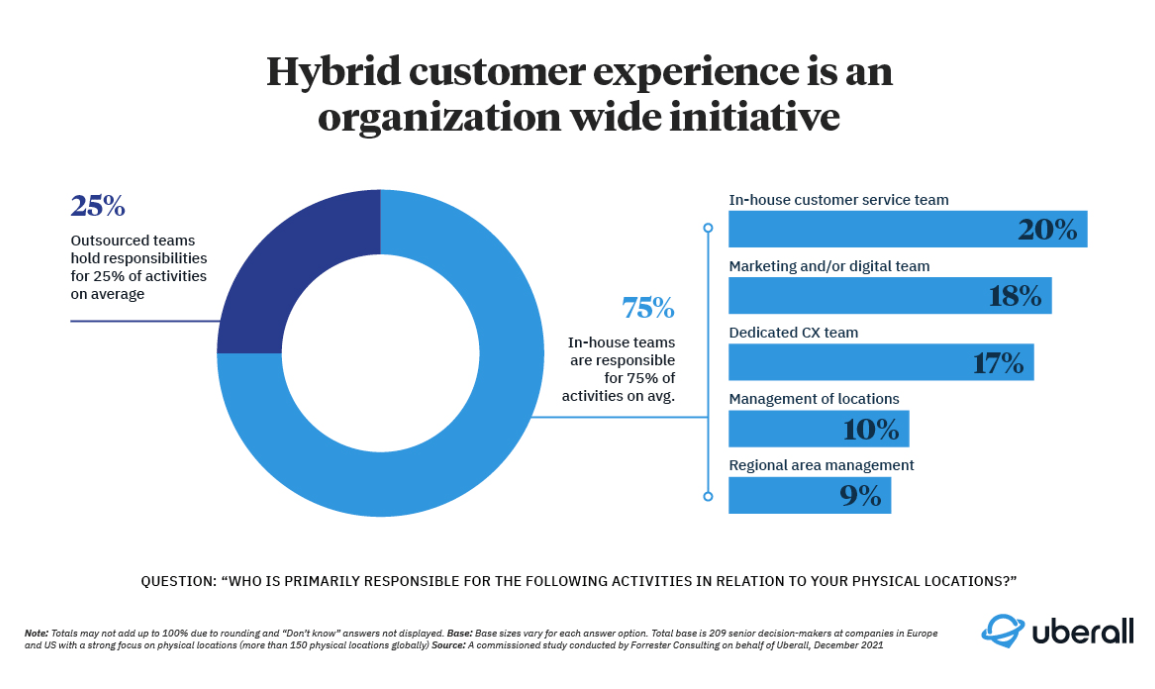 Heavy reliance on legacy technology and standalone solutions
Most companies use a collection of standalone solutions, such as social listening tools (76%), intelligent communications solutions (e.g. chatbots) (70%), and ratings and review management solutions (70%).
Focusing on pieces rather than the whole, these businesses are struggling to translate a fractured infrastructure into a cohesive and consistent experience for both consumers and internal teams. Inadequate technology infrastructure has led to siloed data and processes — making it more difficult to truly gain an understanding of the end customer.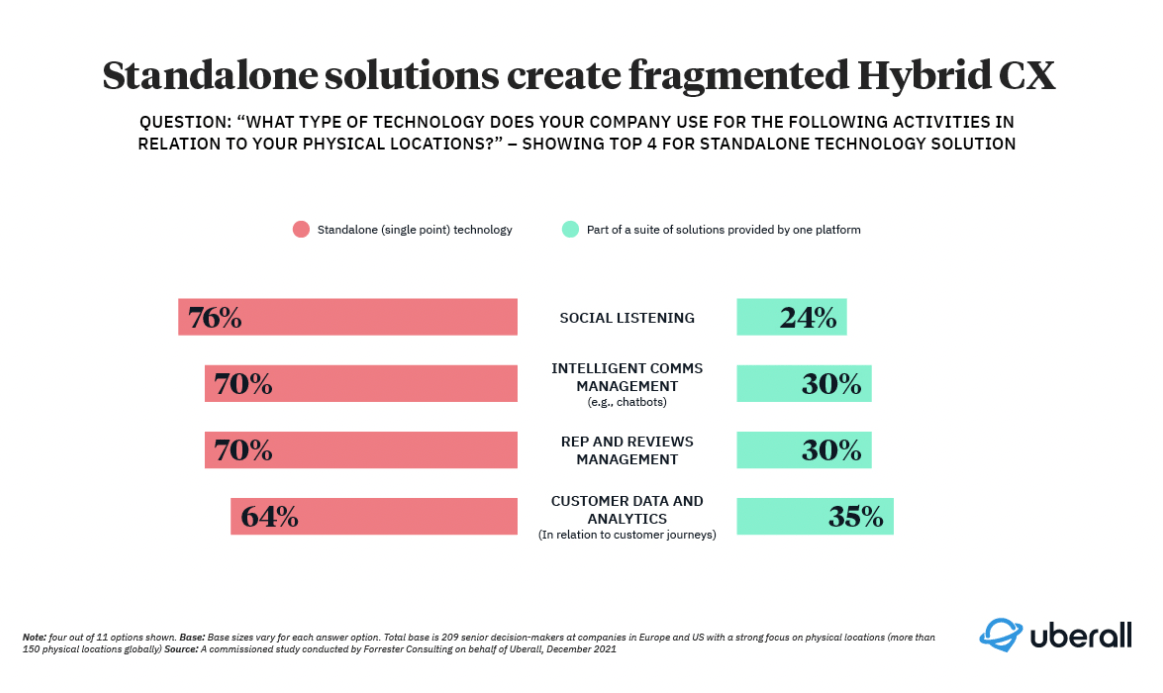 Lack of a holistic end-to-end view of the customer journey
In part because of the fragmentation mentioned above, businesses are also failing to create visibility across the entire customer experience, making it harder to measure and manage — and in some cases even understand — the consumer journey.
In fact, 70% of businesses indicate that a deeper understanding of their customers is more important than before the pandemic. Yet, nearly two-thirds of businesses (64%) say that getting a holistic view of the end-to-end customer journey is extremely or very challenging.
It is essential that companies have access to centralized data and analytics needed to understand and track customer behavior.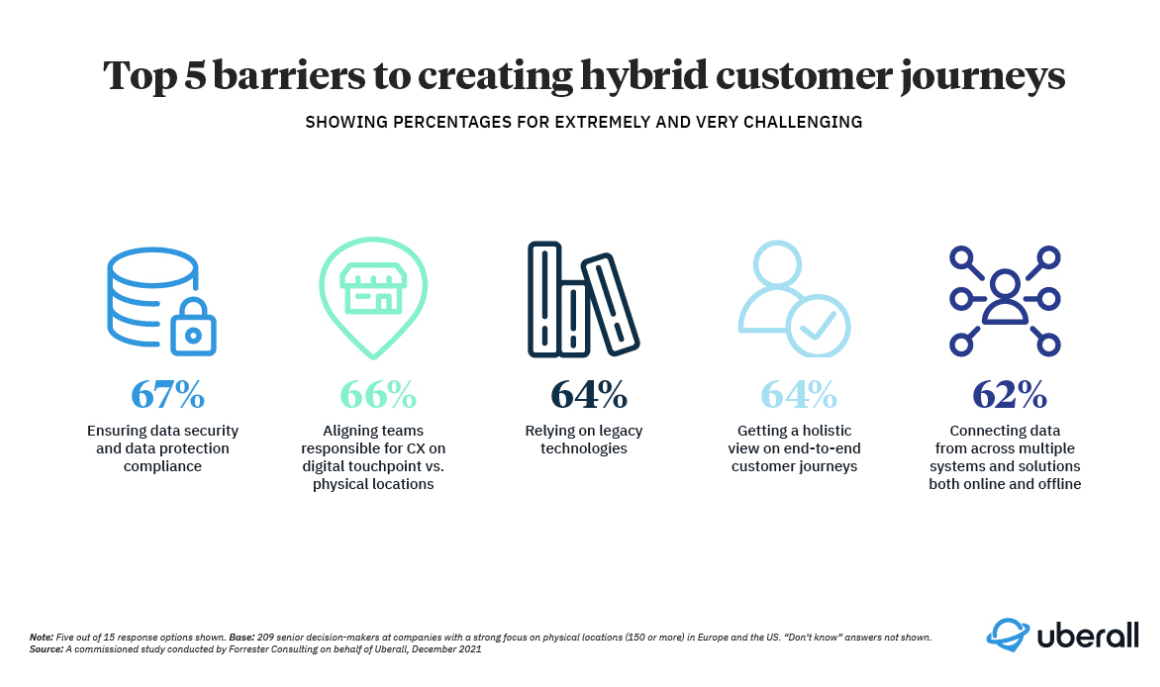 The Benefits of Unified Hybrid Customer Experiences
According to Forrester, 72% of companies believe a unified platform and approach will play a pivotal role in creating a more effective hybrid customer experience. This mirrors our assessment at Uberall. Businesses that can build strong connections and understand their customers' evolving needs will be best positioned to exceed expectations.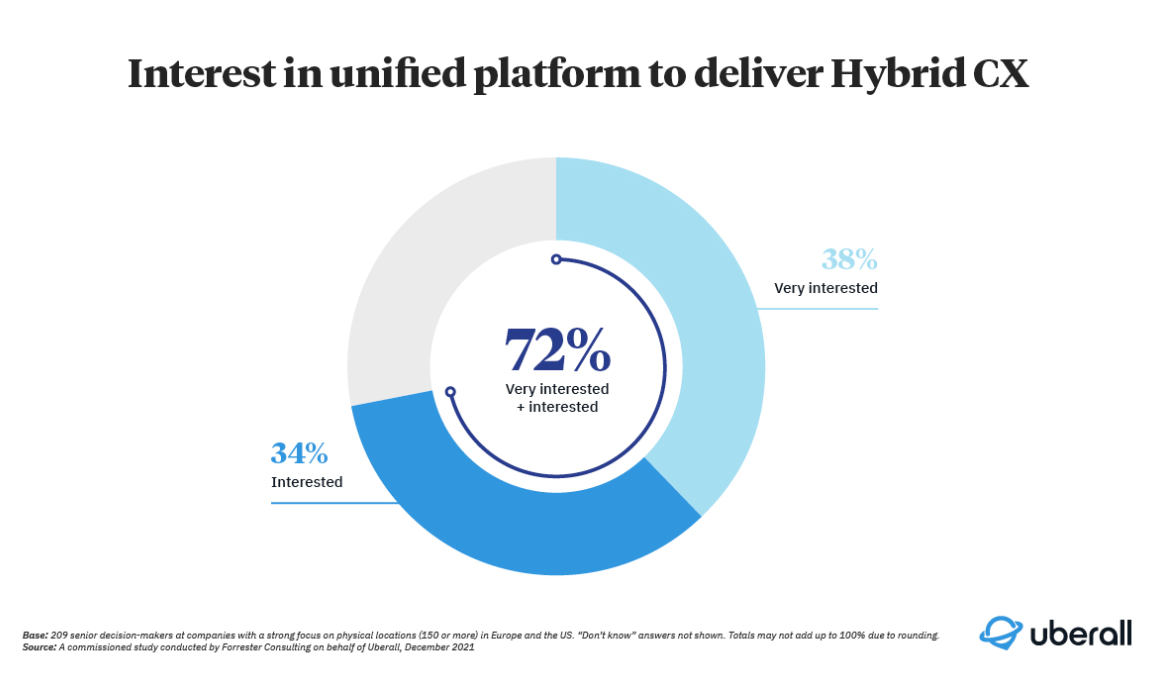 Businesses leading the way in hybrid customer experience:
Recognize that hybrid customer experience is an enterprise-wide initiative
Design and implement an end-to-end plan that aligns corporate strategy with seamless local execution
Leverage data and insights to understand and optimize what is working and what isn't
Prioritize new initiatives that have the biggest impact
In terms of results, the impact of using a platform and unified approach is significant. Companies can achieve broader visibility and brand impact, and they can encourage faster conversion earlier in the process. They can also drive more sustained engagement and longer-lasting relationships with consumers — resulting in social proof, word-of-mouth, and brand loyalty that is so elusive in the new buying environment. And, ultimately, increased efficiency and revenue growth.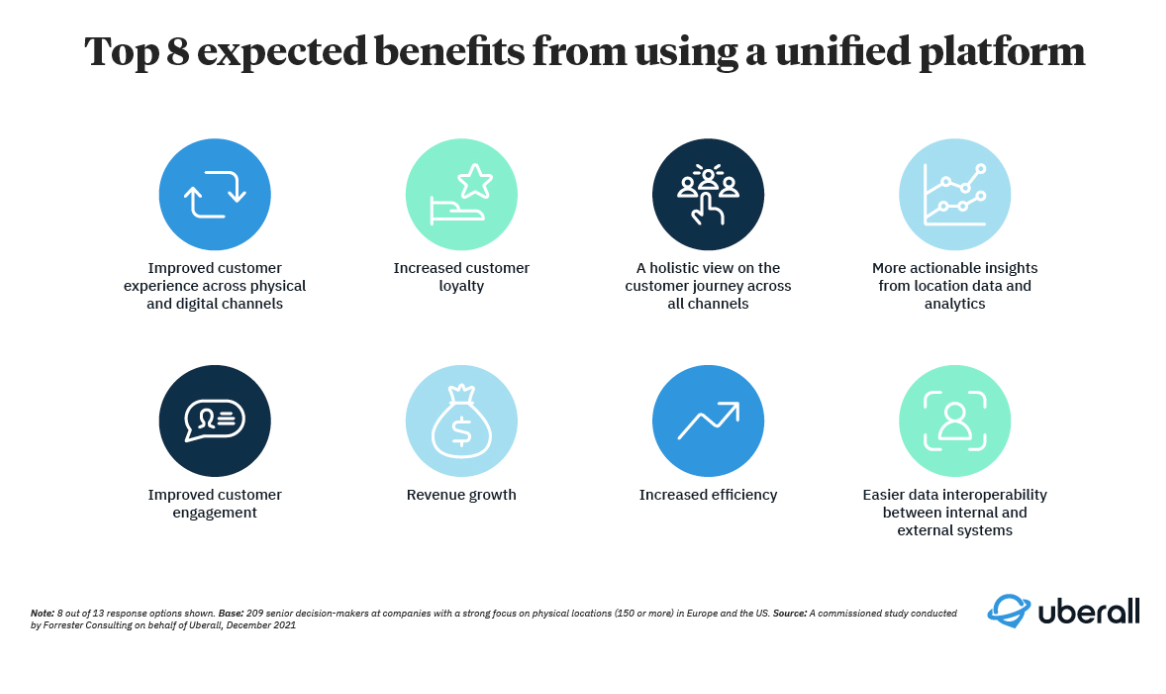 If you'd like to read the entire Forrester study, we have made it complimentary to download for a limited time.
Uberall is driven to help businesses thrive in the Hybrid world. If you want to learn more about how we do this, please reach out for a chat!
*Source: A commissioned study conducted by Forrester Consulting on behalf of Uberall, December 2021. The total base is 209 senior decision-makers at companies in France (52), Germany (52), UK (50), US (52) with a strong focus on physical locations (more than 150 physical locations globally).
Facing the same challenges in delivering a seamless hybrid customer experience? Let's team up and find solutions