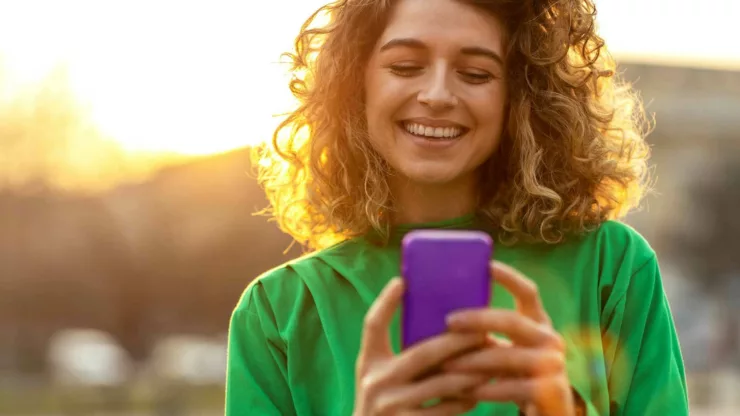 Blog
Supercharge Your Growth With Hypertargeted Ads—And The Latest Uberall Product Updates
It's summer, but we're not on summer break yet. Instead, we've been busy innovating new features that help you boost your reach and engagement.
How, you're asking? By adding powerful features to Social and topping it with a new product to run geo-targeted social ads at scale.
Read on to discover how our new social updates will help make your workday feel more like a holiday.

Harnessing the Power of Social Networks for Multi-Location Businesses
Social media is the new storefront to engage and convert customers: 87% of consumers say they took action, like visiting a shop or purchasing a product, after seeing it on Instagram. While this is no secret, brands still struggle to stand out in the social feed.
It can be challenging to post a balanced mix of global and local content on social media. One of the reasons is that most social media management tools are not designed with multi-location marketing in mind.
But local social content is key to increasing relevance and building meaningful connections. That's why we've revamped and extended our own social media tools, so you can get both global reach and local relevance through paid and organic capabilities!
Use Social Ads to Increase Footfall and Purchases

Uberall Social lets you now scale your social marketing at all levels: from global to local and from paid to organic. We've designed the tool with your efficiency in mind, minimizing your operational efforts and increasing the return on your ad spend.
From customer tests, we know that ads perform better on the local level: they deliver 2-3 times more conversions than national ones. With Social Ads, we help you take advantage of this and run campaigns on Facebook and Instagram, effortlessly! Publishing an ad across 100 or 1,000 locations is as easy as picking a template, defining the radius and budget, and launching it.
To maximize your return on ad spend, Social Ads comes with automated A/B testing and granular reporting. This lets you understand quickly which campaigns drive the most conversions and which need improvement.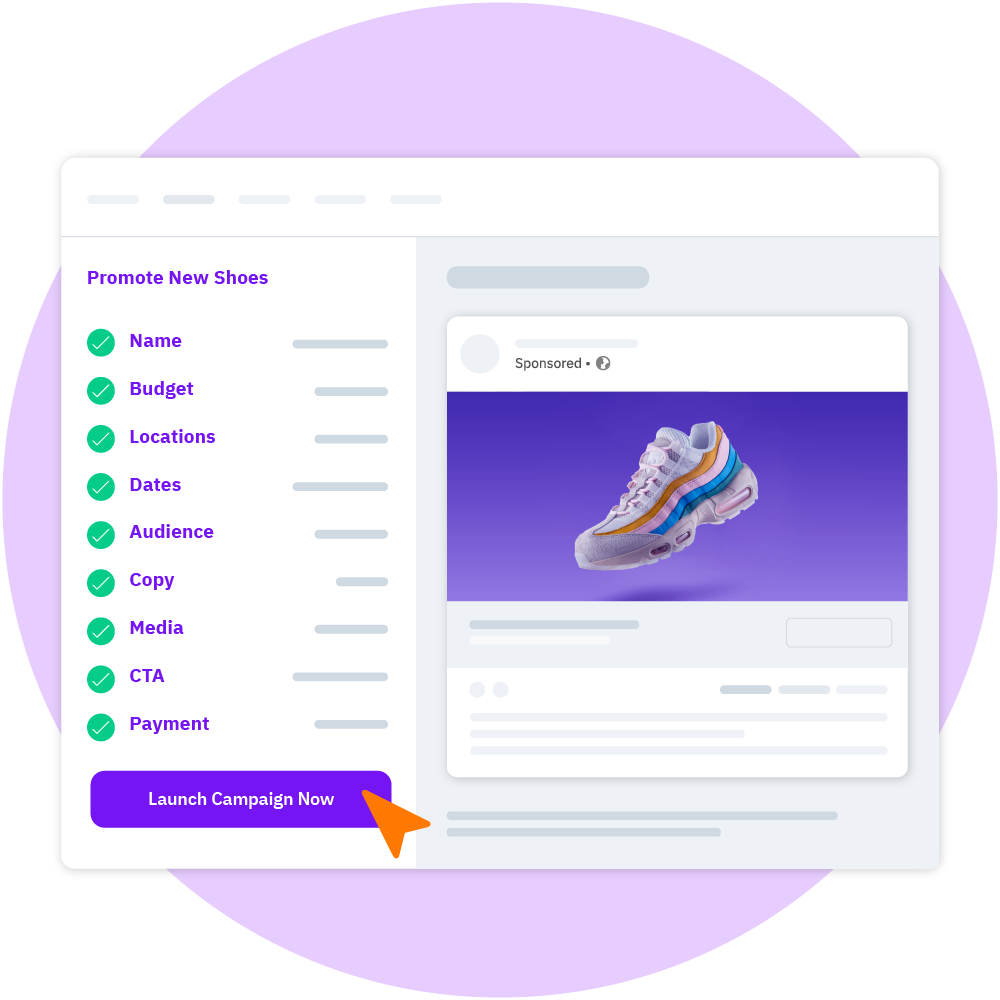 Do you want to find out more about Uberall Social Ads?
Manage All Social Activities In One Place
Always stay on track with the new publishing calendar! It gives you complete oversight over your organic social activities across locations and channels. In one view, you see past and scheduled content—including a post preview—and can directly create new content.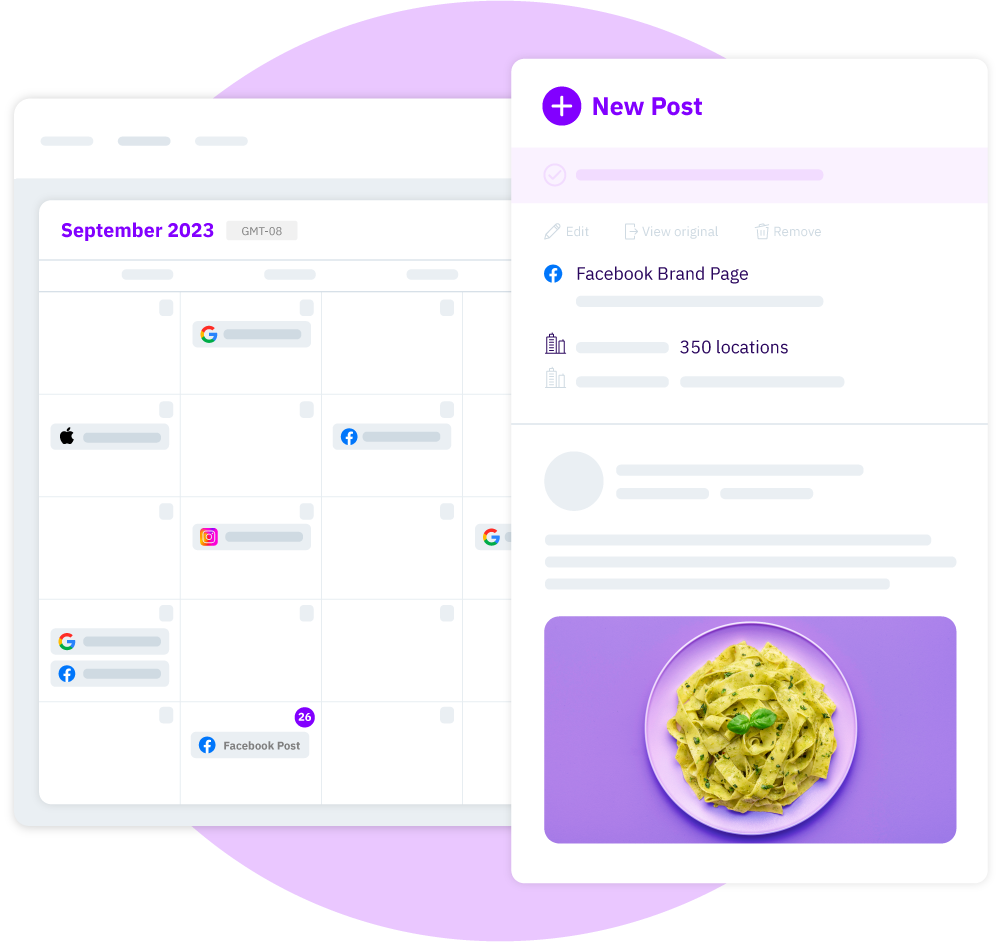 To reach your global and local audiences, Uberall Social lets you publish content on Instagram and Facebook from both your brand and location profiles. And speaking of content, you can now use compelling formats like reels or carousels.
Making publishing as simple as possible for you and your teams, we've improved the user interface. Step by step, it guides you safely through the publishing process and shows a preview of the content before publication. The new approval flows, on the other hand, make sure nothing gets published without your buy-in while user rights define exactly who is allowed to create and/or publish content.

Interact With Your Customers With the Help of ChatGPT
As soon as you publish social posts for multiple locations, you want to make sure that you respond to customer feedback right away. The central inbox within CoreX brings all customer feedback into one interface, making it easy for you and your local operators or franchisees to not miss a message.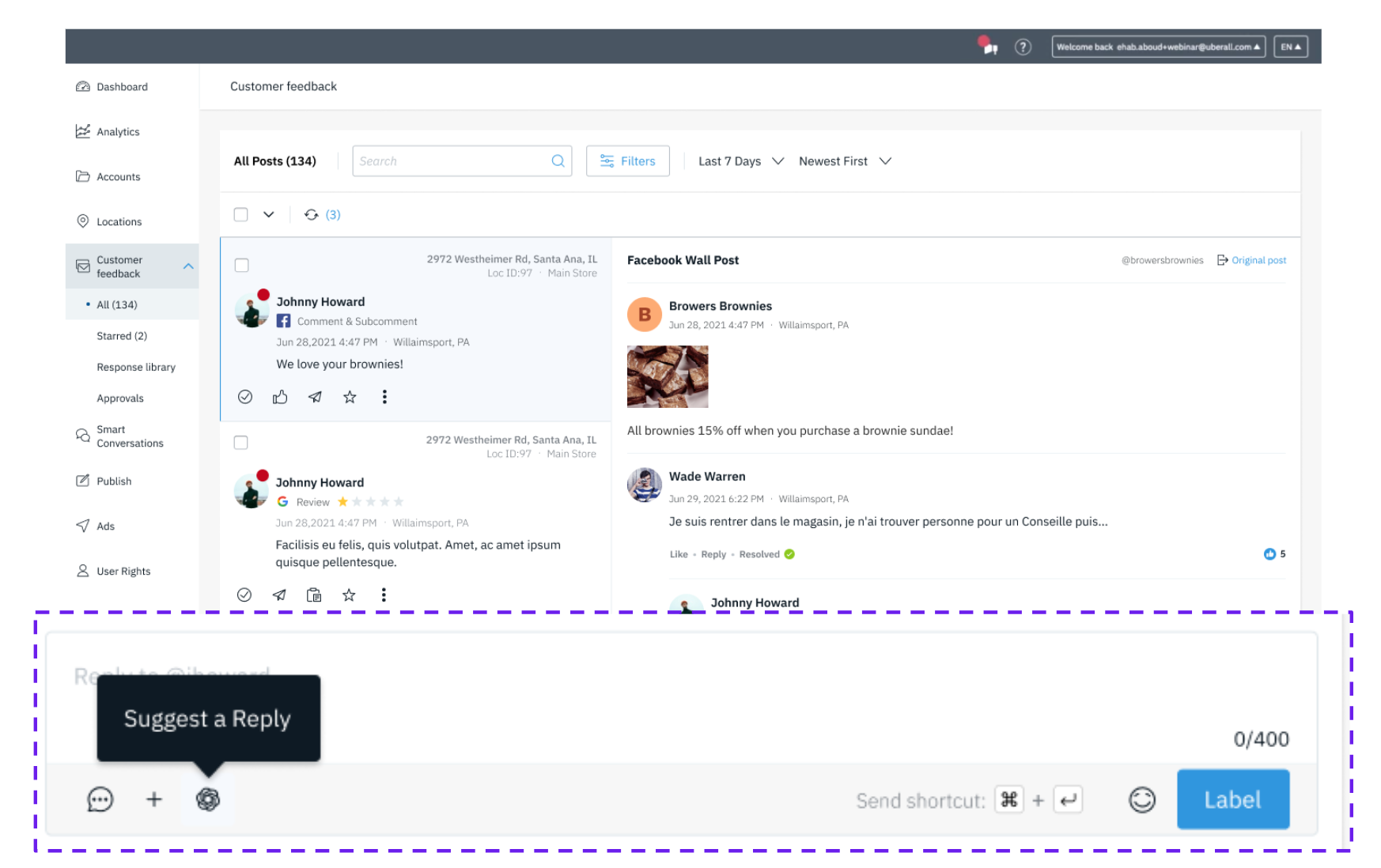 Responding to customers will be more convenient than ever with the new AI support we currently have in beta for you. With the integration of ChatGPT into your inbox, you get response suggestions for review at the touch of a button.

Find out more in our Summer 2023 Release Notes!
We're excited to help businesses easily boost social reach and conversions on a global and local scale. Curious to see how it works? Request your personal demo here!