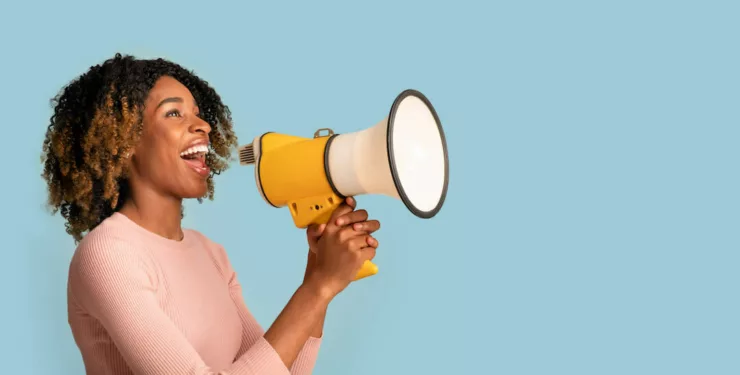 Blogs
OK Google, How Can My Multi-Location Business Optimize For Voice Search?
Everyone in marketing knows you should optimize your content for search. You agonize over keywords, backlink appropriately, and make sure you're only citing authoritative sources. But do you optimize for voice search?
As voice-activated smart devices like Amazon Alexa, Google Assistant, and Apple's Siri become a larger part of our lives, voice search is on the rise.

In a study by Microsoft, 72% of respondents reported using some kind of digital assistant like Amazon Alexa, Apple's Siri, Microsoft Cortana, or Google Assistant.
Of those, 72% reported using voice search via a digital assistant, and 35% said they used voice search through a smart home speaker.
And according to Google, 25% of the global population was using voice search on their mobile device as of 2018.
It's no surprise to see a steady increase in the use of voice technology with so many practical use cases in our on-the-go society. Voice search for everyday errands like: "OK Google, tell me where the nearest gas station is," is often safer, faster, and more convenient. As technology advances and people's shopping habits move more online, voice search for business will only increase.

Free infographic - How voice search is changing local SEO.
5 Ways You Can Optimize For Voice Search Now
It's not too late to optimize for voice search. To get started use these five simple tips to help your business rank
higher in local voice search.
1. Keep Your Data Current – In order to make sure you're showing up for local customers in voice search, you should be keeping your data updated on all the major apps people use. These includes:
Google My Business
Yelp
Bing
Tripadvisor
Apple Maps
Making sure your location data, profile information, and attributes are accurate and complete will make sure people can find you easily. Optimizing for voice search in this way becomes even more important when you consider that, according to Google, most mobile searches are for businesses "near me."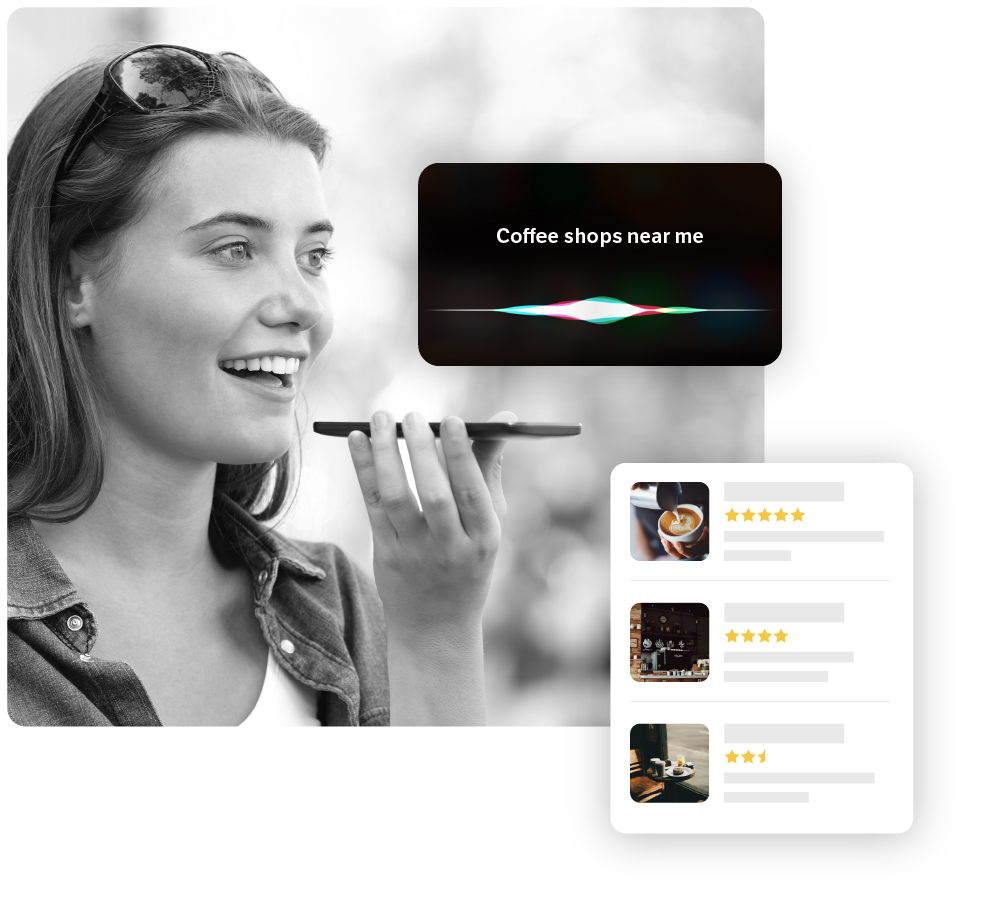 2. Make Sure You're Using the Right Keywords (in the Right Way) – As everyone knows, keywords are important for bumping up your ranking in search. But so is the way you use those keywords. When it comes to voice search, you should have an understanding of what your customers are searching for in relation to your business and how they're likely to word those searches.
Compared to text-based searches, Voice search keywords are usually longer and more conversational. For example, a Google text search keyword might be "men's running shoes," but a voice search would be more like "Siri, where can I buy running shoes nearby?"
When you optimize for voice search, avoid packing your page with keywords that repeat the query — make sure your page or site answers the query as well as possible instead.
3. Keep Your Load Times Low – If your website doesn't load promptly, people are going to go somewhere else for their answers. Make sure that all your pages have a speedy load time, which is also essential for voice search.
Clear your page of any clutter that might be confusing or cause lag. Graphics, GIFs, videos, and images should all have a purpose — if they don't, remove them so they don't bog down load times. A cleaner, more minimal design will also be more aesthetically pleasing.
4. Get More Positive Online Reviews – The number of reviews and the average star rating of those reviews are an increasingly important factor in how high you show up in search rankings. Reviews matter just as much, if not more in voice search as often a voice assistant will only return one result. Encourage customers to rate and review the exact location of your business they visit so customers close to that location will see it high on their list of voice search results.
5. Use a Platform That Helps You Manage Everything at Scale – If you're trying to optimize for voice search for a large business with anywhere from dozens of locations to thousands, it becomes nearly impossible to keep up with ratings, reviews, data accuracy, and social engagement for all of them. Luckily, there are platforms designed to help with this exact issue.
Uberall helps you manage the entire digital customer experience — across multiple storefronts — all in one place. Partnerships with Google, Yelp, Bing, and more mean Uberall can raise your visibility in local search and drive traffic to your business.
How To Optimize For Voice Search On Different Platforms
Most customers using voice search will be doing so on one of three platforms: Google Assistant, Apple's Siri, or Amazon Alexa. You can tweak your content in different ways in order to optimize it for each program.
Google Assistant
Your Google My Business listing should be as complete as possible to help Google determine whether your business is a good match for potential customers when they search. This includes complete and accurate address, hours of operation, accurate business category, and attributes.
Google My Business reviews are critical as well – both the volume and a high overall average star rating will help your locations rise to the top in voice search.
Make sure to create content that is concise and easy to understand — voice search results are usually short and to the point. Precise writing at a standard reading level will go a long way.
Optimizing your Google Q&A content with more of a conversational tone and long-tail keywords. For example, a hotel that has a complementary full breakfast buffet for guests might add a Google Q&A like "Is breakfast included with my stay?" so searchers looking for free breakfast while on the road will find your hotel.
Apple's Siri And Amazon Alexa
Your Apple Maps business listings, partially powered by Yelp, are becoming more influential with Siri every day. Make sure to keep your Apple Map data enriched and up to date. Moment feeds direct integration ensures richer data on Apple Maps for more listing views.
Your Yelp profile will help you a lot with Apple's Siri and Alexa. Keep it up to date with all the details on your business, including complete and accurate address, hours of operation, accurate business category, and attributes.
Encourage customers to leave Yelp reviews, and engage with them to keep your profile active.
Include as many photos as you can, since Yelp appears to give preference to listings that have images. Better if they are taken in the actual location for the added geo-tagging benefit that validates your location.
To better optimize for voice search, use long-tail keywords that more naturally mimic human speech here as well.
Bringing It All Together
Keeping your profiles up to date and optimized across multiple platforms is a lot, but it can help you enormously in the long run. The more complete your profile is and the better your reviews are, the better chance you stand to consistently score high in search rankings.
Remember to approach voice search optimization differently than text. Think about how people would speak rather than what they would type, and choose your keywords accordingly. Make sure your profile is equipped to answer likely questions.
If your business could use a boost, Uberall is equipped to handle your local profiles and help you get the edge you need to drive traffic to your door. Visit our site today for more information on how we can help.
Learn how to gain a competitive edge in voice search.