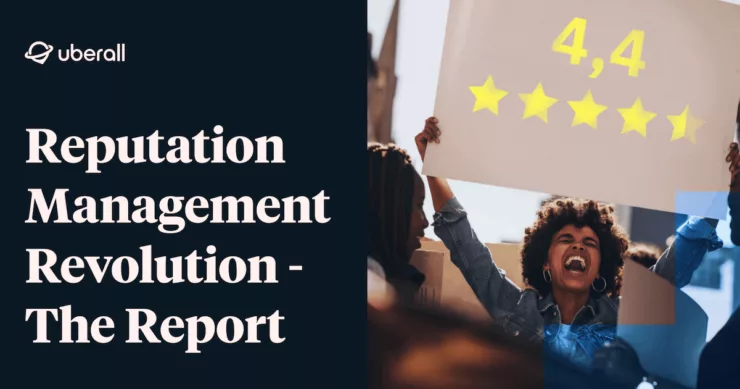 Blogs
New Study: Review Star Rating Improvement of Just .1 Could Create a 25% Rise in Foot Traffic
Key Findings From Our Reputation Management Report After Analyzing 64,000 GMB Profiles:
A 4.9-star rating achieves the highest conversion rate

A star rating increase of just .1 can increase conversion rates by 25%

Global brands almost double their conversion rates from 4.3 - 4.5 stars

3.7 stars is where conversion growth is highest (across SMB, Enterprise and Global business locations)

Enterprise business locations that reply to 32% of reviews achieve 80% more conversions than businesses that reply to 10% of reviews

SMB locations that reply to 32% of reviews achieve 40% less conversions than enterprise locations replying to the same amount
It's a startling finding, but our data suggests that review star rating increases of as little as .1 could see a 25% rise in conversion rates.
By far one of the greatest concerns of brands that rely on selling through brick and mortar locations is how to increase foot traffic to their stores.
Before a consumer decides to purchase a product or service offline, they first search for information online so they can evaluate whether or not they can trust a brand.
Right now, consumers are using review sites such as Yelp and TripAdvisor, search engines like Google and Bing, and social media sites like Facebook to see what other consumers are saying about your brand locations online and the review star rating (level of trust) to validate their decisions.
Consumers Use Reviews to Validate Their Purchasing Decisions. This Is a Fact
Although we know that the way consumers search has undergone a massive revolution over the last 5 years (consumers now use smartphones to conduct 'near me' searches and read reviews to decide which locations to visit), we didn't know the exact review factors that turned those consumers into customers...until we created our reputation management study.
The Findings From the Reputation Management Revolution: A Global Benchmark Report
Core Finding One
A Review Star Rating Increase of Just .1 Can Increase Conversion Rates of a Business by 25%
What we found was that a star rating increase of just 0.1 could increase a GMB profile's conversion rates by 25%.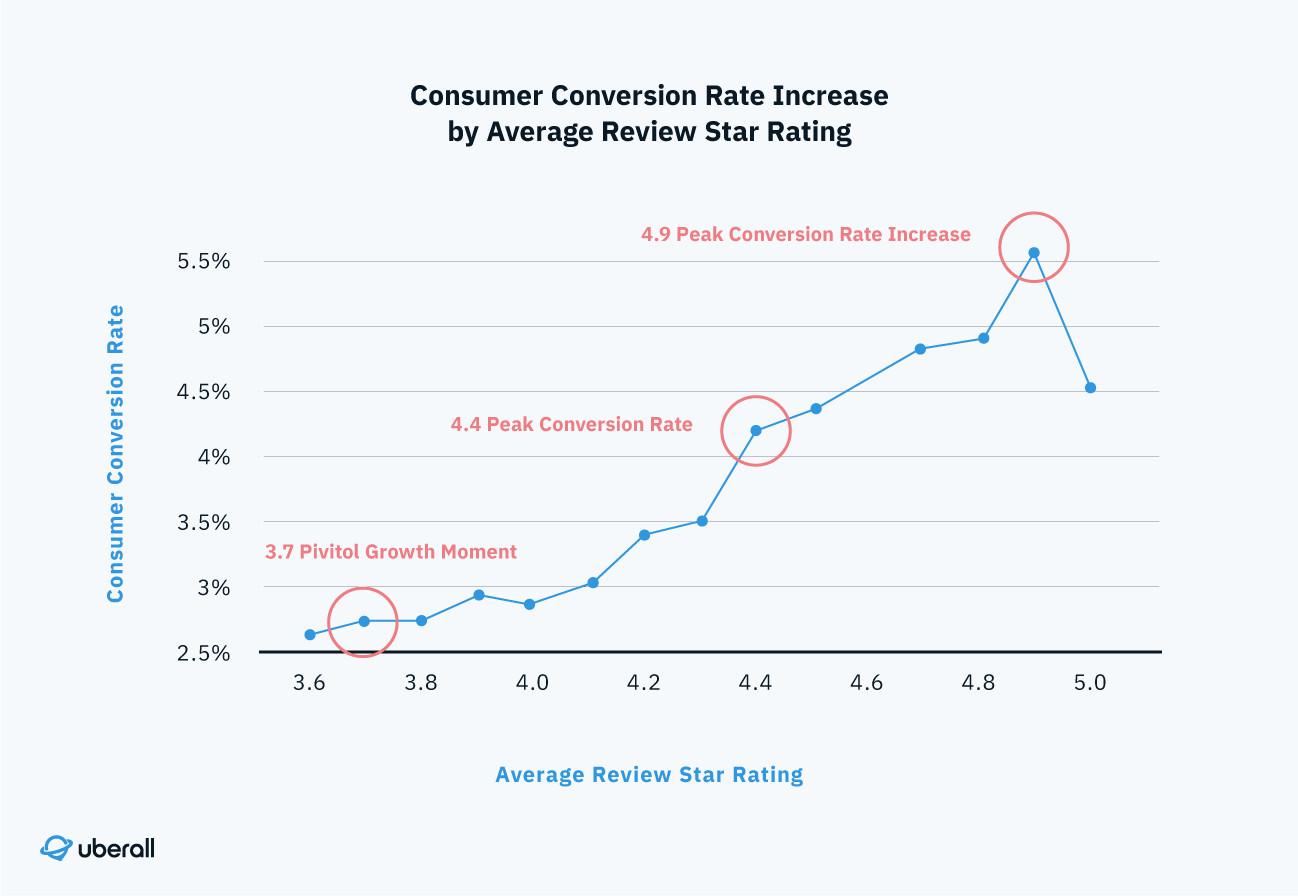 Businesses that go from a 4.3 to a 4.4 rating have, on average, a 25% increase in their conversion rates making a 4.4 review star rating the global benchmark for businesses that want to achieve serious growth for their locations.
The data we have from Google tells us that:
76% of local searches end in a store visit within a day

28% of local searches end in a purchase
That tells us that, not only are consumers motivated to make a purchase when they make local searches, but they are wanting to make that journey immediately.
If we then make the assumption that most consumers who are engaging with the brand (website click, phone call, direction request) will then visit the store within 24 hours, a 25% rise in conversions could also mean a 25% increase in foot traffic every day.
This has potentially massive implications for businesses both big and small looking to dominate their local area both online and offline.
Core Finding Two
The Rate Businesses Reply to Reviews Absolutely Impacts Conversion Rates
Consumer conversion rates skyrocket when brands engage with them online and reply to their reviews. According to another Uberall study, 65% of consumers expect brands to reply to their reviews.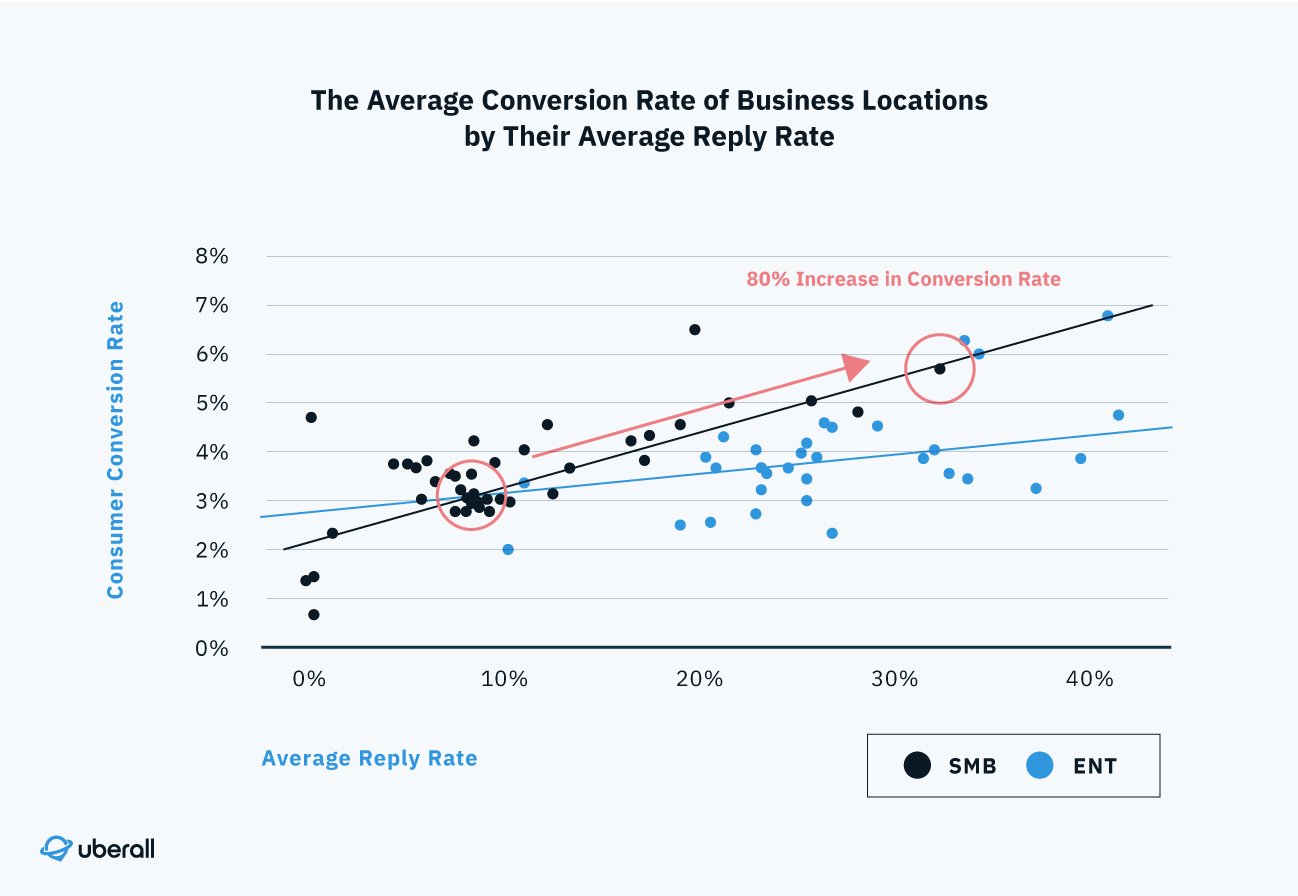 Our findings from analyzing 64,000 GMB accounts seems to back this up as the more a business location replies to customer reviews, the more conversions that location seems to get.
Enterprise businesses that reply to 32% of reviews have an 80% higher conversion rate (5.6%) than both SMBs and Enterprise that only reply to 10% of reviews.
This is an overwhelming message that all brands need to take heed of. Consumers want to know that you engage with your customers, that you have a voice online and that you listen to customer feedback.
The Reputation Management Revolution is about engaging your customers and being an authentic brand. This is the key to local growth and higher revenue.